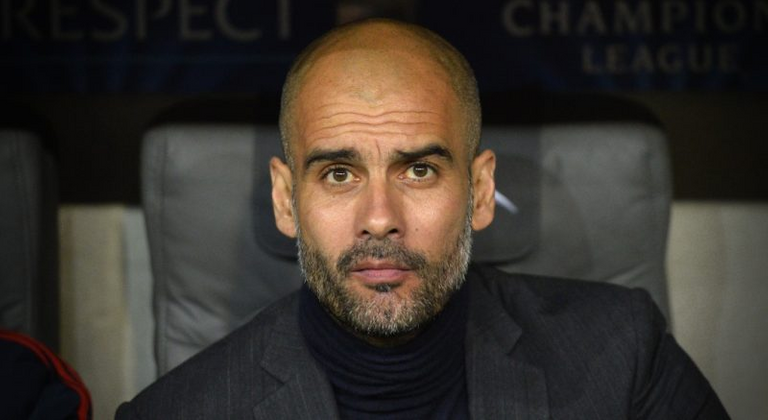 Image Source
One of the most criticized coaches in the world, maybe along with Jose Mourinho, Pep Guardiola has been a point of talk for many people, some see him as a genius, some a failure. For me, I admire him as a coach, and see him as a pillar that started the attacking total football revolution we see nowadays. After leaving the last season without any major title, I find myself at a crossroad of why such a brilliant mind has had such a failure. So here I will use three points to answer the question: Why are we here?
Pep Spent Over 700 Millions Without Winning The Champions League
That point has been brought up a lot as the number grew bigger and bigger as each year went by. To me that point has two sides to it that must be addressed, one for Pep's defense, and one against him.
First, it's not what he spent, it is what he bought.
So, Man City has spent around 400 millions on defenders alone. But let's remember who was brought it, Kyle Walker and John Stones stick out with a combined 90 millions, Mendy for 52, Danilo for 30, Cancello and Laporte for around a 100. Then add in Ake and Diaz along with few more under Pep's leadership. We have to remember that those names were brought in. Pep didn't bring in Dani Alves in his prime, Poyul in his youthful days, Maldini, or any player to reflect the price tag.
Pep's backline don't reflect the money paid for the players in it. It is a decision that is not up for Pep alone. The Man City management even came out to say that they are only looking for young players only. Even if you add in players like Sterling, Sane before he left, Jesus, Rodri, Bernardo Silva, Gundogan, De Bruyne and the rest. Those names weren't really as proven as they are today. Also let's not forget Nolito. You might make one exception or two, but the players brought in weren't really prove as you know them today.
John Stones is John Stones, Walker is Walker, they may have excelled in a season under less pressure but not enough for them to be as good they are expected to be under Pep. Let's not forget the silly mistakes they made, even a world class goalkeeper as Ederson has made some. A point we will return to later.
But along with the point of the fact that he hasn't brought in proven players comes a question that opens the discussion for the second point I have regarding this:
Why hasn't he?
Let's take this season as an example. Man City spent over a hundred millions on two defenders, Nathan Ake and Ruben Diaz, one whose team was relegated and the other came from Liga Nos, regarding of how their performance is rated, why hasn't he just paid the release clause for Kalidou Koulibaly? A defense monster from a big team in Serie A. Why didn't Pep simply sign proven players?
Let's take a look at his direct competitor. Klopp was doing the same thing as Pep, which is building for the future. However what Klopp did that Pep didn't was sign the best available players when the opportunity, Van Dijk and Allison. Two names, for fees that are comparable in their total to two players Pep has signed. Pep simply gambles on any player he buys, they might turn out well, or they might flop.
Pep wants all the credit
Before I start this point, I want to take a trip down memory lane to Messi's first El Classico as a false 9. Before the match Pep was late up at night watching Real Madrid games when he notice something, calling Messi and Villanova to come that night. Pep told Messi to play in the area behind Real's defensive midfield. The next day he took Iniesta and Xavi aside and told them to pass the ball to Messi whenever he is available. After that he took Eto'o and Henry and told them to take Messi's when he takes the ball. That match ended in total control for a Barca and a thrashing for Real Madrid of 6-2.
Why is that match important? Well, Pep took a gamble and won. As far as I am concerned, it would have been much better for Pep's career had he lost that match. Because ever since that night, Pep has been trying to recapture that "I am right" moment like a person who had a great trip with friends and has been trying to have as good of a trip ever since. Sometimes, that gamble wins in big games like a win over Real Madrid where Varane can't take the pressure. And sometimes it loses like a loss to Lyon.
It HAS to be Pep who won
Man City will win by a huge score comfortably in a 4-3-3 only for Pep to switch to 3-3-1-3 the next, 3-5-2 the one after. Imagine as a player, how you would feel? You do a lot to understand a coach, and you do so successfully. Only for him to change the strategy afterward. Such changes simply mean that you, as a player, aren't as important for the win as Pep's GENIUS strategy for the win. Simply put: You as a player, as good as you played, as wonderful as you may have done, aren't enough to get a win, it has to be Pep who interferes and gets the win.
As far as I am concerned, Pep does deserve credit for many players' performances. I would say that Sterling, Jesus, Foden now, Silva before he left, even De Bruyne and many more have Pep to thank for how great they are doing. There is and shouldn't be a denying to Pep's influence on many players. But since I do give Pep the credit for the rise, as he intends me to do so, I have to also credit him with the fall.
Another example of how it has to be Pep's way is that ever since the sold of Negrado, Man City didn't have a tall striker. We have all seen this scene where Man City are passing the ball between their players with the opponents parking the bus. Often they resort to crosses. A question: Who do you expect to head those crosses? How do you even expect those crosses would get through? Juventus came back and beat Ateltico two seasons ago because of Cristiano Ronaldo's headers. Maybe Cristiano is too big of a get. Same season Spurs came back against Ajax because of a target man like Llorente used as a station for long balls. But no, it is ALL about Pep. Which leads me to my final point.
Players with no character
The great Thiery Henry was once subbed off minutes after scoring because he switched sides and scored as a result. That is how much Pep wants it to be his way. Pep even invented a new position in Fernandinho that he did prior with Alaba in a player who is half center back, half defensive midfielder. There were games that Pep was practically playing with one center back.
Kyle Walker could do great as a center back, but not when you keep moving him between center back and right back. Cancello can't perform well if he keeps switching from right back to left back to right midfielder. De Bruyne can't keep switching from center midfielder, to attacking midfielder, to even a false 9 constantly and be expected to perform so well, which to his credit, he does. I mentioned how Pep keeps switching tactics and how the players must be feeling about it.
Pep provides no trust in his players or the chemistry between them. Mahrez did well so many times before being benched the games after when he arrived. Same with Jesus and Aguero. All of that has resulted in Man City players having shaky character at best, one that easily torn once faced with adversity.
A great counter example is the man who won the Champions League three times back to back Zidane. Zidane kept his formation relatively the same even after losses, yes he switched to Mendy recently but before that Marcelo was the left back in spite of everything. Such actions provides the players with characters.
Pep wanted it to be all about him. And it was in the time of winning, and now it is during the hard times.
In Summary
Pep Guardiola might be treated unfairly when it comes to the subject of money, or the quality of players he has under his leadership. But also I really can't blame anyone for that except for Pep himself. Pep doesn't have some of the best players in defense because he chose not to. Pep chose not to sign Kalidou Koulibaly. Pep wanted to do it the Pep way, which, as much as it hurts me to say as I am a big fan of Pep, is way that proved to be not enough.
I will close with this Zlatan Ibrahimovic quote about Pep
It [The problem] was with him. And he never came to terms with it. I don't know what his problem was.