Soccer has left many memories and experiences to the lovers of this wonderful sport. An endless number of players who with their magic managed to captivate all football fans. We can talk about Cristiano, Messi or Neymar, as that trident that would be part of the podium of the best players in recent years. We can also go back years and talk about Pelé or Maradona, two of the best players in history.
El futbol ha dejado muchos recuerdos y vivencias a los amantes de este maravilloso deporte. Un sin fin de jugadores que con su magia lograron cautivar a todos los fanáticos del balónpie. Podemos hablar de Cristiano, Messi o Neymar, cómo ese tridente que formaría parte del podio de los mejores jugadores de los últimos años. También podemos remontarnos años atrás y hablar de Pelé o Maradona, dos de los mejores jugadores de toda la historia.
But there are more, players that marked a team, a fan base, a style of play; duos that destroyed giants and razed humble teams to the ground. That is why today we will talk about that pair of players that captivated us even with their farewell "Frankie and Robben ".
Pero hay más, jugadores que marcaron a un equipo, a una fanaticada, a un estilo de juego; duplas que destruyeron gigantes y arrasaron con equipos humildes. Por eso hoy hablaremos ese par de jugadores que nos cautivaron hasta con su despedida "Frankie y Robben".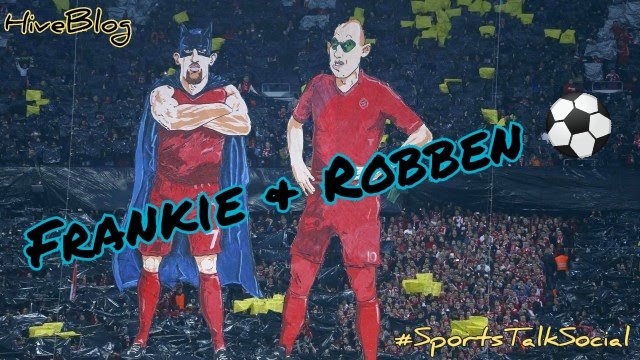 Imagen obtenida en el siguiente enlace y editada en Polish App - Image obtained from the following link and edited in Polish App
Two players from two soccer powerhouses France (Ribery), Netherlands (Robben). They managed to combine in one of the biggest soccer clubs in Europe and the world, Bayern Munich. The German team that managed to bring this pair together in 2009, when Arjen joined the Bavarian team, since Frankie had already been at the club since 2007.
Dos jugadores provenientes de dos potencias en el ámbito futbolístico Francia (Ribery), Países Bajos (Robben). Lograron compaginar en uno de los clubes de fútbol más grandes de toda Europa y el mundo el Bayern Munich. El equipo alemán que logro juntar a este par en el año 2009, cuando Arjen arriba al conjunto bávaro, pues ya Frankie estaba en el club desde el 2007.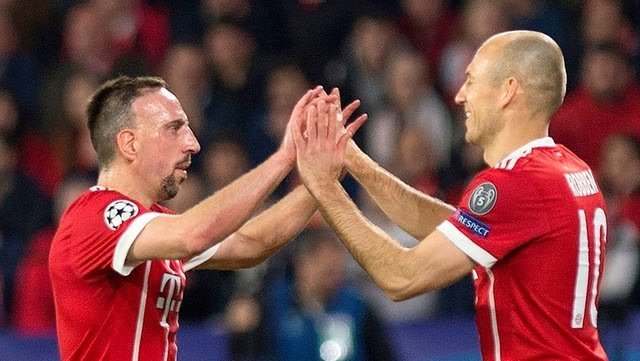 Link
Both formed the attacking wingers for Bayern, becoming in a short time one of the most devastating duos in all of Europe. Speed and grit were two of the characteristics for which these two soccer beasts were known, and the skill with their feet made this team's attack truly lethal.
Ambos formaron el ataque de extremos en el Bayern, convirtiéndose en poco tiempo en una de las duplas más fulminantes de toda Europa. Velocidad y garra eran dos características por las cuales se sea conocían a estas dos bestias del fútbol, juntando a esto la destreza que de cada uno con los pies convertían al ataque de este equipo en algo verdaderamente letal.
Robben almost always launched the same play, hooking from the outside on the right flank to the inside and shooting at goal with his prodigious surda, and despite the fact that he always threw that pass and the defenders had it read, on most occasions he scored a goal.
Robben lanzaba casi siempre la misma jugada, enganche desde afuera en la banda derecha hacia adentro y chuta a la portería con su prodigiosa surda, y a pesar que siempre se lanzada ese pase y los defensas lo tenían leído, en la mayoría de las ocasiones anotaba gol.
For his part, Ribery always stood out for his speed and aggressiveness when attacking from the left, always looking to get into the box to score from the penalty spot; his agility and maneuverability made him stand out as a truly dangerous attacker.
Por su parte Ribery siempre destacaba por su velocidad y agresividad a la hora de atacar por la izquierda, siempre buscaba entrar en el área para marcar desde el punto penal; su agilidad y maniobrabilidad lo hacían destacar mucho en un atacante de verdadero peligro.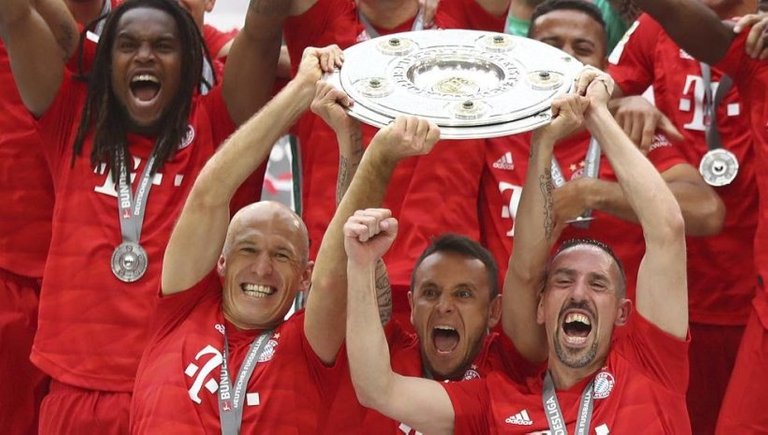 Link
Both will win absolutely everything with Bayern, winning 21 titles as players of the Bavarian team.
Ambos lo ganarán absolutamente todo con el Bayern, obteniendo al final un palmarés de 21 títulos siendo jugadores del equipo Bávaro.
Personally I am a Real Madrid fan, it is the club of my love. However I have a lot of respect and admiration for the German club, I think it is in the top 5 of the best clubs of all time and currently is the number 1 and well deserved, because they are an almost perfect machine for soccer. But I must also point out that the duo of these two players left a legacy. Talent, skill, camaraderie and love for a club, something totally to admire. Great Ribery and Robben, one of the best duos of all time.
Personalmente soy del Real Madrid, es el club de mis amores. Sin embargo siento mucho respeto y admiración por el club alemán, me parece que está en el top 5 de los mejores clubes de todos los tiempos y actualmente es el número 1 y bien merecido, pues son una máquina casi perfecta para el futbol. Pero también debo destacar que la dupla de esto dos jugadores dejó un legado. Talento, destreza, compañerismo y amor por un club, algo totalmente de admirar. Grande Ribery y Robben, una de las mejores duplas de todos los tiempos.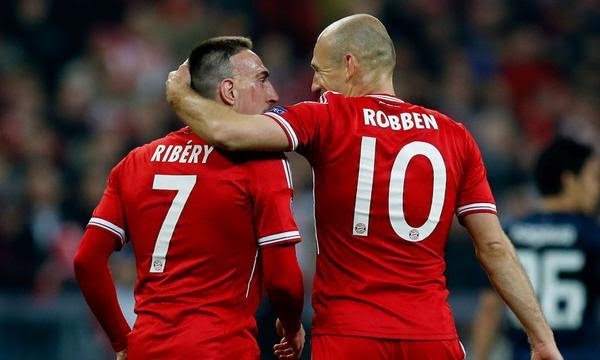 Link
---
Let's keep promoting this platform to grow more and more and fulfill our goals. May God bless you always, see you in the next post.
Sigamos promoviendo esta plataforma para crecer cada vez más y cumplir nuestros objetos. Que Dios me los bendiga siempre, hasta un próximo post.
TEXTO TRADUCIDOS EL DEEPL.COM - TEXT TRANSLATED ON DEEPL.COM