Bangladesh Premier League (BPL) is going on. Although this year's tournament failed to satisfy the fans with the quality of the players and the arrangements, cricket lovers witnessed several high-voltage matches. The most successful team this season is Mashrafe Mortaza's Sylhet Strikers. On the other hand, the most unsuccessful team of this season is Chittagong Challengers.
Now let's talk about the unstoppable team of this year's Bangladesh Premier League. Comilla Victorians showed the biggest surprise in this year's BPL. The reigning champions got off to a nightmare start this season. They had to lose in the first three matches. Even with domestic and foreign famous stars, their loss didn't stop. At the end of the first three matches, their position was at the very bottom of the points table.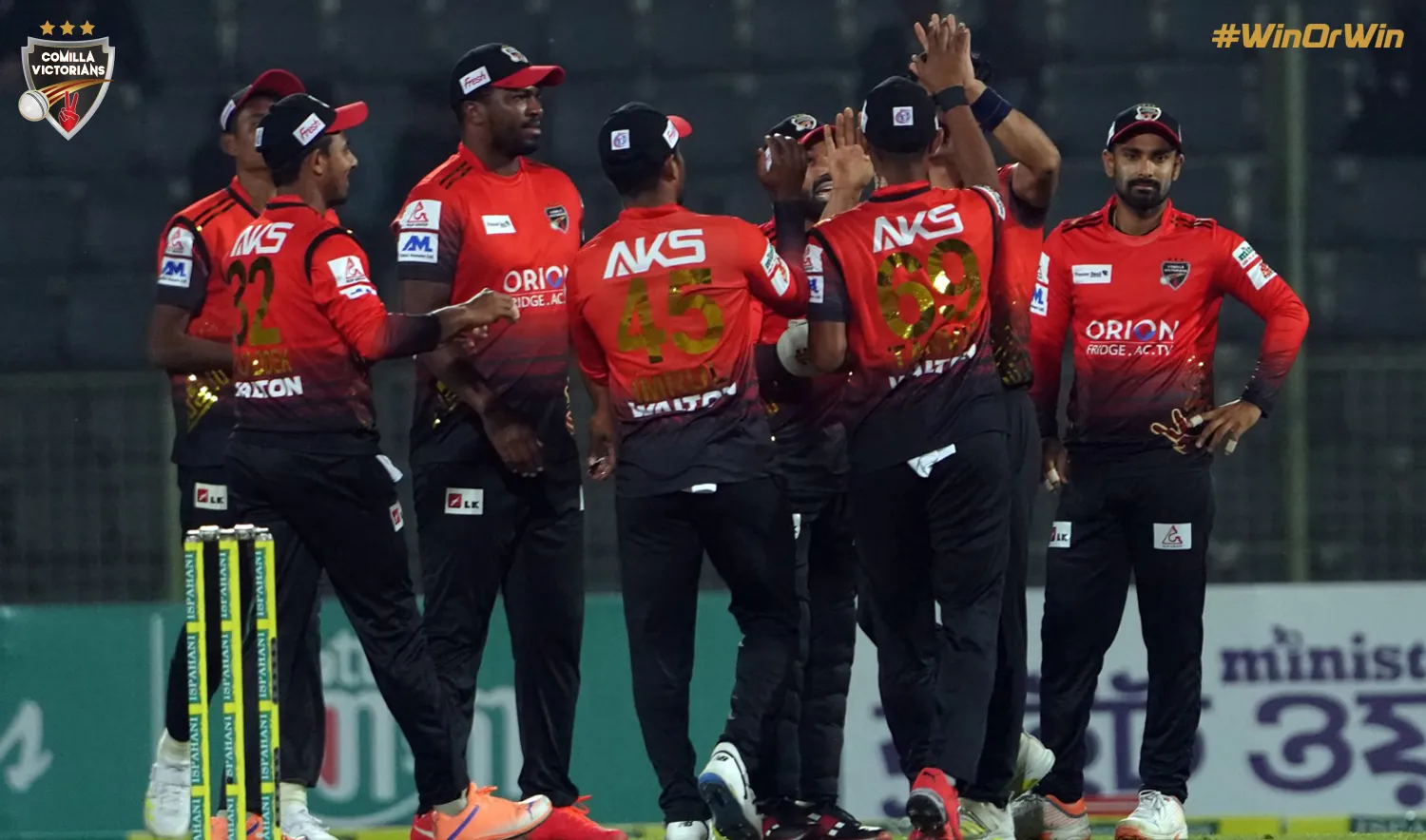 CUMILLA VICTORIANS
After such a performance in the beginning, everyone assumed that the team will not do well in this year's BPL. Maybe they will be eliminated in the first round. However, leaving behind all fears, Comilla Victorians are back in the guise of heroes.
After losing the first three matches, they made history and won six consecutive matches. This is the first time in the history of BPL that a team has won six consecutive matches. They are third in the points table with 12 points from six wins. Shakib's Barisal is second in the table after playing the same number of matches and leading the run rate with the same points.
Comilla Victorians won their last match against Khulna Tigers. This match was the most exciting match of this year's BPL season. Because chasing 210 runs isn't an easy thing to win. Comilla Victorians' batsmen did just that.
This match was held at Sylhet ground. Batting first, Khulna got a huge collection of 210 runs with the amazing batting of Tamim and Sei Hope. However, both the batsmen had the opportunity to score a century, but none of them managed to score a century. As a result, Tamim and Sai Hope left the field with a kind of regret after getting huge runs.
In response, Comilla Victorians didn't start well when they came to bat. The team's star batsman Liton Kumar Das left the field with an injury on the second ball of the innings despite scoring a four. Then when the captain of Comilla Victorians Imrul Kayes also returned to the pavilion, they were under a lot of pressure.
Pakistani batsman Mohammad Rizwan and Windies batsman Johnson Charles made the team dream of winning by handling that pressure. At one point, Rizwan had to back towards the pavilion after a brilliant catch, but Jhonson Charles made Comilla the winning side. Also, he completes his valuable century. As a result, Comilla got a record win.