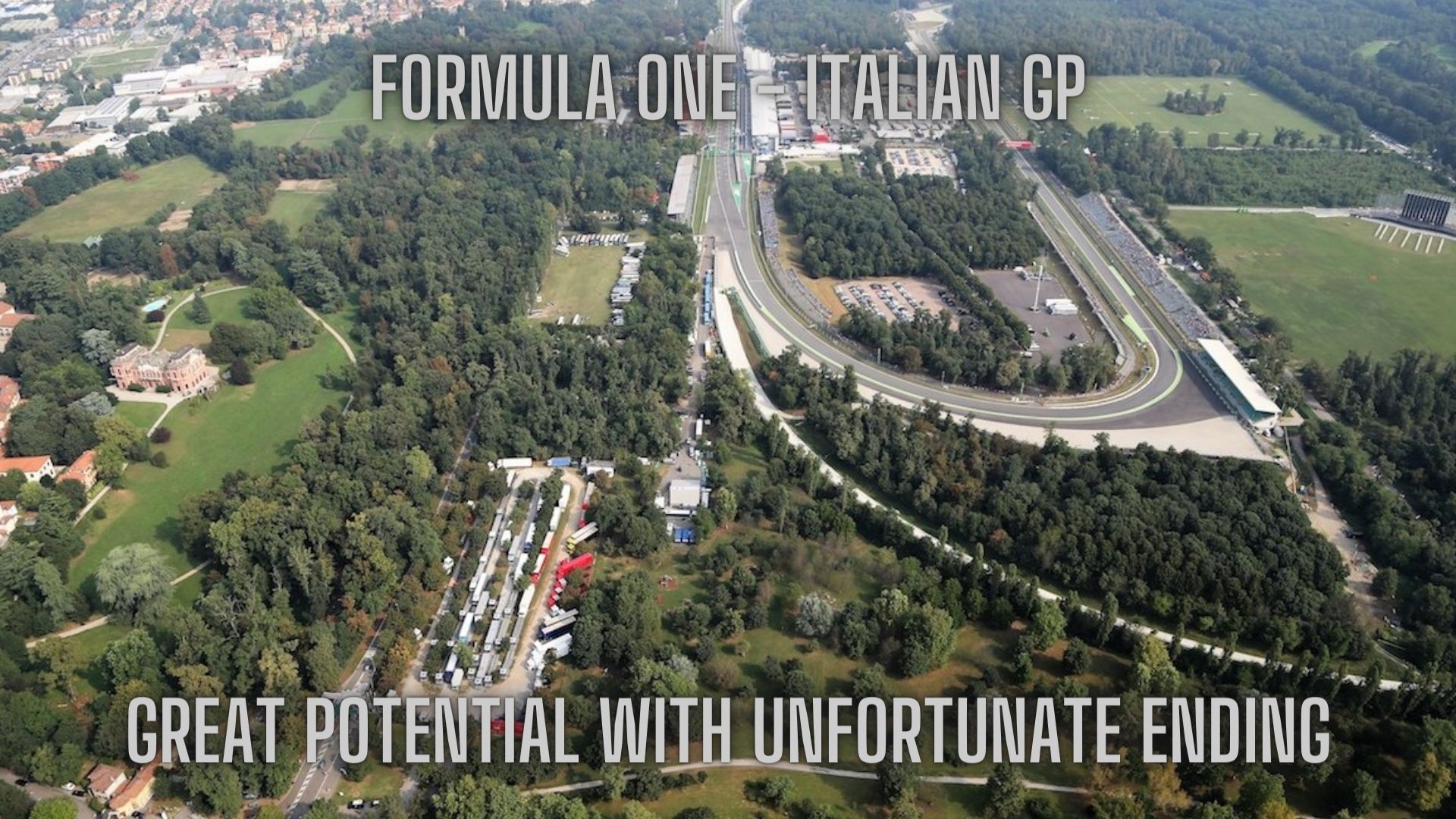 And we are racing once again! The third weekend in a row we are seeing another Formula One race. This time around it was happening in Italy, the home race of Ferrari. Because of their 75th year in F1, Ferrari even decided to change up the color of their car a bit and give everyone a yellow suit. The car looked alright but the suits were definitely something to get used to. Furthermore, we will see probably the last chance for Leclerc to stay relevant in this championship. If Verstappen wins once again, it will be definitely impossible to get this man away from the number one spot.
But this will be not the only topic for us this weekend. Another great news is that Nyck de Vries is finally getting his chance to race in an Formula One car. Now it wont be a Mercedes but in a Williams, due to Alex Albon's surgery. I am really excited to see this guy race as so many people in the racing community a treating him like the next big thing! Staying with the actual Mercedes team, it will be interesting to see whether they are able to improve their set up even more and finally race for a win. I feel like they are already at their peak at the moment and focusing on the next year's car which makes obviously sense.
Qualifying: Penalty Chaos
Well the weekend started off a little bit chaotic. After the qualifying, there was a big question mark over the placements of the drivers. One thing was clear: Charles Leclerc was able to take the pole position! It was the combination of the driver's skill and an improved Ferrari set up! He outpaced Max Verstappen who himself will not start from P2 on Sunday! Unfortunately for him he will be starting from P7. He is not the only one that has got a grid penalty for the race start. Amongst the punished are Lewis Hamilton and Carlos Sainz who both will start form P19 and P18.
One man's penalty is another man's treasure. All of this chaos meant that some drivers are benefiting from this. Among the winners is defiantly George Russel who will start the race from P2, followed by bot McLaren cars. Interesting fac tis that McLaren was able to win this race last year in a very demonstrating 1&2. I highly doubt this will be possible again but they are certainly in a great position to do so! Last but not least we need to talk about Nyck de Vries who will be starting from P8 in his Williams! It is already a great start to this weekend for him and I am more than confident that this guy could be able to score some points for his team.
The Race: Unfortunate Safety Car Finish
The race had every potential to be a very intense one. Leclerc would be under pressure by Russel, who definitely wanted his first GP win. On the other hand there are two McLarens waiting for potential mistakes and Verstappen who has to work his way trough the field before even getting a clear shot at Leclerc. Therefore, the start was very important for every pilot here. After the first view corners, Leclerc was able to stay in P1 and followed by Russel in P2. Both cars touched in the second corner but were fortunately able to carry on. Both McLarens had a horrible start and Verstappen was able to take P5 after the first view corners. Meanwhile Nyck de Vries survived his first F1 start in a solid P8.
In lap 5 it was already clear that Verstappen is there to take the win. After 5 laps he was already in the second position and hunting down Leclerc. Because of a Vettel DNF Ferrari decided to take an early pit stop in lap 13. In my opinion not a great move yet again because all of the other teams styed out. This meant that Leclerc was falling down to P3 and had over 4 laps to go. With medium tires this is a very difficult job to do which also meant that he would have to pit again during the course of the race.
Verstappen made his pit stop in lap 26, from softs to mediums. This was now a great advantage for the Dutchmen as he was only 10 seconds behind Leclerc and had the fresher tires. Meanwhile Sainz and Hamilton were able tow work their way up to P7 and P4 which is yet again an amazing back of the grid start performance by both drivers. It was a very one sided race with not a lot to talk about other than the strategies of the teams. This is when Leclerc went in for his second pit stop in lap 33. He changed to softs again and had 18 seconds to catch onto Verstappen.
In the first few laps he was able to reduce the distance to about 15 seconds but from there he stagnated. Like I mentioned before, the two stop strategy was not the most clever thing to do on such a track and in the end those 15 seconds are exactly worth one pit stop on this track. Meanwhile a little bit further back, Nyck de Vries was fighting for his life. He managed to hold his tenth place and therefore the last point for quite some time now and was under constant pressure for Zhou.
It was the battle of the weekend and it was about to get very intense when suddenly Daniel Ricciardo's car stopped working. He had to stop his car on the side of the track in lap 47 with only 6 laps to go! This also meant that the safety car was deployed and it would have been a very interesting restart with Verstappen, Leclerc and Russel all on fresh new softs. Unfortunately for the fans, the race ended under the safety car period. It was a very disappointing ending to a race that had a lot of potential.
Conclusion
Nevertheless, this race had brought up some winners here. Most and foremost: Nyck de Vries. He was not only able to outperform his teammate Nicolas Latifi but also was able to get his first two points in his first race. What a performance by the rookie and it would surprise me very hard if he would not be able to get a seat for next season, maybe even in the very same Williams! Another great result has George Russel under his belt. His solid performances of the past weeks continues as he is able to get yet another podium. Same goes also for Hamilton who was able to finish in P5 while starting from P19.
Ferrari can be happy with their performance. They finished in P2 and P4, which results in very good points and the defense of their second place in the constructor's championship. What is yet again very disappointing are the performances of the Aston Martins who both had to retire as well as both Haas cars who were not able to get into the points yet again. I am very curious whether both Haas drivers have a future for next year and I really hope that Mick will be able to get a seat next year.
Published by ga38jem on
Sports Talk Social
On 11th September 2022