Just a few hours ago, Liverpool inflicted a horrible 5-0 thrashing over Manchester United in Old Trafford. Now the real question on everyone's lips is should Ole be sacked?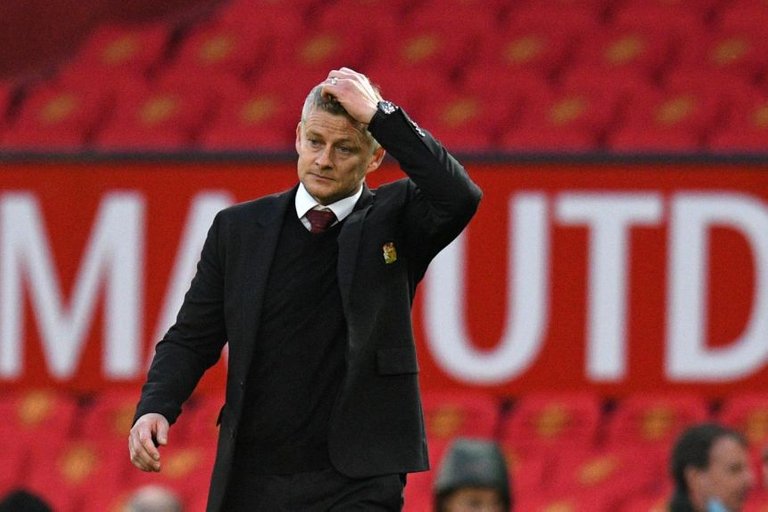 Manchester United are one of the better sides in the English Premier League, they should have the best coaches and Mangers in the world to manage a team as big as the the red devils.
But after three years of building, the only thing Ole Gunnar Solskjaer is currently building around Manchester United is Malaise. After losing to Leicester City last week, this humiliation at the hands of United greatest rivals should be the end of it all.
Every atom of criticism that has been made of Solskjaer manifested itself in this performance the lack of defensive shape, the inability to control the game and a fundamental weakness at home, among other things. We all agree that Manchester United have all the talents in the world to challenge for major honours so why should Ole Gunnar be the figure head holding them back.
At this point the only thing that would keep Ole on the job is a lack of ambition at boardroom level (and potentially a lack of options). A failure to sack him would prove once more that the Glazers, maligned for paying attention to there bottom line than performances on the pitch don't care about losing.
From start to finish it was a brutal illustration of the difference between Manchester United and Liverpool. While the later are a more composed team ready to win major trophies, the later are a shadow of themselves.
United are extremely ordinary with "Ole on the wheel", in fact ordinary is an understatement.
The way Liverpool cut through the United defence with such ease after just four minutes of play is an absolute shame for an elite club, it is rare to see that an elite club could lose there shape so easily. In the night Liverpool looked far superior they went on rampage scoring 5 at Old Trafford and the most damning thing of it all was that they did not need to be extremely good to achieve this.
Should Ole go? Pundits reactions
Sky sports commentator Martin Tyler called it "a day of shame" for Manchester United, to which Gary Neville chipped in " this is as bad as it gets, honestly.
We all know in football there could be bad days, i mean you could lose at anytime in a very horrible way. Even Sir Alex Ferguson once lost 6-1 to Manchester City, but the nature of the performance is not encouraging in anyway.
According to Gary Neville
"One clean sheet in 21 games, that at Wolves when to be fair Wolves should have scored three or four. "If you lose a game against Liverpool 5-0 at home, you're going to come under horrific pressure. I think the club will hold their nerve. I don't think they have planned for a new manager in this season. I think they'll sit with Ole to the end of the season.
"I know there will be a massive outcry from fans, from media, from everybody that Ole Gunnar Solskjaer should be sacked, and I can understand that after that game. That was a monstrously bad day.
Speaking to sky sports reporters after the match Ole Gunnar Solskjer said it was he's darkest day leading the United team, he also praised the United fans who did leave the stadium.
It's the darkest day I've had leading these players."
Ole Gunnar Solskjaer's post-match interview after Manchester United were beaten 5-0 at home to Liverpool.
With Manchester United facing a daunting set of fixtures against Man city, Chelsea, Arsenal and Tottenham in the next 45 days all eyes are on the board to do the needful.