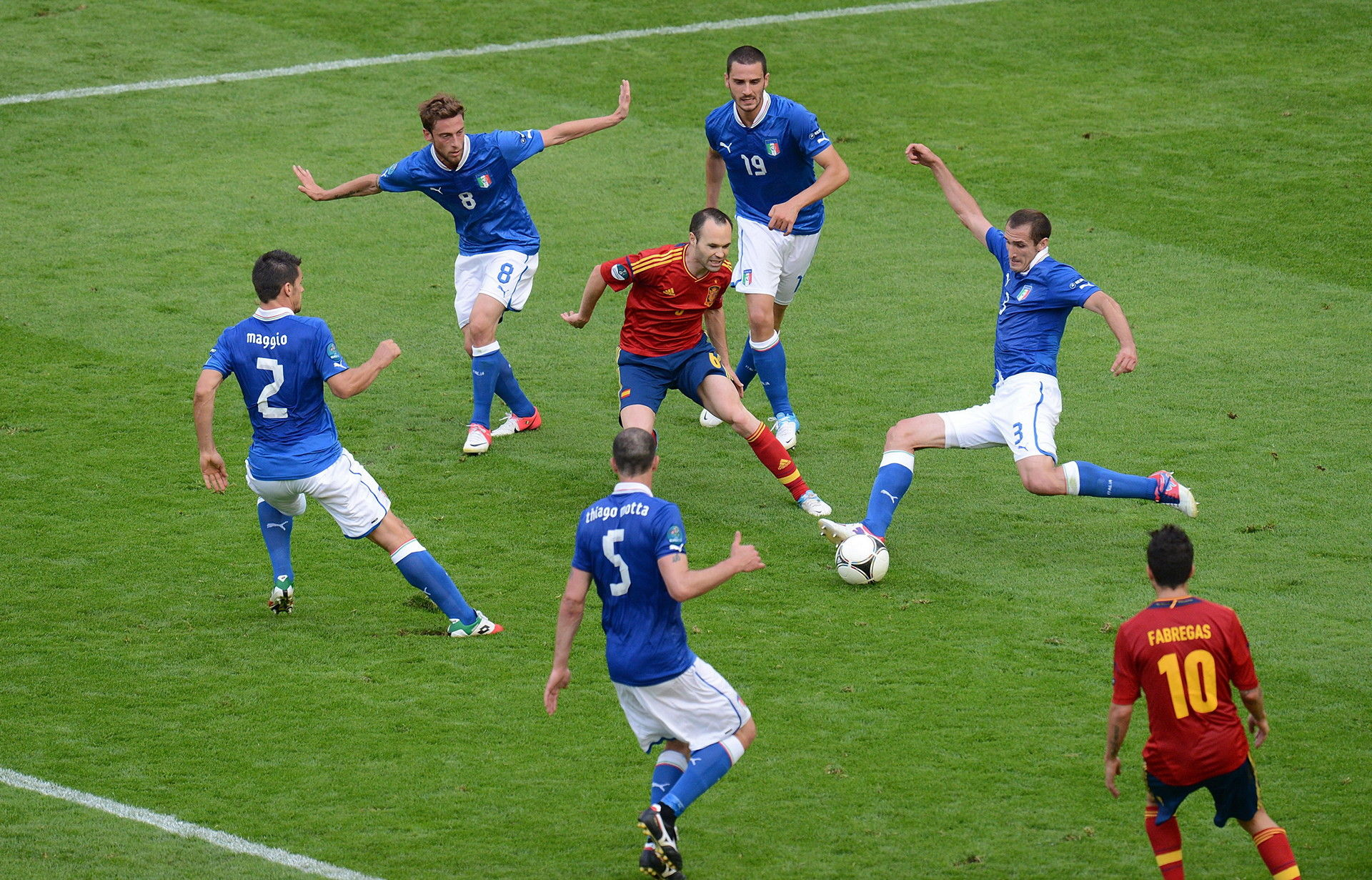 Image source
Today we walk about a picture that is very real, although someone in the future might actually look at it and claim otherwise. It does look like it is something out of an anime show about football. We are talking about the photo showing Andres Iniesta surrounded by Italian players, but not just any Italian players. In the photo, we find Iniesta surrounded by Juventus legendary defense duo Giorgio Chiellini and Leonardo Bonucci along with midfielder Claudio Marchisio, three legends, and Christian Maggio and Thiago Motta who were stars during that period.
Some people believe that this photo was taken from Spain's game vs Italy in Euro 2012 when Iniesta gave out a great performance that still encourages people to say that Iniesta actually deserved the Ballon d'Or that season. That game saw Spain win 4-0 against Italy with Iniesta mastering the midfield and attacking third. So much so that Iker Casillas asked the ref to end the game to reserve Italy's pride.
However, the picture was actually taken on the group stage. The game ended 1-1 and Italy was relatively the better team during that match. Antonio Di Natale scored Italy's goal with Cesc Fàbregas scoring the response 3 minutes later.
Back to the photo, Italy was playing formation 532 with clear instructions to pressure Iniesta when he has the ball, Iniesta at the time was playing like a left-winger more than a midfielder with Cesc Fàbregas being a false 9. While it was true that whenever Iniesta gets the ball there were instructions for a center back, right back, as well as a midfielder to pressure but the picture has an extra layer to it.
Anyone who follows football closely would know that whenever such a situation occurs it is either due to chaos or a reaction, both happened in this photo. Spain had played a long ball that they won in the air once then twice, only for Iniesta to find himself on the edge of the box, he dribbled past the first player (Marchisio) and the Italian players rushed to surround him. What followed is Chiellini kicking the ball away to end Spain's attack.
What's more impressive is the other time where he was surrounded by a similar amount of layers only for him to do his famous turn and pass it to David Silva, who in turn assisted Fabregas who scored the drawing goal, taking advantage of the pressure Italy applied on Iniesta.
Italy that game were doing their best to get Iniesta out of the game as he was the connection between the attack and midfield. The picture might seem painful for the Italians, however, it was just players succeeding in applying a defensive philosophy that got the job done as Iniesta failed to convert that into a goal whether by shooting or assisting.
In that game, Italy was very successful in containing Iniesta except for the one time he got away, which led to a goal for Spain. In the final, Italy failed to do the same as Iniesta went on to pull off one of if not the greatest performance an individual had in a Euro tournament. Delivering a legendary performance worth of his name.
It is worth noting that Iniesta often finds himself in such situations due to him always being a key part in the opponent's eyes, so much so that there is a site dedicated to showing pictures of him surrounded by players (Found in the image source below).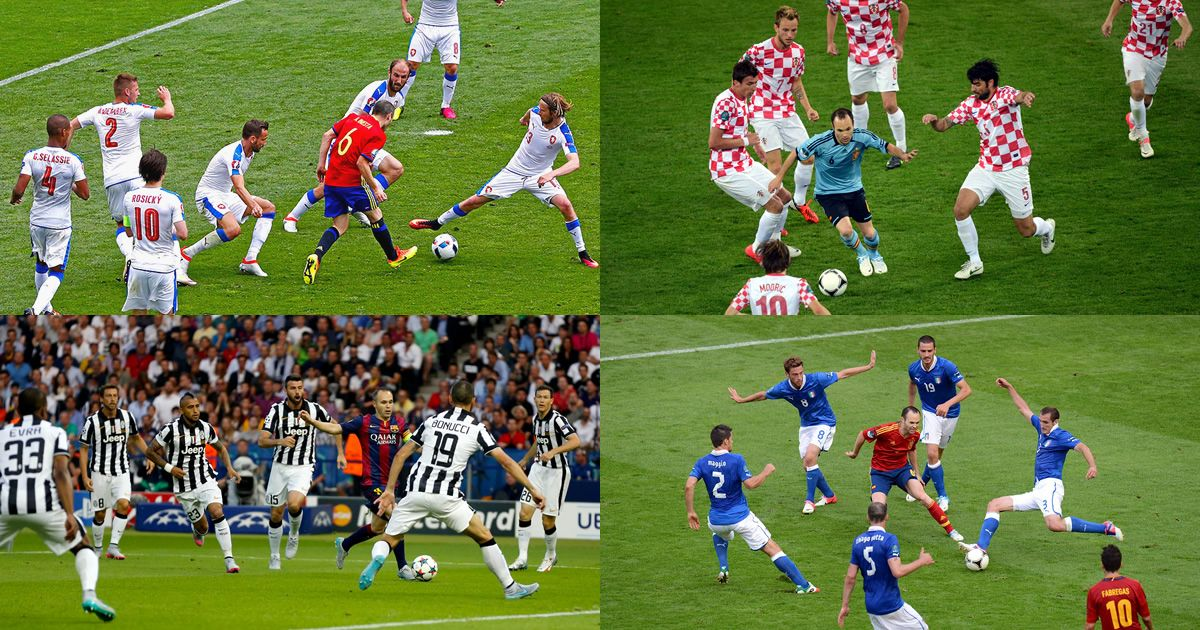 Image source