Hi Guys!
Greetings to all, I hope you all are well and good and enjoying a happy life. I am also good at Alhamdulillah.
Brendon McCullum: 'We'll be pushing for results. If we get outplayed, that's okay'
England coach says team will stick to positive approach for first Test series in Pakistan since 2005-06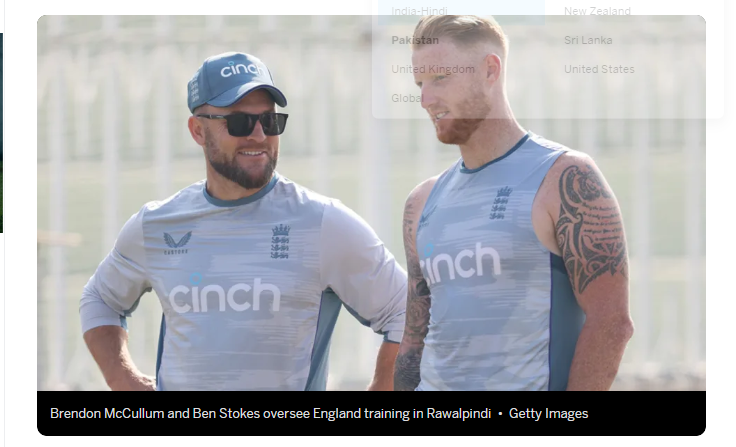 1.PNG
Brendon McCullum says England will continue their mantra of attacking cricket in Pakistan ahead of a series in which he hopes his players will experience "the greatest accomplishment" of winning overseas.
England's first Test tour of Pakistan in 17 years is also a first assignment abroad for the McCullum-Ben Stokes revolution that took the home summer by storm. Six victories in seven Tests jump-started interest in the longest format in England, earning plenty of admirers along the way.
Now, with the team in unfamiliar conditions - only James Anderson has toured Pakistan previously - McCullum has urged a similar approach, and is willing to take defeat in his stride provided the intent remains. He even posited that Stokes, as captain, will do his utmost to ensure none of the three Tests, the first starting on Thursday in Rawalpindi, will end in a draw.
"To win away from home is the greatest accomplishment you can achieve as a Test player and as a Test side," McCullum said in England's first press conference since arriving into the county on Sunday morning.
"We understand the size of the challenge in front of us. But that's great - that's why you want to play the game. You don't want easy challenges, you want to take on the best in their own conditions and you want to try and test where you're at as a side. I'm really excited. I don't know if we're going to win the series. I can almost guarantee when the skipper comes in here in 48 hours time he'll say there'll be no draws in the series.
"We'll certainly be pushing for results because we see it as our obligation to try and ensure that people walk away entertained. And if we get beat, Pakistan, we know, will have played well. I expect us to play well and if we get outplayed, that's okay too. Looking forward to the opportunity, looking forward to the challenge and looking forward to the hospitality. And hopefully in a few weeks time everyone will say this has been an amazing series."
Helping that push towards replicating the summer's work will be the crowds. Rawalpindi, Multan and Karachi are all set to be sellouts, adding to the theatre of the occasion. It won't be wholly one-sided with a touring party of England supporters, including the Barmy Army, expected in the stands. McCullum anticipates that will fuel their work over the next month.
"The boys have already said they're pretty excited about playing in front of a full house here, it's going to be a good atmosphere, so they're really excited," he said. "That's what we want from red-ball cricket all around the world, stadiums packed out and fans getting behind their local team.
"To have that on the road is the greatest compliment... we're lucky that the crowd here is sold out and that's kind of what we want. The skipper wants them to be rockstars and to be a rockstar you've got to play in front of the big houses. We've got that opportunity to do that."
Both teams trained side-by-side on the outfield of the Rawalpindi Cricket Ground on Monday morning. Only Mark Wood, who McCullum confirmed will not play in the first Test as he continues to recover from the hip injury sustained during the T20 World Cup, did not take part in the session.
2.PNG
The pitch was uncovered throughout, with players from both sides taking the opportunity to cast their eye over the surface, including McCullum.
"It looks good but I'd expect it to change over the next couple of days, see how things scrub up. I think one of the things we've talked about is adapt to whatever we're given and not be too stuck in our preconceived thoughts. Just play what's in front of us and be prepared to adapt accordingly."
Adapting is the name of the game in these parts, especially so if England are to push the scoring along. Two of the last four Tests at this venue have ended in draws, the last of which - Australia's visit here in March 2022 - saw the scoring rate hover at around 3-an-over, with both sets of top-order batters in the runs. No one, throughout both batting line-ups, was able to really impose themselves on the opposition bowlers.
Asked whether England's manner would carry over from the summer, McCullum said he is willing to see how it goes, though did concede some adjustments will be made.
"We'll find out I suppose," he said. "One of the things we try and do is respect the conditions but at the same time if we are given the opportunity to try and play aggressive and attacking cricket, we'll try and take that option. It's authentic to the line-up that we have. The guys who are in our squad, that's how they play their cricket and that's what gives them the most amount of freedom and the best opportunity to perform at the highest level.
"Look, we know it may not necessarily be as prominent, the aggressive cricket that we've seen in the past, but there will be opportunities to try and play positive. And when that does arise, I expect our guys to try and take that on."
3.PNG
McCullum also warned not to put too much on the absence of Shaheen Shah Afridi for Pakistan, after the fast bowler was ruled out with a knee injury.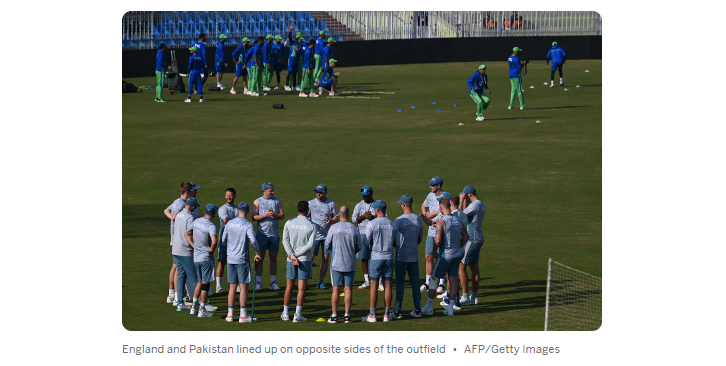 "That's obviously a big loss. I know him pretty well, I played many years in the PSL with Shaheen as well. He's a wonderful bowler and he's turned into a fine leader for Pakistani cricket. He's a big loss, no doubt. But one thing when you play against Pakistan, you look at their team sheet and you see talent, and you see some that might not be developed talent but it's talent. You need to respect that and you need to find a way to be able to be well-researched and well-planned about what's going to come at you, but also try and find out a way to put that talent under pressure and see how it responds.
"It's a very good Pakistan squad, it's well-rounded, it's got some experience and some youth, with both batting and bowling, and they'll be a tough challenge. We know we'll have to play well if we're going to be successful."
McCullum's previous experience of Pakistan is limited to five ODIs from 2003 in which he scored just 16 runs, at a pretty un-McCullum strike rate of 35.55. He could see the funny side, 19 years on, when asked about how what he made of the country during his playing days: "Thanks for bringing that up - I think I scored 12 runs here in my entire career. I haven't performed well here myself but luckily I don't need to pick up a bat."
Nevertheless, he appreciates the importance of bringing an England Test team to this part of the world, particularly after the T20 side toured in September and October. And above all, hopes those in the stands and watching at home will get the kind of entertainment that will go some way to making up for the absence.
"This is obviously a great place to tour and it's been starved of international cricket for a long period of time. We understand how passionate people are here in Pakistan about this form of cricket and we understand the obligation that we have as an England side and we are looking forward to coming over here and playing an entertaining style of cricket which hopefully ends up in results, whether that's in our favour or in Pakistan's favour.
"Hopefully, everyone that does dial into this series, not just in Pakistan but around the world, sees that international cricket is back in Pakistan and we've got a product that's worth watching."
Afghanistan effectively seal 2023 World Cup spot after no-result in Pallekele
SL's hopes of automatic qualification dwindle further after heavy rains force washout in Pallekele
4.PNG
Afghanistan 228 (Gurbaz 68, Rahmat 58, Rajitha 3-31) vs Sri Lanka 10 for 0 - match abandoned
Before rain made a result impossible, Sri Lanka's spinners took grip of the middle overs of Afghanistan's innings, before Kasun Rajitha closed it out. On a slower Pallekele track, Afghanistan had breezed through the early overs, sailing to 135 for 1 soon after the halfway stage. Rahmanullah Gurbaz was chiefly responsible for their success through this period, hitting 68 off 73, as Rahmat Shah made another half-century.
But then Sri Lanka's bowlers roared back. Although, 30 overs in, Afghanistan were at 149 for 3 - nicely placed for a total well in excess of 250 - they slipped thereafter, not even able to bat out their overs.
The weather, however, had the last say. Sri Lanka were well-placed to make a comeback in the series, but the best they can hope for now is a drawn affair. It also means their hopes of automatic qualification for next year's World Cup dwindle further, as they will take only five Super League points from this match.
For Afghanistan, who had been on 110 Super League points before this match, a five-point gain (the number you are awarded for a no-result) on the table, takes them a step closer to automatic qualification. In fact, they have now effectively ensured their spot at the World Cup, barring points deductions.
5.PNG
The rain came down soon after innings break, delaying the start of Sri Lanka's chase. Then when the hosts were 10 for 0, they returned. They ceased for a brief while, but came back a third time, forcing the abandonment.
Before that, Rajitha took 3 for 31 from his nine overs, and the spinners shared four wickets between them, as Afghanistan were dismissed for 228 with 10 balls left unused. Mohammad Nabi played a decent late hand, striking two sixes and two fours in his 34-ball 41. But he started running out of partners, and had to take greater risks, and eventually holed out in the 48th over.
Nabi was the last of Rajitha's victims. Although he struck Rajitha for a six previous ball, the bowler slowed up the next delivery, had him mistime the shot, and send a catch to long off, where Dhananjaya de Silva held on to a low one. In Rajitha's previous over, he had had Rashid Khan hit a slower one in the air to sweeper cover, before Mujeeb Ur Rahman nicked his second ball to the keeper.
Rajitha got his rewards in the back end of the innings, but he had bowled beautifully with the new ball. His first over cost just one run, his second was a maiden, and he conceded just 10 in his opening five-over spell. All up, he conceded only two boundaries (a six and a four) in the 54 legal deliveries he send down.
6.PNG
Sri Lanka's spinners were not quite so dominant, particularly in the first half of the innings, when Gurbaz was producing a typically belligerent innings, and Rahmat Shah was building himself to another score. Those batters put on 113 for the second wicket off 133 deliveries.
Gurbaz hit four sixes in the arc between long off and cow corner - some of these being release shots after pressure had been built up. After Theekshana had him caught at long off trying to hit his fifth, though, some of the oomph went out of Afghanistan's innings, and Sri Lanka's spinners dominated the next 10 overs.
Theekshana got another wicket - that of Najibullah Zadran - and finished with 2 for 49 from his 10. Hasaranga and Dhananjaya de Silva claimed a wicket apiece and went for less than 40 from their full quotas.
Wednesday's match will now determine whether Sri Lanka can even draw the series.
Steve Waugh: 'The public has almost overdosed on cricket'
"For the fans and spectators, it is hard to make a connection because you're not sure who is playing"
7.PNG
Steve Waugh feels that the cricket-watching public, at least in Australia, "has almost overdosed" on the game, and it has reached a point where the interest levels are on the wane.
"There's a lot of cricket, it's hard to follow as a spectator, it's very hard to keep up with it," Waugh said on SEN's Saturday Morning Mowers Club show. "The three one-dayers against England [earlier this month, which Australia won 3-0] seemed pretty insignificant, really. I mean, what were they playing for? There wasn't big crowds, I think the public has almost overdosed on cricket.
Australia have a rough few months coming up. They are getting ready for the two-Test series at home against West Indies, which will be followed by three home Tests against South Africa in December-January. After a short gap, they travel to India to play four Tests and three ODIs in February-March before playing Afghanistan in three ODIs, also in March. There are a number of T20 leagues through this whole period, including Australia's own BBL, and the IPL, where many Australian players are set to be involved, will start late March. They then have the Ashes series in England, and possibly the World Test Championship final before that, followed by limited-overs assignments in South Africa and India before the 50-over World Cup in India in October. The cricket doesn't stop after that either, with fixtures against India and Pakistan before the end of the year.
"You want the special series to be iconic, like the Ashes, and against India when they come out here," Waugh said. "It's hard to follow the Australian side because every time they play they have a different team on the field. For the fans and spectators, it is hard to make a connection because you're not sure who is playing.
"I don't know if it's anyone's fault but you need that consistency in the Australian side. You want to know who's in the squad every game, you want to be following it closely and it's really hard to do that right now."
"It's a bit unsettling, with different captains and different styles and, you obviously perform better under some and you think you've got better ideas than others and, yeah, it would be hard to be, I guess, the captain of the Australian side"
Steve Waugh on players taking part in cricket in leagues around the globe
Prior to the series, Australia had a disappointing run at the men's T20 World Cup, at home, failing to qualify for the semi-finals after a heavy loss to New Zealand and a washout against eventual champions England. Waugh called the performance by the defending champions "a massive shock", where "no one really stepped up and took the bull by the horns".
When asked if that was at least in part due to the changed, and changing, landscape of cricket, where players take part in leagues around the world, and play in different styles under different captains and coaches, Waugh didn't disagree.
"It's a bit unsettling, with different captains and different styles and, you obviously perform better under some and you think you've got better ideas than others and, yeah, it would be hard to be, I guess, the captain of the Australian side," he said.
"There was pretty much one captain [when he played], and you knew what the style was, and how you're going to play, and you knew the personalities. Yeah, they are all over the place, and [it] probably is a bit unsettling."