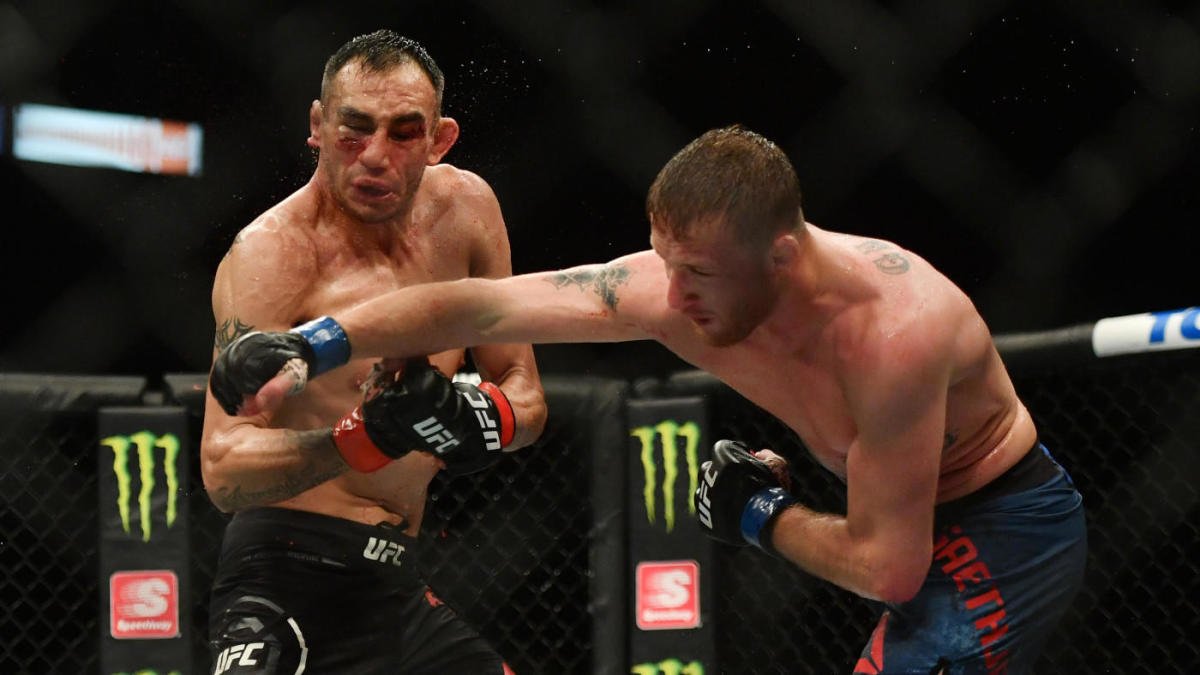 Source
Fans of the fight game, sports lovers, and casuals alike crowded to their televisions or desktops to watch UFC 249 on the 9th of May for what would mark one of the first large sporting events to take place during 2020 amid the global impact of COVID-19. Held in Jackson Florida, main eventers and preliminary carders were equals on the night, as the stands stood empty while the fighters and their teams made their way to the octagon. The stacked card would feature two title fights as Henry Cejudo would defend his 135-pound strap against the two-time champion, Dominic Cruz. Fans would then be treated to a lightweight main event where the interim lightweight belt would be on the line as Tony Ferguson would do would battle against Justin Gaethje, who stepped in to replace champion Khabib Nurmagamedov who was kept from competing due to travel bans. While all fights, both on the main card and the prelim card lived up to the billing and boasted some of the finest talents the company had to offer, I will cover the final three fights of the card and the implication for both their winners and losers.
The Predator Takes Out Rozenstruik
A great many heavyweights came out to present their credentials at UFC 249, among them were two exciting bomb merchants looking to push for title contention. On the one hand was Francis Ngannou, a power puncher who looked unstoppable until he came up against present champion, Stipe Miocic. The loss seemed to have taken a psychological toll, as the Cameroonian would fall to another defeat at the hands of Derick Lewis. But Ngannou would shake off his setbacks and proceed to go on a tear fueled by a hunger to become the greatest in his division. Wracking up three straight victories, Ngannou put himself right back in to title contention and a highly anticipated re-match with the man who showed him to be fallible.
Standing in his way, however, would be an equally terrifying striker in the form of relative newcomer, Jairzinho Rozenstruik. Holding a perfect professional record of 10 wins without a loss, the native of Granada called out 'The Predator', and entered the octagon on the back of a four-fight win streak which saw him finish all of his opponents via TKO or KO. A victory over Ngannou would seal his fate as the next to fight for the heavyweight crown.
Ngannou Waists Little Time
The feeling-out process in the fight was non-existent, while Rozenstruik may have felt that Ngannou would respect his power and first establish a pace and find the range, he was devastatingly surprised that Ngannou would blitz him from the get-go, throwing wild, looping overheads that all missed their mark. Rozenstruik attempted to counter with punches of his own, but the backward momentum made it hard to generate the necessary power, and he would eventually be caught with a left to the cheek that sent him crashing to the cage. A few follow up strikes to the head was enough for the referee to step in and call it a night.
What's Next?
Ngannou vs. Miocic 2
Ngannou deserves a re-match with Stipe, certainly more than Cormier deserves a trilogy. Francis has shown that he put the first loss of his career in the UFC well behind him and seems to have rediscovered the fearless and ruthless nature that got him to his first title fight. However, while the knockout was certainly impressive, it was also tremendously sloppy in the way of striking, and that wild style of throwing one's hands and hoping they hit something, will not work against a very intelligent fighter in Stipe Miocic, something Ngannou learned the hard way. But with four straight victories on his resume, the re-match is the only fight to make.
Rozenstruik vs. Fabricio Werdum/Blagoi Ivanov
Rozenstruik is ranked fifth in the heavyweight division and may well want to jump back into action as soon as he can, but he may have to accept a lower-ranked opponent as Curtis Blaydes will fight Alexander Volkov and Walt Harris will fight Overeem in the future. A sensible fight might be to put him against former champion, Fabricio Werdum, who lost on the same night via split decision to Alexey Oliynyk. 13th ranked Blagoi Ivanov could also be a good option. While Rozenstruik has certainly proved to be an exciting power hitter, he could benefit from taking on more experienced fighters who will force him to mix up his game and fight smarter.
Triple C Retires On Top
Henry Cejudo put his bantamweight belt on the line for the first time against the former two-time champion, Dominic Cruz. This would be Cruz's first fight since losing his title to Cody Garbrandt in 2016, while Cejudo had an incredibly active 2019 that saw him become a two-division champion.
Cruz looked focused and ready, attempting to set the pace with his quick footwork and faints, but Cejudo seemed unfazed, walking down Cruz, slowly controlling the octagon and landing effective kicks to take some of the wind out of the sails of the former champion. As the fight went on in the second round it seemed that the decline of Dominic Cruz was clear to see, a man who was impossible to touch at one time, seemed to have been figured out. With enough pressure and ome great timing, Henry managed a devastation knee that dropped Cruz to the canvas, Cejudo would proceed to unload with heavy, unanswered shot to the side of the face and head, forcing referee, Keith Peterson, to step in and call the fight. This was done even though Cruz stilled seemed to be in the fight and was busy getting to his feet and was far from happy with the final result.
While many may have felt that this would've been the time for Cruz to hang up the gloves, given his long history of sideling injury, it was Cejudo who surprisingly decided to call it a day on his career, claiming that he had accomplished everything he wanted to in the sport.
Were There More Exciting Fights To Make With Cejudo?
While one can understand Henry's retirement, were there more fights to be made for him? Only one comes to mind, and that would be Russian Bantamweight, Petr Yan. Recently coming off a picture-perfect victory over veteran, Urijah Faber, a fight between these two would've been explosive. Other than him, it's safe to say that no one else deserves the fight. Dillashaw would go on to be both beaten then suspended, Garbrandt has dropped far down the pecking order and Jose Aldo's best days are behind him. All in all, the decision to retire is understandable.
Cruz, Nothing Left To Prove
While not getting the result he wanted, Cruz claimed that he was not sure about his fighting future. Truly one of the best at 135, one can only imagine how much Cruz could've done in his fighting career were it not for his injuries. But Cruz would find another amazing talent in fight analysis and commentary, and his skill and expertise in this regard are clear for all to see. Retirement may ultimately be the direction Cruz should go for, another fight with Faber does nothing for anyone, while a re-match against Garbrandt may not be the worst idea in the world. If that still doesn't interest him, a legend vs. legend fight against Jose Aldo might be a good fight to get behind.
Highlight Reel Fight For Gaethje
Tony Ferguson was slated to do battle against Khabib Nurmagamedov for the lightweight title, but it would appear that the fight Gods simply do not want the fight to ever happen, as the travel bans put into place due to COVID-19 would prevent Khabib from participating on the night. It would mark the 5th time that the fight was scheduled and then canceled, but heavy-handed, Justin Gaethje, would nonetheless step in to save the main event. No doubt next in line for the winner between Ferguson and Khabib anyway, Justin had amassed an impressive collection of victories all coming by way of knockout and gladly stepped up to take his opportunity at gold.
Both fighters looked in great condition, Tony looked to confuse his opponent with his unorthodox stance changes and movements, but Gaethje remained calm, moving well in his own right and not falling victim to Tony's subtle mind games. The story of the fight was Justin's patience, he never seemed to become disheartened at Tony's ability to eat his biggest shots, his right hand finding its mark regularly with his vicious left just coming up short on occasion. Ferguson seemed poised to play the long game, take Justin's best shots and do lasting damage towards the end, but it just seemed to never come, Gaethje would continue to land, and the damage started to build up.
Come round number five and Tony looked more beat up then he has ever looked in his career, it seemed like the end was near, but Justin continued to impress with his patience, never rushing for a finish but calmly doing damage knowing that more could be dished out. A vicious jab in the third minute of the last round knocked Ferguson senseless, shaking his head but failing to clear the cobwebs, Herb Dean had seen enough and stopped before any more damage could be done.
What's Next?
New Main Event! Gaethje vs. Khabib
After the fight, Gaethje tossed the interim belt to the floor, making a statement that he would only accept the real belt, a fight with Khabib is the only way to go from here on out, providing the COVID-19 virus can be brought under control and travel bans lifted.
A Time For Reflection For Ferguson
Ferguson's defeat was due perhaps in part to underestimating Gaethje, but this came as a result of forgetting what it's like to lose. Ferguson hadn't felt the sting of loss since 2012, and this latest loss may require him to step back a little and re-evaluate. Having beaten close to everyone in the division, the options seem slim at the moment, but a fight against the previous interim champion, Dustin Poirier, seems to be the best option. Also coming off a loss in his last fight and owning a victory over Gaethje, the fight could be a very good match-up for two highly ranked fighters. Besides this, the only other fight to make would be to give Tony his long-awaited fight against Connor McGregor, but coming off a victory himself, it would seem that the fight to make would be Ferguson vs. Poirier.
Other Results
Calvin Kattar def. Jeremy Stephens via second-round TKO (strikes)
Greg Hardy def. Yorgan De Castro via unanimous decision
Anthony Pettis def. Donald Cerrone via unanimous decision
Aleksei Oleinik def. Fabricio Werdum via split decision
Carla Esparza def. Michelle Waterson via split decision
Vicente Luque def. Niko Price via TKO
Bryce Mitchell def. Charles Rosa via unanimous decision
Ryan Spann def. Sam Alvey via split decision