Key match stats PBKS vs DC
Pitch Stats – DY Patil Stadium
Average first innings score: 169
Average first innings winning score: 185
Average powerplay score: 45
Win % batting 1st vs batting 2nd: 44% / 56%
Team form PBKS vs DC
PBKS – WLWLW
DC – WLWLW
Recent meetings: DC won by 9 wickets
PBKS vs DC Preview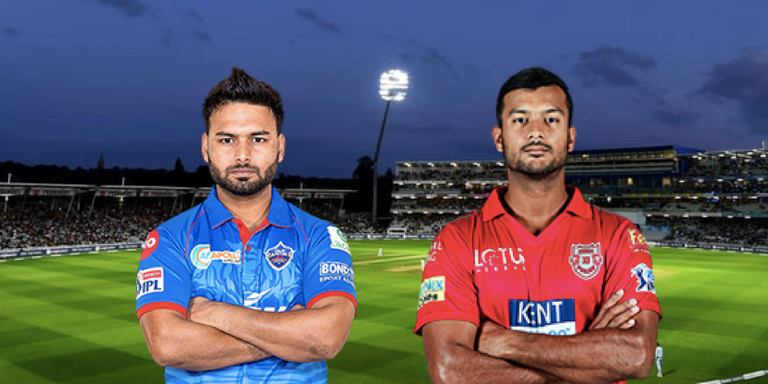 As the title of this post suggests, it'a a very simple equation now for both these sides, keeping winning and remain in IPL 2022!
The victor in this match will move up into 4th place and hold their destiny in their own hands as far as reaching the playoffs is concerned while the loser will be reliant on others slipping up in the final round of fixtures to sneak through.
Essentially, in order to be champions one of these sides would have to achieve what has been impossible so far for them this season, consistency.
Incredibly neither Delhi Capitals of Punjab Kings have won back to back matches in IPL 2022 but that will change today with the winner then needing to go on a winning streak of 5 to reach the final and 6 to claim the title. No side has so far managed to string together a run of 6 wins this season, do either of these 2 have what it takes?
| Team | Consecutive victories | Dates |
| --- | --- | --- |
| SRH | 5 | 9 - 23 April |
| GT | 5 | 14 - 30 April |
Longest winning streaks in IPL 2022
I've been suggesting all season that DC would appear on paper to be the more likely to put that strong run together and the fact that they've qualified for the playoffs in the last 3 seasons while Punjab have not reached that mark since 2014 does put them in a much stronger position.
Standing in their way though are a couple of explosive batsmen in the form of Liam Livingstone and Jonny Bairstow as well as a couple of former teammates in Kagiso Rabada and Shikar Dhawan.
DC have replaced Dhawan with David Warner and continued to be the most dangerous side in the powerplay this season but they are perhaps missing the wicket taking ability of Rabada who continues to have the happy knack of getting key break throughs at both ends of the innings.
| Season | Wickets | Strike Rate |
| --- | --- | --- |
| 2022 | 21 | 11.7 |
| 2021 | 15 | 22.4 |
| 2020 | 30 | 13.1 |
| 2019 | 25 | 11.3 |
Rabada spent the 3 seasons prior to this at Delhi Capitals and took wickets for fun. Is DC's decision not to retain him costing them another shot at that elusive first title?
By contrast DC have struck just 14 times in the powerplay this year and have been reliant on their spinners to turn things around in the middle overs. The x-factor of a Rabada or indeed Avesh Khan who claimed a hat-full of wickets for them last season hasn't been replicated by any of their seam options this year while the general lack of turn and quality of pitch has limited the likes of Axar Patel who was also a key option for them them on the slower wickets of the UAE.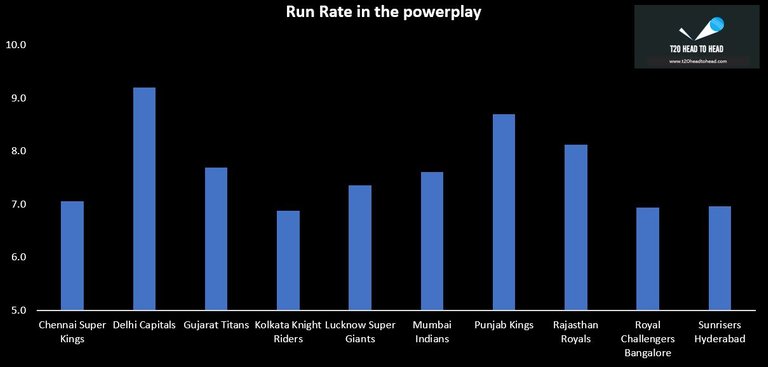 PBKS vs DC sees the 2 fastest scoring teams in the powerplay go head to head
This match does see the 2 fastest scoring teams in the powerplay go head to head and while we've mentioned the struggles of DC to claim early wickets this year, let's not forget that they decimated this PBKS top order in their previous fixture this year, reducing them to 54 for 4 before ultimately chasing down their target of 116 with almost half the overs left and 9 wickets in hand.
PBKS vs DC head to head
DC bowling vs PBKS batting
After PBKS recorded the highest powerplay score in IPL 2022 the question for DC is how can they stop the in form Jonny Bairstow from doing something similar today?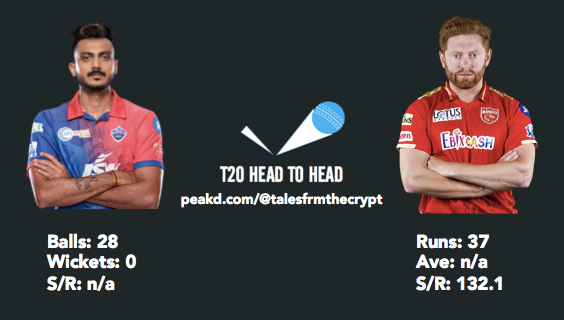 Axar Patel vs Jonny Bairstow T20 head to head
The usual option for teams against Bairstow would be left-arm spin with the right-hander having a career average of 25.3 and a strike rate of just 119.8 against it, far lower than his overall T20 numbers. That being said, Bairstow has played Axar Patel well in previous encounters and of course, PBKS have Shikhar Dhawan who has the exact opposite numbers against left-arm spinners with his strike rate of 134.2 against them being better than against any other type of bowling.
In fact, the success of either team today could well be dependant on them maintaining left-right combinations throughout the innings against each others spin options. The stats below show for example how much more success Kuldeep and Axar have been against right-handers than they have against lefties this season.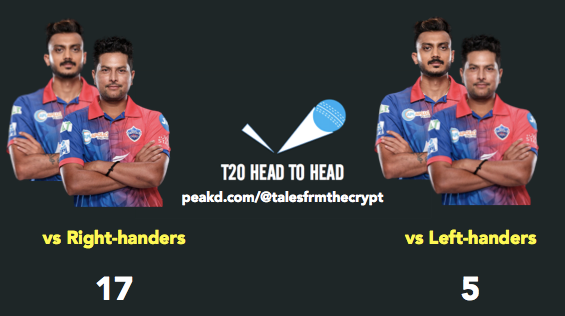 Kuldeep and Axar wickets vs left and right handed batsmen in IPL 2022
PBKS will then hope that they can lay the platform for Liam Livingstone to deliver again at this venue where he hit that monster six off Mohammed Shami the last time he visited. In general his stats at the DY Patil are impressive and on a pitch where scoring hasn't always been easy, another 20-30 ball cameo from him might prove the difference.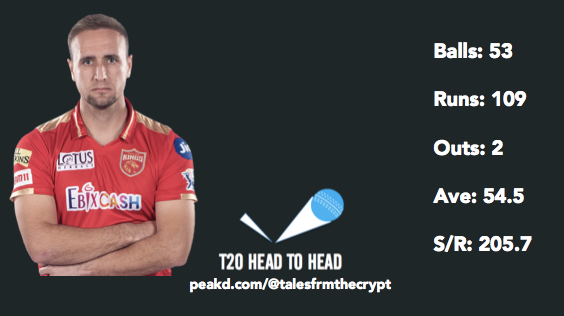 Livingstone T20 stats at the DY Patil
PBKS bowling vs DC batting
I noted the impact of Rabada more generally in the preview above and he has particularly enjoyed his previous 2 matches at the DY Patil as the stats below show.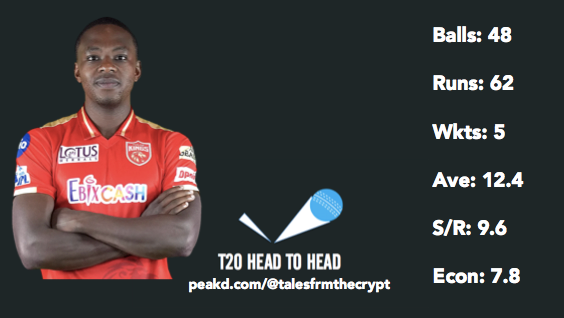 Rabada T20 stats at the DY Patil
His contest against David Warner will be crucial and the head to head stats for that were covered in my last preview of games involving these 2 teams.
DC are then left waiting on the fitness of Prithvi Shaw who spent some time in hospital last week with a fever. He's returned negative results for Covid and it's somewhat uncertain as to how ill he really was and whether it was more a precautionary step to prevent any further outbreaks within the DC camp that have already caused disruption for them this season.
PBKS opted to drop Sandeep Sharma for the last match and bring back Harpreet Brar who opened the bowling against RCB. He's only bowled 1 delivery to Prithvi Shaw before and dismissed him with it. In general, Shaw's record against slow-left armers is poor and with Mitch Marsh and Rovman Powell also having less than spectacular records against slower bowling full stop, it might well be that PBKS stick with that plan.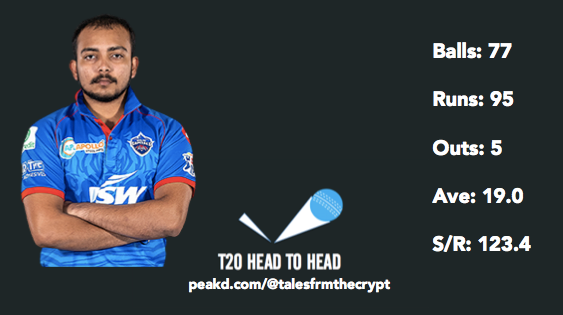 Shaw T20 career stats vs slow-left arm bowling
It does of course make the wickets of David Warner and Rishab Pant (both left-handers and both good players of spin) even more crucial. Warner anchored the innings against Rajasthan in DC's last match, allowing them to record their first win of the season at the DY Patil and a similar knock today could prove crucial once again.

All stats used in this blog are from my own database which is freely accessible at T20 head to head. Images are my own with the exception of player profiles and background images which are used under a creative commons license or otherwise royalty free