Key match stats PBKS vs RR
Pitch Stats – Wankhede Stadium
Average first innings score: 170
Average first innings winning score: 188
Average powerplay score: 44
Win % batting 1st vs batting 2nd: 46% / 54%
Team form PBKS vs RR
PBKS – WLWLL
RR – LLWWW
Recent meetings: IPL 2021 - RR won by 2 runs, PBKS won by 4 runs
PBKS vs RR Preview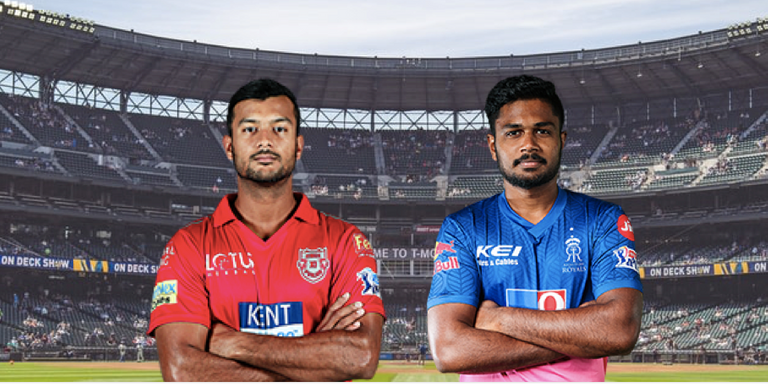 The title of a previous blog this week predicted a log jam in the league table and a log jam we have got! You could throw a handkerchief over the sides from 3rd to 7th position as teams battle it out to claim a top 4 spot.
For Punjab Kings the problem all year has been consistency. They are yet to win 2 games in a row this season and their impressive victory over top of the table Gujarat Titans needs to be followed up by a similarly ruthless performance in this match.
The likes of Livingstone and Dhawan with the bat and Rabada and Chahar with the ball have had impressive seasons but if Punjab are to break clear of the chasing pack and claim their first playoff spot since 2014 then they will need a few other players to stand-up and be counted.
Other than the 2 batsmen mentioned above, only Mayank Agarwal has scored a half century for PBKS this year in what has otherwise been a disappointing season for the captain while bowling wise, Rabada and Chahar's wickets account for 29 out of the 50 in total that PBKS have taken (58%).

Rajasthan have had more contributions from within their squad but at the same time are very dependent on the efforts of Buttler and Samson with the bat.
Their tactics so far this year have generally seen a cautious approach in the powerplay before shifting through the gears as the innings progresses. This has worked for them early in the season thanks in large to the form of Buttler and as we've shown in previous analysis keeping wickets in hand during the early stages is a tactic that most of the top teams have relied on in IPL 2022.
However, in their last couple of matches that both ended in defeat, Rajasthan have failed to get going. Buttler couldn't quite find momentum against either KKR or Mumbai Indians while Shimron Hetmyer who has had a stellar season up until this point also struggled to give the Royals the necessary burst of runs at the back end of the innings.
Scratchy performances at the Wankhede have become a bit of problem for Rajasthan all season. They've batted first in each of those matches and have only put in a truly dominant display against Delhi Capitals where they recorded a season high total of 222/2.
| Venue | Average wickets lost in the PP | Average run rate in the powerplay |
| --- | --- | --- |
| DY Patil | 1.7 | 7.4 |
| Wankhede | 1.5 | 7.4 |
| Maharashtra | 1.3 | 7.0 |
| Brabourne | 1.3 | 8.7 |
Average wickets lost and run-rate during the powerplay by venue during IPL 2022
The problem for both these teams is that starting on this Wankhede pitch is not an easy task and neither side has a particularly long batting line-up. For Rajasthan, Ashwin is at 7 followed by a long tail of pure bowlers, while for PBKS it's likely to be Rishi Dhawan at 7 followed by a slightly more competent group of bowlers who quite frankly have been relied on far too often this season due to the follies of some of the top order
The winner of this game could well be the side that best uses the powerplay to take wickets and/or restrict the damage the opposition does to them while laying a platform for big scoring at the end of the innings which we've seen is also a feature in matches played at the Wankhede.
PBKS vs RR head to head
PBKS batting vs RR bowling
Punjab attempted to rectify some of their batting woes by shuffling the top order against Gujarat and moving Jonny Bairstow up to open. It didn't work with the English batsmen struggling to find any kind of form in this season's IPL after a couple of strong years with SRH.
The difficulty for Bairstow stems from the fact that he arrived late having had 6 months of pure Test cricket (during which time he performed well in a struggling team) and then had to try and adapt his game to the T20 format.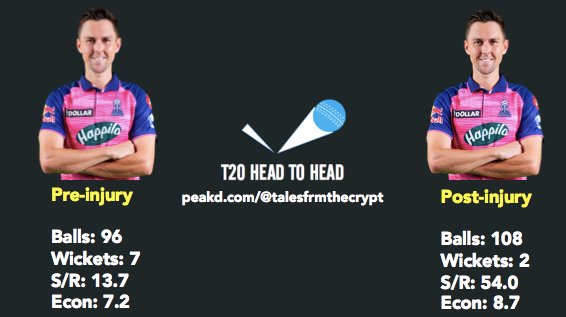 Boult's record in IPL 2022 pre and post injury
However, Rajasthan also have their own concerns with their powerplay bowling and the fitness of Trent Boult who since returning from a niggle looks to be struggling with his rhythm. His new ball partnership with Prasidh Krishna has been crucial to the Royals this season and if there is now a weakness there then Bairstow who strikes at 170+ vs Boult in T20 cricket might yet be the man to exploit it.
Ultimately, Rajasthan have struggled with a 5th bowling option let alone a 6th so when one of their 4 star bowlers doesn't perform it does (as we've seen over the last couple of games) put them at a significant disadvantage.
The argument to move Bairstow to open has been strengthened by the lack of form of Mayank Agarwal who is also considered a good player of spin in the middle overs. His record against Ashwin and Chahal certainly shows that he's willing to take on the slow bowlers although more often than not that also results in his demise!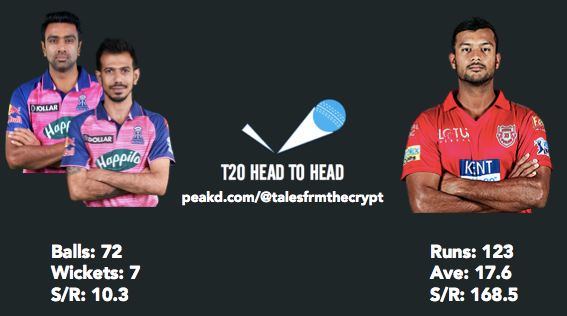 Agarwal combined head to head T20 record vs Ashwin and Chahal
Of course everyone will be watching to see if Liam Livingstone can replicate the kind of power hitting that we saw earlier in the week against Gujarat. His 117m six off Mohammed Shami puts him firmly on the list of the biggest sixes in IPL history with the majority of those above him having been hit at altitude.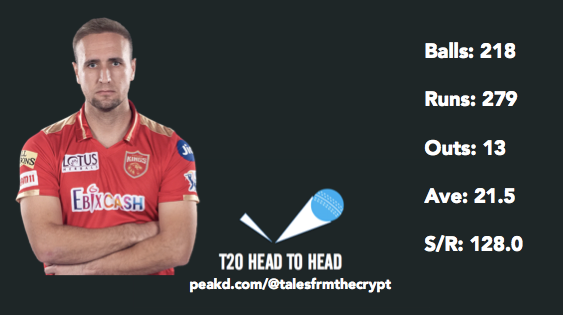 Livingstone T20 career stats vs right arm finger spin
If Livingstone does have a weakness then it's against finger spin and so Rajasthan will be hoping the the wily old Ravi Ashwin has a trick up his sleeve to stifle the Englishman in this match.
RR batting vs PBKS bowling
PBKS look to have found a good new ball attack with Sandeep Sharma coming in and adding accuracy to the pace and hostility of Kagiso Rabada. Both have good records at the Wankhede and should again enjoy the early movement and extra bounce the pitch usually offers.
Sandeep is currently the most economical bowler in the powerplay during IPL 2022 (min 50 balls bowled in PP) with the right-armer going at just 3.4 runs an over while the field restrictions are up. Meanwhile, Rabada has now struck 7 times in 7 different powerplays this season a feat that no other bowler has managed to achieve in IPL 2022.
Of course, those 2 will be up against Orange Cap holder Jos Buttler in this match and his record against both is very impressive!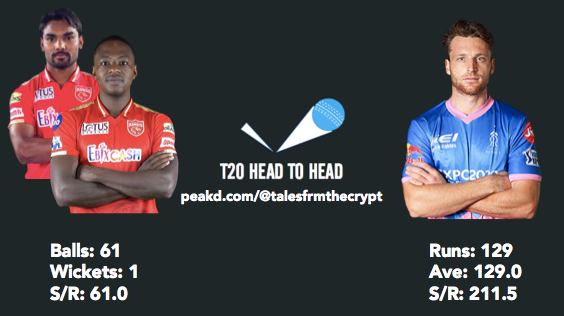 Buttler combined head to head T20 stats vs Rabada and Sandeep Sharma
With question marks over the fitness of Rahul Chahar after he was forced off with a hand injury in the last match then Rajasthan might fancy targeting this PBKS side during the middle over period.
As alluded to above, PBKS have been particularly dependant on their wrist spinner to claim wickets between overs 7 to 15 as demonstrated in the graphic below.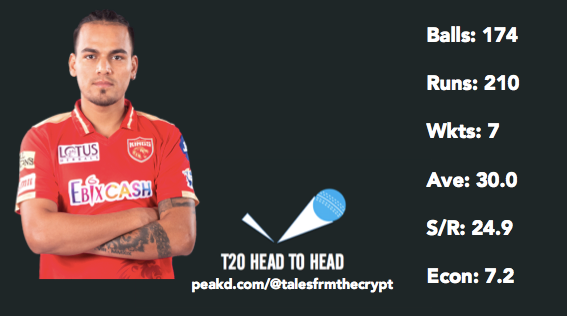 Chahar has taken 7 out of the 18 wickets that PBKS bowlers have claimed during the middle over phase this season
If Chahar isn't fit to play then PBKS would enter the game without a frontline wrist spinner and may opt to recall Harpreet Brar and use him in combination with Liam Livingstone as their slow bowling options.

All stats used in this blog are from my own database which is freely accessible at T20 head to head. Images are my own with the exception of player profiles and background images which are used under a creative commons license or otherwise royalty free