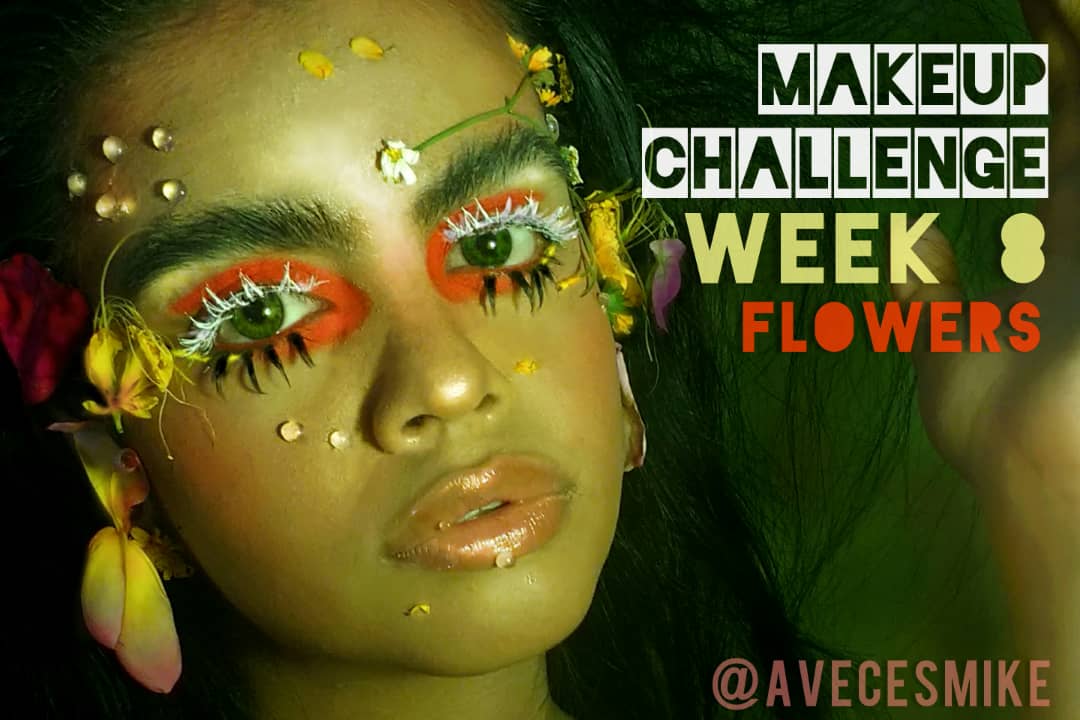 ¡HOLA, MI GENTE DEL PANAL!
¿Cómo están todos? Qué felicidad de verdad pasar por aquí a compartir esto que tanto nos gusta a todos, y sé que disfrutamos mucho haciéndolos.
Estoy muy contento de formar parte de esta iniciativa #MakeUpChallenge porque en serio, me ha ayudado a retomar una pasión, que había mantenido guardada desde hace tiempo.


HELLO, MY HONEY PEOPLE!


How you all doing? What a real happiness to pass by to share this that we all like so much, and I know that we really enjoy doing it.
I am very happy to be part of this #MakeUpChallenge initiative because seriously, it has helped me regain a passion, which I had saved for a long time.
---
BUENO, Y ESTA SEMANA TENEMOS EL TEMA DE FLORES,
¡QUE ME ENCANTA!
WELL, THIS WEEK THE THEME IS FLOWERS, AND I LOVE IT!
Antes de todo, quiero que sepan que esto fue un montón de trabajo previo HAHAHAHAHA! Tuve que hacer algunas gotitas de silicón caliente (hice como 100 por si acaso, y son más difíciles de hacer de lo que parecen).
Before we begin, I want you to know that this took a lot of previous work HAHAHAHAHA! I had to make some hot silicone droplets (I did like 100 just in case, and they are harder to make than they look).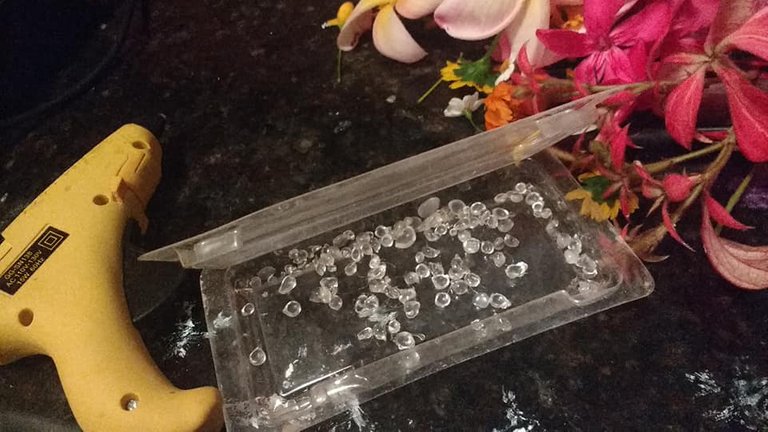 También fui a los jardines cercanos a mi casa recolectando flores y tallos lindos para usar. Luego, pensé que podía darle algún uso a unas pestañas viejitas que tenía guardadas en mi estuche de maquillaje desde hace años... Tenía dos pares, y decidí pintar unas de blanco, y las otras cortarlas en trocitos, YA VAN A VER PARA QUÉ!!!
I also went to the gardens near my house collecting pretty flowers and stems to use. Then, I thought that I could put some use to some old eyelashes that I had kept in my makeup case for years ... I had two pairs, and I decided to paint one white, and the other cut them into small pieces, YOU ARE GOING TO SEE WHAT FOR !!!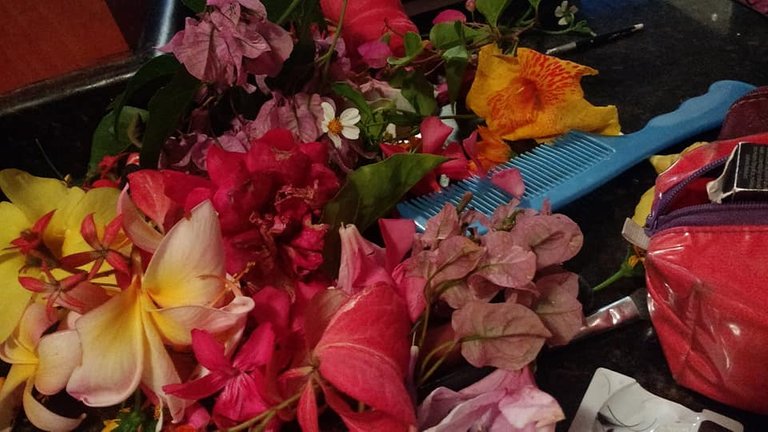 Sin más que decir, mi gente: DISFRUTEN DEL PASO A PASO:

Without more to say, my people: ENJOY THE STEP BY STEP: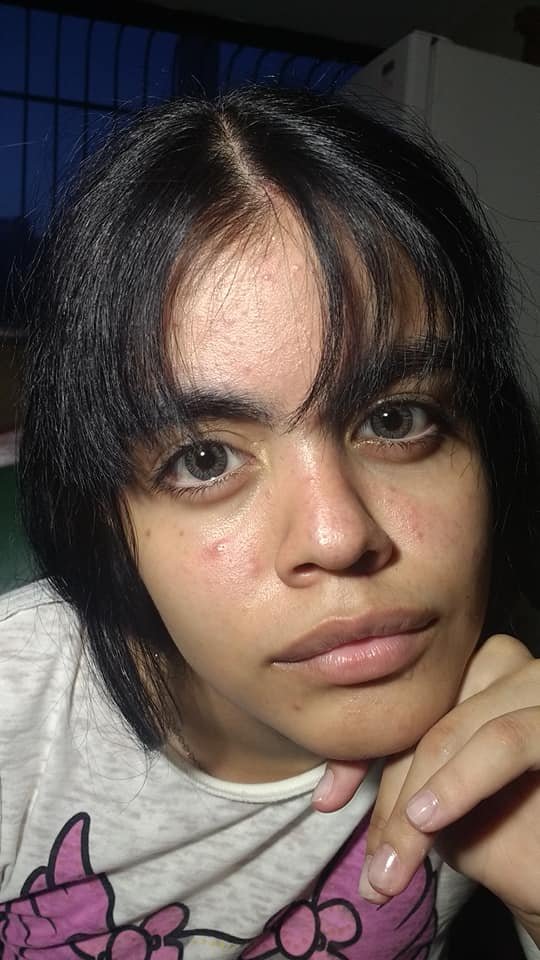 Esta vez, mi modelo fue Dharma Bianco
Comenzamos, como siempre hidratando la piel. Primero, coloqué un poco de agua de arroz, para bajar un poco la inflamación de las espinillas de la chica a maquillar, luego un poco de crema hidratante Nivea, para comenzar a aplicar el maquillaje de manera fresca.
We started, as always, hydrating the skin. First, I put a little rice water, to reduce the inflammation of the pimples of the girl to be makeup, then a little Nivea moisturizer, to start applying makeup freshly.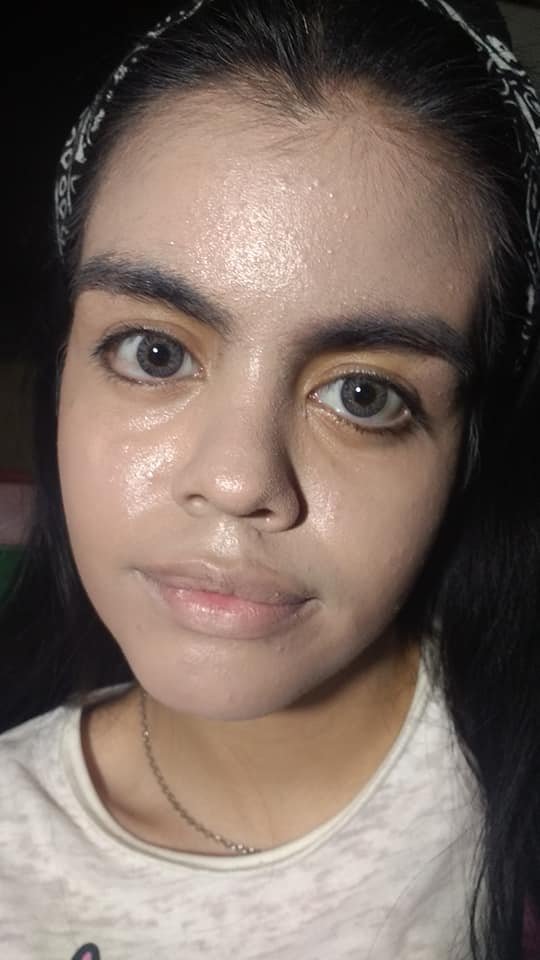 Con corrector verde, comencé a tapar todas las zonas rojas (el corrector verde contrarresta el enrojecimiento del acné) y la zona de las ojeras, acompañándolo luego por un corrector liquido en las mismas ojeras. A continuación, con una base del tono requerido y de alta cobertura (yo usé la marca DERMACOL) comenzamos a aplicar sobre la cara con una esponja un poco humedecida con primer para darle un poco más de frescura; seguido por un polvo compacto del tono requerido por igual para sellar la piel y quitar el brillo.
With green concealer, I began to cover all the red areas (the green concealer counteracts the redness of acne) and the area of ​​the dark circles, then accompanied by a liquid concealer in the same dark eye bags. Next, with a base of the required tone and high coverage (I used the DERMACOL brand) we began to apply on the face with a sponge slightly moistened with primer to give it a little more freshness; followed by a compact powder of the required shade again, to seal skin and remove shine.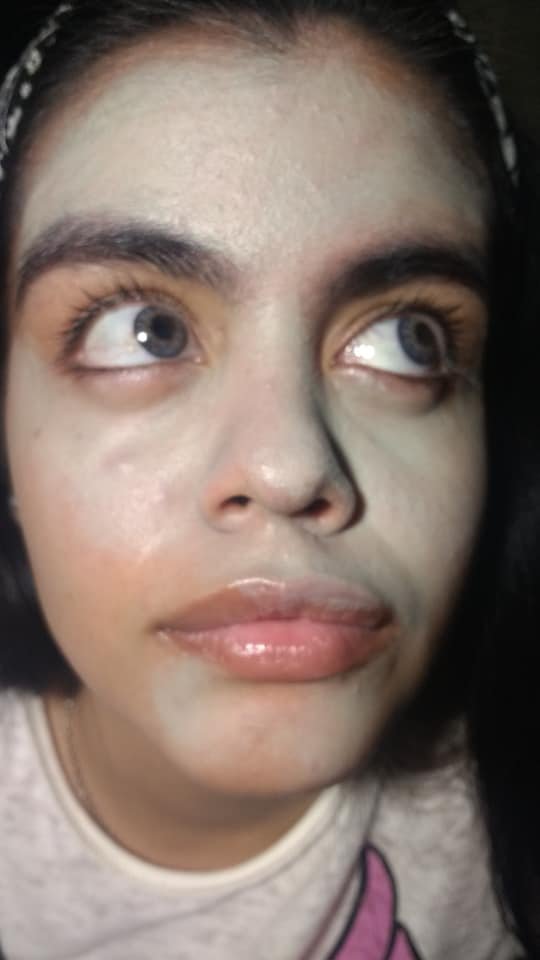 Para seguir, preferí continuar con los ojos. Para ello, con una sombra rojo ladrillo de la paletaJames Charles, comencé a hacer un arco en la parte inicial del ojo, de manera muy prolija en los bordes, hasta llegar a un poco más de la mitad de la cuenca, luego, retiré el excedente de polvo con una brocha.
To continue, I preferred to continue with the eyes. For this, with a brick red shadow from the James Charles palette, I began to make an arch in the initial part of the eye, very neatly around the edges, until I reached a little more than the middle of the basin, then I removed the excess powder with a brush.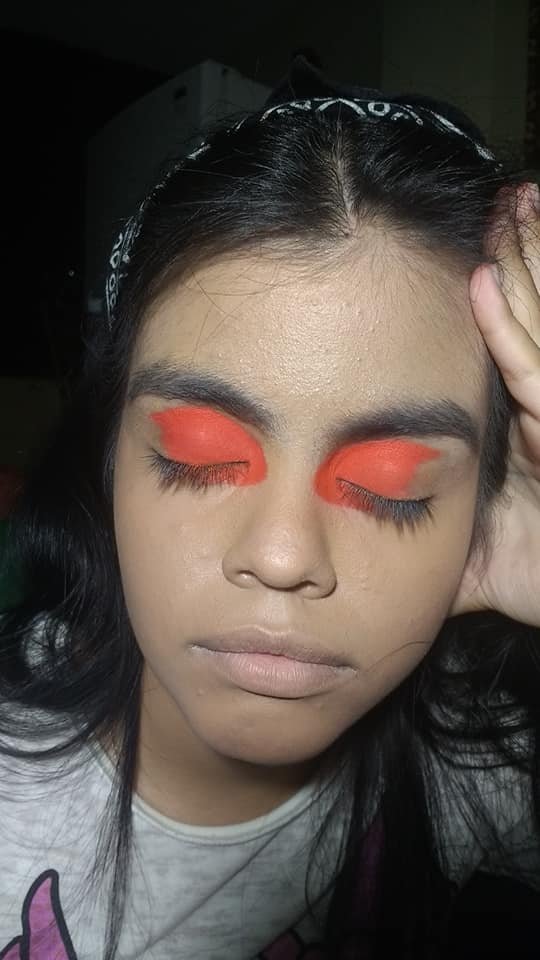 Con un delineador amarillo canario, dibujé una especie de "delineado invertido" bajo la línea de agua del ojo para dar más color a la mirada, y con una cera de cabello al igual que con un peine de cejas, comencé a peinar las cejas hacia arriba, la cera permitió dejarlas estáticas y brillantes.
With a canary yellow eyeliner, I drew a kind of "inverted outline" under the water line of the eye to give more color to the sight, and with a hair wax and an eyebrow comb, I began to comb the eyebrows towards above, the wax allowed them to remain static and shiny.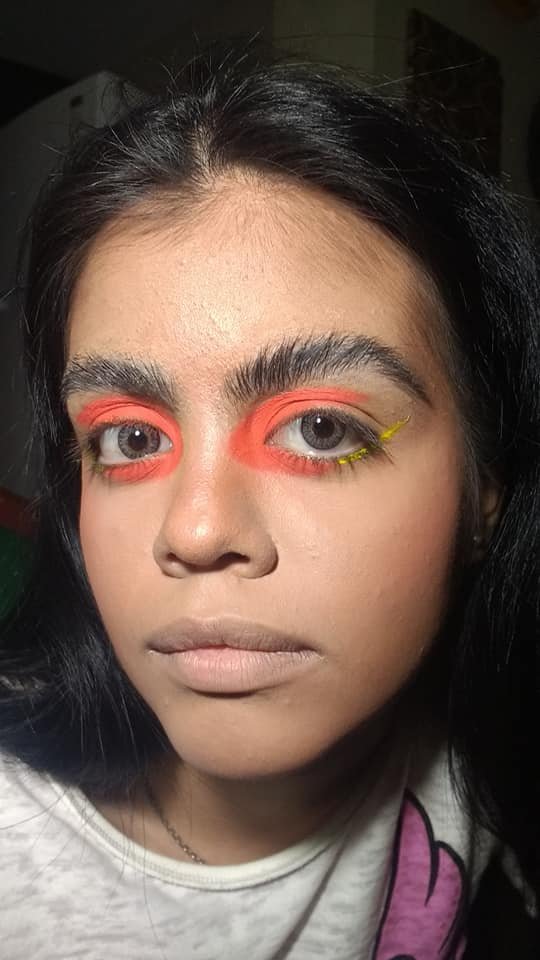 Seguí el proceso, colocando bronzer en las mejillas y nariz, contorneando la cara, un poco de rubor en las mejillas y nariz por igual, y un poco de iluminador en la zona "T" del rostro para darle brillo a la piel. Aquí fue donde usé las pestañas que había pintado con pintura blanca antes de empezar. Las coloqué en su lugar usando una pega de pestañas transparente (para no hacer desastre porque me conozco hahaha) y luego con delineador blanco, pinté las pestañas de la chica, para unir las pestañas postizas a las reales. También, mis pestañitas viejas, que había cortado en trocitos, comencé a pegarlas en la zona inferior del ojo con cierta separación
I continued the process, applying bronzer to the cheeks and nose, contouring the face, with a little blush on the cheeks and nose as well, and a little highlighter in the "T" zone of the face to give shine to the skin. This is where I used the fake eyelashes that I had painted with white paint before I started. I put them in place using a clear lash glue (not to make a mess because I know myself hahaha) and then with white eyeliner, I painted the lashes of the girl, to join the false lashes to the real ones. Also, the old eyelashes, that I had cut into pieces, I began to glue them in the lower area of ​​the eye with some separation.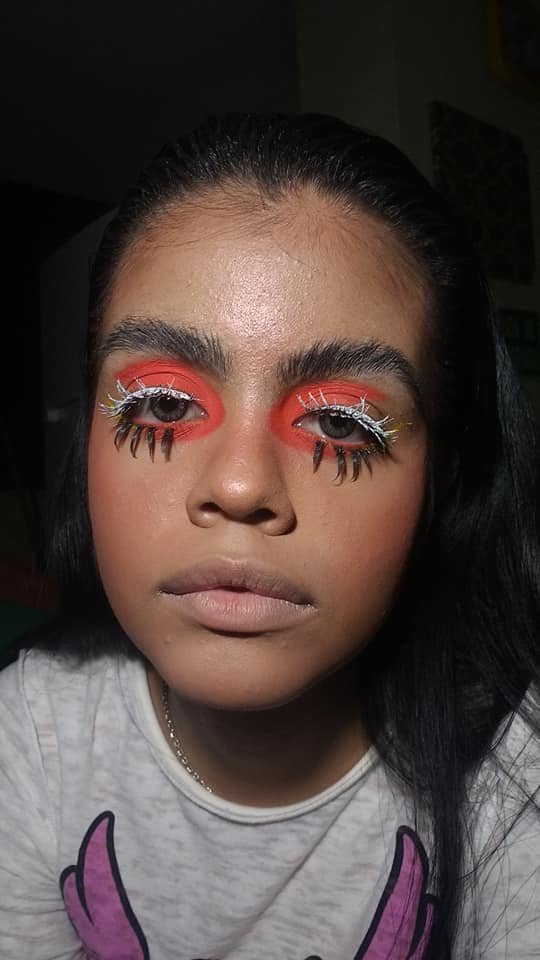 Con las plantitas del jardín que había buscado antes y pega de pestañas NEGRA (SI, FUE UN POCO DESASTROSO HAHAHA! Pero la otra se me había acabado), comencé a adornar el rostro con pétalos, tallos y algunas florecillas completas, de manera que se viera estético y bonito. Tomé las gotitas de silicón que les había comentado antes y comencé a agregarlas al rostro con un poco de gelatina para el cabello. (A PROPÓSITO, al cabello de la chica le quise dar un look mojado y lo peiné hacia atrás con gelatina para cabello y cera, para después, a la parte inferior hacerla lucir "despeinada" para un toque rústico, pero eso ya lo verán)
With the little plants from the garden that I picked before and BLACK glue for eyelashes (YES, IT WAS A LITTLE DISASTERY HAHAHA! But the other one had run out), I began to decorate the face with petals, stems and some complete flowers, so that looked aesthetic and pretty. I took the silicone droplets that I had mentioned before and started adding them to the face with a little hair jelly. (BY THE WAY, I wanted to give the girl's hair a wet look and I combed it back with hair jelly and wax, to later make the bottom look "disheveled" for a rustic touch, but you'll see that soon).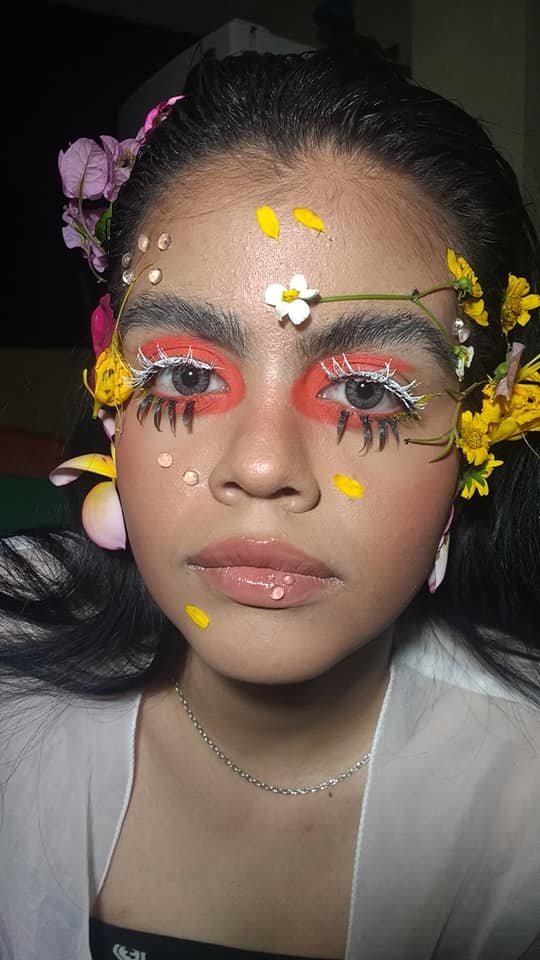 Por último, con un gloss color rosa no muy claro, y un labial nude, pinté los labios para terminar colocando algunas de las "gotitas" de silicón sobre el labio inferior para que aparentara una florecilla recién regada y fresca.
Finally, with a not very light pink gloss, and a nude lipstick, I painted the lips to finish by placing some of the "droplets" of silicone on the lower lip to make it look like a freshly watered flower.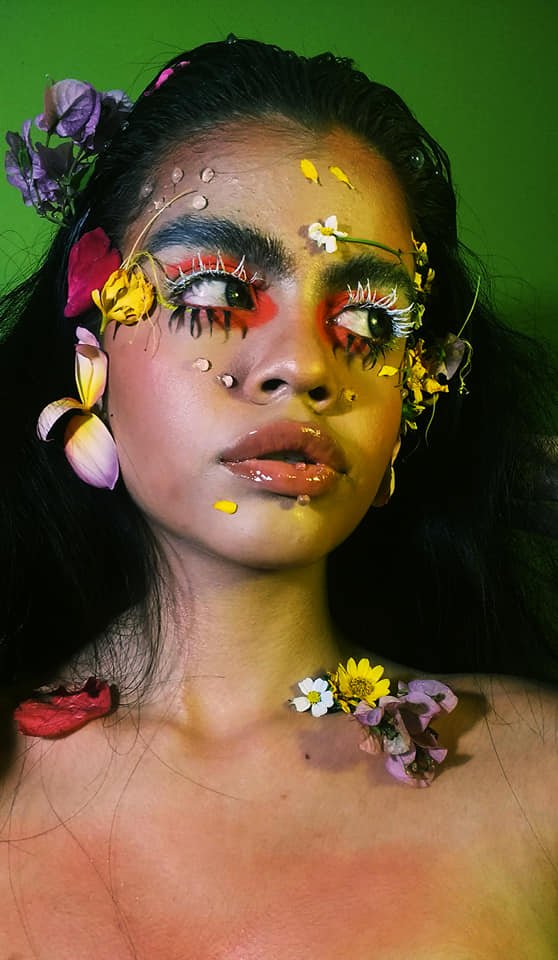 ---
DIOS MIO, ¡FUE UN TRABAJÓN DE HORAS! PERO... VOILÁ! ESPERO LES GUSTE Y LO DISFRUTEN.
A CONTINUACIÓN LES DEJO UN PAR DE FOTILLOS QUE DISFRUTÉ UN MUNDO LUEGO HACER ¡HAHAHA!
OMG, IT WAS A WORK OF HOURS! BUT... VOILÁ! I HOPE YOU LIKE IT AND ENJOY IT.
BELOW, I'LL LEAVE A COUPLE PHOTOS THAT I LOVED MAKING. HAHAHAHA!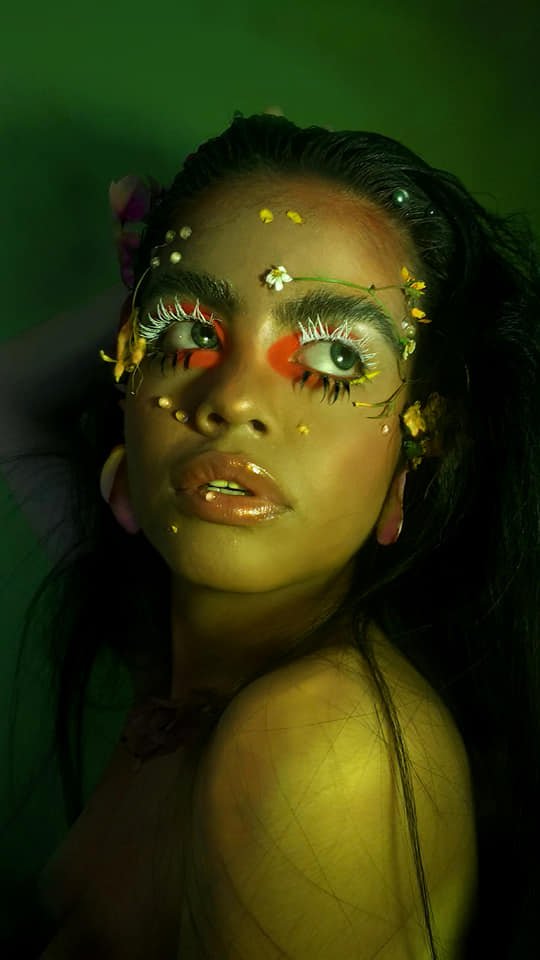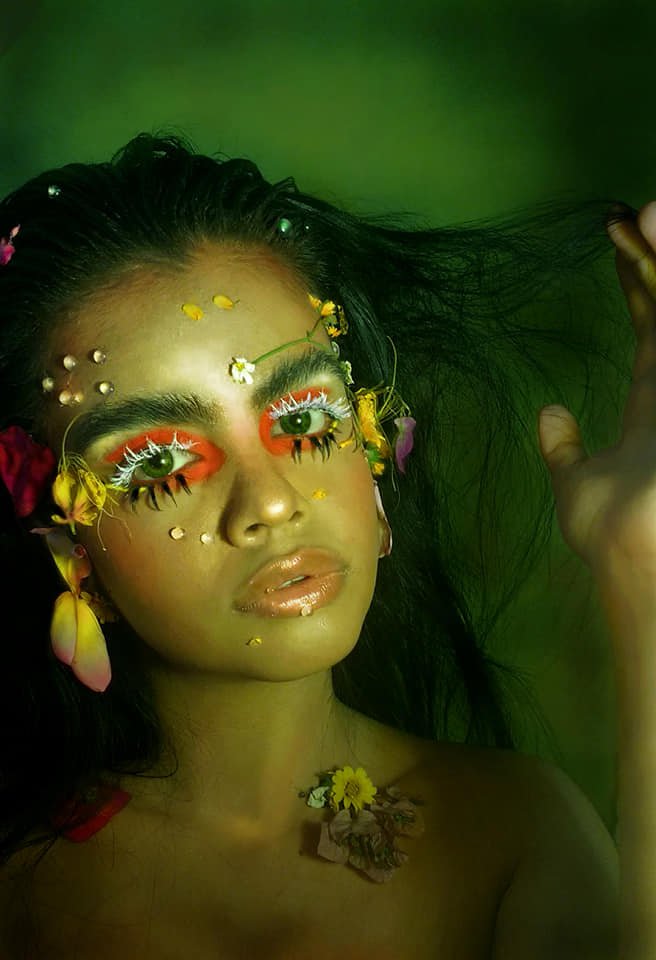 HASTA LA PRÓXIMA, HIVERS!
SEE YOU NEXT TIME, HIVERS!