Hello dear makeup power community today I'm back with a powerful post and burning like fire 🔥, hahahaha I swear that before doing my makeup I was going to do my daily makeup routine, something very natural and fast, and then I said well I'll look for an idea in case it's very simple and I found this technique of inverted cut and I fell in love.
Hola querida comunidad makeup power el día de hoy vuelvo con un post poderoso y ardiente como el fuego 🔥, jajajaja les juro que antes de maquillarme iba a hacer mi rutina de maquillaje para diario, algo muy natural y rápido, y después dije bueno buscare una idea por si es muy simple y encontré esta técnica de corte invertido y me enamoré.
If you notice it looks a little bit like my shirt and it seems as if everything was planned but it was not like that it was a perfect coincidence for this look, I had done open cuts before but never one like this and well here is another look more colorful as promised.
Si se dan cuenta se parece un poco a mi camisa y parece como si todo fue planeado pero no fue así fue una casualidad perfecta para este look, ya había hecho cortes abierto anteriormente pero nunca uno como este y bueno aquí está otro look más colorido como prometí.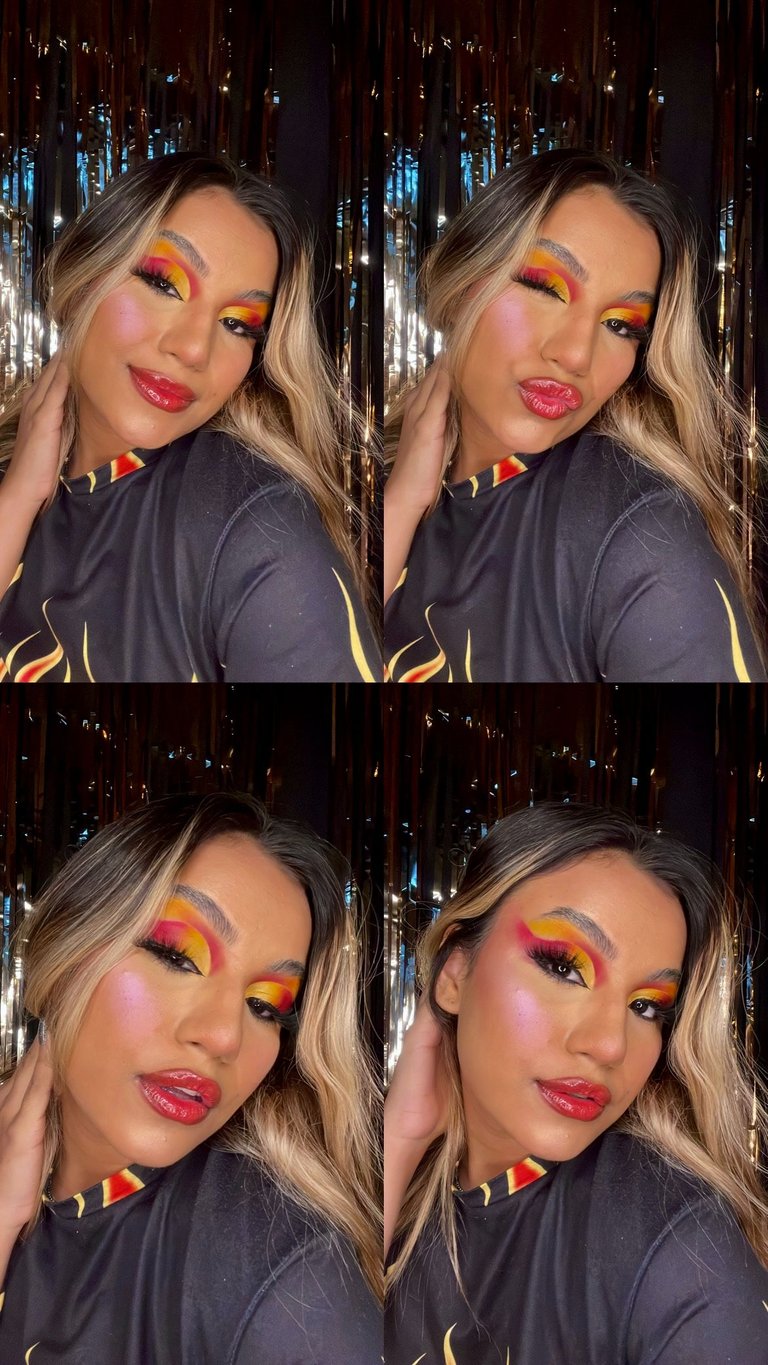 STEP BY STEP✨
When I started to do this Look it was about two o'clock in the morning and I had gigantic dark circles under my eyes, so for the Skincare routine I decided to apply these patches with hyaluronic acid to moisturize them very well and not look so gray, after about 10 15 minutes I applied eye contour and moisturizer. The first thing I did for makeup was the eyebrows with my glycerin soap without using pomade.
Then with a Kabuki cut brush I applied my foundation Fit.me from maybellin New York And with an orange undertone concealer I neutralized my dark circles and imperfections, To illuminate I am using two concealers that are foundation and concealer at the same time in the tone number one and number three of the brand Salome for more coverage, and to finish with the cream products on the skin illuminate with a lighter moisturizing concealer.
Cuándo comencé a realizar ese Look eran aproximadamente las dos de la mañana y tenía unas ojeras gigantes, así que para la rutina de Skincare decidí colocarme estos parches con ácido hialurónico para hidratarlas muy bien y que no se vieran tan grises, luego de unos 10 15 minutos aplique contorno de ojos y crema hidratante. Lo primero que hice para el maquillaje fueron las cejas con mi jabón de glicerina sin usar pomada.
Luego con una brocha de corte Kabuki aplique mi base Fit.me de maybellin New York Y con un corrector de subtono naranja neutralicé mis ojeras e imperfecciones, Para iluminar estoy usando dos correctores que son base y corrector a la vez en el tono número uno y número tres de la marca Salomé para mayor cobertura, y para finalizar con los productos en crema en la piel ilumine con un corrector hidratante más claro.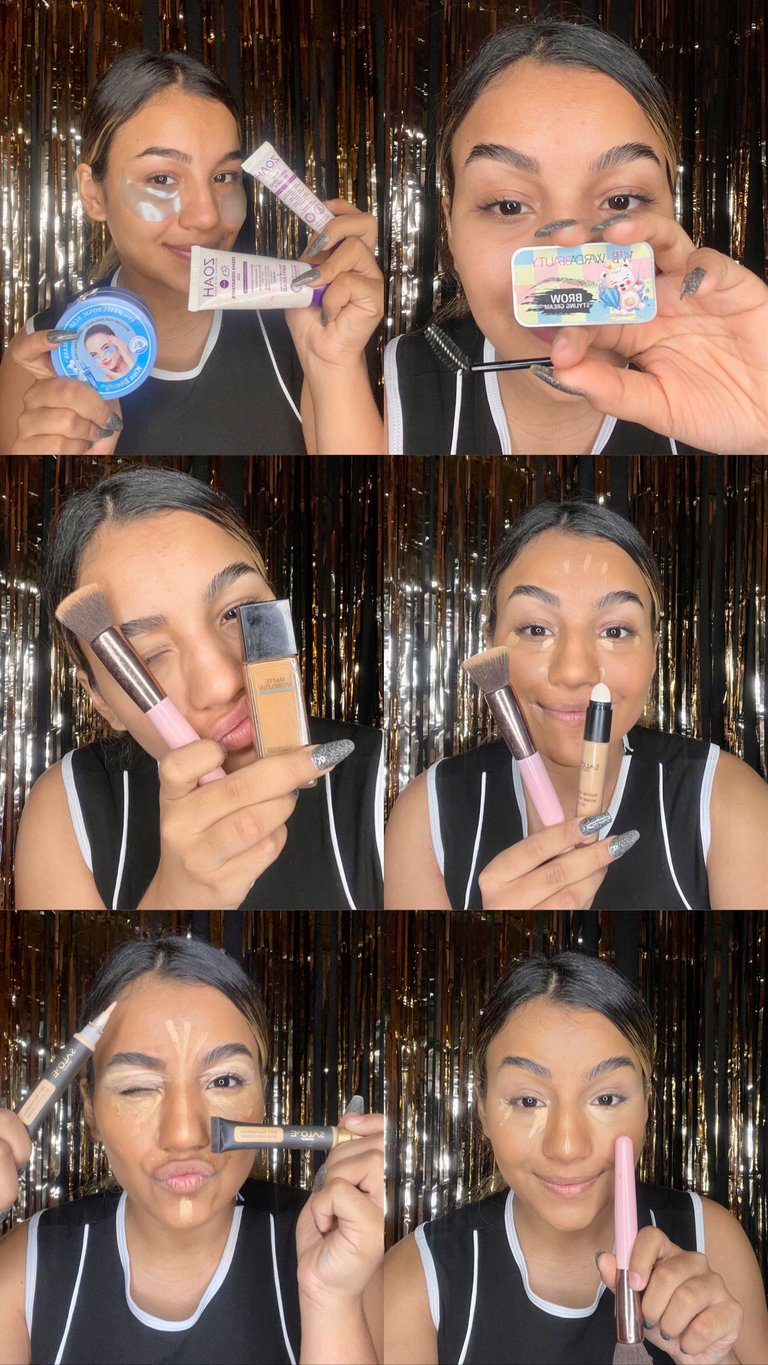 As you can see in the first video this is how I applied the concealers and then in the second one you can see how I blended them with my Kabuki brush and sealed and illuminated with my loose powder in the shade banana, the area of the dark circles should always be dreamed with loose powder never with compact powder.
Cómo pueden ver en el primer video así fue como aplique los correctores y luego en el segundo pueden ver como los difumine con mi brocha Kabuki Y selle e ilumine con mi polvo suelto en el tono banana, La zona de las ojeras siempre debe soñarse con polvo suelto nunca con polvo compacto.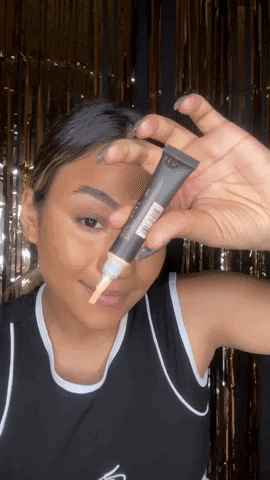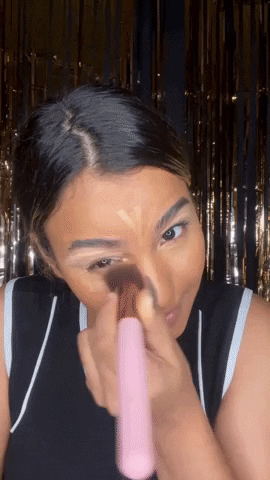 For the next step once sealed with my banana loose powder in the area of the dark circles I will show with my compact powder all over my face and do the contour.
For the eyes using my James Charles palette, the first thing I will do is take my Bala brush and apply my first color which will be in this case the red saturating very well and then blended with another brush to blend larger, then take a little orange tone to create a gradient color and then a yellow tone performing the same procedure with each color until they are well blended with each other and looked a gradient effect.
Para el siguiente paso una vez sellado con mi polvo suelto banana en la zona de las ojeras enseñaré con mis polvos compactos todo mi rostro y haré el contorno.
Para los ojos utilizando mi paleta de James Charles, lo primero que haré será tomar mi brocha Bala Y aplicaré mi primer color el cual será en este caso el rojo saturando muy bien y luego difuminó con otra brocha para difuminar mas grande, Luego tomaré un poco de tono naranja para crear un degradado de color y luego un tono amarillo realizando el mismo procedimiento con cada color hasta que estén bien difuminados unos con otros y se veía un efecto degradado.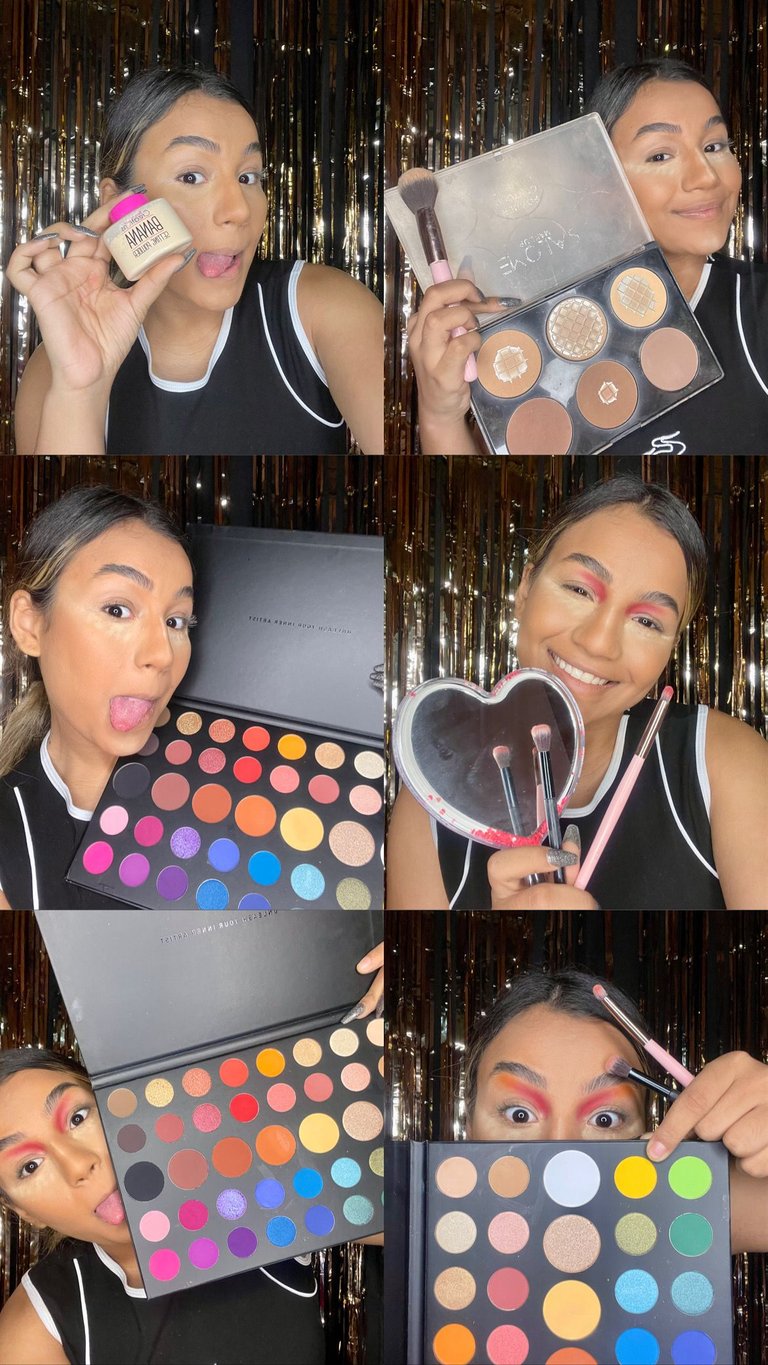 Once the color gradient between red orange and yellow is ready I will make the open cut using the concealer I used to prepare my eyelid before and a flat cat tongue brush.
For the next step of the eyes I will be placing the colors in the same order but in reverse, starting with the yellow and ending with the red using a flat brush. The red at the end I will not cut it but I will blend it until it disappears and lastly on the yellow part I will be applying yellow highlighter to make it stand out more.
Una vez listo el degradado de color entre rojo naranja y amarillo voy a hacer el corte abierto usando el corrector que usé para preparar mi párpado anteriormente y una brocha plana lengua de gato.
Para el siguiente paso de los ojos estaré colocando los colores en el mismo orden pero de manera invertida es decir comenzando por el amarillo y terminando con el rojo usando una brocha plana. El rojo al final no lo cortaré sino que lo difuminaré hasta que se desaparezca y por último en la parte de la Amarillo estará aplicando iluminador amarillo para que resalte más.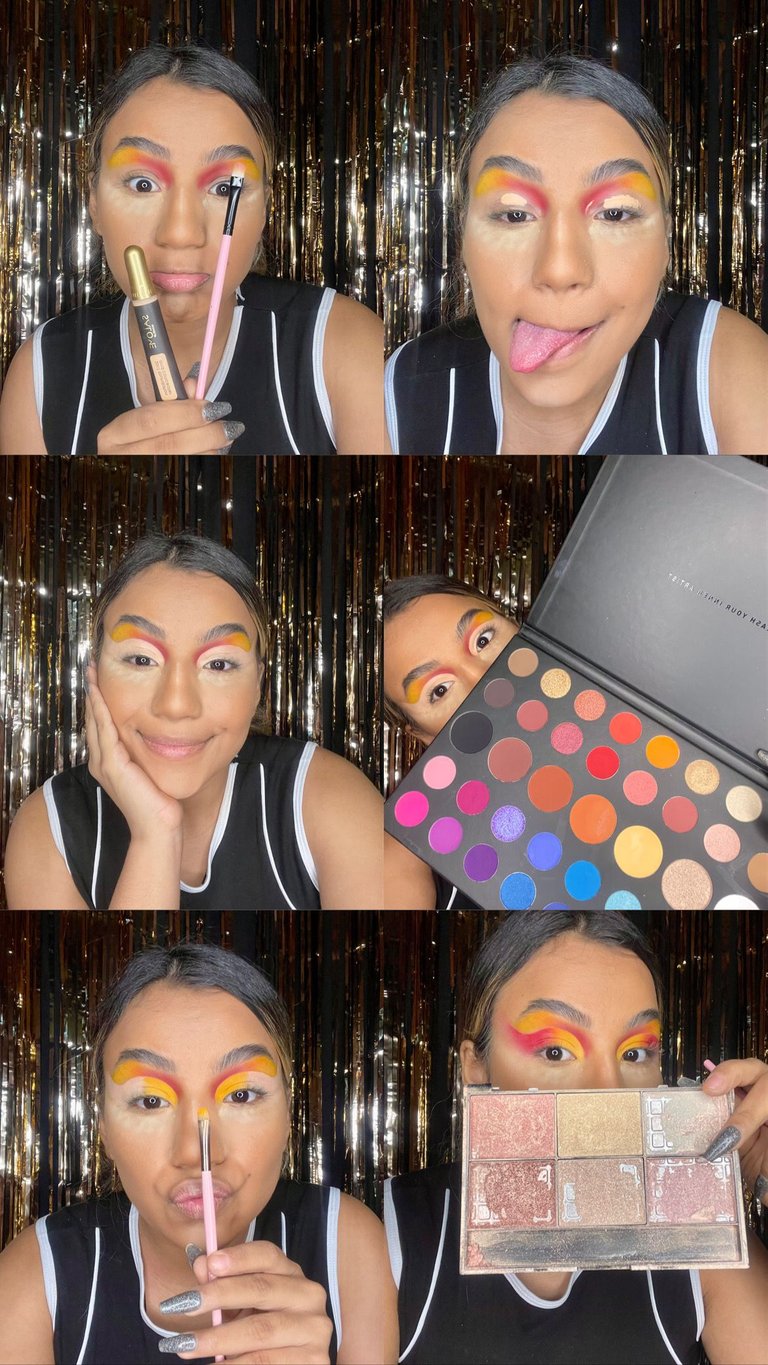 Once we finished with the eyes we return to the preparation of the skin and apply the reddest blush from the blush palette, we do a cat eye liner with our eyeliner brand aoa and apply mascara, my illuminator in litmus tone And finally I glue eyelashes and outline my lips in orange tones with my lipcontour palette.
Una vez terminamos con los ojos volvemos a la preparación de la piel y aplicaremos el rubor más rojizo de la paleta de rubores, hacemos un delineado ojo de gato con nuestro delineador de la marca aoa y aplicamos máscara de pestañas, mi iluminador en tono tornasol Y por último pego pestañas y delineó mis labios en tonos naranjas con mi lipcontour palet.
Here you can see how I joined the red blush with the red shadow for this I also used the red shadow to blend one tone with the other and in the other video you can see the pigmentation of this wonderful illuminator and how I apply it with my fingers and it is a beautiful litmus effect, I particularly like to apply myself the illuminator with my hands, it seems more precise.
Aquí pueden ver cómo uni que rubor rojizo con la sombra roja para esto use también la sombra roja para que se difuminara un tono con el otro y en el otro video pueden ver la pigmentación de este maravilloso iluminador y como lo aplico con los dedos y queda un efecto hermoso tornasol, particularmente a mi me gusta aplicarme a mi misma el iluminador con las manos me parece más preciso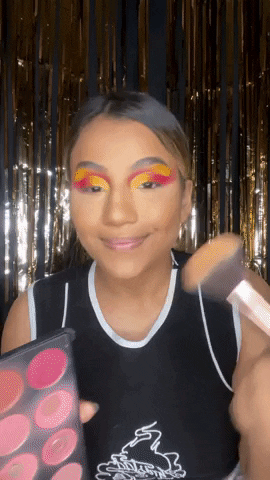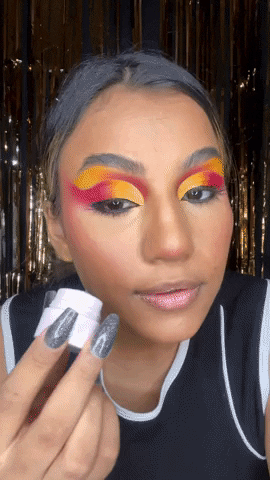 The truth is that lately I've fallen in love with lip gloss so I'll probably do it all the time as it makes them look bigger and I would love my lips to be bigger hahahahahahaah it's never enough, and well once the gloss is applied we are perfect and ready for the pictures 😍.
La verdad es que últimamente me he enamorado de los labios con gloss así que probablemente lo haga siempre ya que hace que se vean más grandes y a mi me encantaría que mis labios fueran más grandes jajajjaaj nunca es suficiente, y bueno una vez aplicado el gloss estamos perfectas y listas para las fotos 😍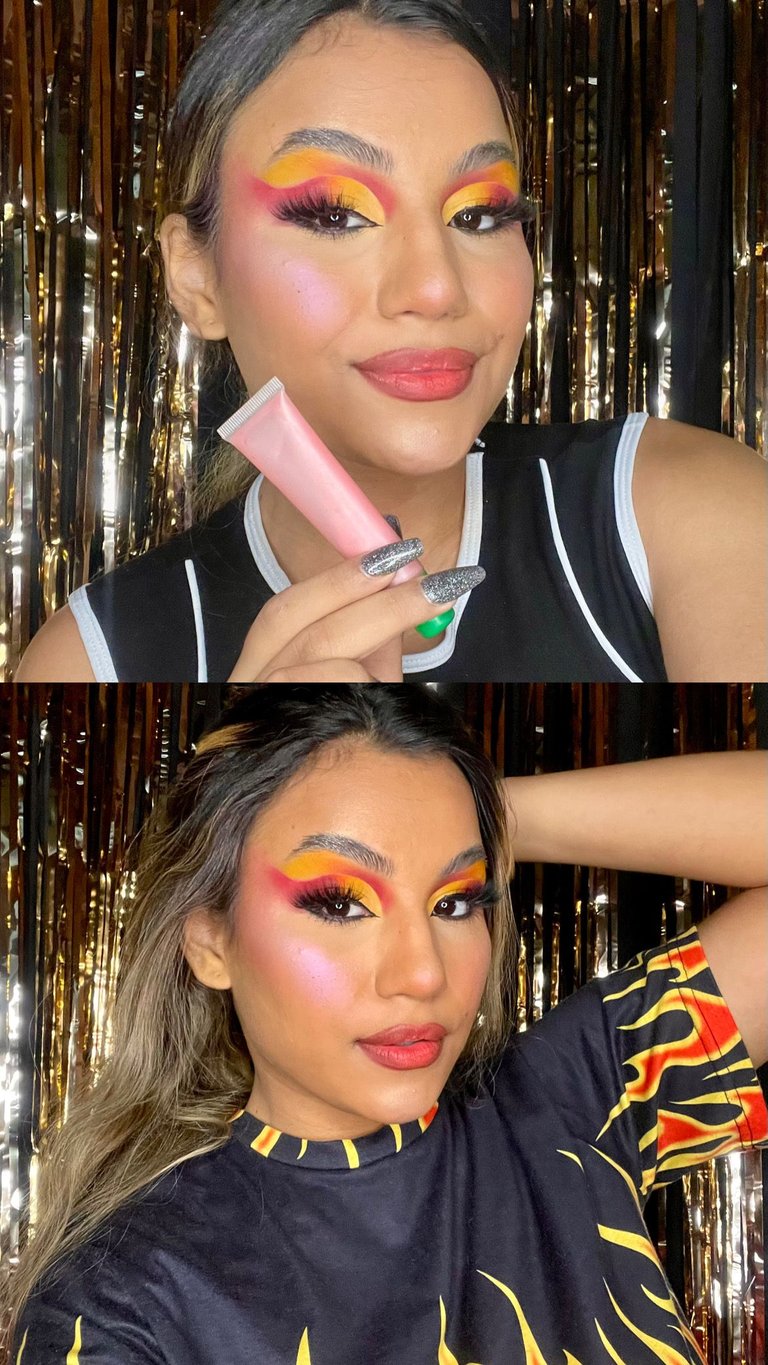 FINAL RESULT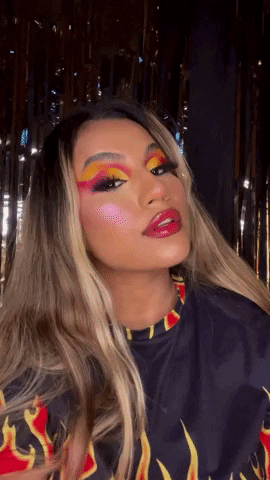 The truth is that I think this look looks like fire and I love it, I am very happy, I can't imagine when I use my james Charles palette because it is too difficult to find a palette that has red color and that pigments well because being a primary color it is complicated to work it and make it look like the palette but, doing it with this palette was too easy 😍.
La verdad pienso que este look parece fuego y me encanto, estoy muy feliz no se imagina cuando con mi paleta james Charles porque es demasiado difícil encontrar una paleta que tenga que color rojo y que pigmente bien ya que al ser un color primario es complicado trabajarlo y que quede como se ve en la paleta pero, hacerlo con esta paleta fue demasiado fácil 😍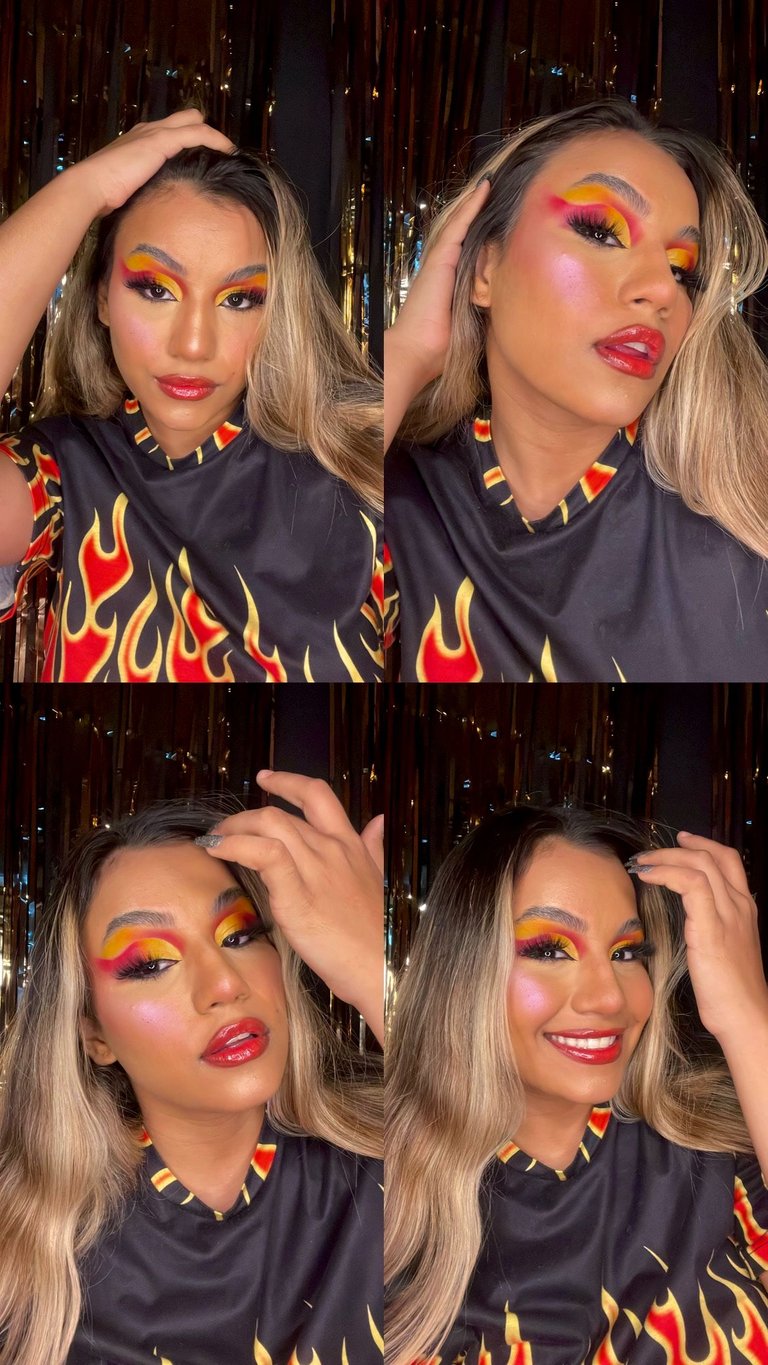 I hope you liked this result first do my daily no makeup makeup routine soon but for now enjoy this look which is pretty hot ❤️🔥 😂.
Espero les haya gustado este resultado primero hacer pronto mi rutina diaria de makeup no makeup pero por el momento disfruten este look que esta bastante ardiente ❤️‍🔥 😂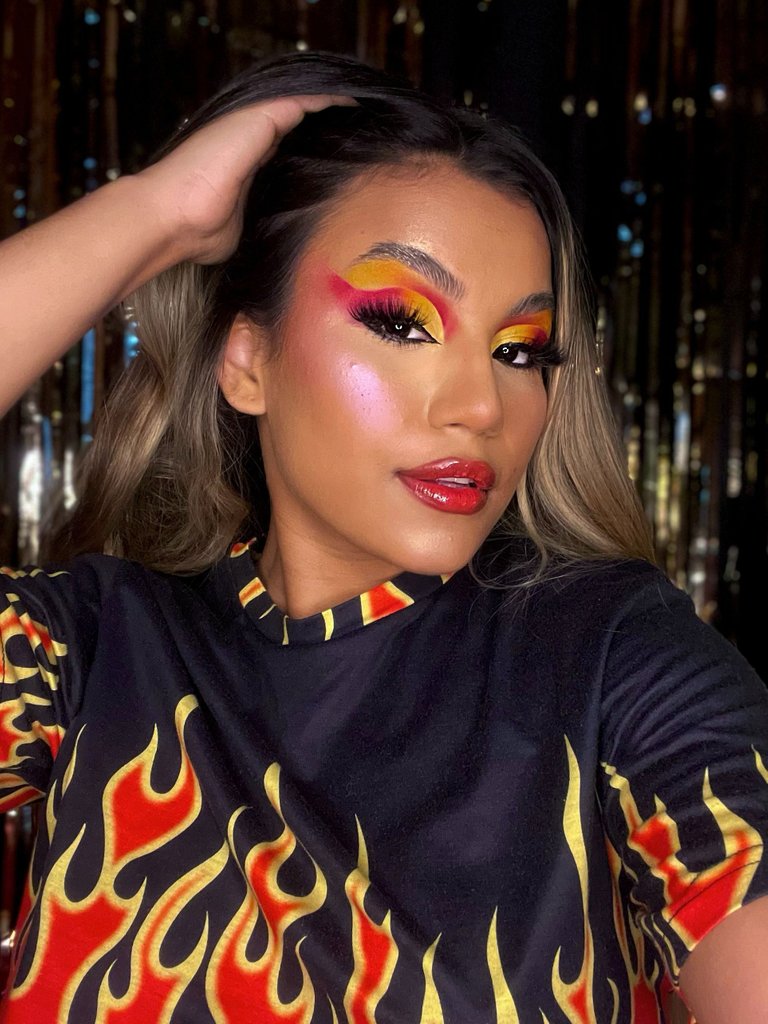 If you got here let me know in the comments what you thought if you liked it and if you would like to do this type of techniques, if you create content in hive and want to do it tag me To go to see you can do it with the color you want it will look spectacular
Si llegaste aquí déjame saber en los comentarios que te pareció si te gusto y si te gustaría hacer este tipo de técnicas, si creas contenido en hive y quieres hacerla etiquétame Para ir a verte puedes hacerlo con el color que quieras se verá espectacular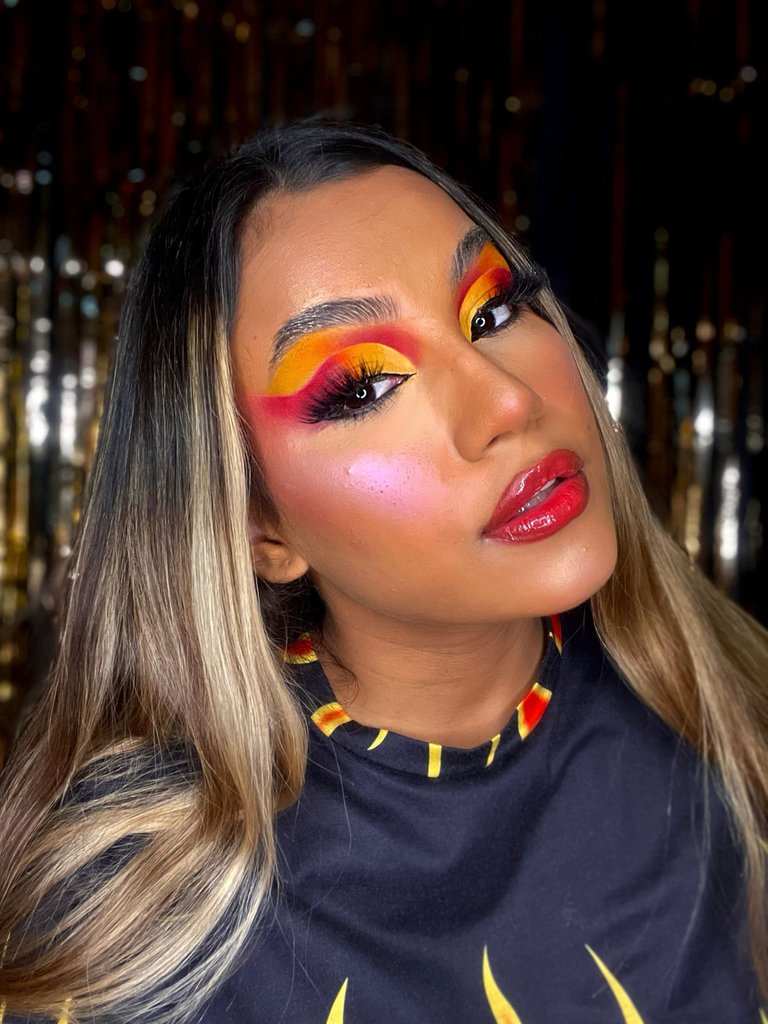 Here you can see the final results as the colors are blurred with each other and the inverted effect looks spectacular and powerful.
Aqui pueden ver los resultados finales como los colores se ven difuminados unos Con otros y el efecto invertido se ve espectacular y potente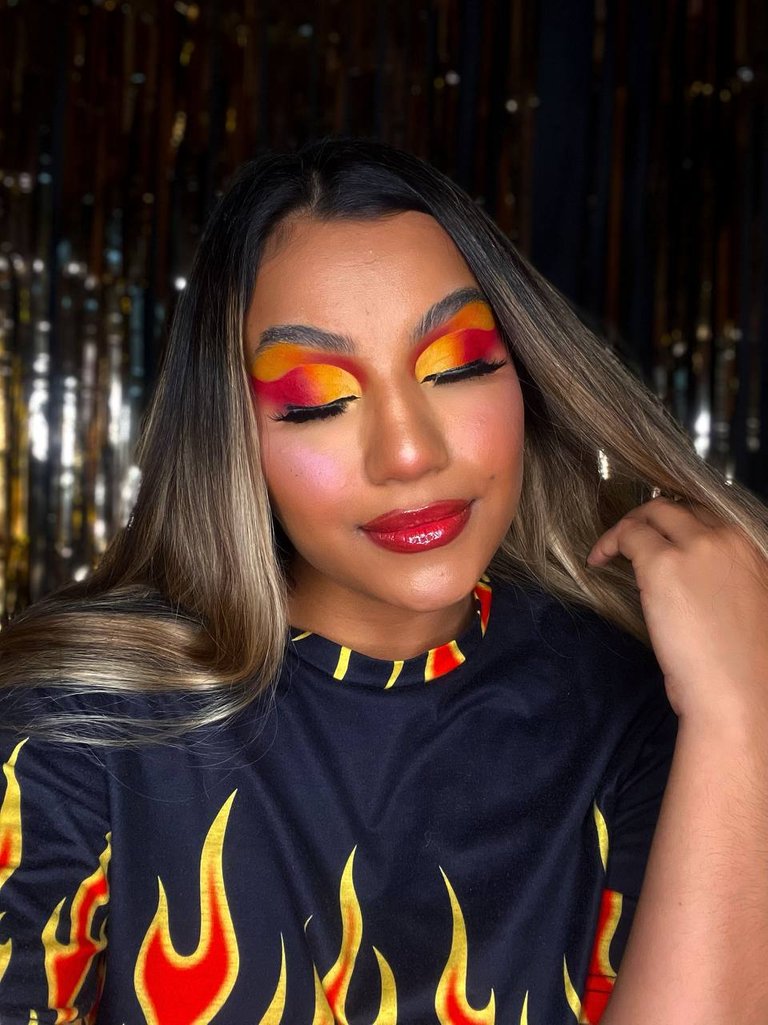 And all these photos and videos were recorded by me with my iPhone 12 in my makeup studio which is in my bedroom, kisses xoxo💋 😘
Y todas estas fotos y videos fueron grabados por mi con mi iPhone 12 en mi estudio de maquillaje que queda en mi cuarto, besos xoxo💋 😘