hello dear community today I bring you a post of the whole process of how I do a before and after maintenance to one of my favorite and most loyal customers, first time I publish her hands but I have already done them on several occasions.
hola querida comunidad el dia de hoy les traigo un post de todo el proceso de como hago un mantenimiento de antes de y despues a una demis clientas favoritas y mas fieles, primera vez que publico sus manos pero ya se las he hecho en varias oportunidades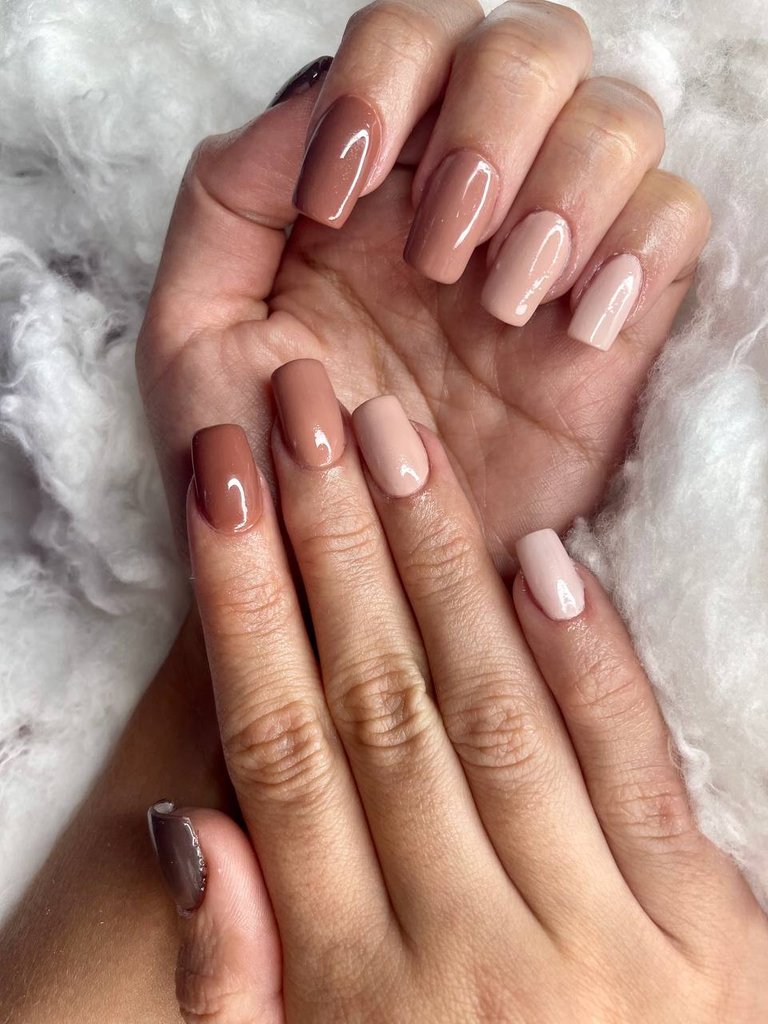 These are her nails after 3 weeks, I have already done her acrylic bath three times, these you can see here is the second one, and today is the third maintenance, so far she has not broken her nail as you can see that is the length of her natural nail and that is the purpose of the kapping to protect it so that she grows healthy and long.
Estas son sus uñas despues de 3 semanas, ya yo le he hecho baño de acrilico en tres oportunidades estas que pueden ver aca es la segunda, y hoy le toca el tercer mantenimiento, hasta ahora no se le ha roto su uña como pueden ver ese es el largo de su uña natural y ese es el proposito del kapping protegerla para que ella crezca sana y larga.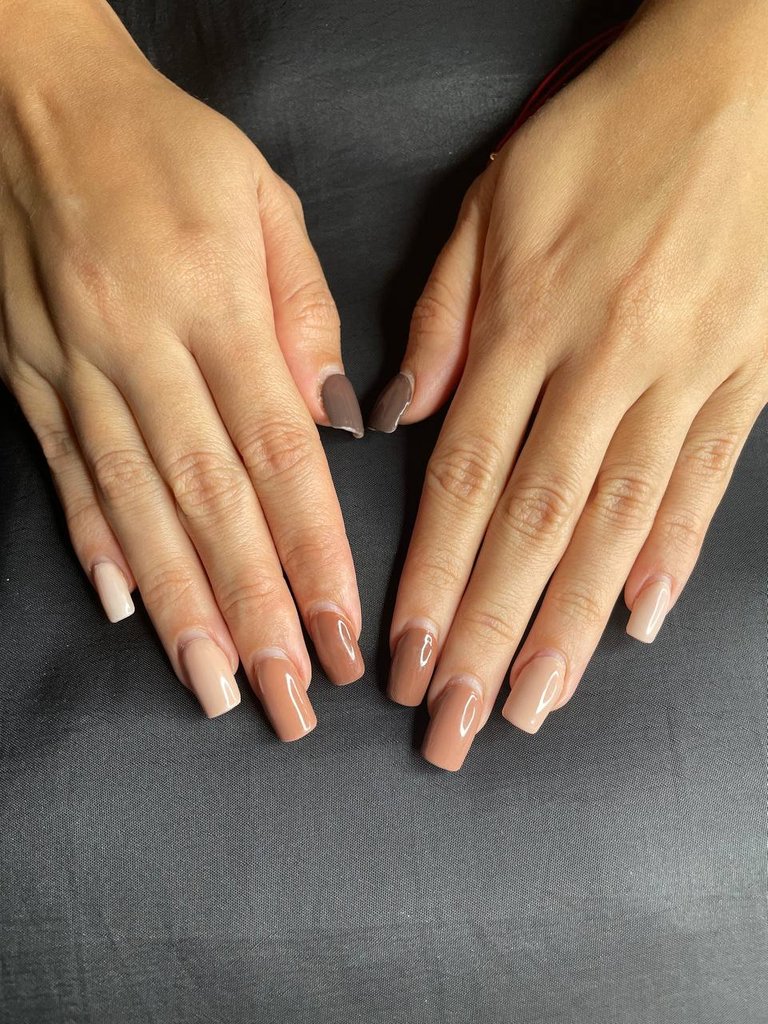 Here you can see this beautiful before and after, and the beautiful growth that my client has, she grows her nails fast, but the nail was peeling off the cuticle part so I had to do a deep maintenance and remove a lot of old acrylic, as it gets toasted and sometimes it can come off.
Aqui pueden ver este hermoso antes y despues, y el hermoso crecimiento que tiene mi clienta, a ella le crecen las uñas rapido, pero se le estaba despegando la uña por la parte de la cuticula asi que tuve que hacer un mantenimiento profundo y quitar bastante acrilico viejo, ya que se tosta y aveces puede desprenderse.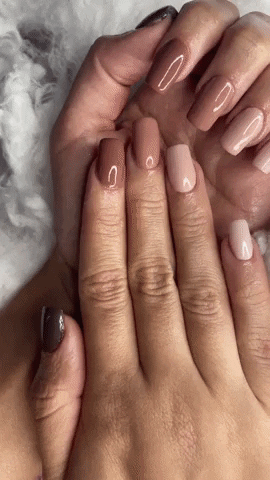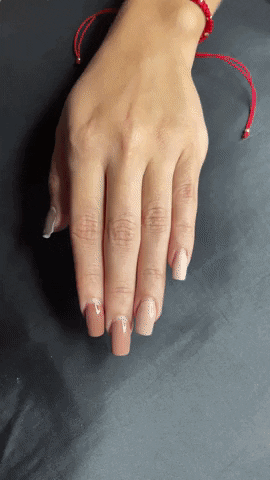 STEP BY STEP✨
For the first step I will be deburring the acrylic with my ceramic drill bit and in the same way I will deburr the acrylic that was toasted and the detachment that was there.
Para el primer paso estare debastando el acrilico con mi broca de ceramica y de esta misma forma debastare el acrilico que se tosto y el desprendimiento que habia.
Here you can see all the acrylic I had to debase, I also used my file bit, it was hard work but it was done, then I did a special russian manicure for her, using my russian manicure tips, my pusher and a cuticle cutter.
Aqui pueden ver todo el acrilico que tuve que debastar tambien use mi broca de lima, fue un trabajo duro pero se logro luego le hice manicura rusa especial para ella, usando mis puntas de manicura rusa mi empujador y un cortacuticilas.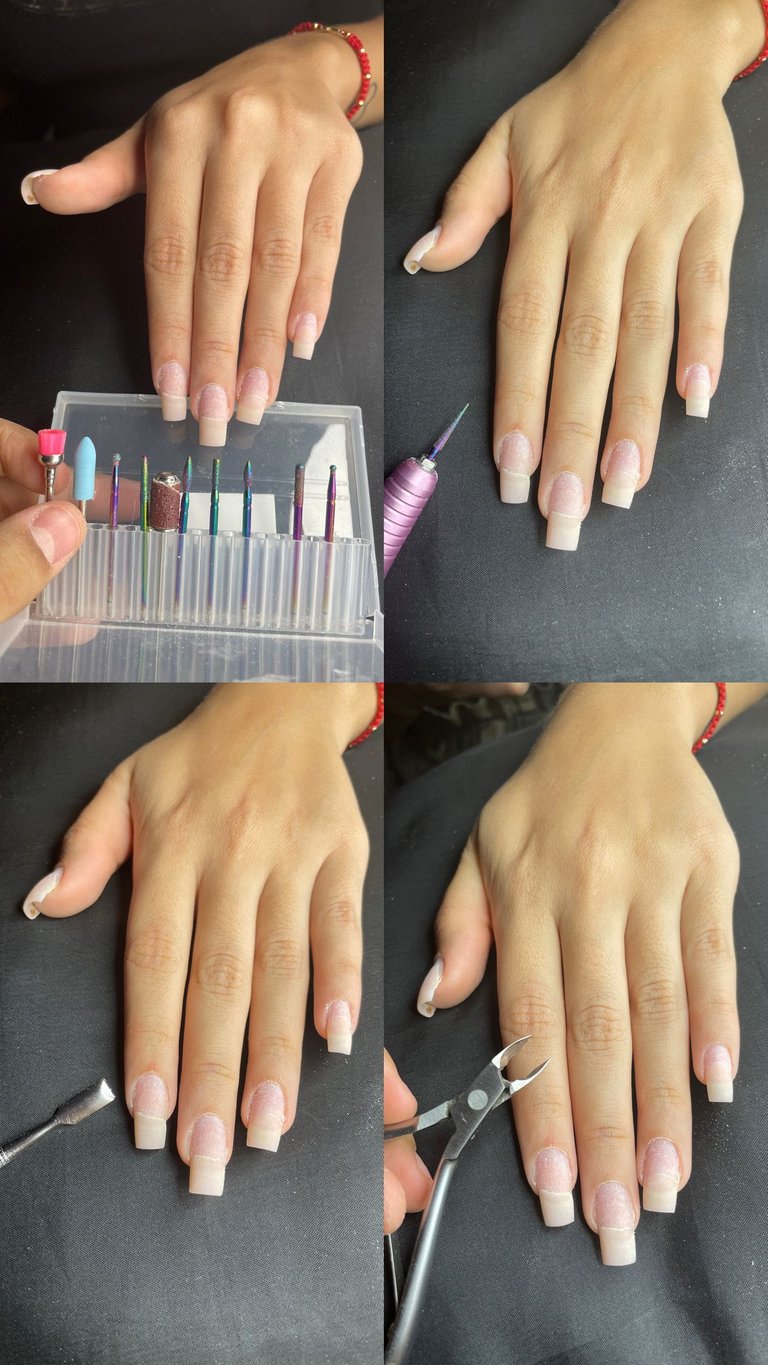 Now I proceed to prepare my natural nail and apply my nail preparers nailprep and bonder and for her we will use the cover mystic rose which is light pink because it goes with her skin tone, we do the application and then we file the nail giving it the square shape and then file with my drill.
Ahora procedo a preparar mi uña natural y aplico mis preparadores nailprep y bonder y para ella usaremos el cover mystic rose que es rosadito claro porqueva con su tono de piel, hacemos la aplicacion y luego limamos la uña dandole la forma cuadrada para luego limar con mi drill.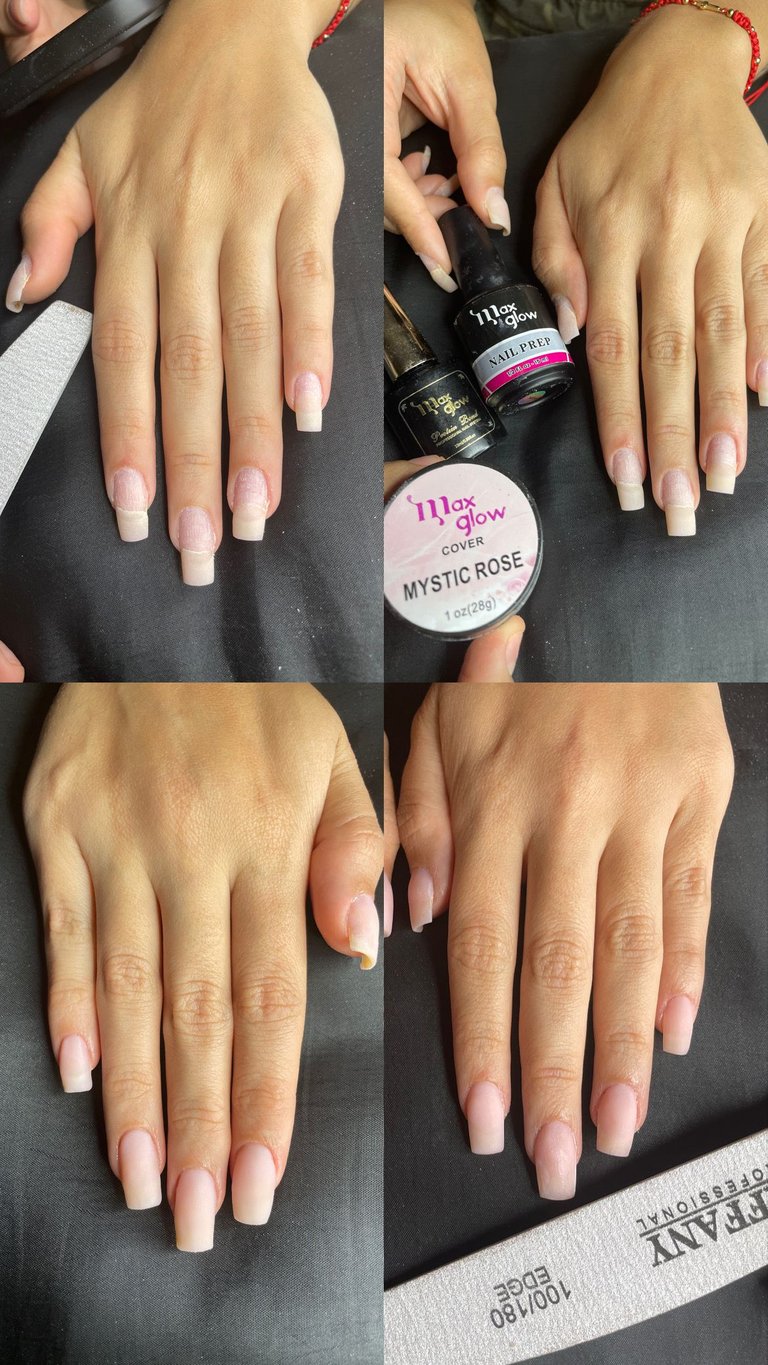 We file vertically, this filing is called jaguar and serves to avoid any type of acrylic mountain or unevenness in the structure.
Limamos de manera vertical, este limado se llama jaguar y sirve para que no quede ningun tipo de montaña de acrilico o desnivel en la estructura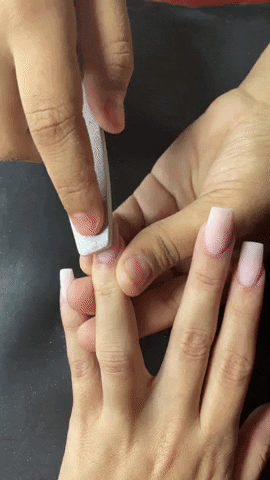 Now for the polish I apply my base coat, and then I apply 3 coats of my semi-permanent blue paint to get the color that my client wanted I had to mix a little with black and then I apply top matte to make this matte effect in all my nails and ready, cuticle oil and we go.
Ahora para el esmaltado aplico mi base coat, y luego aplico 3 capas de mi pintura azul semipermante para llegar al color que queria mi clienta tuve que mezclar un poco con negro y luego aplique top matte para hacer este efecto matte en todas mis uñas y listo, aceite de cuticula y nos vamos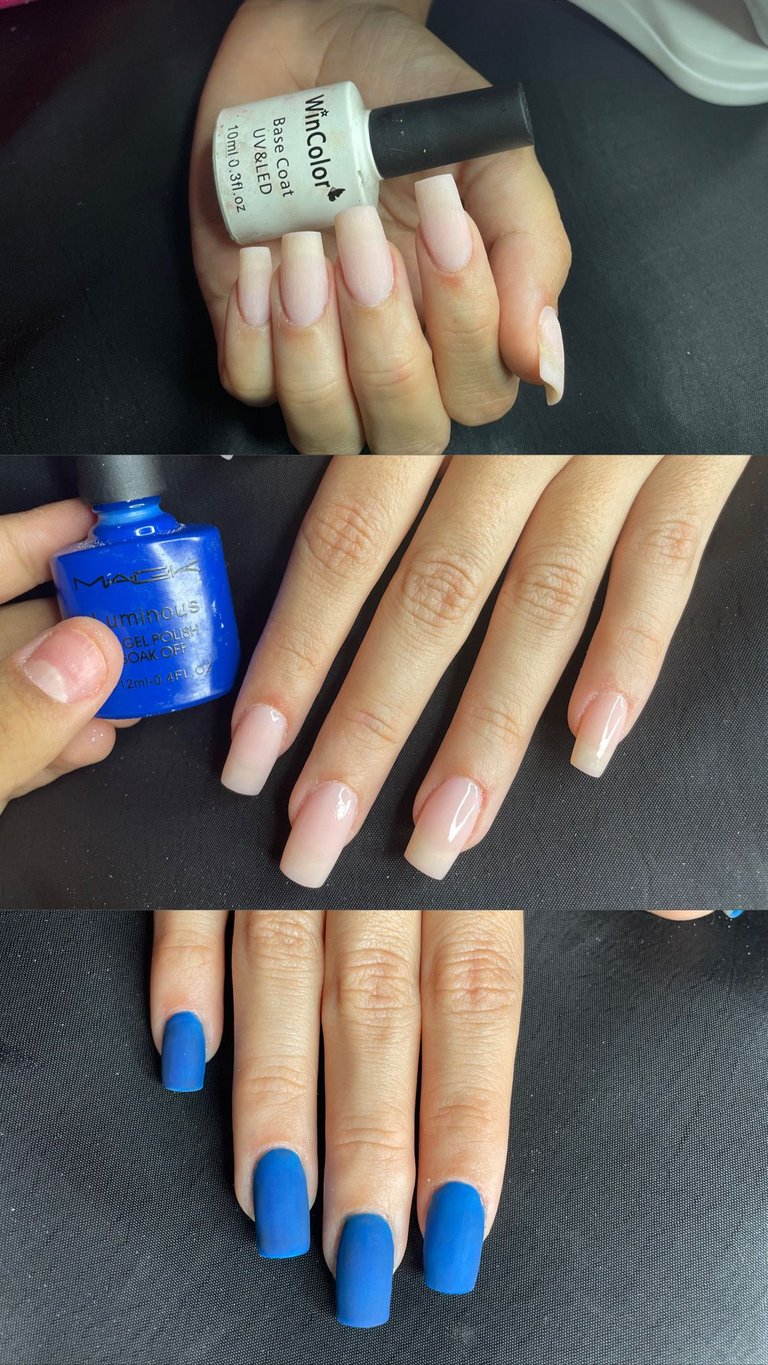 Well, look at the beauty of matte nails, something new that I love, but I think I need more to perfect this I had some problems because I applied many layers of paint and that is not done and I suffered a little to make these nails but the client left happy and that's what is important.
Pues miren la belleza de las uñas matte algo nuevo, que me encanta pero creo que me falta mas para perfeccionar esto tuve algunos inconvenientes ya que aplique muchas capas de pintura y eso no se hace y sufri un poco al hacer estas uñas pero la clienta se fue feliz y eso es lo importante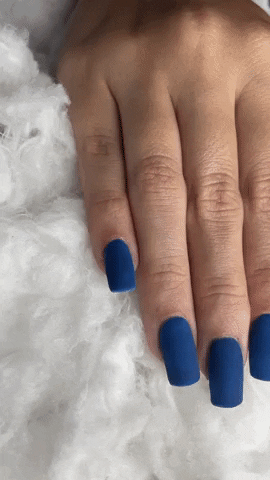 FINAL RESULT✨
And this is the final result I hope you liked it, I love matte nails, I hope I can do mine soon, first nails with this color, if you want to get me you can do it on instagram as @fanxybeauty @fanxynails_
Y este es el resultado final espero les haya gustado, a mi me encantan las uñas matte espero poder hacerme las mias pronto, primeras uñas estrenando este color, si me quieren conseguir pueden hacerlo en instagram como @fanxybeauty @fanxynails_