Hello dear community greetings and kisses the post that I come to bring you today is a maintenance of some nails that I published some time ago, my first reverses made for my beautiful and dear mommy, my most demanding and complicated client of all.
Hola comunidad querida saluditos y besitos el post que les vengo a traer hoy es un mantenimiento de unas uñas que publique ya hace un buen tiempo, mis primeras reversas hechas para mi mamita linda y querida mi cliente más exigente y complicada de todos.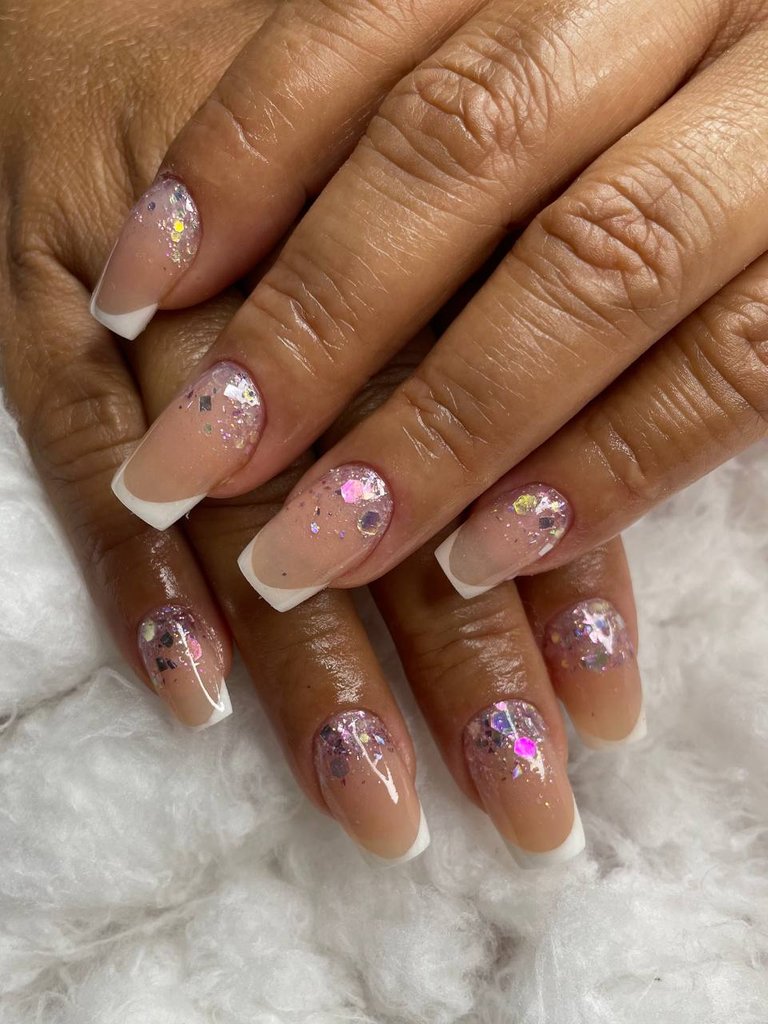 The truth is that she did not want this design for her new nails even though she chose it because she had no other choice since she could not remove the reverses since I did them with acrylic and they will always be visible, so since she wanted an encapsulation we decided to do one on the whole root of her nails as maintenance.
La verdad verdadera ella no quería este diseño para sus nuevas uñas a pesar de que lo eligió fue porque no le quedó de otra ya que no podía quitar las reversas ya que las hice con acrílico y siempre se van a ver entonces como ella quería un encapsulado decidimos hacerle uno en toda la raíz de sus uñas como mantenimiento.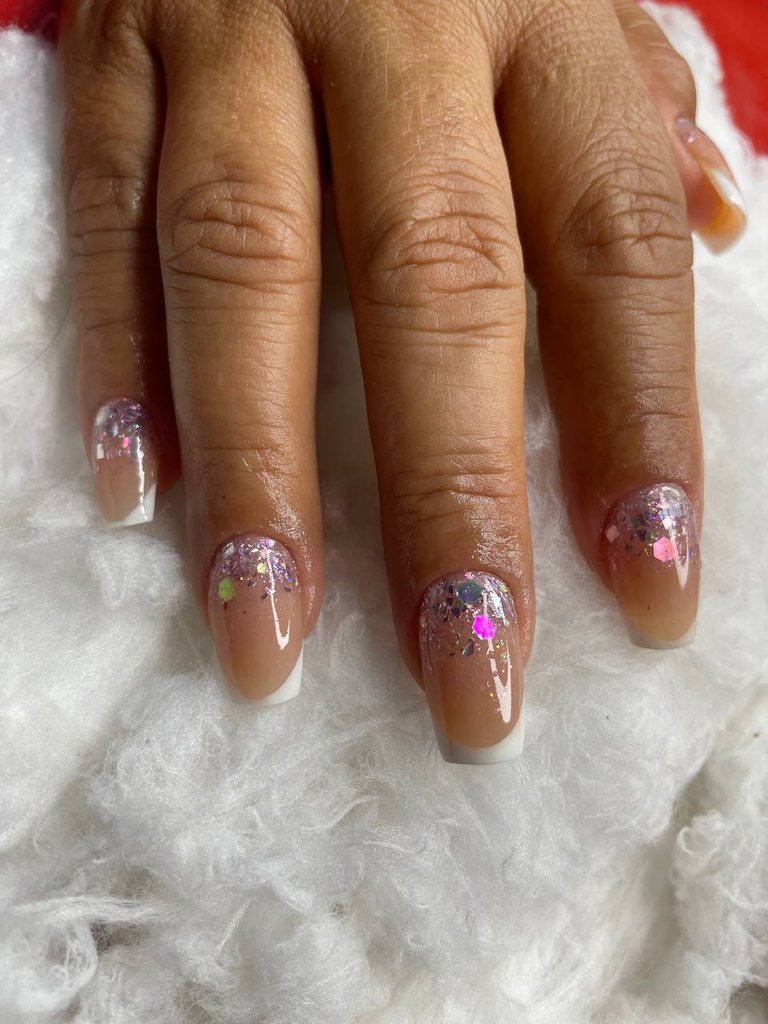 This is how her nails were more than a month after she had them done, you can hardly notice it because my mom is a slow grower here in this picture she had filed the edge herself because they were too long and she couldn't stand them but if it's because of her she does different nails every 10 days.
Así estaban sus uñas con más de un mes de habérselas hecho, no se nota casi ya que mi mamá es de crecimiento lento aquí en esta foto ella misma se había limado el borde porque las tenía muy largas y no las soportaba pero si es por ella se hace uñas diferentes cada 10 días.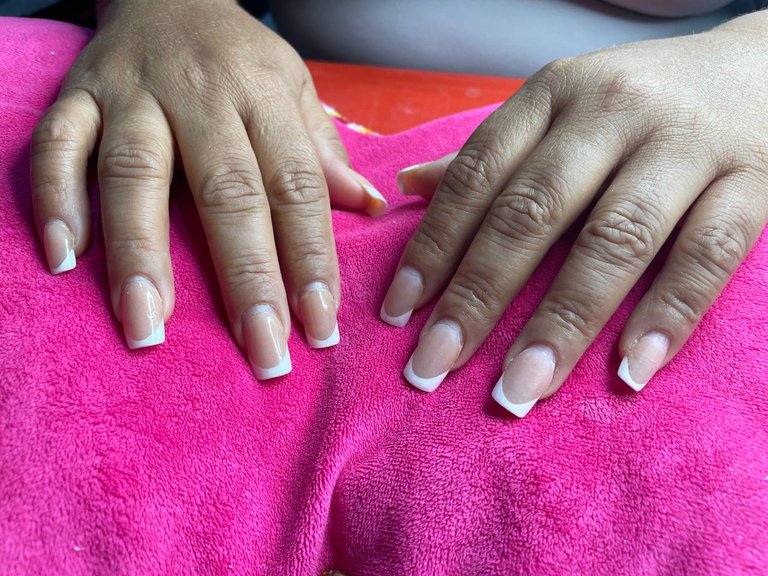 STEP BY STEP✨
For the step by step the first thing I will do will be to do to these nails their respective dry cleaning, that is to say the Russian manicure, that my mom loves it, she always asks me for it, she won't let me do her nails if I don't do it and for that I will be using my pusher and my professional Russian manicure tips and then with my cuticle cutter I will cut the dead skin of the cuticle and its surroundings.
Para el paso a paso lo primero que haré será hacerle a estas uñas su respectiva limpieza en seco es decir la manicura rusa, que a mi mamá le encanta siempre me la pide no se deja hacer las uñas si no se la hago y para eso estaré usando mi empujador y mis puntas profesionales de manicura rusa para luego con mi Cortacutículas cortar la piel muerta de la cutícula y sus alrededores.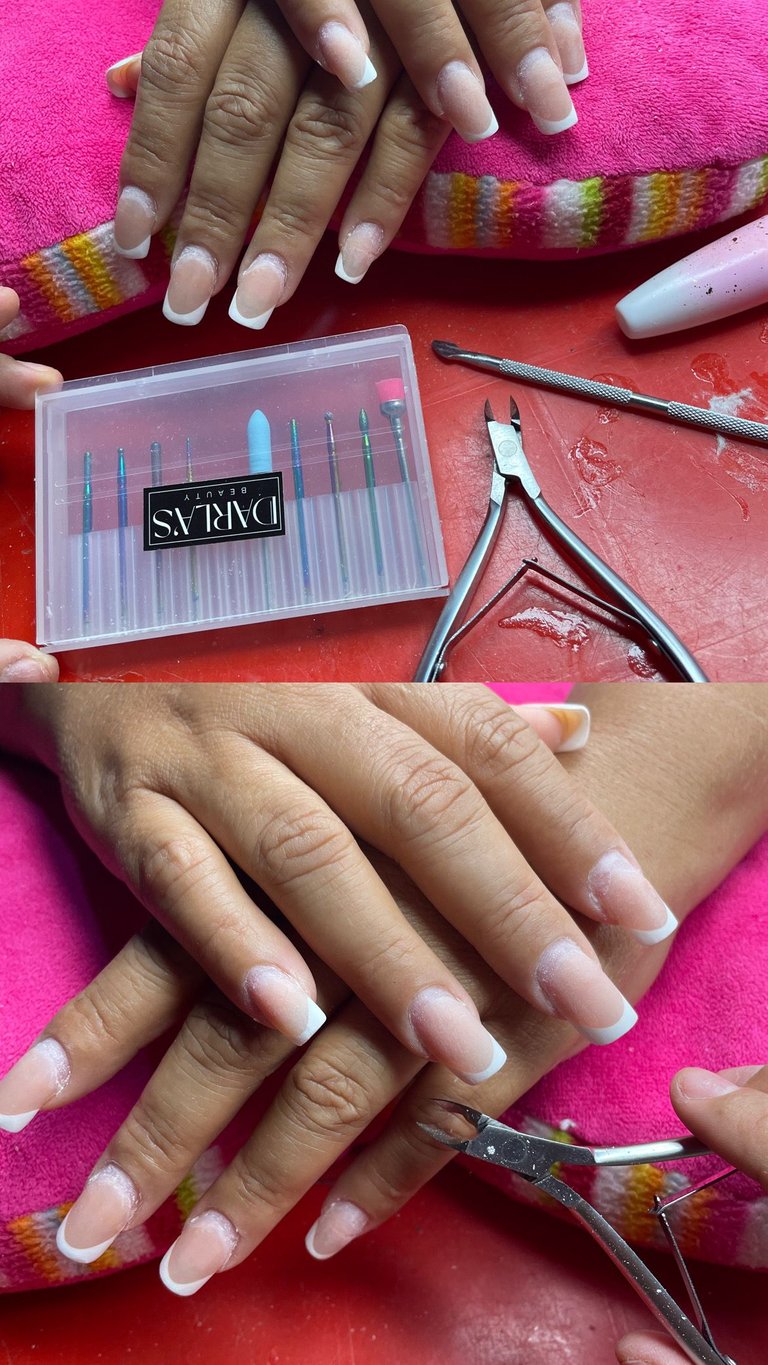 For the next step with a file bit I will be abrading the growth of my natural nail and any lift that exists in the acrylic, the idea of this is to try to get the acrylic to blend in with the natural nail so I can make the filler and then apply my Nailprep and bonder preparers. For this medium drying monomer my brush, an acrylic clear and cover and mermaid glue.
Para el siguiente paso con una broca de lima estaré desgastando el crecimiento de mi uña natural y cualquier levantamiento que exista en el acrílico, la idea de esto es tratar que el acrílico se confunda con la uña natural para así hacer el relleno y luego poder aplicar mis preparadores Nailprep y bonder. Para esta monómero de secado medio mi pincel una servitoalla acrílico Clear y cover y cola de sirena.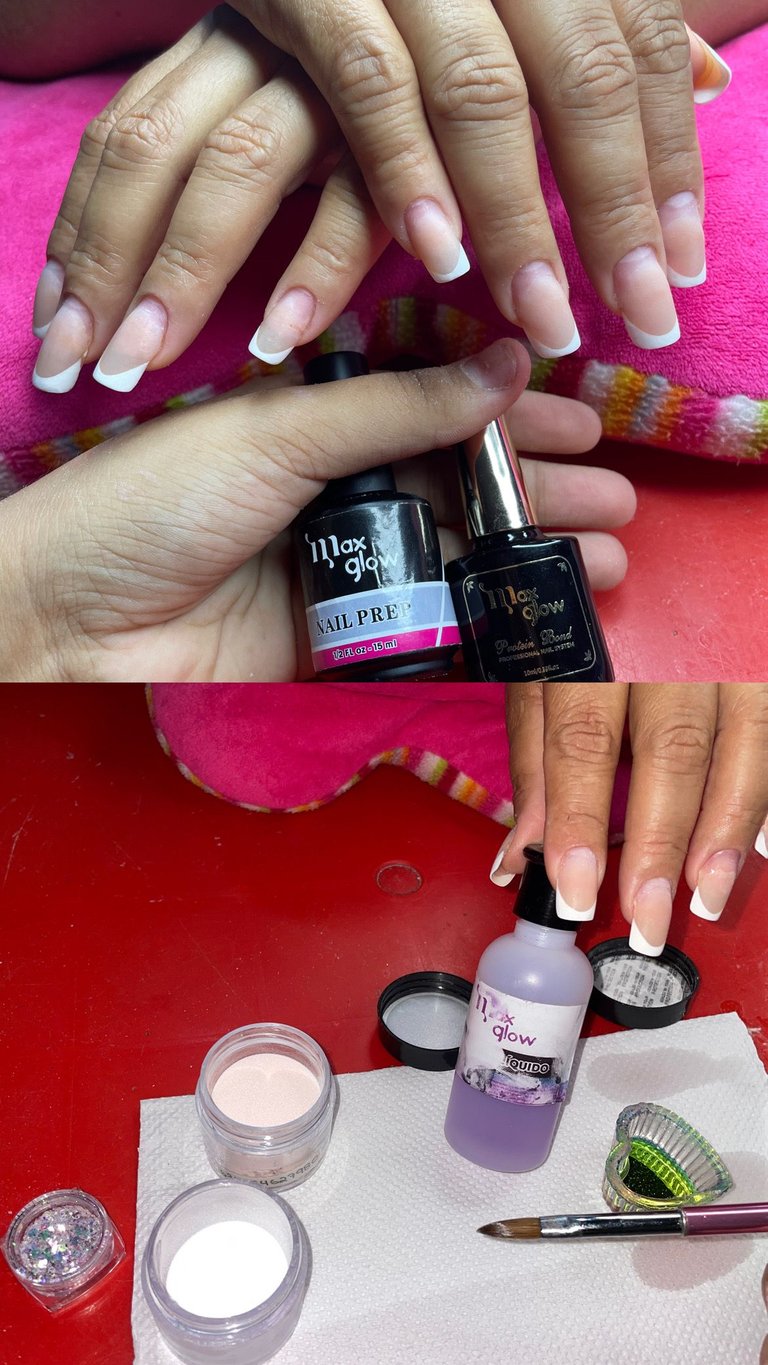 Here you can see how I do the maintenance for this design take a small bead of clear acrylic and still fresh with another bead I take some mermaid tail inlays and place them all around the edge where there is the growth. Then to finish I encapsulate with another bead of clear acrylic and ready to file.
Aquí pueden ver como hago el mantenimiento para este diseño toma una pequeña perla de acrílico clear Y aún estando fresco con otra perla tomo algunas incrustaciones de cola de sirena y las coloco por todo el borde donde hay el crecimiento. Luego para finalizar encapsulo con otra perla de acrilico clear y listo para limar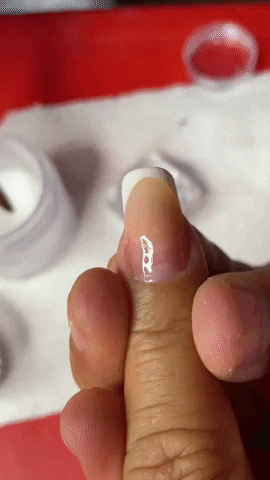 In the following picture you can see how the application of the acrylic and the encapsulated nails turned out and what I do is to file the edges and give a Coffin shape to the nail, which is how the client asked me to do it.
En la siguiente foto pueden ver cómo quedó la aplicación del acrílico y los encapsulados y lo que hago es limar los bordes y darle una forma de Coffin a la uña que es como me lo pidió la clienta.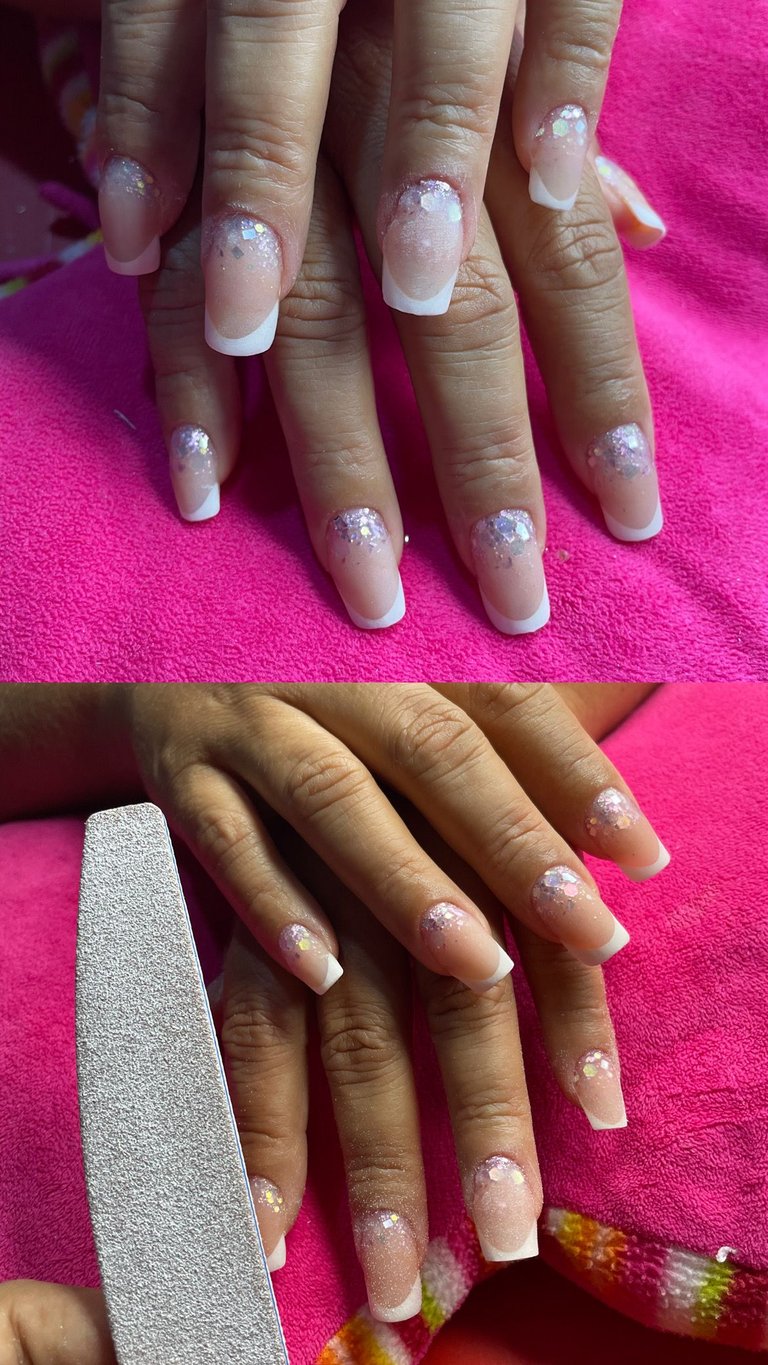 Then I shape the whole nail with my file tip and finally I apply Finish with a little oil and we finish the maintenance.
Luego con mi punta de Lima le doy forma a toda la uña y para finalizar aplico Finish un poco de aceite y terminamos el mantenimiento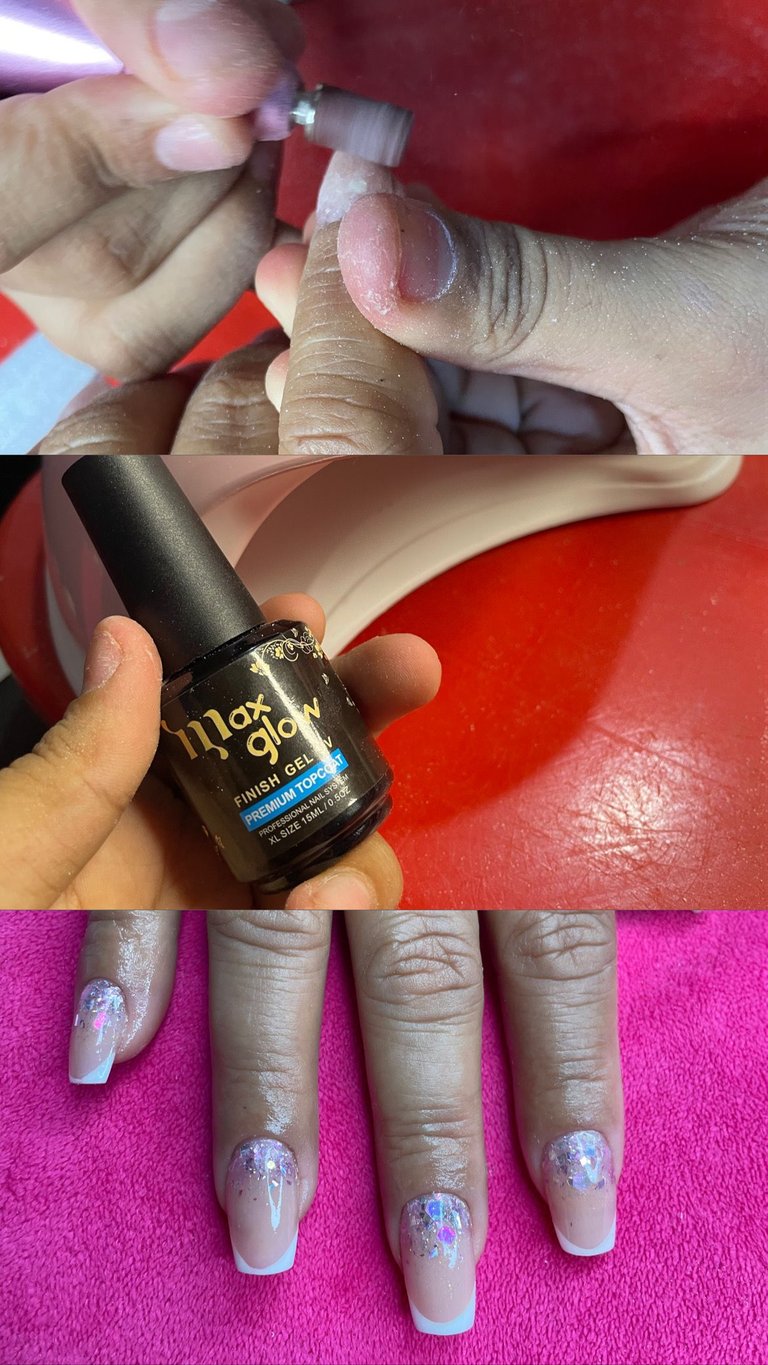 Here you can see how I file my nail using the drill and what is the correct direction to use it.
Aquí pueden ver como limo mi uña usando el drill y cuál es el correcto sentido para usarl.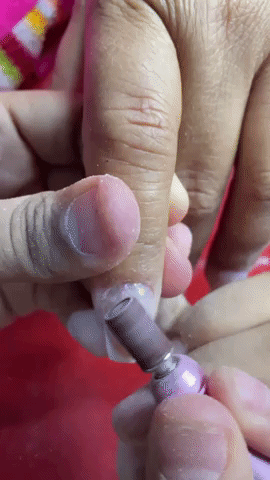 FINAL RESULT✨
This is the final result I hope you liked it my mom was pleased and liked her design she took it off a few days later because she wanted another nail but she liked them a lot and it was hard for her to take them off hahahahahaha I hope you liked them too you can find me on ig as @fanxynails_ @tovardaniela8 @fanxybeauty.
Éste es el resultado final espero que les haya gustado mi mamá quedó complacida y le gusto su diseño se lo quito a los días porque quería otra uñas pero le gustaron mucho y le costó bastante quitárselas jajajaj espero a ustedes también les haya gustado me pueden encontrar en ig como @fanxynails_ @tovardaniela8 @fanxybeauty.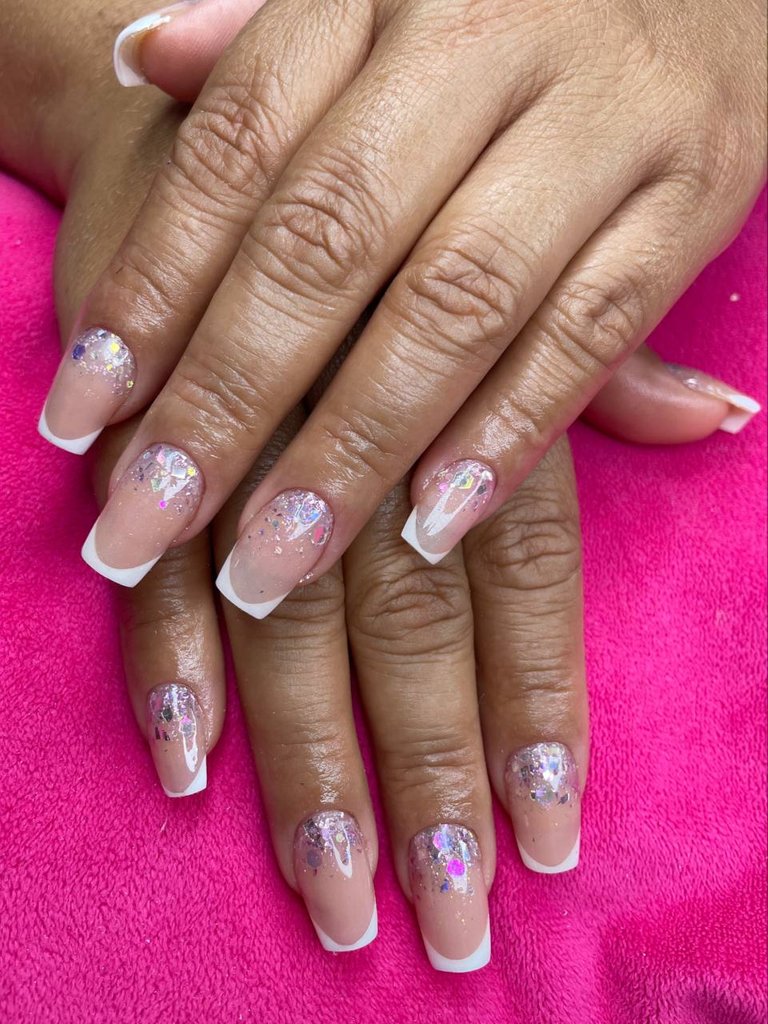 All these new photos and Videos by me with my phone Iphone 12 in my studio which is in the comfort of my home see you in a next post besitos xoxo 💋
Todas estas fotos y Videos nuevos por mí con mi teléfono Iphone 12 en mi estudio que queda en la comodidad de mi hogar nos vemos en un próximo post besitos xoxo 💋