Hello dear community today I bring you a post of some beautiful nails for a girl that I did a Kapping system previously and came back a month later to her maintenance appointment, it was time for a deep maintenance because she had too long without coming because the recommended for fillings or normal maintenance is to come at 21, I invite you to see how was this process to get these beautiful nails.
Hola querida comunidad el día de hoy les traigo un post de unas uñitas hermosas para una niña a la que le hice un sistema de Kapping Anteriormente y volvió un mes después A su cita de mantenimiento, ya le tocaba un mantenimiento profundo porque tenía demasiado tiempo sin venir ya que lo recomendable para rellenos o mantenimientos normales es venir a los 21, los invito a ver cómo fue este proceso para que quedaran estas uñas tan hermosas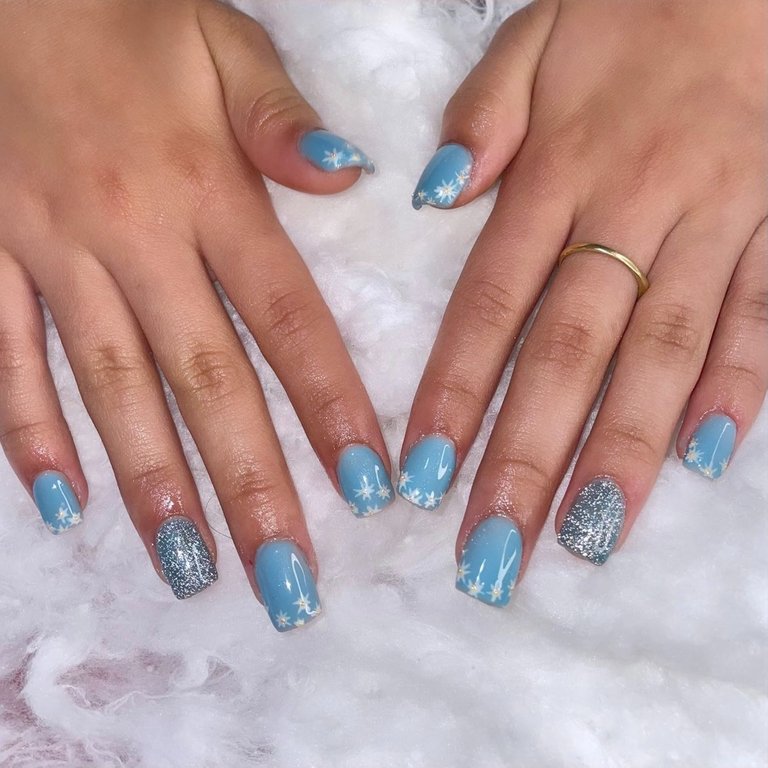 I want to emphasize that this is my first maintenance for a client who has had a kapping system, and for those who do not understand what it is, kapping is the natural lengthening of the nail with acrylic without tips, that is, a small and thin layer of acrylic is applied over the natural nail so that it does not split and is protected so that it can grow a little more.
Quiero resaltar que este es mi primer mantenimiento para una clienta que se haya hecho un sistema de kapping, Y para los que no entienden que es, el kapping es el alargamiento natural de la uña con acrílico sin tips Es decir se aplica una pequeña y delgada capa de acrílico sobre la uña natural para que ésta no se parta y esté protegida para que pueda crecer un poco más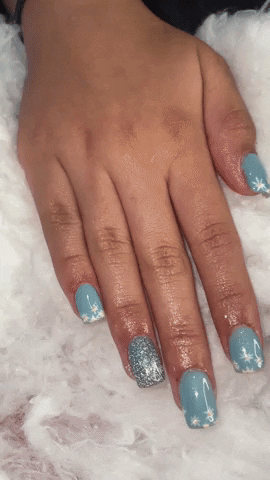 *STEP BY STEP
The first thing we will do to do this maintenance will be as a ceramic tip devastate the semi-permanent enamel that had applied in the past system as you can see have enough growth and had not been detached any nail, after devastate with the ceramic tip we switch to the tip that is like a file to file so also the natural nail and create channels of adhesion and remove any acrylic lift that may exist, as you can see to the I should be I realized that there were some nails and was a little weak acrylic and decided to detach them completely to apply one again, To prepare the nail we start with its proper cleaning and the first thing I will do is push with the pusher the cuticle back to open the pocket and proceed to be my usual Russian manicure that I always do when I do this type of systems and cut cuticle with my professional cuticle cutter.
Lo primero que haremos para hacer este mantenimiento será como una punta de cerámica devastar el esmalte semipermanente que había aplicado en el sistema pasado como pueden ver tienen bastante crecimiento y no se le había desprendido ninguna uña, luego de devastar con la punta de cerámica cambiamos a la punta que es como una lima para limar así también la uña natural y crear canales de adherencia y quitar cualquier levantamiento acrílico que pueda existir, como pueden ver al yo deba estar me di cuenta que habían algunas uñas y estaba un poco débiles el acrílico y decidí desprenderlas completamente para aplicar uno nuevamente, Para preparar la uña empezamos con su debida limpieza y lo primero que haré será empujar con el pulsador la cutícula hacia atrás para abrir el bolsillo y proceder a ser mi habitual manicura rusa que siempre hago cuando hago este tipo de sistemas y corto Cutícula con mi corta cutícula profesional.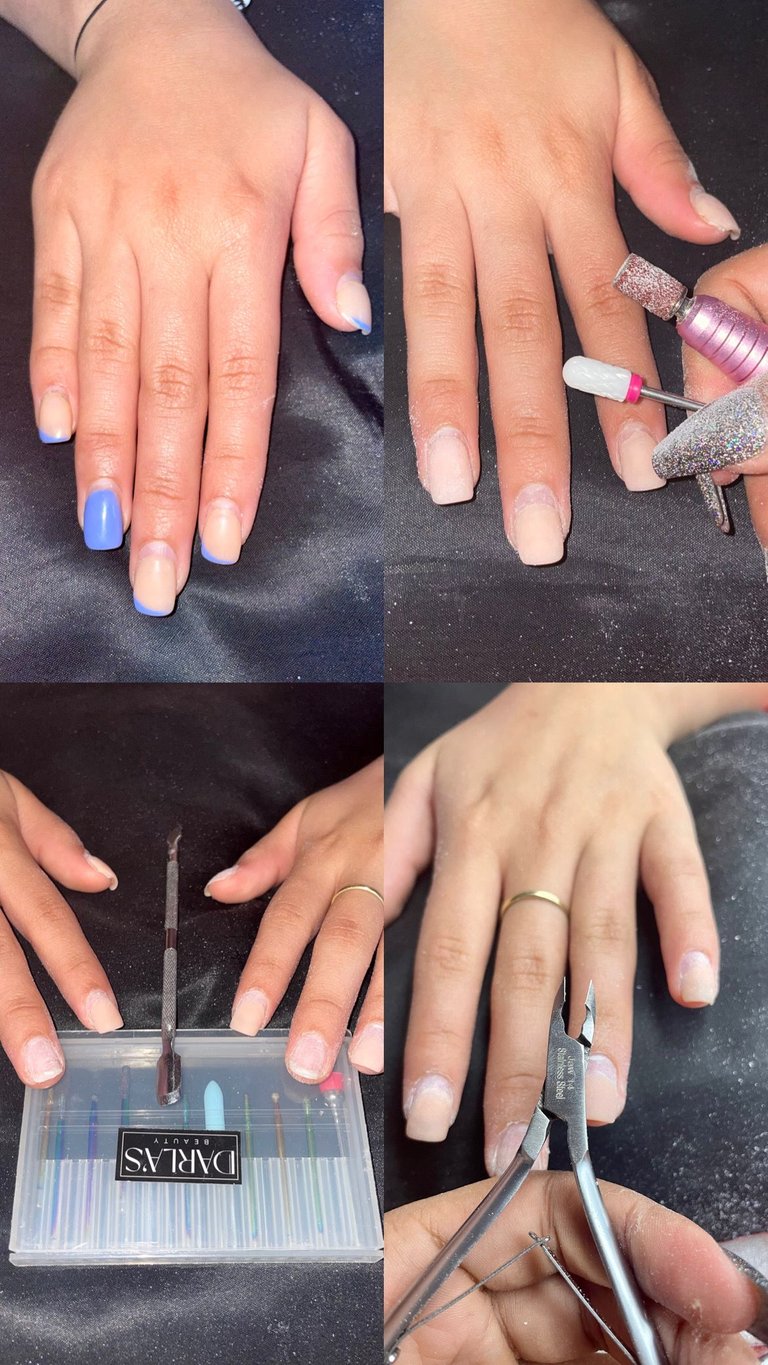 Then I apply my preparers nialpre and Bonder of the brand maxglow to then with my monomer my acrylic also of the brand Max Glow in the tone Cover Mokka And my brush to make my correct application of acrylic, with the help of a file and my Drill using the tip that is a file I will make my filing technique to proceed to make the semi-permanent enamel that my client requested.
Luego aplico mis preparadores nialpre y Bonder de la marca maxglow para luego con mi monómero mi acrílico también de la marca Max Glow en el tono Cover Mokka Y mi pincel hacer mi correcta aplicación de acrílico, con ayuda de una lima y mi Drill usando la punta que es una lima haré mi técnica de limado para proceder a hacer el esmaltado semipermanente que pidió mi clienta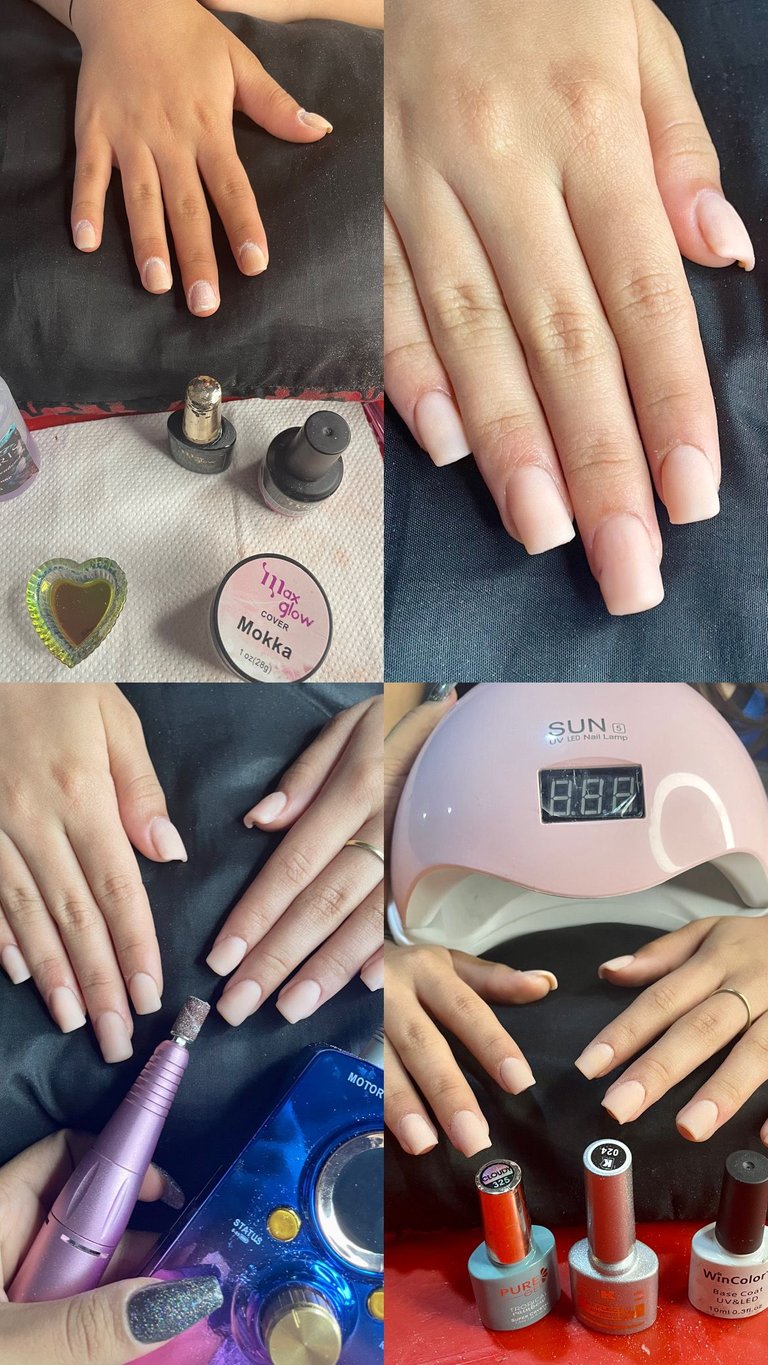 For the polish of these nails I was using my base coat, a light blue polish, white polish and a silver reflective paint and to make the daisies I used my liner brush and white and yellow paint.
Para el esmaltado de estas uñas estuvo utilizando mi base Coat un esmalte de color azul clarito esmalte blanco y una pintura reflectivo plateada y para hacer las margaritas use mi pincel liner y pintura blanca y amarilla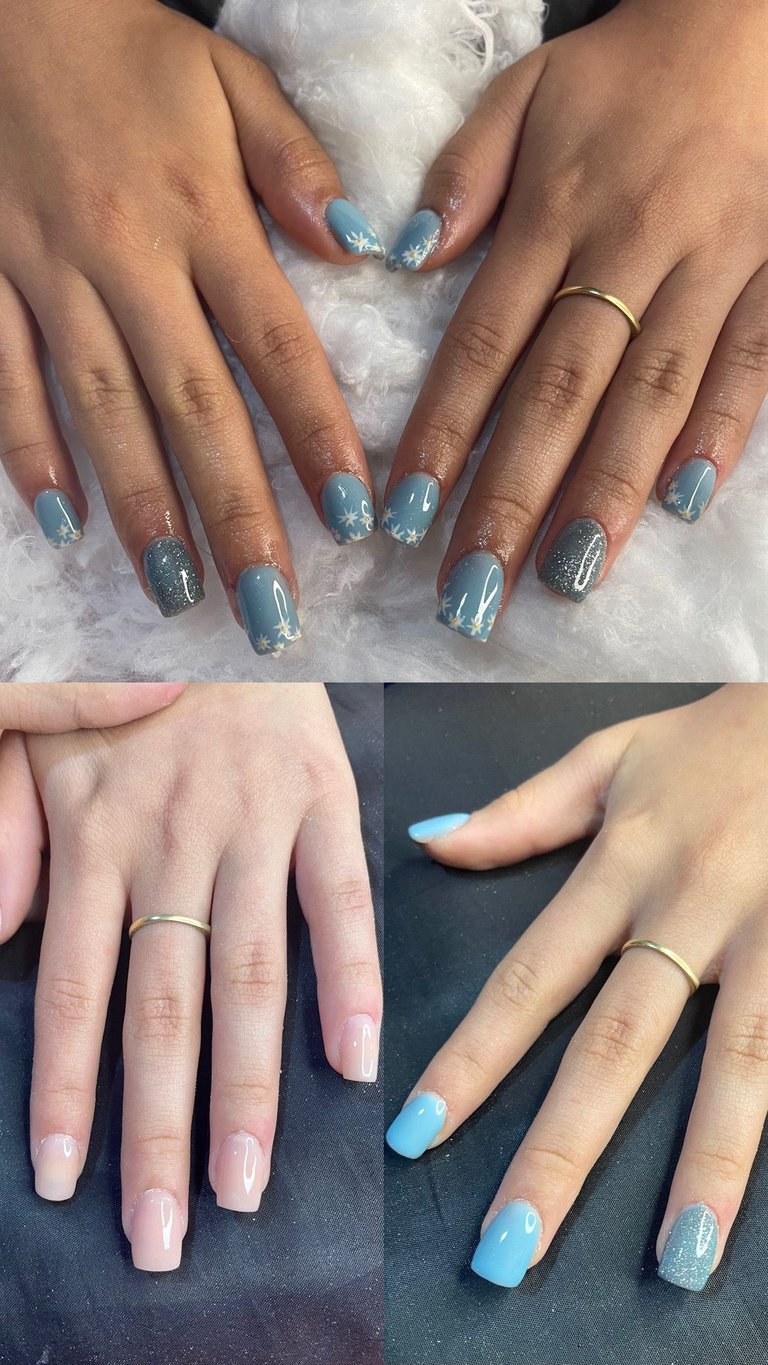 FINAL RESULT
Here you can see how the flowers and how delicate was this system of Kapping with semi-permanent enamel, the truth is that I am a beginner in brushing and I do not have much experience in this regard so I am not a fan of the enamel but the truth is that the results are very satisfactory as it is very natural and beautiful finish in the hand of my client and she was happy and date with the results.
Aquí pueden ver cómo quedaron las flores y cómo quedó delicado este sistema de Kapping con esmaltado semipermanente la verdad yo soy principiante pincelando no tengo mucha experiencia al respecto por eso no soy muy fan del esmalte pero la verdad es que los resultados son muy satisfactorios ya que queda muy acabado muy natural y lindo en la mano de mi clienta y se fue feliz y fecha con los resultados
In this photo you can see the effect of the reflective paints how the little girls look with Flash and without Flash I gave a touch to each flower with a dot of reflective enamel to make it look more striking and it was beautiful, In order to enamel a lamp is vital and cure each brushstroke that we do 60 seconds in it.
En esta foto pueden ver el efecto de las pinturas reflectivos cómo se ven las niñitas con Flash y sin Flash le di un toque a cada flor con un puntico de esmalte reflectivo para que se viera más llamativo y quedó precioso, Para poder esmaltar es vital una lámpara y curar cada pincelada que hagamos 60 segundos en ella.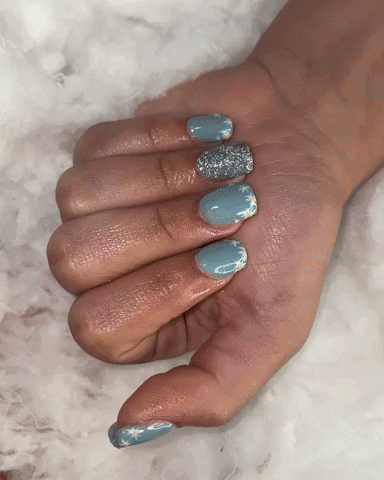 And well those are the final results I hope you liked it if you got here leave me in the comments what you thought of today's work I hope you liked it you can find me on Instagram as fanxynails_ and all these photos and videos were recorded and taken with my phone an iPhone 12 kisses 😘 xoxo💋
Y pues esos son los resultados finales espero que les haya gustado si llegaron aquí déjenme en los comentarios que les pareció el trabajo del día de hoy espero que les haya gustado me pueden encontrar en Instagram como fanxynails_ y todas estas fotos y videos fueron grabados y tomados con mi teléfono un iPhone 12 besos 😘 xoxo💋