Hello my dear beautiful community, I'm back at last after a week missing 😩, the reason for my disappearance is that I've been working too much, in this post you can see one of my last nail works that I'll be showing you this week, I did last week and I'm really happy with it, I hope you enjoy the process of all this art😍.
Hola queridas hermosa comunidad, he vuelto porfin luego de una semana desaparecida 😩, la razón de mi desaparición es que he estado trabajando mucho demasiado, en este post pueden ver uno de mis últimos trabajos de uñas que les estaré mostrando esta semana, que hice la semana pasada la verdad estoy encantada quedaron espectaculares hermosos espero disfruten el proceso de todo este arte😍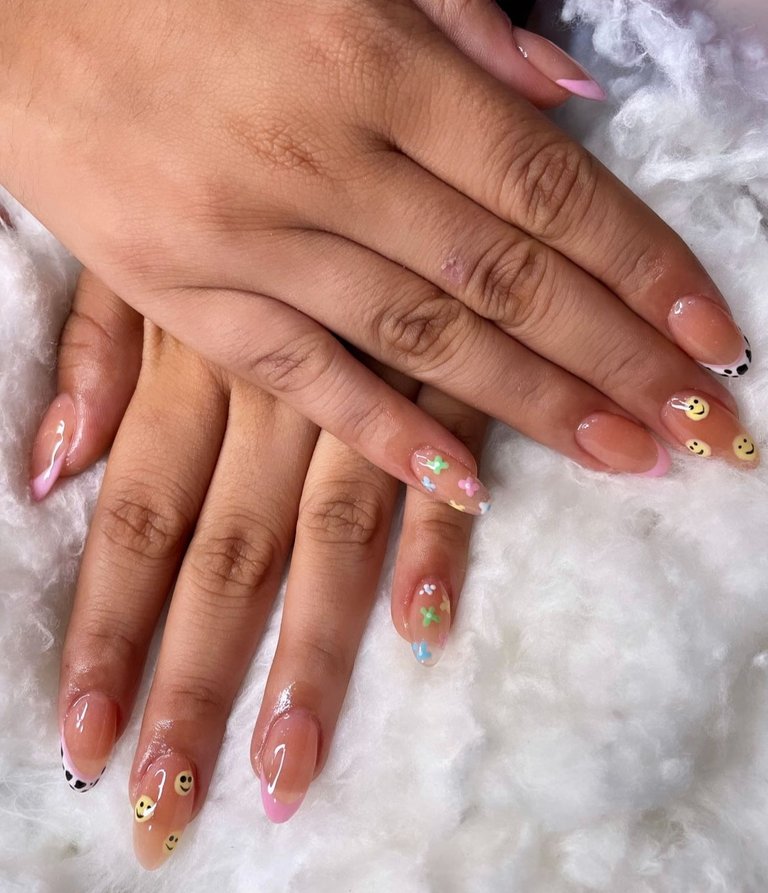 These nails I think they are the most perfect I have done and they have a bit of a funny story behind them as they are my first nails for a client sculpted in construction molds for acrylic nails I was very scared when doing them, nerves are an inevitable thing as a lot of things are at stake because a small mistake when working with that and a catastrophe can happen but I made it and I feel proud I hope you like it.
Estas uñas creo que son las más perfectas que he hecho y tienen una historia un poco graciosa detrás ya que son mis primeras uñas para una clienta esculpidas en moldes de construcción para uñas acrílicas estuve muy asustada al hacerlas, los nervios son una cosa inevitable ya que está en juego muchas cosas porque un pequeño error al trabajar con eso y puede ocurrir una catástrofe pero lo logre y me siento orgullosa espero les guste.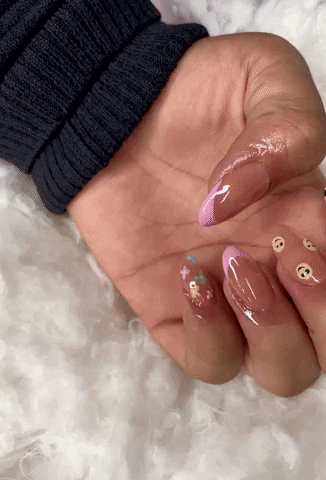 STEP BY STEP✨
As I told you previously as it was something new I decided to do a test on a nail first to see how it looked, as you know I am still training in a course and all the nails we do are done in molds and I have had enough practice I think they have been pretty good but I had never done it on a client and she took the risk and the risk was too worth it, for the test obviously prepare my nail and apply preparers to start sculpting. She wanted almond nails and after seeing the result of the first nail she was delighted so we decided to put all the molds and start sculpting.
Como ya les dije previamente como era algo nuevo decidí hacer una prueba en una uña primero a ver qué tal me quedaba, como saben aún me estoy capacitando en un curso y todas las uñas que hacemos las hacemos en moldes y he tenido bastante práctica considero que me han quedado bastante bien pero nunca lo había hecho en una clienta y ella pues se arriesgó y el riesgo valió demasiado la pena, para la prueba obvio prepare mi uña y aplique preparadores para empezar a esculpír. Ella quería unas uñas almendras luego de ver el resultado de la primera uña quedó encantada así que decidimos poner todos los moldes y empezar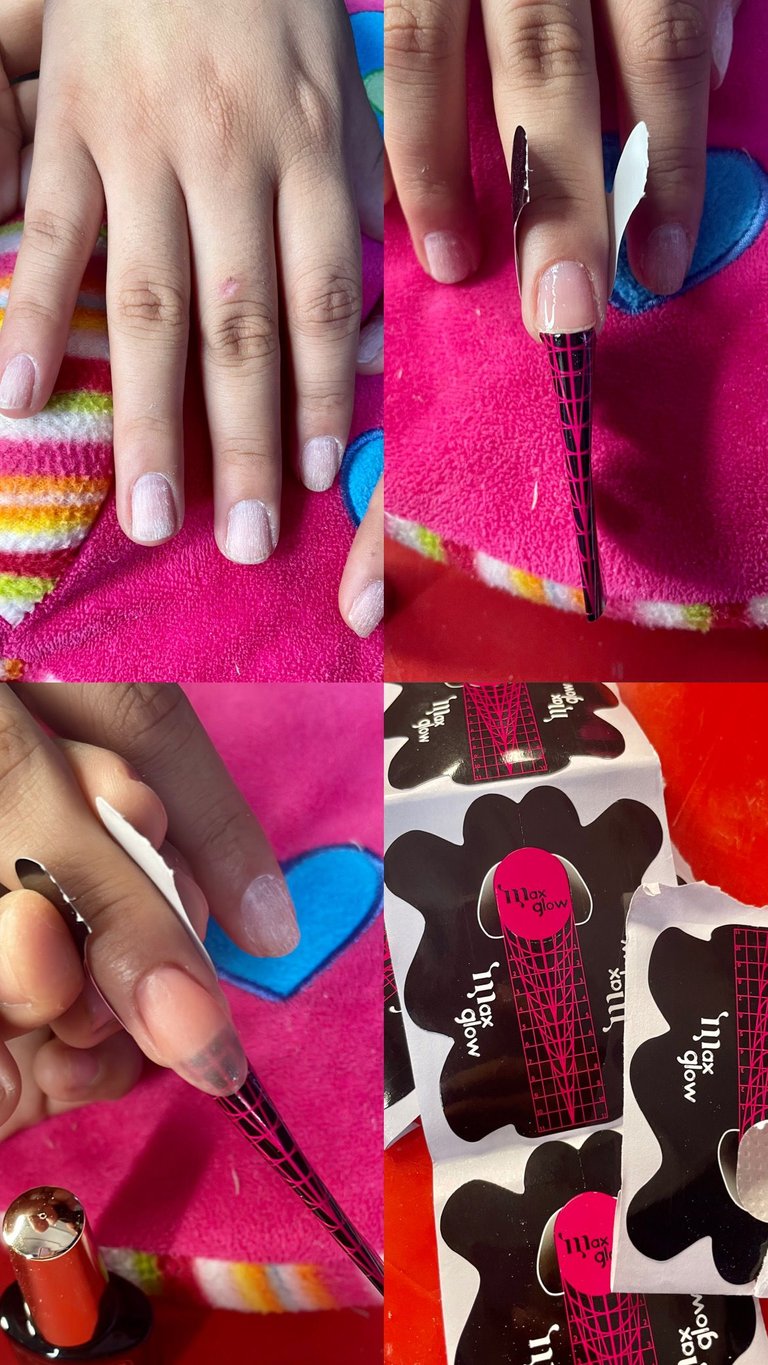 To prepare my nails I file vertically to create adhesion channels, clean my cuticle with a pusher to create a pocket and a professional cuticle cutter, process to apply my molds which was a challenge, I swear it is super difficult for that I need to use a scissors, to fit perfectly on the nail and then apply my nail prep and bond preparers.
Para preparar mis uñas limo de manera vertical para crear canales de adherencia, limpio mi cutícula con un empujador para crear bolsillo y un cortacuticula profesional proceso a aplicar mis moldes lo cual fue todo un reto, se los juro que es súper difícil para eso necesario usar una tijera, para que encaje Perfecto en la uña y luego aplique mis preparadores nail prep y bond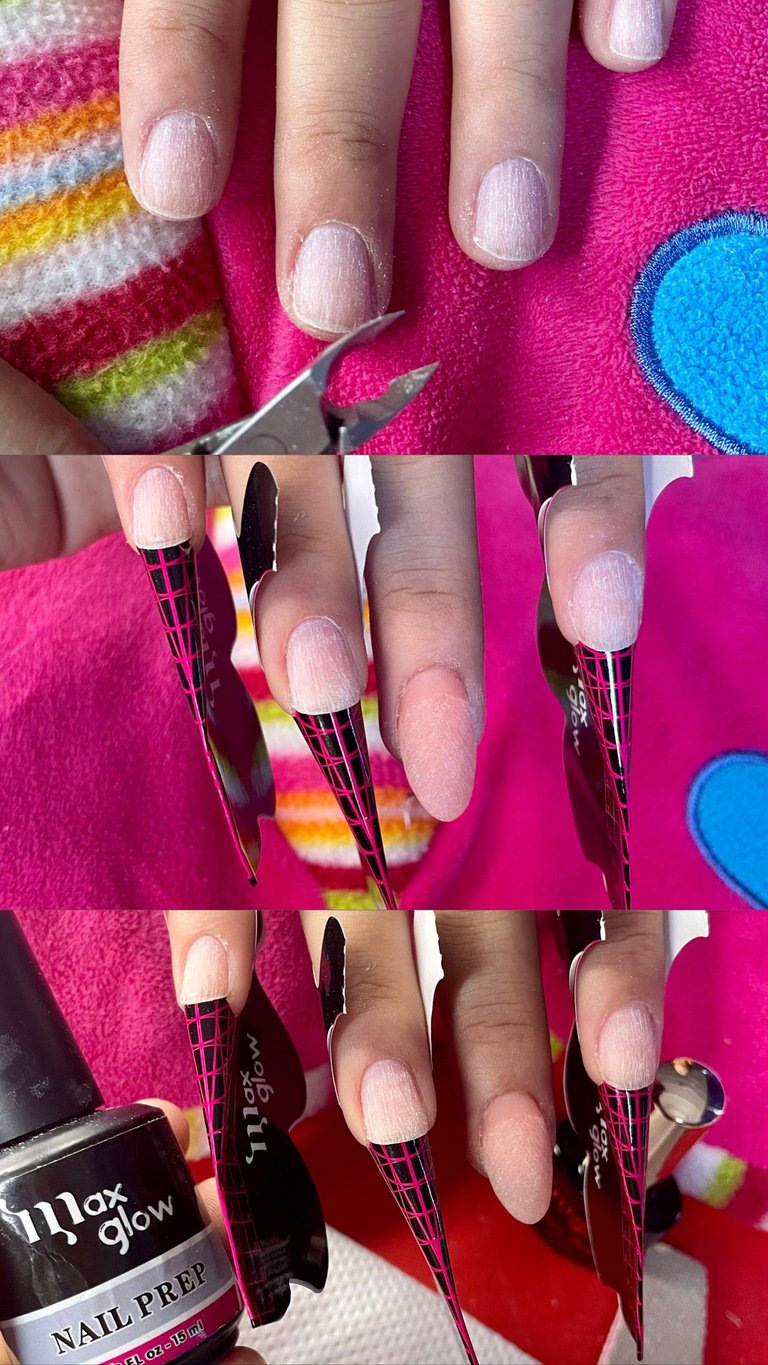 This is our perfect application of the acrylic, to remove the molds we must wait for the acrylic to dry very well, then with a file I will define the shape of my almond nail only the edges.
Así quedó nuestra aplicación perfecta de el acrílico, para poder quitar los moldes debemos esperar que el acrílico seque muy bien, luego con una lima definiré la forma de mi uña almendra sólo los bordes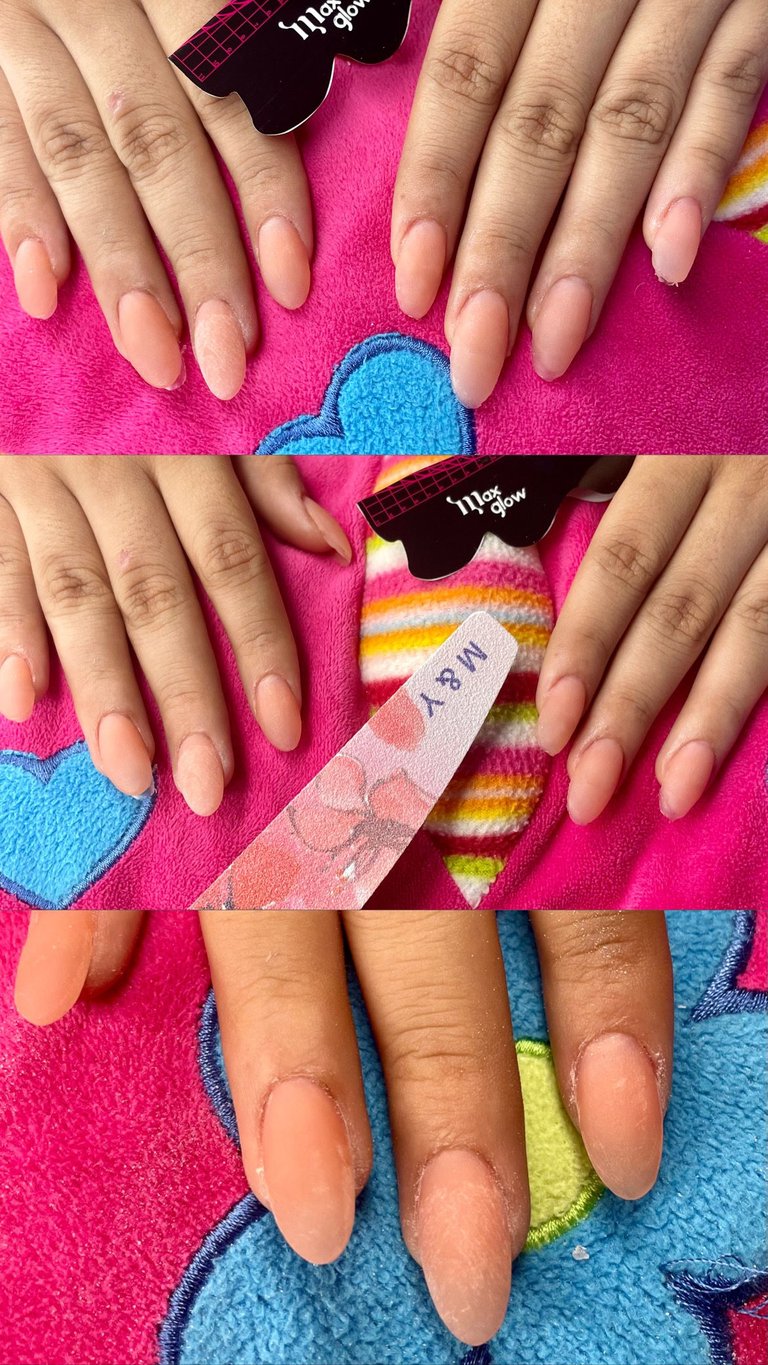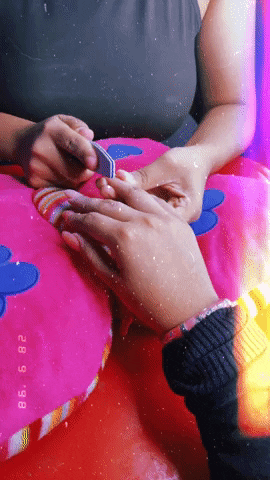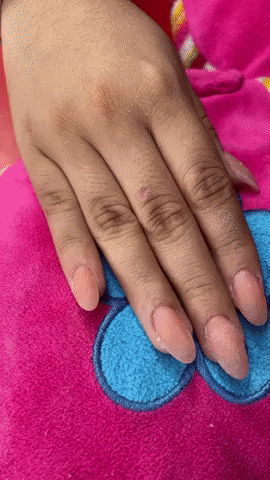 For these nails I used my monomer and two base acrylics the clear first to create a base coat and that the mold does not move and the acrylic cover in the tone caramel of the brand maxglow, my brush and molds also of the brand maxglow, once filed the edges with my drill and the tip of file I will be filing to give the desired thickness, and after they are perfect we proceed to brush, the client requested a super nice nail art design that was also a challenge but I loved the result I was using all those paints to do it.
Para estas uñas use mi monomero y dos acrílicos base el clear primero para crear una capa base y que el molde no se mueva y el acrílico cover en el tono caramel de la marca maxglow, mi pincel y moldes también de la marca maxglow, una vez limados los bordes con mi drill y la punta de lima estaré limando para darle el grosor deseado, y luego que queden perfectas procedemos a pincelar, la clienta pidió un diseño nail art súper lindo que fue un reto también pero me encantó el resultado estuve usando todas esas pinturas para hacerlo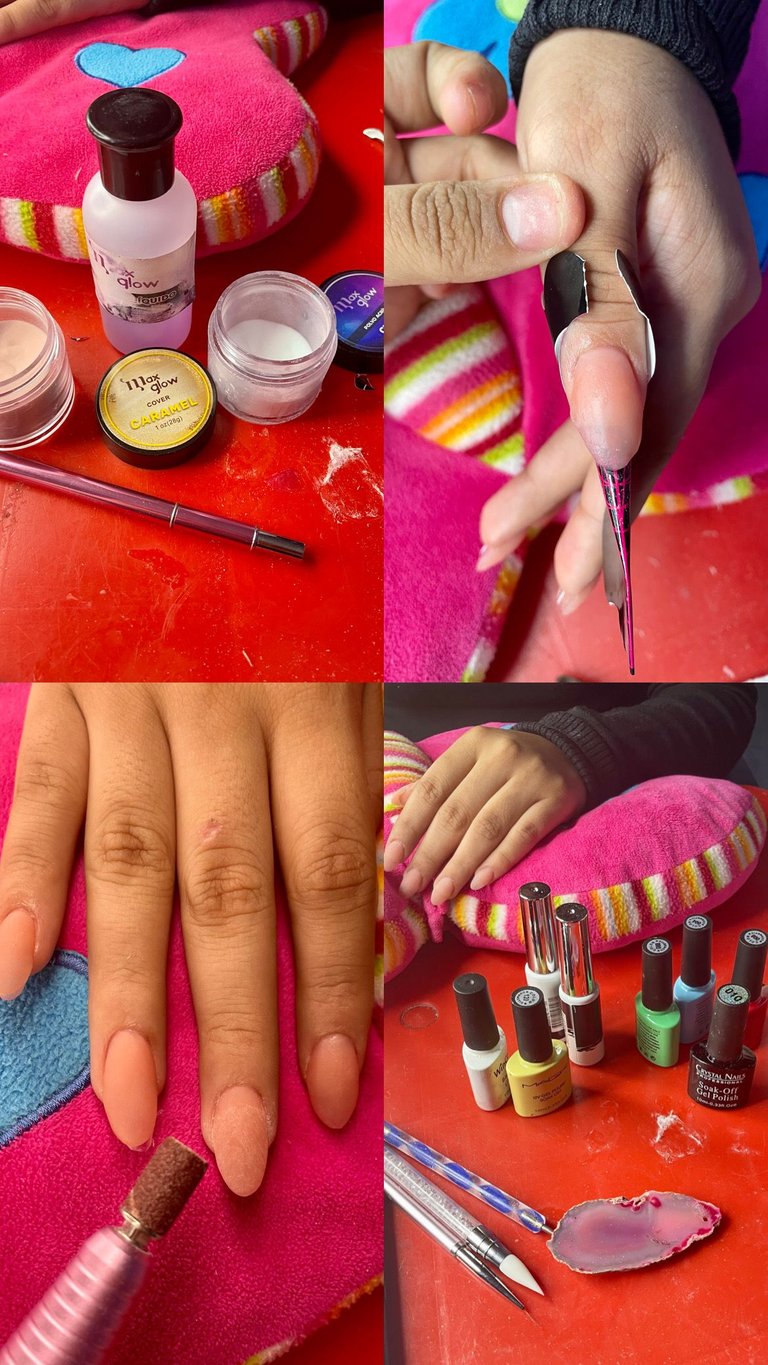 Here you can see how I use my drill to file and perfect the nail and how it looks like perfect natural nails.
Aquí pueden ver cómo uso mi drill para limar y perfeccionar la uña y como queda parecen uñas naturales perfecta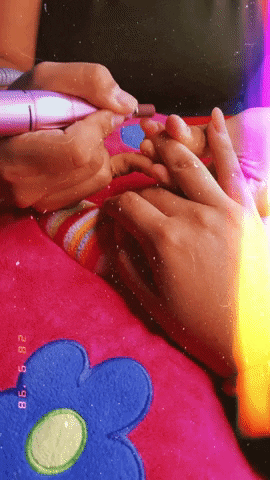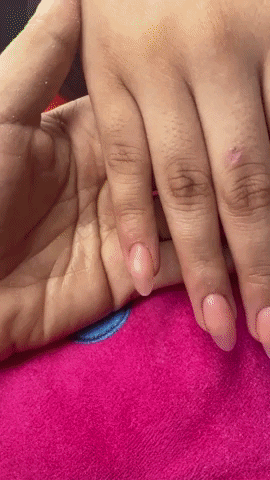 This is how our design turned out very nice a very modern 2022 trend the bead was a beautiful girl I loved how it turned out.
Así quedó nuestro diseño muy lindo una tendencia 2022 muy moderno la cuenta era una niña preciosa me encantó como quedó todo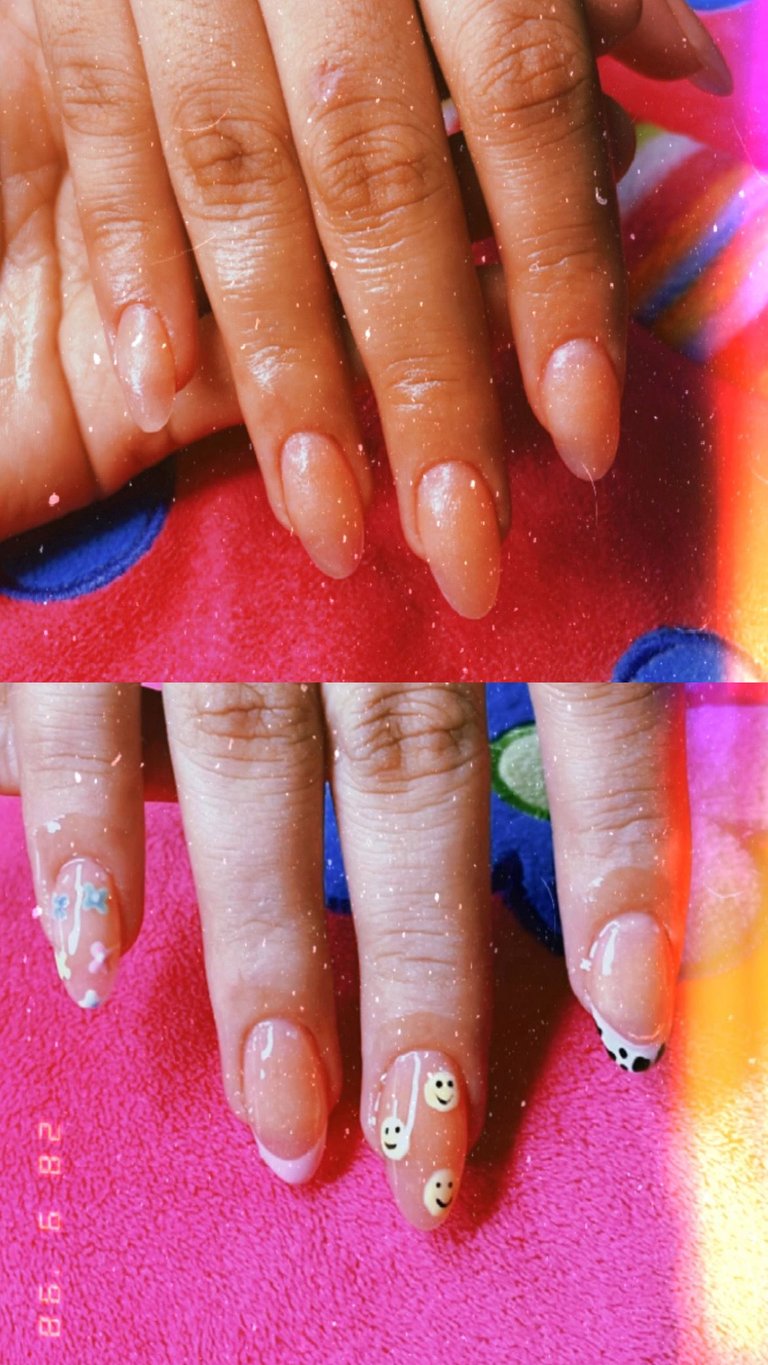 FINAL RESULT✨
And these are the final results, I hope you liked it as much as I did, this was a challenge for me, I had a lot of nerves, the client left happy and content and there is nothing more satisfying than that.
Y estos son los resultados finales, espero les haya gustado tanto como a mi este fue un reto para mi tenía muchos nervios, la clienta se fue feliz y contenta y no hay nada que te llene más que eso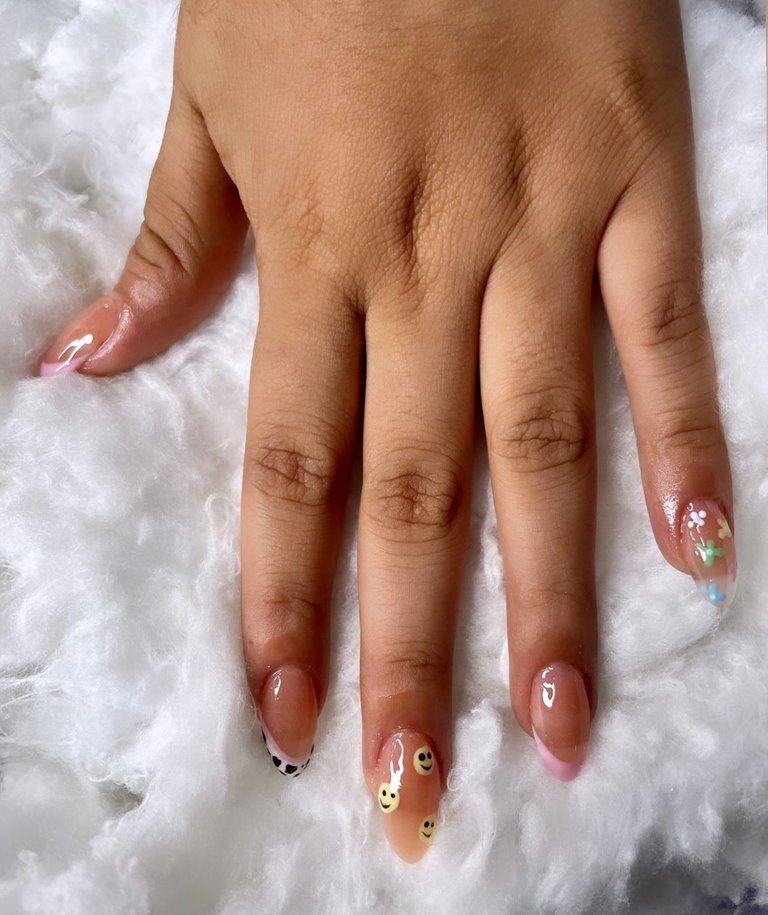 Thanks for making it this far leave me in the comments what you thought of this whole process, all these photos and videos are recorded by me with my phone an iPhone 12 in the comfort of my home and if you want to find me on Instagram you can do it as @tovardaniela8 or @fanxybeauty or @fanxynails_ besitos see you in a new post xoxo 💋
Gracias por llegar hasta aquí déjame en los comentarios que te pareció todo este proceso, todas estas fotos y videos las grabo yo con mi teléfono un iPhone 12 en la comodidad de mi hogar y si me quieres encontrar en Instagram puedes hacerlo como @tovardaniela8 o @fanxybeauty o @fanxynails_ besitos nos vemos en un nuevo post xoxo 💋