Hello hivers!
How is everyone doing today🙂it was a great a stress free day for me and I hope it was the same for you. Today I'm going to be giving an evening makeover look, which I will be using two shades from my eyeshadow palette. I will be doing a full face makeup so relax as I take you through the steps or process I used in achieving my look for today.
¿Cómo están todos hoy? Fue un gran día libre de estrés para mí y espero que sea lo mismo para ti. Hoy voy a dar un cambio de imagen de noche, que voy a utilizar dos tonos de mi paleta de sombras de ojos. Me haré un maquillaje de rostro completo, así que relájate mientras te explico los pasos o el proceso que usé para lograr mi look de hoy.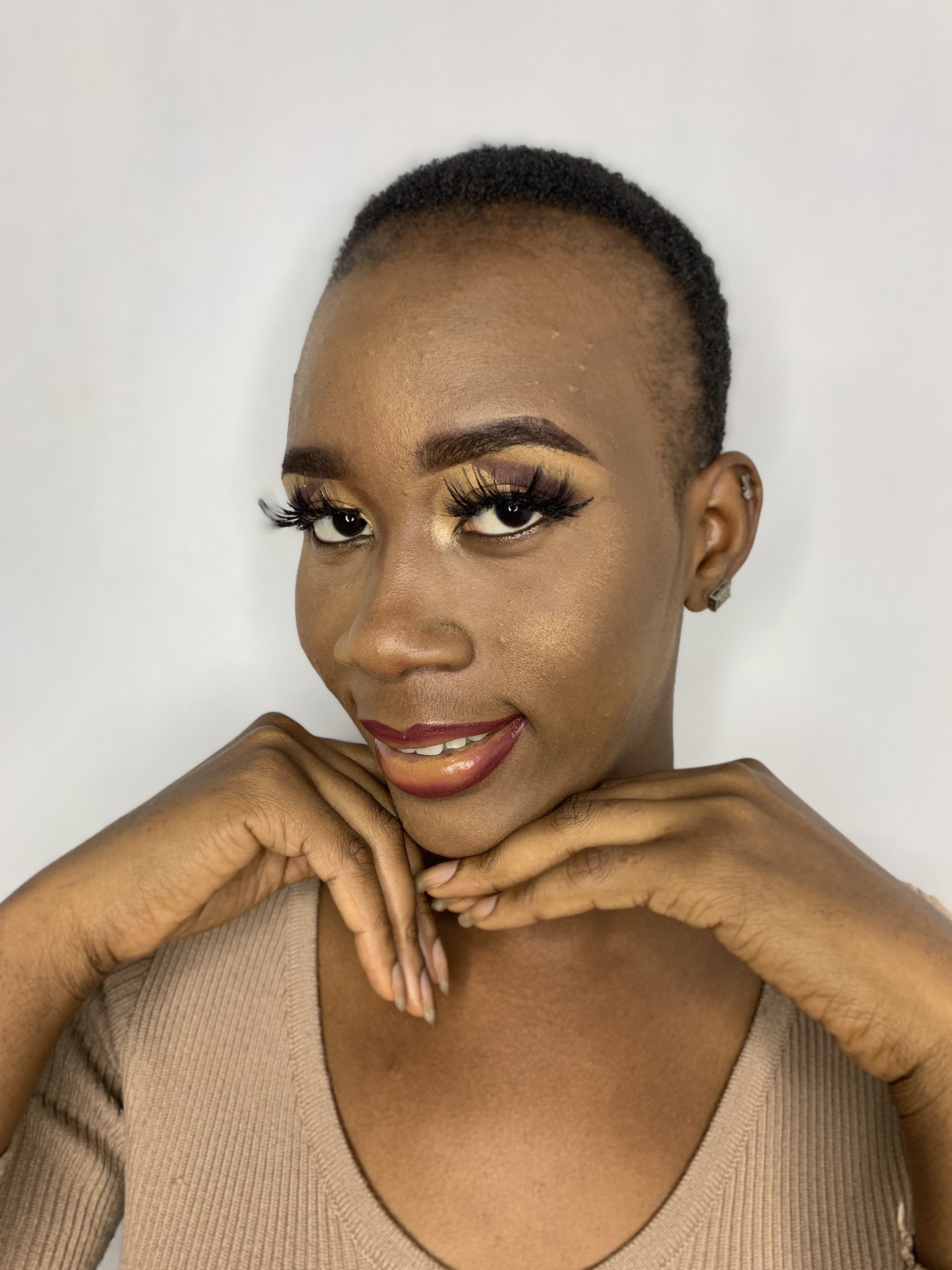 | 🌺Requirements | 🌺 Requisitos |
| --- | --- |
| 🌺Brown eye pencil | 🌺Lápiz de ojos marrón |
| 🌺 Avour eyeshadow primer | 🌺 prebase para sombras de ojos de avour cosmetics |
| 🌺 Gorgeous me eyeshadow | 🌺 Preciosa sombra de ojos |
| 🌺Zikel Foundation | 🌺 fundación Zikel |
| 🌺Miss rose lip cream | 🌺Crema labial miss rose |
| 🌺 Brushes | 🌺 Brooches |
| 🌺Adventure concealer | 🌺 Corrector de aventuras |
| 🌺Absolute lip cream | 🌺 Crema labial absoluta |
| 🌺Zikel powder | 🌺polvo de zikel |
| 🌺 Helen C setting powder | 🌺 Polvo fijador Helen C |
| 🌺 Helen C highlighter | 🌺 Iluminador Helen C |
🌺Steps🌺
Starting my makeup today, I'm going to make strokes on my eyebrows so as to give it a good shape. After that I will use my concealer to correct any mistakes made on my eyebrows and then I'm going to blend it in to my eyelid, before applying my eyeshadow primer.
Comenzando mi maquillaje de hoy, voy a hacer trazos en mis cejas para darle una buena forma. Después de eso, usaré mi corrector para corregir cualquier error cometido en mis cejas y luego lo difuminaré en mi párpado, antes de aplicar mi base de sombra de ojos.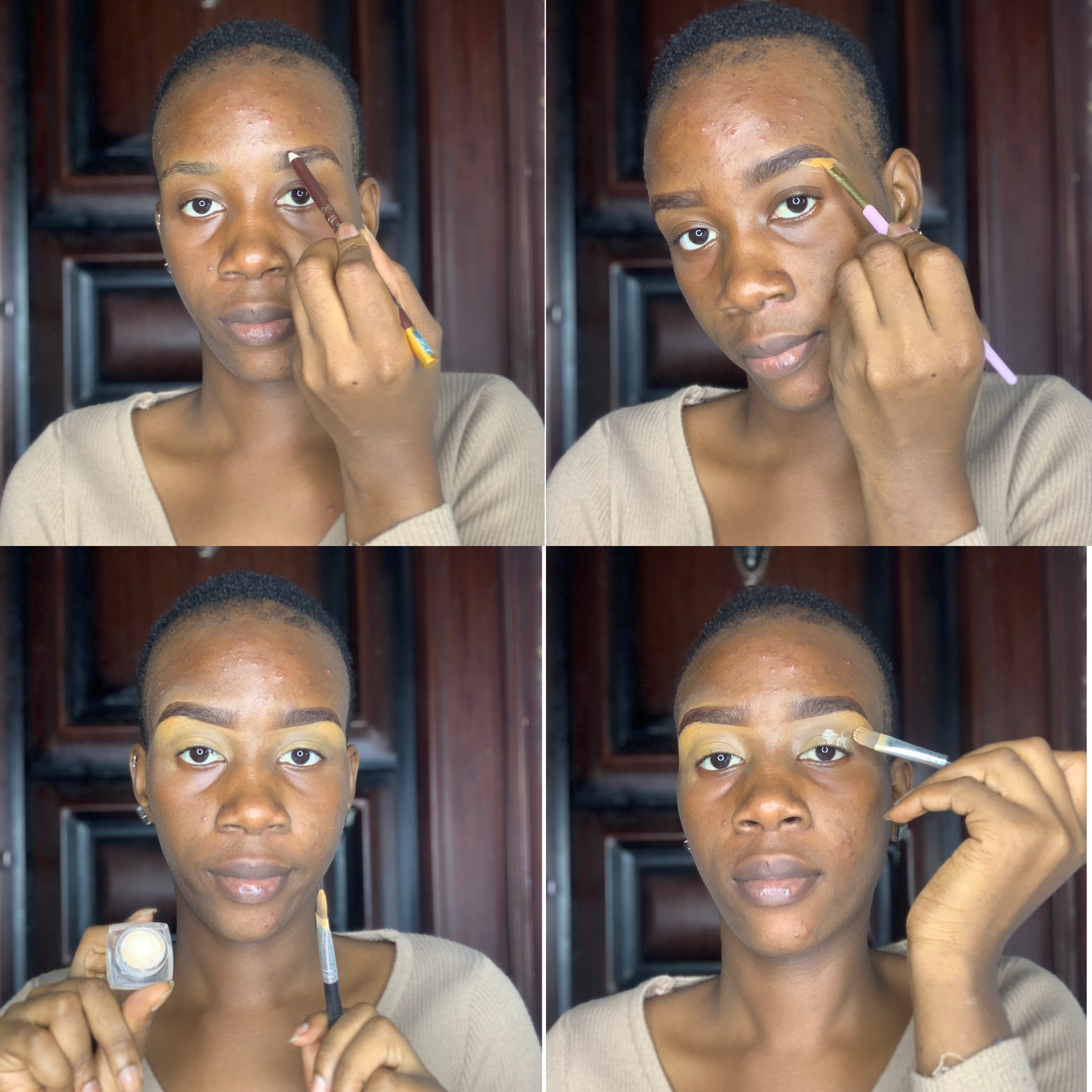 When I'm done with my eyebrows, I will go ahead to apply my eyeshadow on my eyelid, starting from the tail of my eyelid applying a dark shade of purple. After that I will use my concealer and flat brush to make a demarcation between the two shades which I will use on my eyelid. I'm going to apply my eyeliner after my eyeshadow, lastly for my eyes I will fix my lash extensions.
Cuando termine con mis cejas, procederé a aplicar mi sombra de ojos en mi párpado, comenzando desde la cola de mi párpado aplicando un tono oscuro de púrpura. Luego usaré mi corrector y brocha plana para hacer una demarcación entre los dos tonos que usaré en mi párpado. Voy a aplicar mi delineador después de mi sombra de ojos, por último para mis ojos arreglaré mis extensiones de pestañas.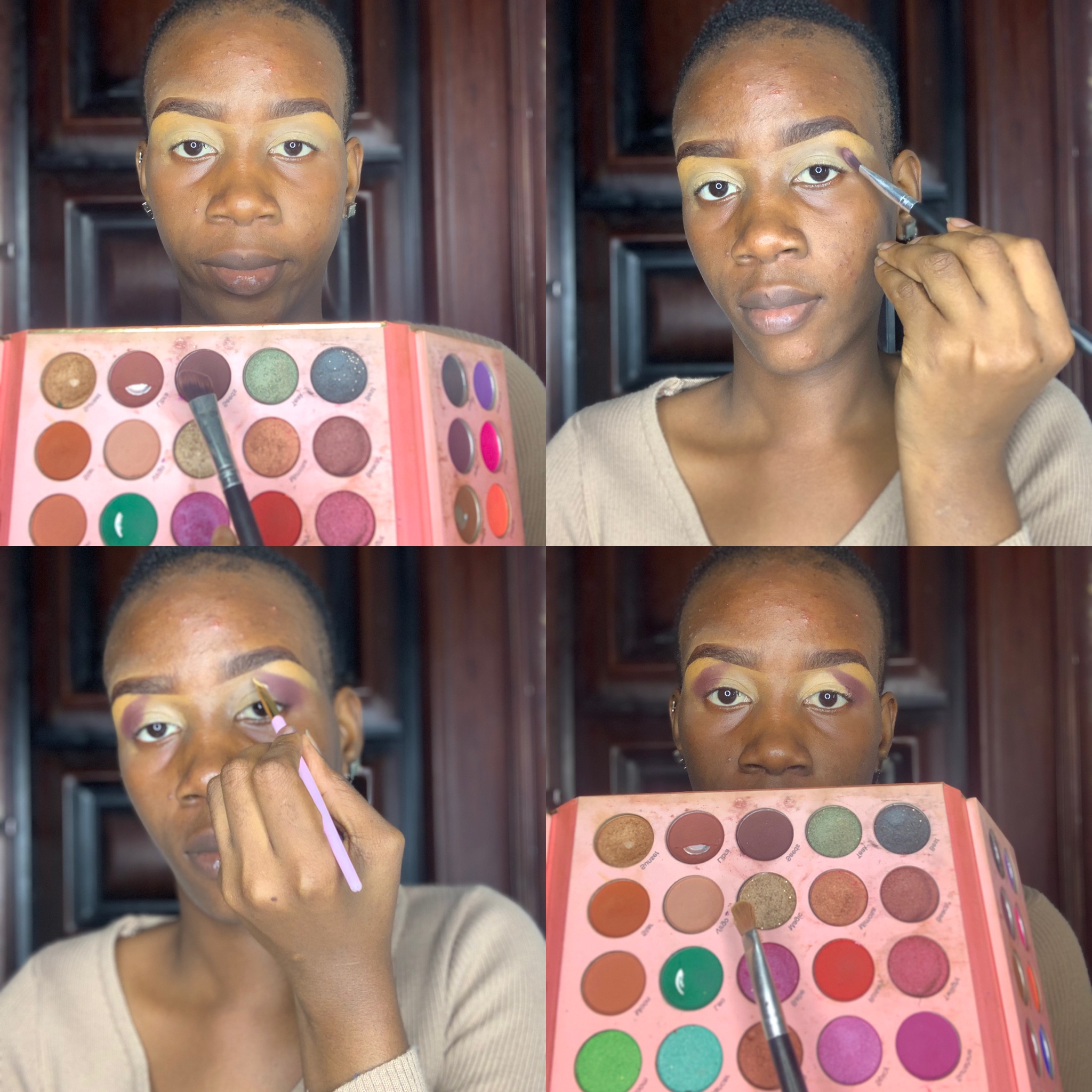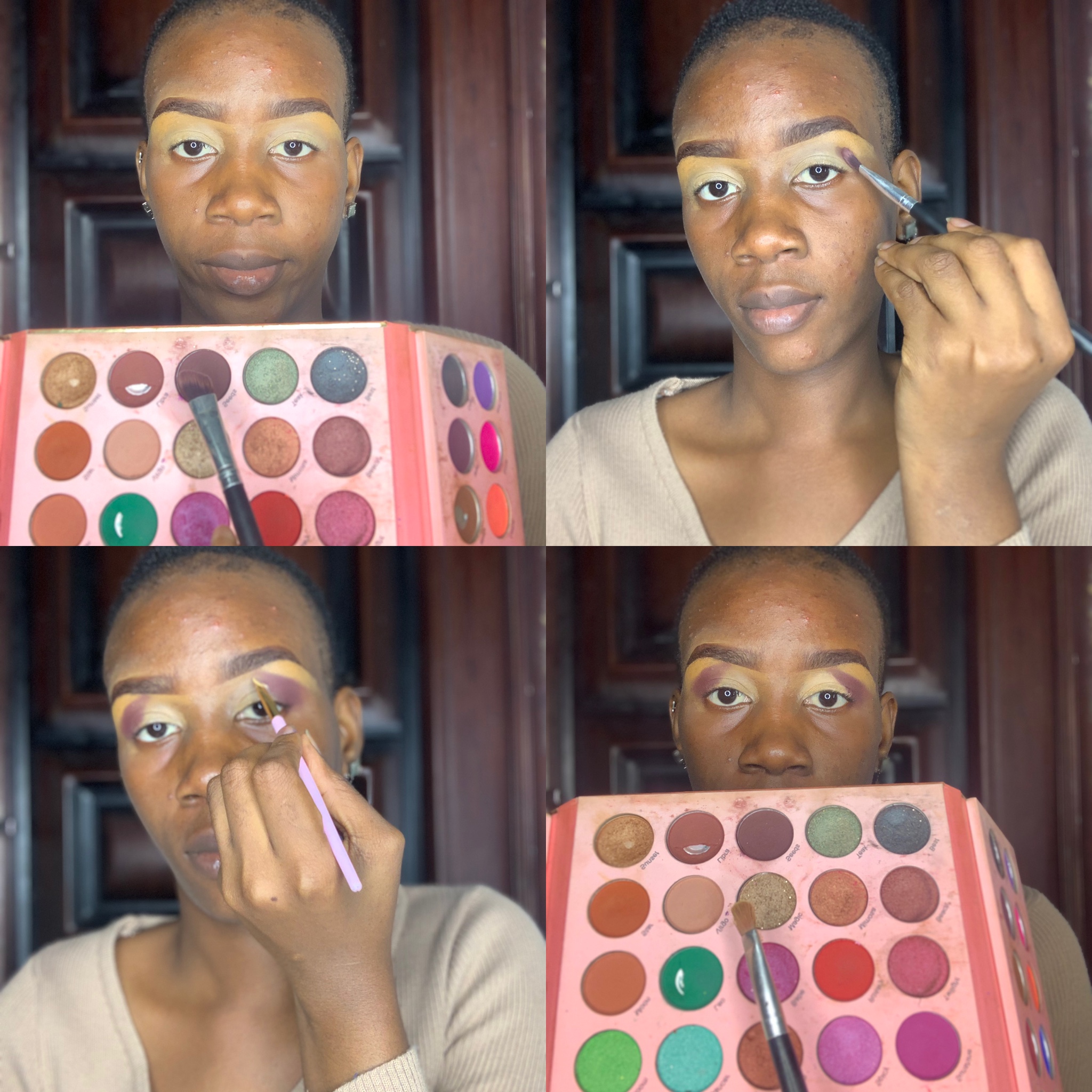 It's time to move on to my face, I'm going to apply my face moisturizer using my flat brush to apply it all over my face. After that, I will apply my light shade foundation under my eyes, jaw. Next is my cream blush, I will apply it on my cheek and also apply my dark shade of concealer on the area that needs contour, lastly I will use my foundation to blend in everything on face using my foundation brush.
Es hora de pasar a mi cara, voy a aplicar mi crema hidratante facial con mi cepillo plano para aplicarlo en toda la cara. Después de eso, aplicaré mi base de maquillaje de tono claro debajo de los ojos y la mandíbula. El siguiente es mi rubor en crema, lo aplicaré en mi mejilla y también aplicaré mi tono oscuro de corrector en el área que necesita contorno, por último, usaré mi base para mezclar todo en la cara con mi pincel de base.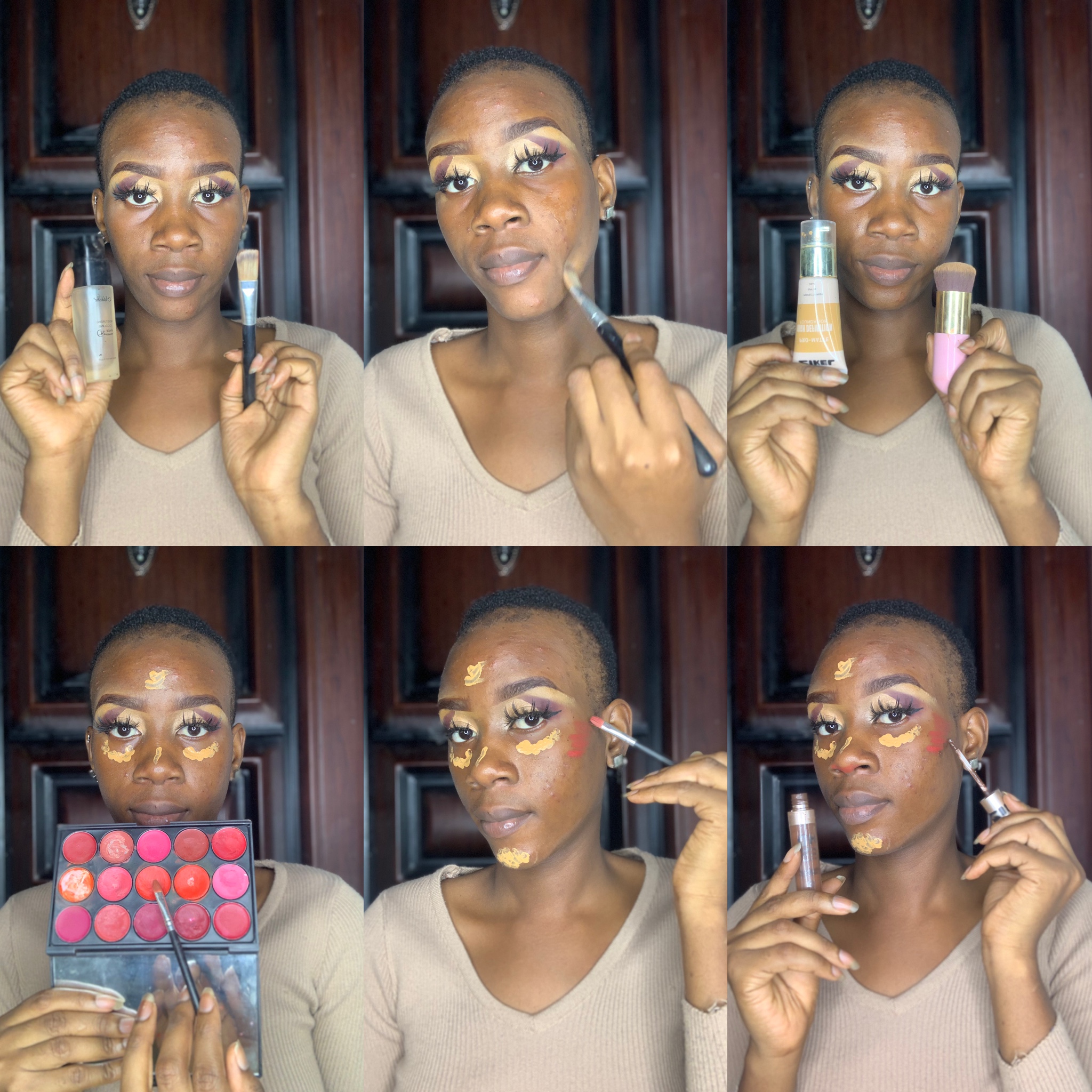 It's time to apply my powder on my face to seal my foundation, after that I will use a dark powder shade to contour my face and nose. I will apply my setting powder under my eyes, then I will apply my lip cream. When I'm done with that, I will blend out my setting and apply my highlighter on my cheek and nose.
Es hora de aplicar mi polvo en mi cara para sellar mi base, después usaré un tono de polvo oscuro para contornear mi cara y nariz. Aplicaré mi polvo fijador debajo de mis ojos, luego aplicaré mi crema labial. Cuando termine con eso, difuminaré mi configuración y aplicaré mi iluminador en la mejilla y la nariz.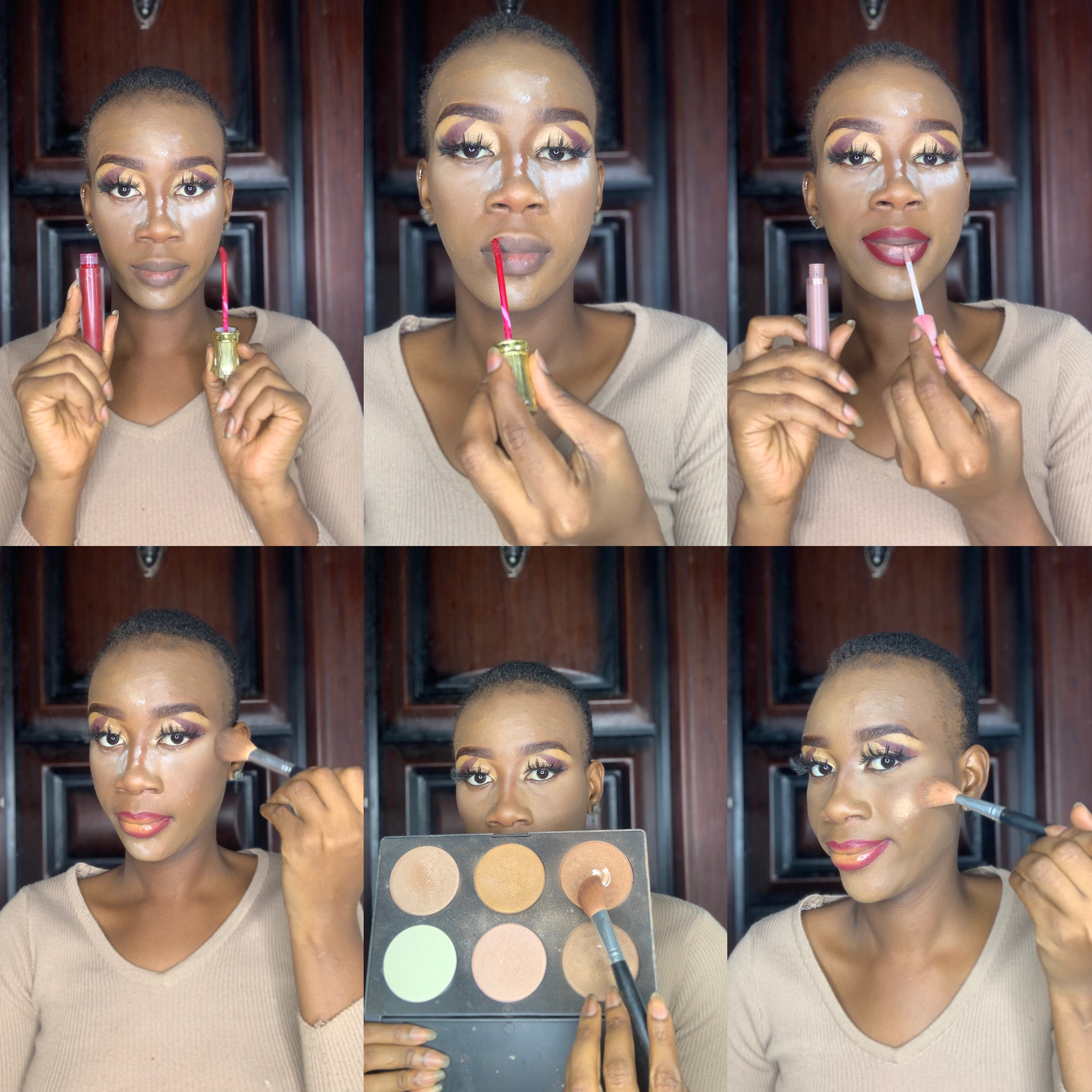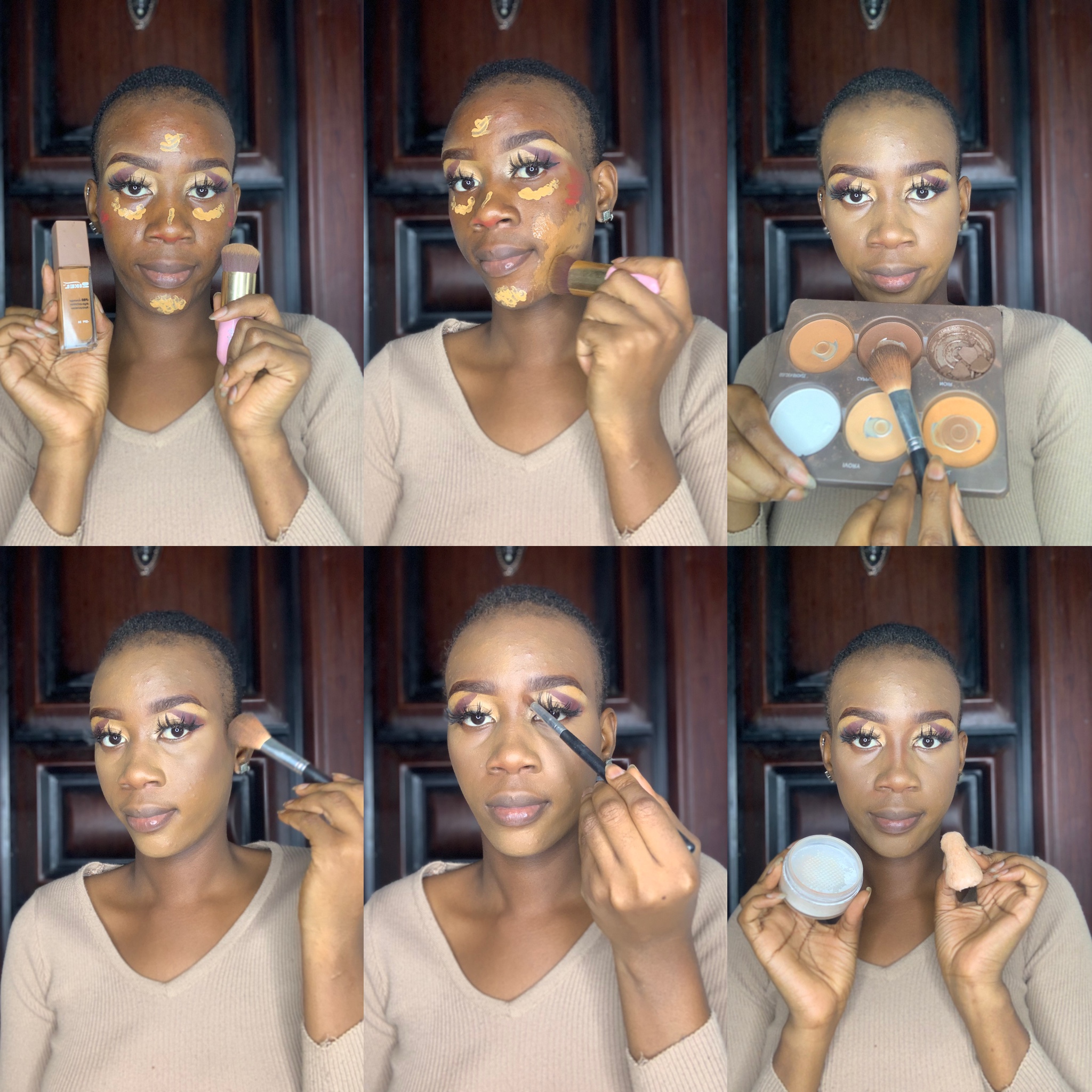 Thank you so much for reading my post today🙂❤️I'm glad to be a part of your day. I will be sharing my finish look below.
Muchas gracias por leer mi publicación de hoy 🙂❤️ Me alegra ser parte de tu día. Compartiré mi look final a continuación.
🌺🌺🌺🌺🌺Finish look🌺🌺🌺🌺🌺🌺🌺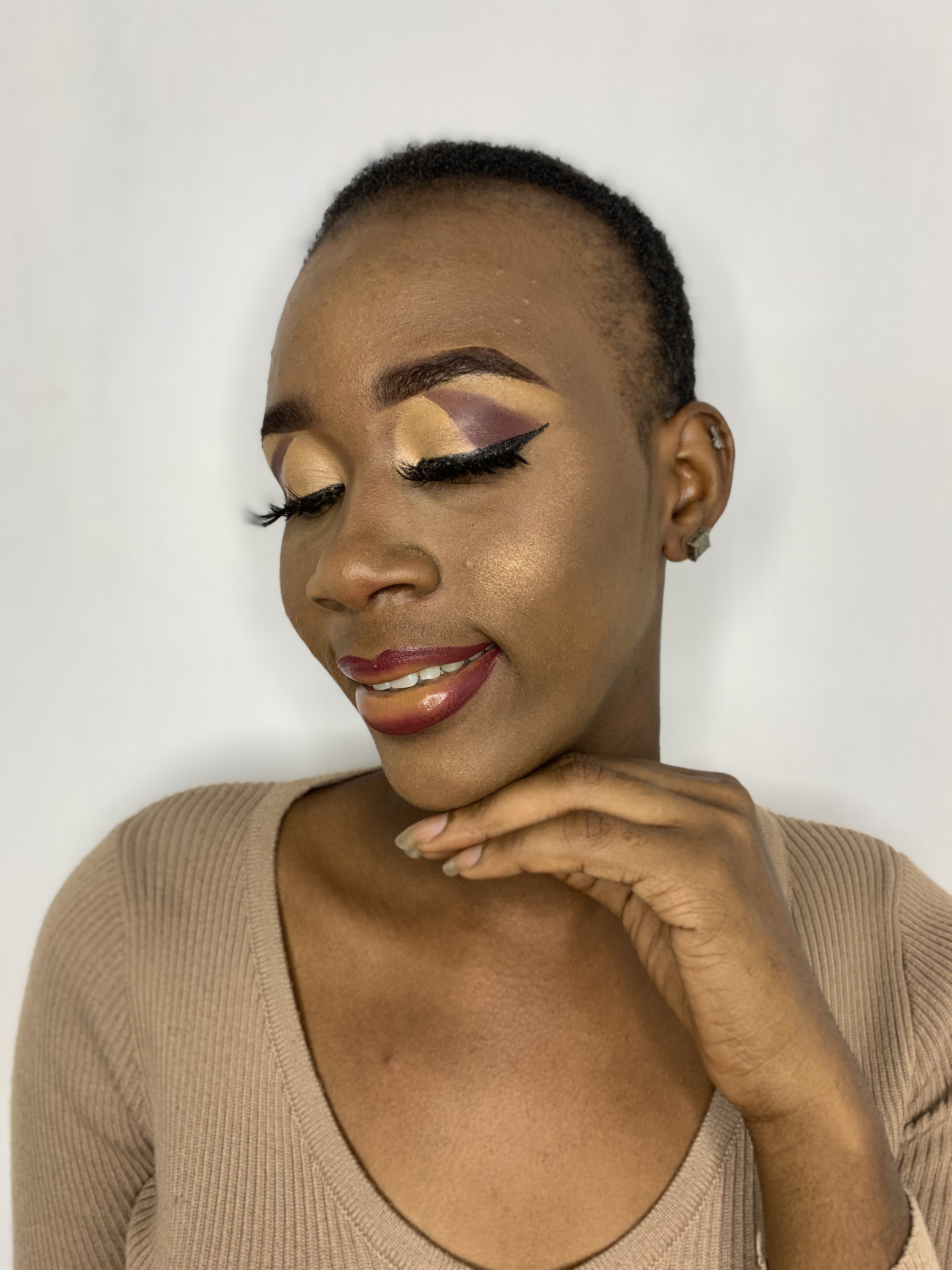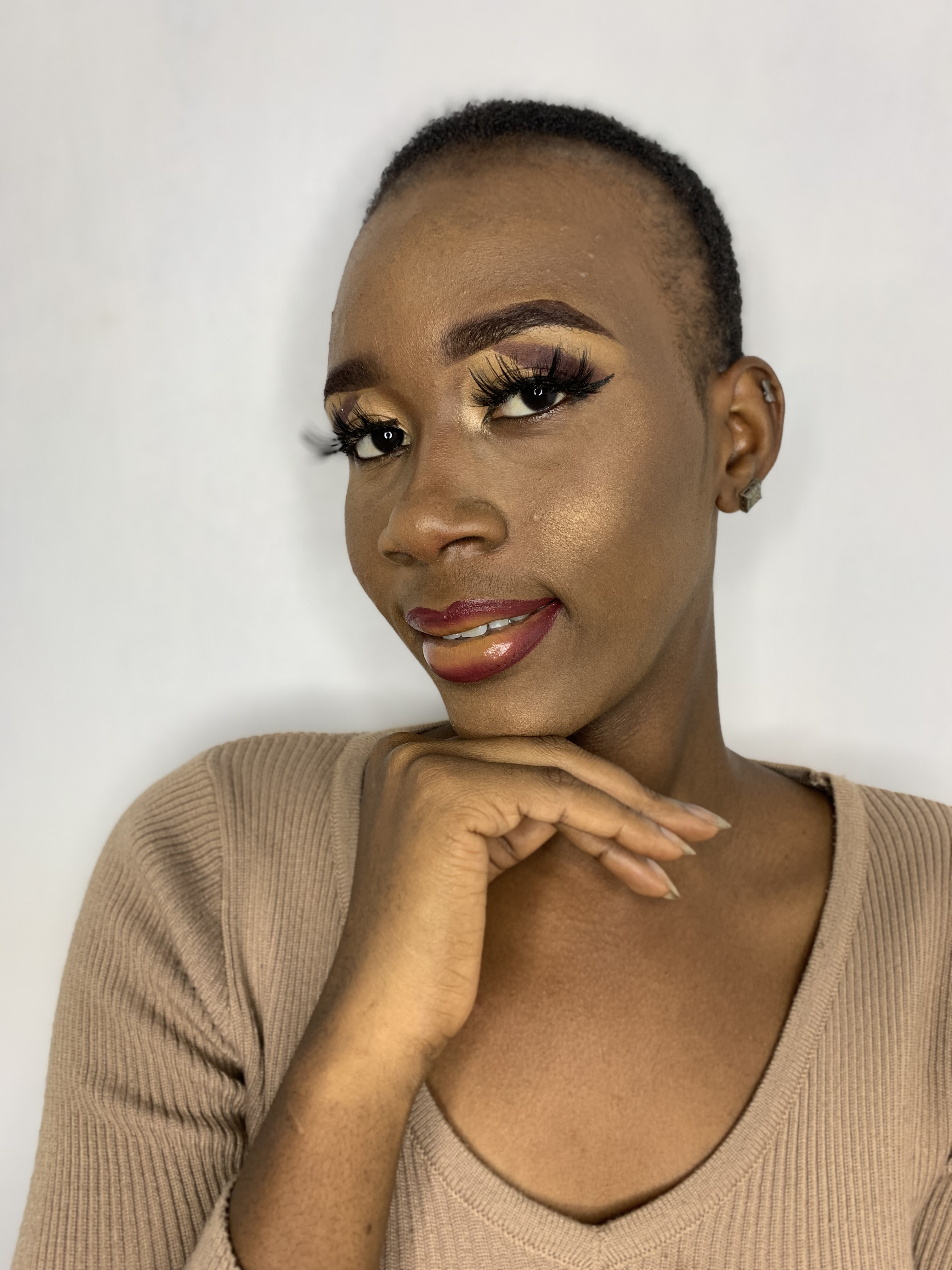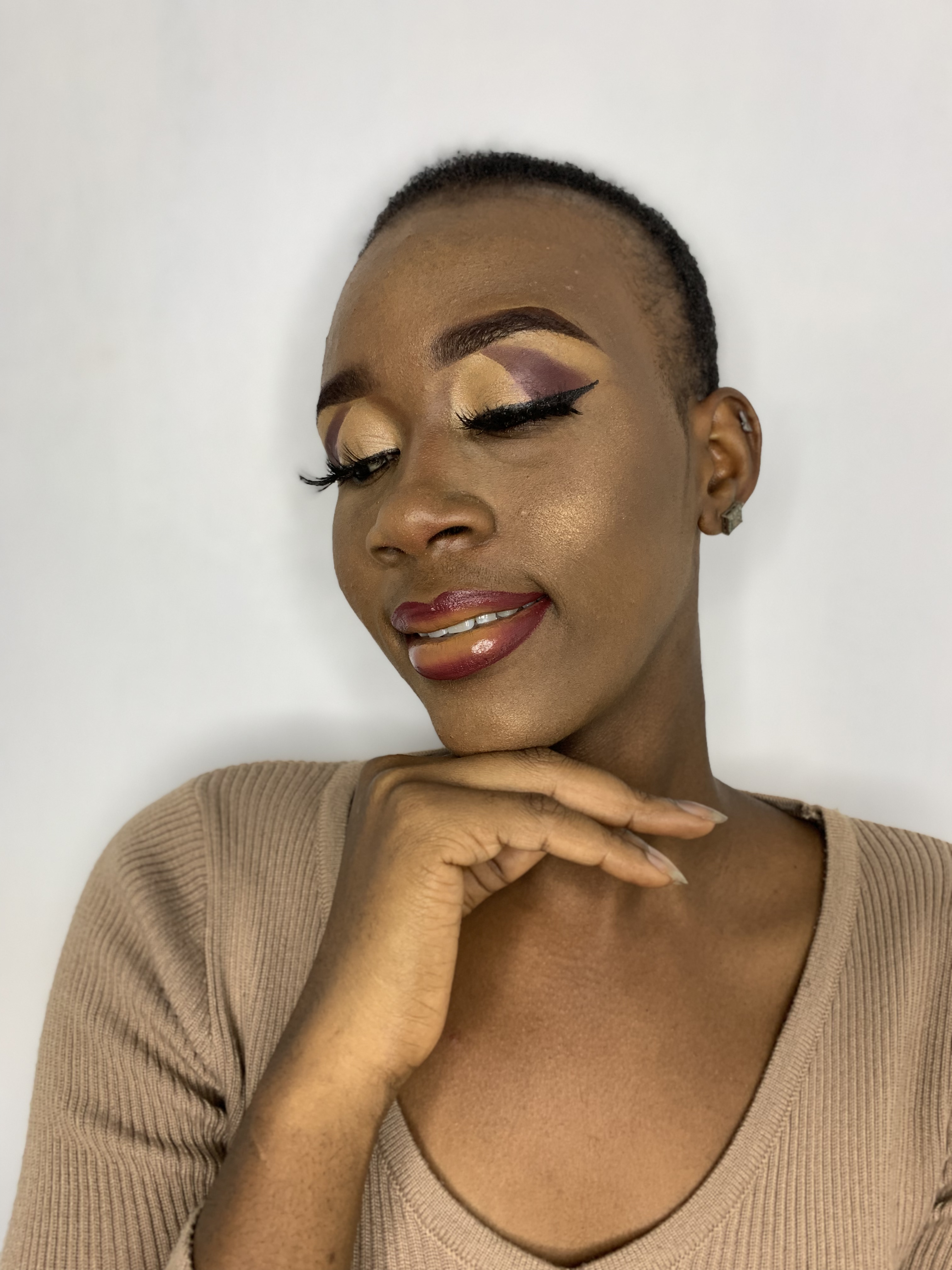 Gracias❤️