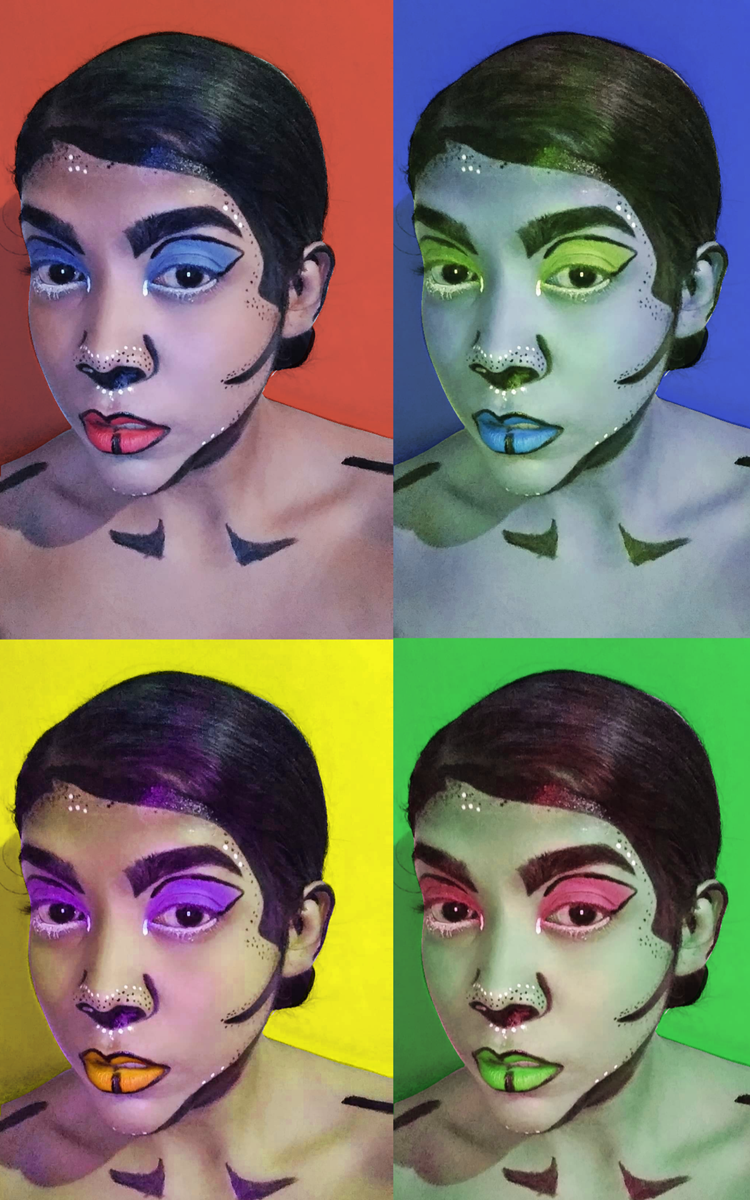 Hola amantes del maquillaje || Hello makeup lovers.



Espero que todos se encuentren genial, una nueva semana un nuevo reto, y es la oportunidad de mezclar el arte con el arte, el reto cita inspirarnos en alguna obra de un artista de nuestra preferencia, en mi caso no quise inspirarme en una sola obra sino en el estilo artístico, del artista plástico Andy Warhol padre del pop art, como no pude participar en el reto que se oriento bajo este tema, pensé que sería como matar dos pájaros de un tiro.
I hope you all feel great, a new week a new challenge, and is the opportunity to mix art with art, the challenge cites be inspired by some work of an artist of our preference, in my case I did not want to be inspired by a single work but in the artistic style of the plastic artist Andy Warhol father of pop art, as I could not participate in the challenge that was oriented under this theme, I thought it would be like killing two birds with one stone.

Puede parecer un maquillaje simple, pero lograr que cada línea y puntos queden en el lugar deseado, requiere de precisión y tiempo, espero les guste, agradezco a
@ilustracharleeee
quien me ayudo con la edición de las fotos, visiten su perfil es un ilustrador con contenido realmente increíble. Espero pronto poder recrear alguna de sus creaciones.
It may look like a simple makeup, but getting every line and dot in the desired place, requires precision and time, I hope you like it, I thank
@ilustracharleeee
who helped me with the photo editing, visit his profile is an illustrator with really amazing content. I hope soon to be able to recreate some of his creations.



Andy Warhol.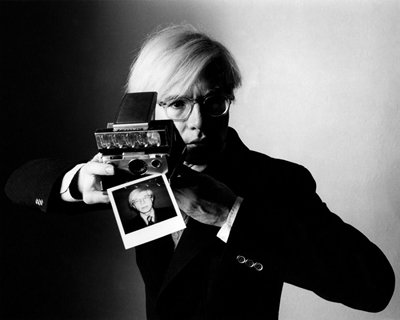 Search

Como mencione anteriormente, Andy Warhol es el padre del art pop, Warhol revolucionó el concepto existente de autenticidad moderna. La serigrafía, técnica moderna y su desarrollo para la imprenta a color, fue su herramienta pictórica. Este artista no se preocupaba demasiado por expresar contenidos temáticos en sus obras, principalmente se encargaba de cuestionar la realidad.
As I mentioned earlier, Andy Warhol is the father of art pop, Warhol revolutionized the existing concept of modern authenticity. Silkscreen printing, a modern technique and its development for color printing, was his painting tool. This artist was not too concerned with expressing thematic content in his works, mainly he was in charge of questioning reality.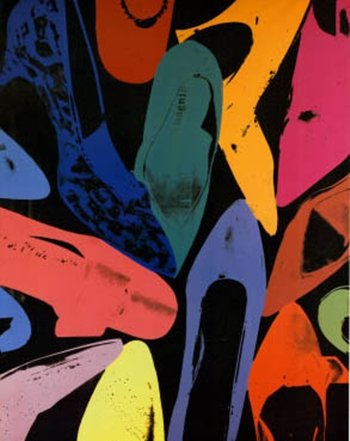 Search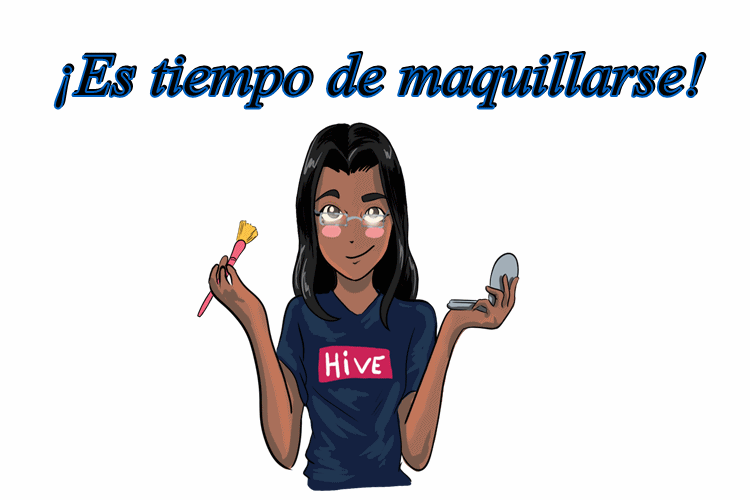 Paso a paso || Step by step:



Antes de maquillarme siempre preparo mi rostro, lavo muy bien y luego humecto, lo siguiente que hice fue aplicar una capa generosa de base, en el rostro y en el cuello, seguido de ello selle con un polvo translucido.
Before putting on makeup I always prepare my face, wash very well and then moisturize. The next thing I do is apply a generous layer of foundation, on the face and neck, followed by sealing with a translucent powder.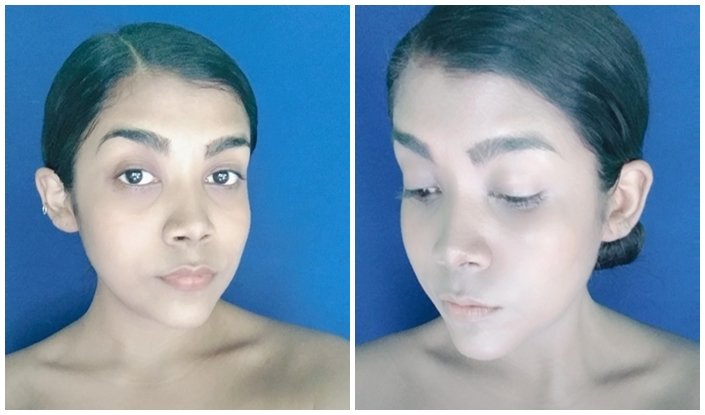 Me encargué de trazar todas las formas que luego iba a rellenar en negro, para tener una guía, tome como referencia la línea divisora de mi cabello.
I was in charge of tracing all the forms that I was going to fill in later in black, to have a guide, take as reference the dividing line of my hair.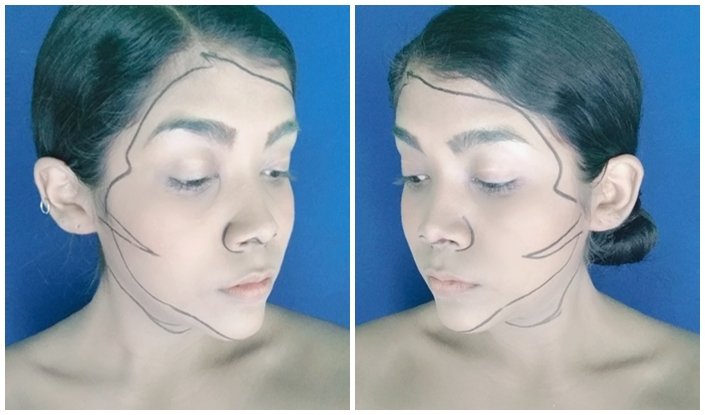 Es tiempo de rellenar todo, para eso usé un delineador en pomada, con acabado brilloso. Extendí las líneas hasta el cuello y las orejas.
It's time to fill in everything, so I used an ointment eyeliner, with a shiny finish. I extended the lines to the neck and ears.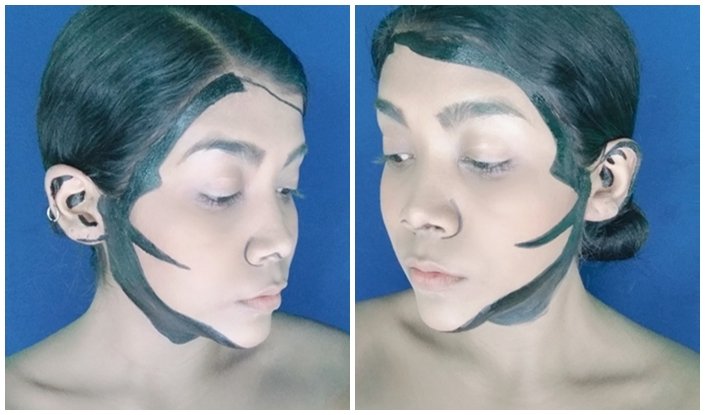 Para detallar enmarcar más el rostro agregue puntos negro por todo el contorno del rostro, luego pinte los labios en rojo y delinee en negro. Hice mis cejas bien marcadas, usando un lápiz negro.
For more detailed framing of the face add black dots all over the face, then paint the lips in red and outline in black. I made my eyebrows well marked, using a black pencil.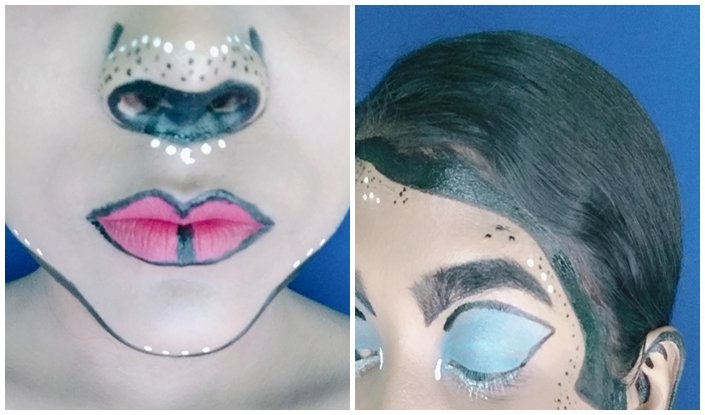 Agregué sombra azul en los ojos de forma alargada y luego trace un delineado sobre esa forma, finalmente agregue puntos blanco en diversos sitios del rostro, aplique lápiz blanco en la linea del agua, y marque mis clavículas con delineador negro.
I added blue eye shadow in an elongated shape and then traced an eyeliner on that shape, finally I added white dots in different places of the face, applied white pencil on the water line, and marked my collarbones with black eyeliner.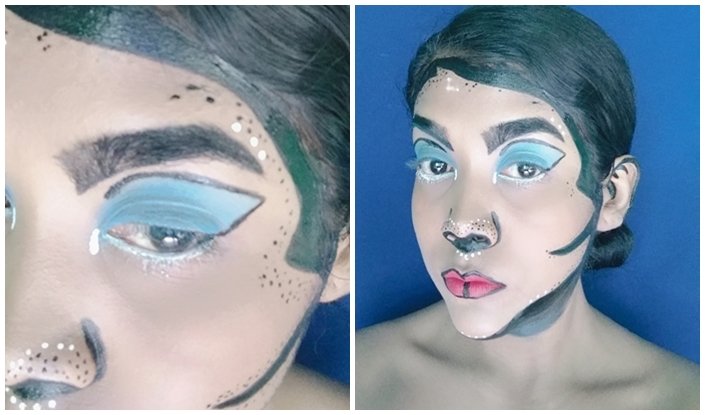 Como toque extra, aplique un poco de color amarillo a mi cabello, para que la onda del pop art estuviera más presente.
As an extra touch, apply some yellow color to my hair, so that the pop art wave is more present.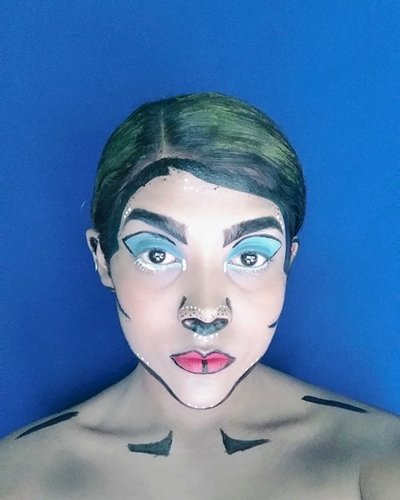 Andy Warhol || POP ART: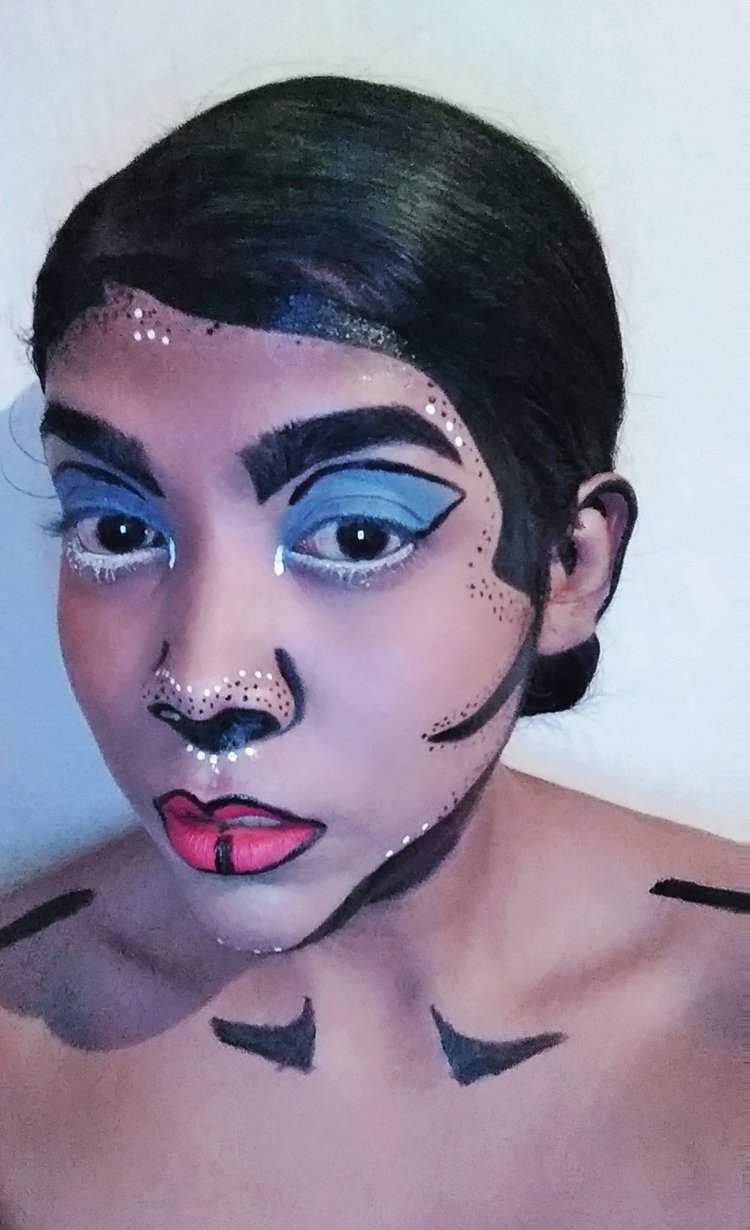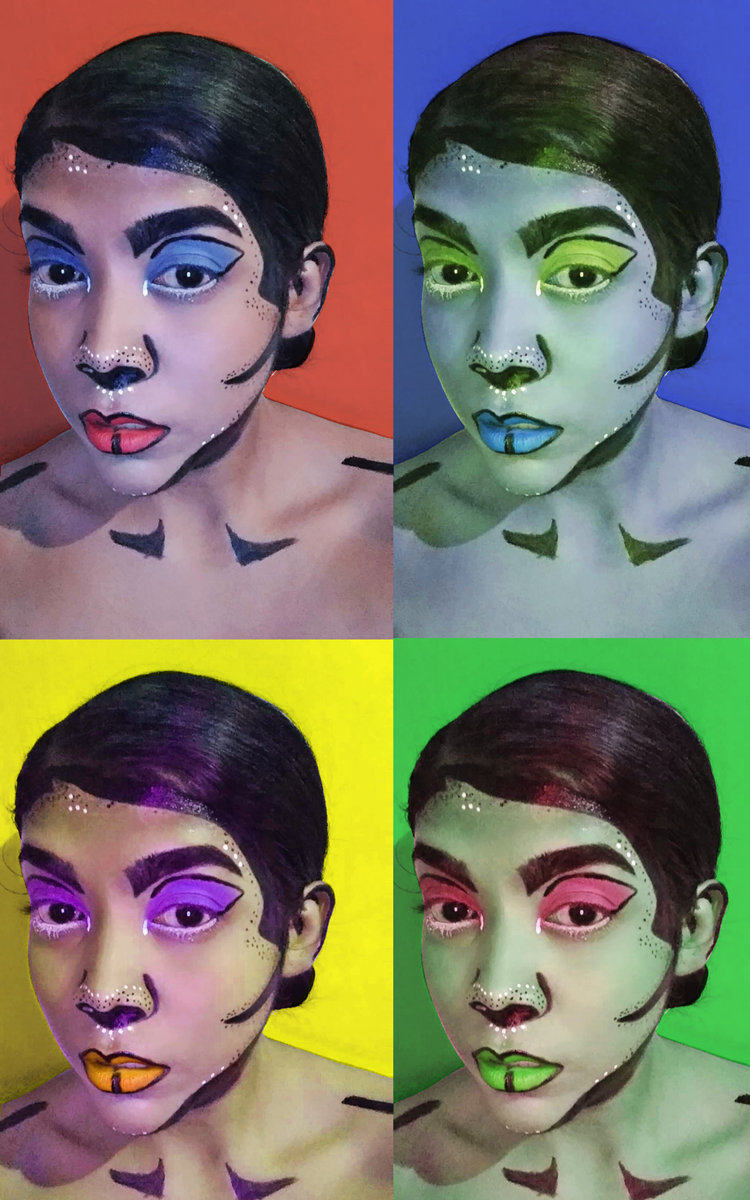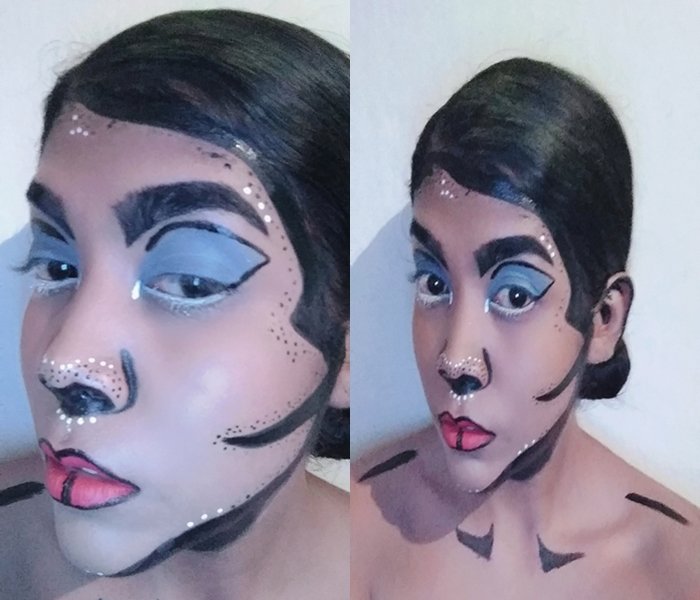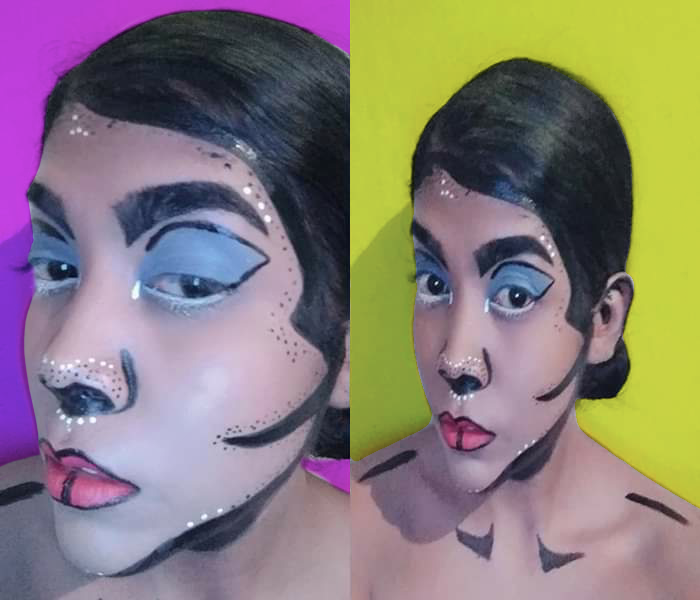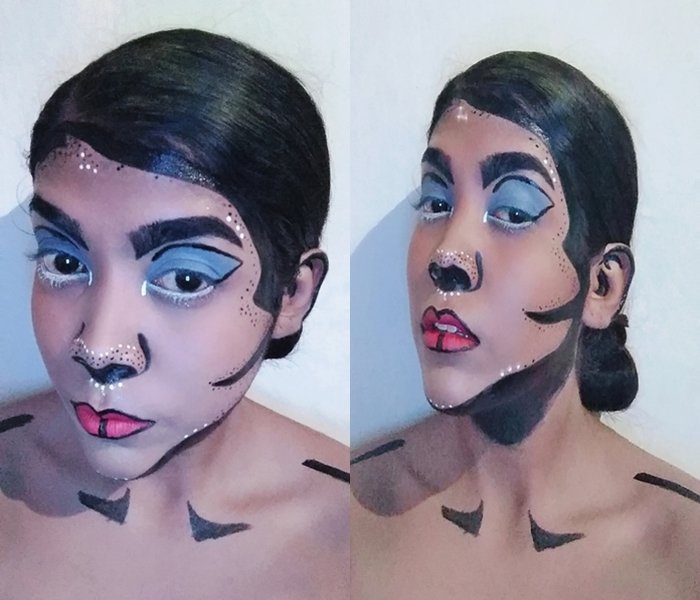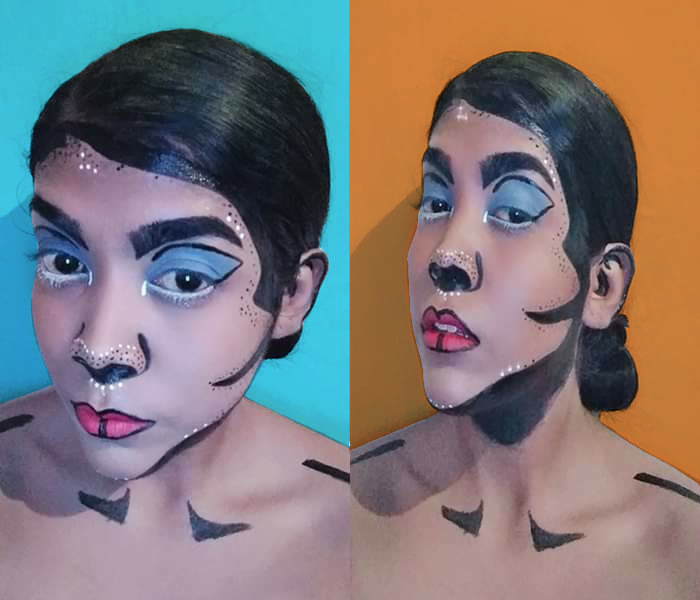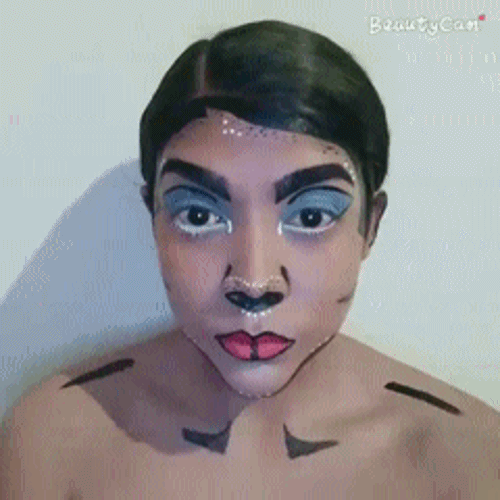 Imágenes tomadas desde mi Alcatel One Touch Idol 4 / Images taken from my Alcatel One Touch Idol 4.