Hello, how are you? Today I share a makeup in green tones, but more importantly: a review of the brand Dolce Bella, a Colombian brand that is easily available in Venezuela at affordable prices.
Hola, ¿que tal? El día de hoy comparto un maquillaje en tonos verdes, pero lo más importante: una reseña de la marca Dolce Bella, una marca colombiana que se consigue facilmente en Venezuela a precios económicos.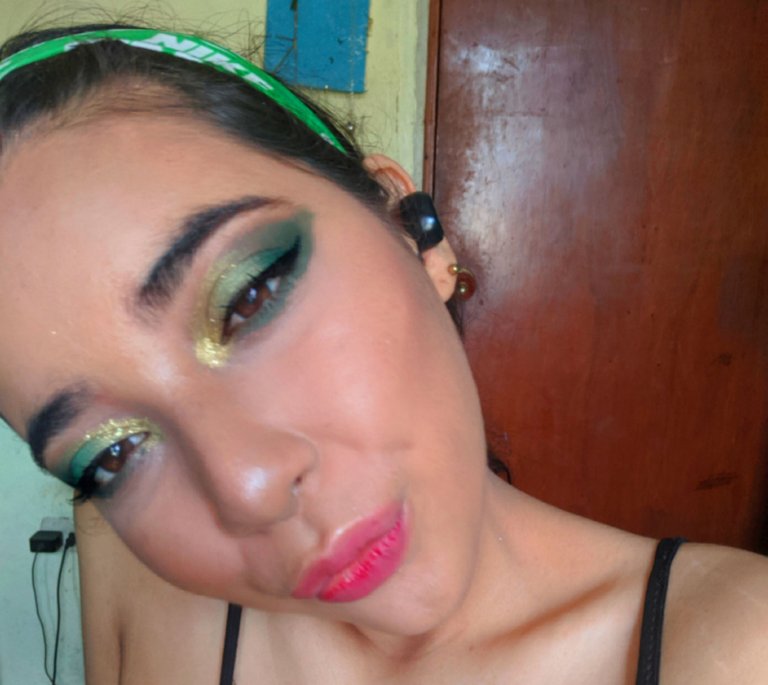 ---
PROCESS/PROCESO

1.- To prepare my skin I didn't have any Dolce Bella products, the only skin care product I have was a hyaluronic acid and it doesn't work for today's make-up. So I used a ponds moisturiser and a glycerin primer. Then I applied the Dolce Bella foundation in shade 6 with a damp beauty blender. In my case the foundation in shade 6 is quite dark, and the bad thing about this brand is that it has very few shades and it is very unlikely that a shop has all the shades, I also recommend going directly to the shop to see the colours live because the photos can be misleading.
1.- . Para preparar la piel no tenía ningún producto de Dolce Bella, el único producto de skin care que tengo era un ácido hialurónico y no me sirve para el maquillaje de hoy. Así que usé una crema hidratante de ponds y un primer de glicerina. Luego apliqué la base de Dolce Bella en el tono 6 con una beauty blender húmeda. En mi caso la base en tono 6 me queda bastante oscura, y es que lo malo de esta marcara es que dispone de muy pocos tonos y además es muy poco probable que una tienda tenga todos los tonos, también recomiendo ir directamente a la tienda a ver los colores en vivo porque las fotos pueden ser engañosas.
2.- Dolce Bella has a palette of cream concealers but I don't like to use cream concealers because they settle on fine lines, so I used my monreve liquid concealer, this I sealed with a salome powder. Going back to the Dolce Bella products I used a stick blush in shade 6, the colour is really nice, like a light berry that blends really well, what I don't like about this blush is that it's really very light, and I don't think it lasts very long.
2.- Dolce Bella tiene una paleta de correctores en crema pero a mi no me gusta usar correctores en crema porque se asientan bastante en las líneas fínas, aspi que usé mi corrector líquido monreve, esto lo sellé con un polvo salomé. Volviendo a los productos de Dolce Bella utilicé un rubor en barra en tono 6, el color es muy lindo, como un berry claro que se difumina muy bien, lo que no me gusta de ese rubor es que es realmente muy ligero, y no creo que dure mucho.
3.- As my favourite face products (with the exception of concealer) are in cream or stick, I used a highlighter stick in shade 1, which applies really well and I love that it leaves a radiant wet look effect, but it has slightly large glitter particles which I don't particularly like. In the photos it looks very pretty but in real life it looks like a glitter shadow that fell on another part of the face. Besides the fact that it soon disappears into nothingness, it's very impractical for everyday use.
3.- Como mis productos favoritos del rostro (con excepción del corrector) son en crema o en stick, usé un iluminador en stick en tono 1, que se aplica muy bien y me encanta que deja un efecto radiante de estilo húmedo, pero tiene partículas de glitter un poco grandes que a mi en lo particular no me gustan. En las fotos se ve muy lindo pero en vivo parece una sombra en glitter que cayó en otra parte de la cara. Además de que al poco tiempo desaparece en la nada, es muy poco práctico para una cotidianidad.
4.- MY FAVORITE PART. I must admit that I got to know this brand through some tiny palettes of pure satin shadows, which soon became my favorite palettes of my entire collection. Most probably any makeup that is published that has high pigmentation has been made with these shadows. Anyway, this time I show a palette that contains matte and satin shadows, to make a makeup only using greens, and I really loved it, the matte ones are a bit powdery but they blend spectacularly and the satin ones: BEAUTIFUL.
4.- MI PARTE FAVORITA!. Debo admitir que yo conocí esta marca por unas paletas chiquitas de puras sombras satinadas, que al poco tiempo se convirtieron en mis paletas favoritas de toda mi colección. Muy probablemente cualquier maquillaje que hay publicado que tenga alta pigmentación haya sido realizado con esas sombras. En fin, en esta oportunidad muestro una paleta que contiene sombras matte y satinadas, para realizar un maquillaje solo usando verdes, y realmente me encantó, las matte son algo polvosas pero se difuminan espectacular y las satinadas: BELLAS.
---

5.- With the nude cream shadow and a loose brush I blended over the eyelid and on the outer corner with a dark green matte shadow.
5.- Con la sombra nude color crema y una brocha suelta difuminé sobre el párpado móvil y en la esquina exterior con una sombra matte verde oscuro.
6.- With the same palette as before, I applied a green satin shadow in the middle and a satin shadow in between green and gold on the tear trough. And then I switched palettes to use my first, and only glitter palette, and I applied a little bit of the gold glitter on the tear trough. I must say that I loved this palette, even though the glitter moves all over the place, it's absolutely normal in these shadows. So 10/10.
6.- Con la misma paleta anterior apliqué una sombra verde satinada en el medio y en el lagrimal apliqué una sombra satinada entre verde y dorado. Y luego cambié de paleta para usar mi primera, y única paleta de glitter, y apliqué un poquito del glitter dorado en el lagrimal. Debo decir que esta paleta me encantó, a pesar de que el glitter se mueve a todos lados, es absolutamente normal en estas sombras. Así que 10/10.
7.- With the nib eyeliner I did a cat liner, then I applied mascara, using Dolce Bella's waterproof line, and I LOVED it, this mascara I 100% recommend it and it became my favorite mascara and I feel like I now need like 100 mascara's of it.
7.- Con el delineador en plumín hice un delineado de gato, luego apliqué rimel, usando la línea a prueba de agua de Dolce Bella, y ME ENCANTÓ, este rimel lo recomiendo al 100% y se convirtió en mi rimel favorito y siento que ahora necesito como 100 rimels de este mismo.
8.- Finally I applied a little bit of red lipstick with my fingers and that was it. Truly every brand has good and bad products, but Dolce Bella surprised me with the cheapness of their cosmetics and the quality, in particular I can't love more their shadows and mascara, they became my love.
8.- Por último apliqué un poquito de tinta de labios roja con los dedos y listo!. De verdad que cada marca tiene productos buenos y malos, pero Dolce Bella me sorprendió con lo barato de sus cosméticos y la calidad, en particular no puedo amar más sus sombras y su máscara de pestañas, se convirtieron en mi amor.
I would also like to point out that all of the brand's products have a strong but pleasant scent, so if you are very sensitive to odors, these products probably won't benefit you. I, however, love smells in beauty products.
También quisiera acotar que todos los productos de la marca tienen un olor fuerte pero agradable, así que si eres muy sensible a olores, probablemente estos productos no te beneficien. A mi, sin embargo, me encantan los olores en productos de belleza.
---
AND READY. Y LISTO.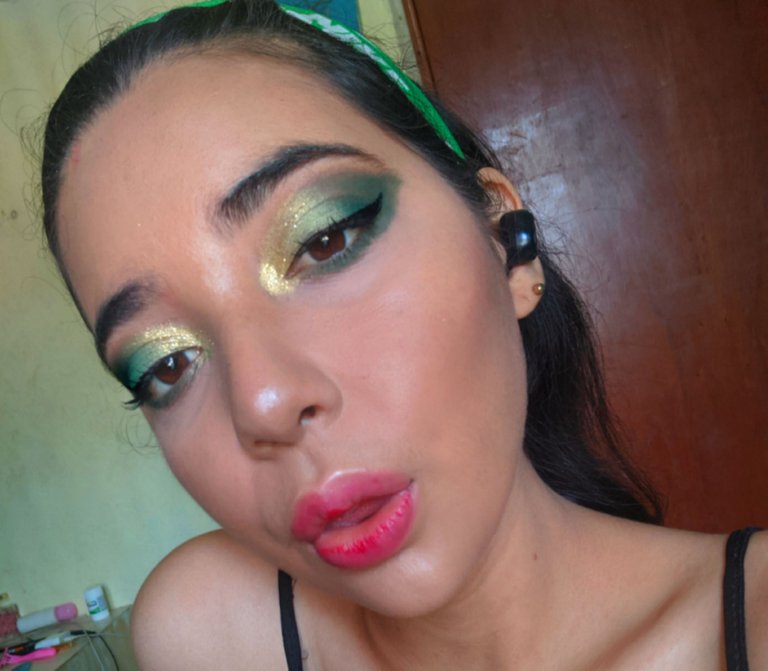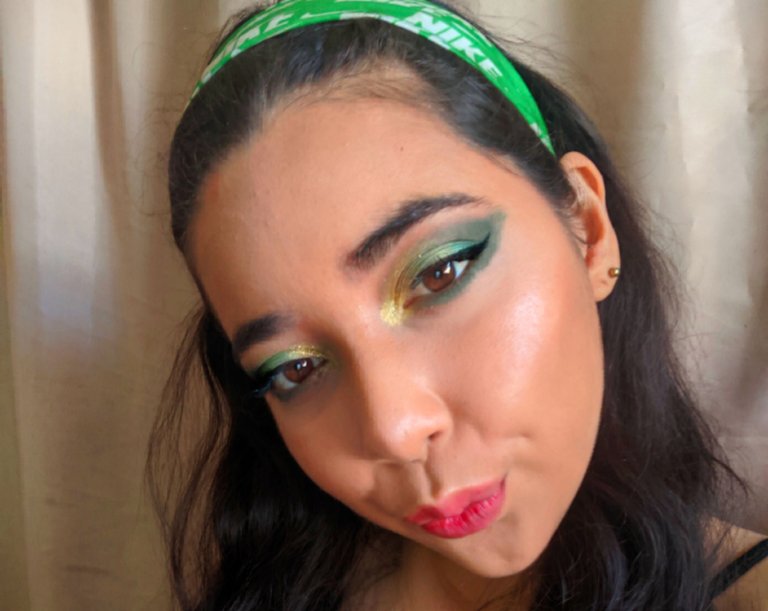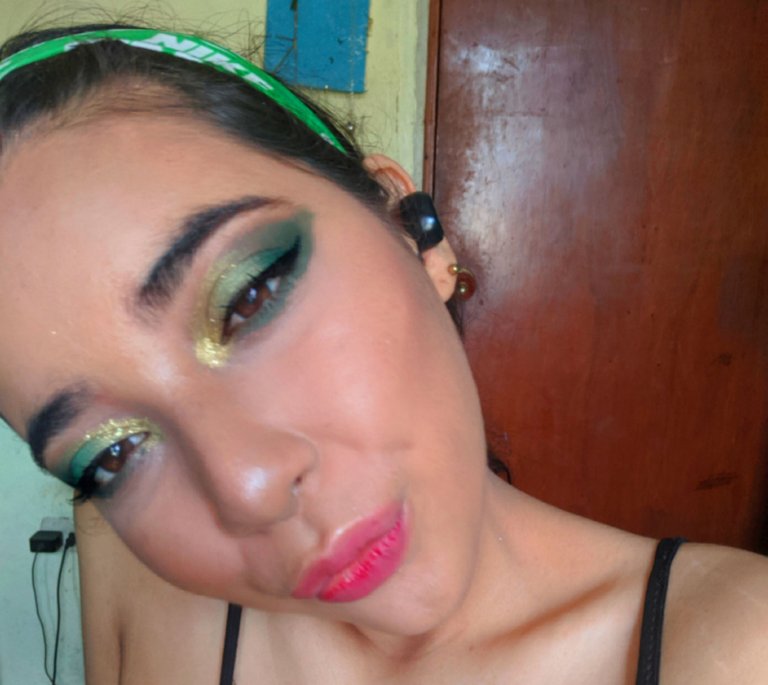 Both the photographs and the text are my property. The Collages were made using the FotoJet. Elimar Aguilar
Tanto las fotografias como el texto son de mi propiedad. Los Collage fueron realizador mediante la página de FotoJet.
---
I HOPE YOU LIKED IT.
ESPERO QUE TE HAYA GUSTADO