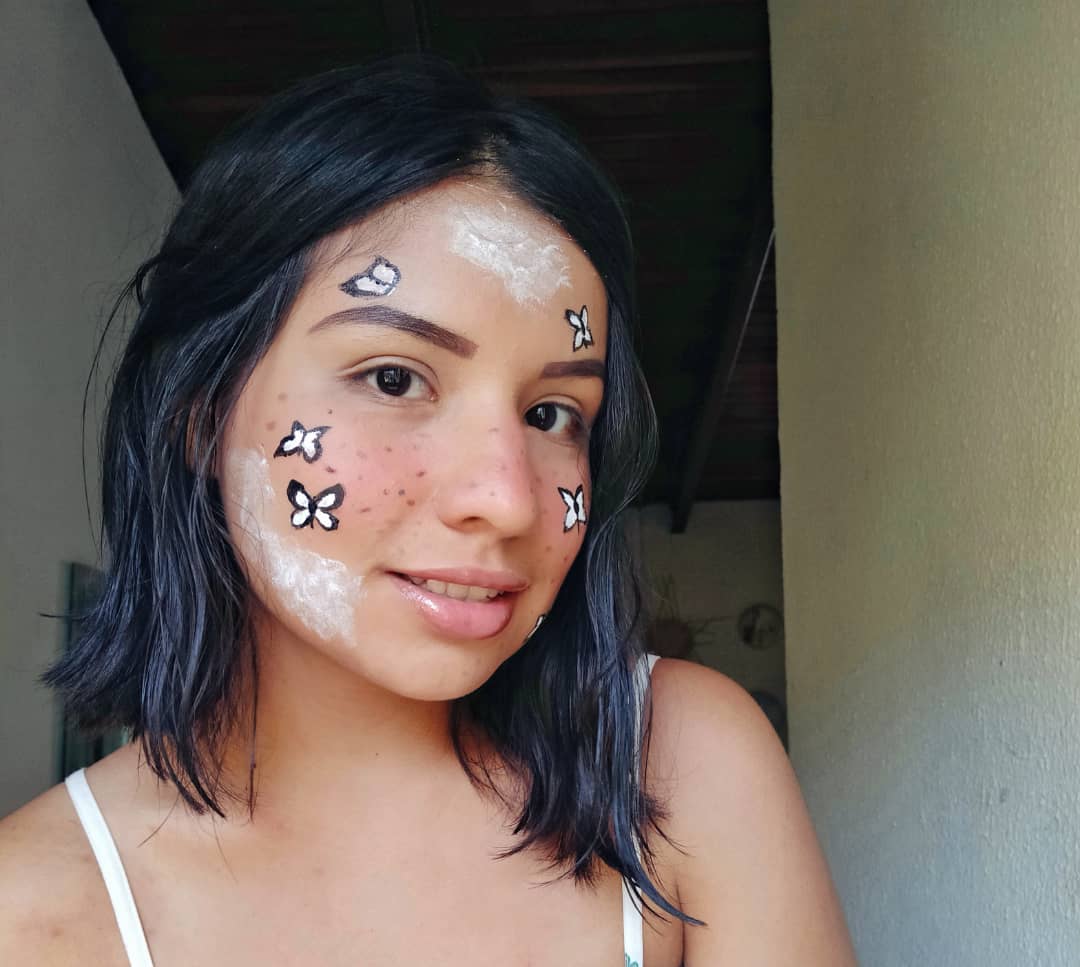 Hola amigos! ¿Qué tal? Feliz vierneees. Estoy muy emocionada porque mis amigas @maryed, @evelynchacin , @esthefanychacin, @canelarecetas , @keritroberts y yo @sofiaquino98 les traemos un nuevo reto esta semana!! Era un reto que queríamos hacer desde hace mucho y estamos felices de compartirlo finalmente con ustedes y de invitarlos a participar :)
Hello friends! How are you? Happy Friday. I am very excited because my friends @maryed, @evelynchacin , @esthefanychacin, @canelarecetas , @keritroberts and I @sofiaquino98 bring you a new challenge this week! It was a challenge we wanted to do since a long time ago and we are happy to finally share it with you and invite you to participate :)
¿De qué trata el reto? | What is the challenge about? 💥
El reto consiste en maquillarte inspirándote en un filtro de instagram 📱✨ , puede ser un filtro reciente o de hace un tiempo, sencillo o elaborado, como tú elijas, lo importante es divertirnos! Para eso, tómate una foto con tu filtro favorito y dinos cómo se llama, comparte la foto en tu post junto con los pasos que seguiste para realizar el maquillaje, así como también las fotografías que tomaste de tu makeup listo. Puedes participar cuando quieras, no hay fecha límite 💄📸
The challenge consists in doing a make-up inspired by an instagram filter 📱✨ , it can be a recent or old filter, simple or elaborate, as you choose, the important thing is to have fun! For that, take a picture with your favorite filter and tell us what it's called, share the picture in your post along with the steps you followed to make up, as well as the pictures you took of your finished makeup. You can participate whenever you want, there is no deadline 💄📸
El filtro de instagram que yo escogí se llama Clouds y lo amé desde que lo vi porque tiene mis 3 cosas favoritas en los filtros: Pecas, nubes y mariposas. A continuación les muestro el proceso!
The instagram filter I chose is called Clouds and I loved it since I saw it because it has my 3 favorite things in the filters: Freckles, clouds and butterflies. Here I show you the process!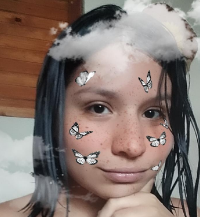 Lo primero que hice fue aplicar base en todo mi rostro, corrector en mis ojeras y en los ojos y polvo para sellar en toda la cara. Luego hice mis cejas bien definidas con sombra en crema marrón, para resaltar la mirada ya que no planeaba realizar ningún maquillaje en mis ojos. Coloqué bastante rubor en mis mejillas y nariz, y realicé la forma interna de la mariposa con tempera blanca. Luego, con un delineador líquido negro, le di forma a cada una de las mariposas y a sus alas. Con la misma tempera blanca dibujé nubes en mi frente y en un lado de mi cara, simulando las nubes que aparecen en el filtro. Realicé pecas en gran parte de mi rostro con lápiz marrón y apliqué gloss a mis labios, y listo!!
The first thing I did was to apply base to my whole face, concealer to my dark circles and eyes and sealant powder to the whole face. Then I made my eyebrows well defined with brown cream shadow, to enhance the look since I wasn't planning on doing any makeup on my eyes. I put quite a bit of blush on my cheeks and nose, and made the inner shape of the butterfly with white tempera. Then, with black liquid eyeliner, I shaped each of the butterflies and their wings. With the same white tempera I drew clouds on my forehead and on one side of my face, simulating the clouds that appear in the filter. I freckled most of my face with brown pencil and applied gloss to my lips, and that was it!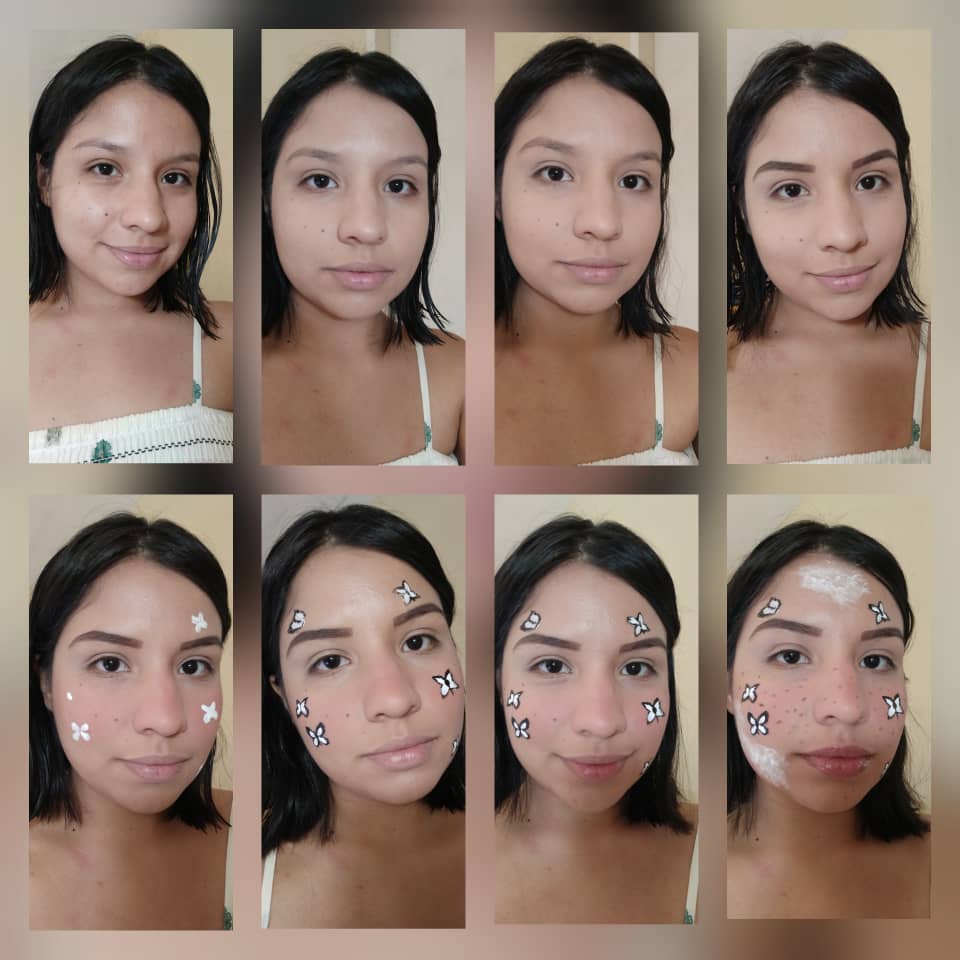 Y listo!! Les dejo las fotografías que me tomé con el maquillaje. Espero se animen a participar en este reto con sus filtros favoritos. Nos vemos en los comentarios :)
And that's it! Here are the pictures I took with my makeup. I hope you dare to participate in this challenge with your favorite filters. See you in the comments :)