Dear Hivers,
Christmas is upon us. No more waiting. We all need greetings and best wishes for each other during the past two years' low mood.
I've decided to do two things on Hive this Christmas. First thing is to make you smile a little bit and the second is to make one of my old friend happy with a little Christmas present 🎁 from me on Hive. Everyone can be each other's Santa 🎅 and I feel like doing it this year.😊 (See again how I put on my HivePunk Santa Avatar!?)
Both of the two things I am about to do, cannot do it without the magical HivePunks created by markgical @themarkymark. Bravo! 🥂
Come on read on to find out!
Smile for Everyone!!
A round of applause please! Let's welcome duo #1!
WOW! 😍😍😍😍😍 Very nice! Isn't it!? Love them right?
Wait, there is duo #2 coming up!
WOW!!! Not bad either! Gonna be a close one! 😆
Oh wait.. We don't need to pick one team!
They are both winners! It's Christmas! 🎈🎉🎈🎉🎈🎉
Hope you enjoy their performances. Let's move on to the second part ...
---
A Punk-as-a-Present for A Friend 🎁
Next, I am giving away one of my Punks (by the way, all four dancing punks are mine at the moment but not selling or giving out any time soon) to an old friend of mine.
The friend is .... @eroche and I had this idea when we had this conversation a week ago. But back then just a thought.

That thought turned into reality when I saw a Punk up for sale and it's affordable and I like it. So I thought let's make it happen. Feel great. Will send Ms. Nylah Ibarra, an Aerospace Engineer, to @eroche after I submit this post. Check out this story too if you would like to know more about why I like this Punk. Also, @eroche used to be a very active Hiver/Steemian back then and did contribute a lot to the community (check the above conversation link and it's described below).
Please take good care of Nylah @eroche! 😄 Merry Christmas!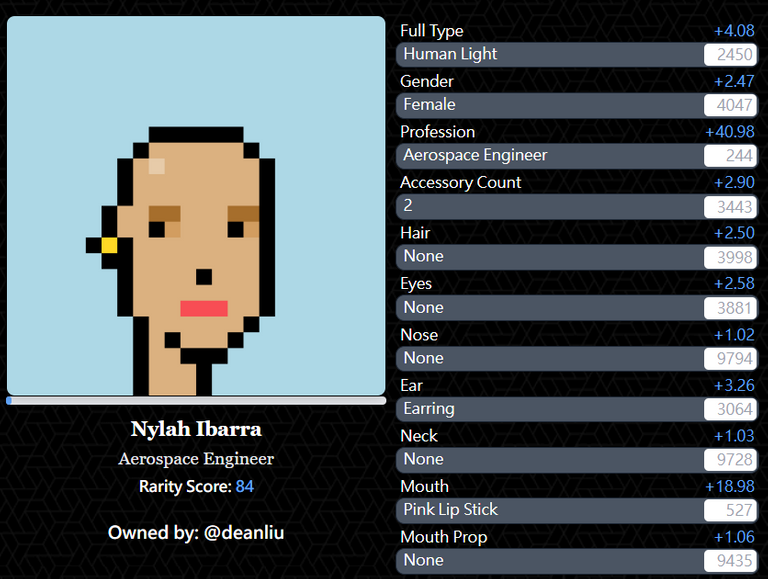 Merry Christmas and Happy Holidays Hivers!! ⛄️⛄️⛄️
---
CN區朋友們好,聖誕佳節到了!
剛好碰上周末,請了假,可以好好放鬆一下!今天決定寫個聖誕氣味濃的文章。幾個碰巧因素作用下,包括最近我玩的HivePunks、今天剛好玩聖誕人偶換臉跳舞APP,加上之前就有想要送一隻Punk給一個老朋友... 所以就形成這篇文章,先把我的四隻Punks配對去跳了兩支聖誕熱舞,開心一下,然後就宣布今天剛好看到一個不錯的我還能負擔的Punk出現,就買下來送朋友了~~~ 😊😊😊
你可能覺得,我這CN區都沒送,怎麼送給老外了... 哈哈哈,畢竟聖誕節是洋人節日嘛~~~ 很快到新年,如果到時候沒有進入熊市,我也會來找個適當的Punk,在咱社區辦個什麼競賽或抽獎,放送一下~~~~ 敬請期待囉~~~~ 😘😘😘
聖誕快樂,平安喜樂,小夥伴們幣市大發!! ⛄️⛄️⛄️
---