Here is a step-by-step guide on how to create and publish a Minecraft build on the Hive blockchain using the Aliquam Creative Minecraft Server.
---
Step 1: Create your build.
Once you have connected to the Aliquam.org server version 1.12, use the /help command to learn about the server and the useful tools that will make your creative work more efficient.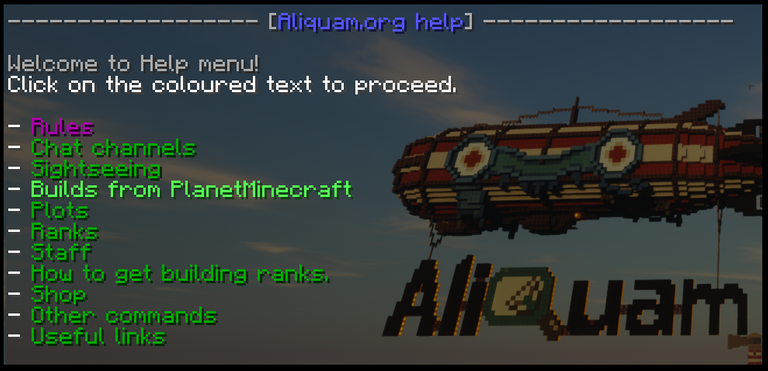 Then use the /world command to move to your private world, where you will be able to create a building either alone or with friends assigned to your world.
---
Step 2: Publish your work on the Hive blockchain
In Hive you can publish finished, complex work, small parts of it ( for example, a description of a section of a large city) but also reports on the progress of your long-term project.
You can publish any post by typing /hive publish [title-without-spaces] for example /hive publish my-castle. Type the command at the point where the person opening the post should start exploring your build.
You will see a link that you should click on to take you to a website where you will create an article about your work. Remember that the /hive publish command only works in your own worlds.

---
Step 3: Authorise your Hive account.
If you haven't already done it, connect to your Hive account - the "Connect to Hive " button will take you to the Hivesigner app, which will guide you through this process. If you don't already have a Hive account, press the "Create a hive account" button and go through the simple registration process.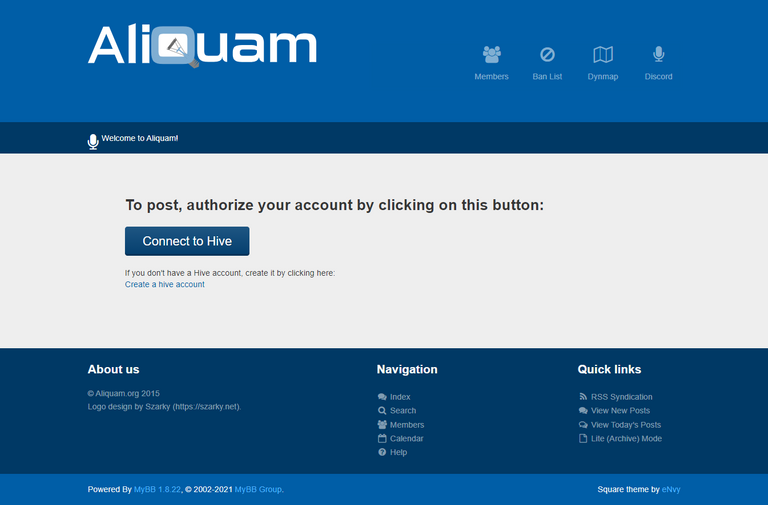 ---
Step 4: Create your post
After the authorisation process, you will see a simple text editor which you can use to create your post. Please remember that your post should have lots of images of your build - screenshots or renders - and be formatted attractively. In the editor window, you will see an example of a formatted post - it is written using markdown formatting - for more information about this formatting method, press the "Display/hide Markdown tooltips" button, which will bring up copy-ready formulas for various markdown formatting elements on both sides of the editor.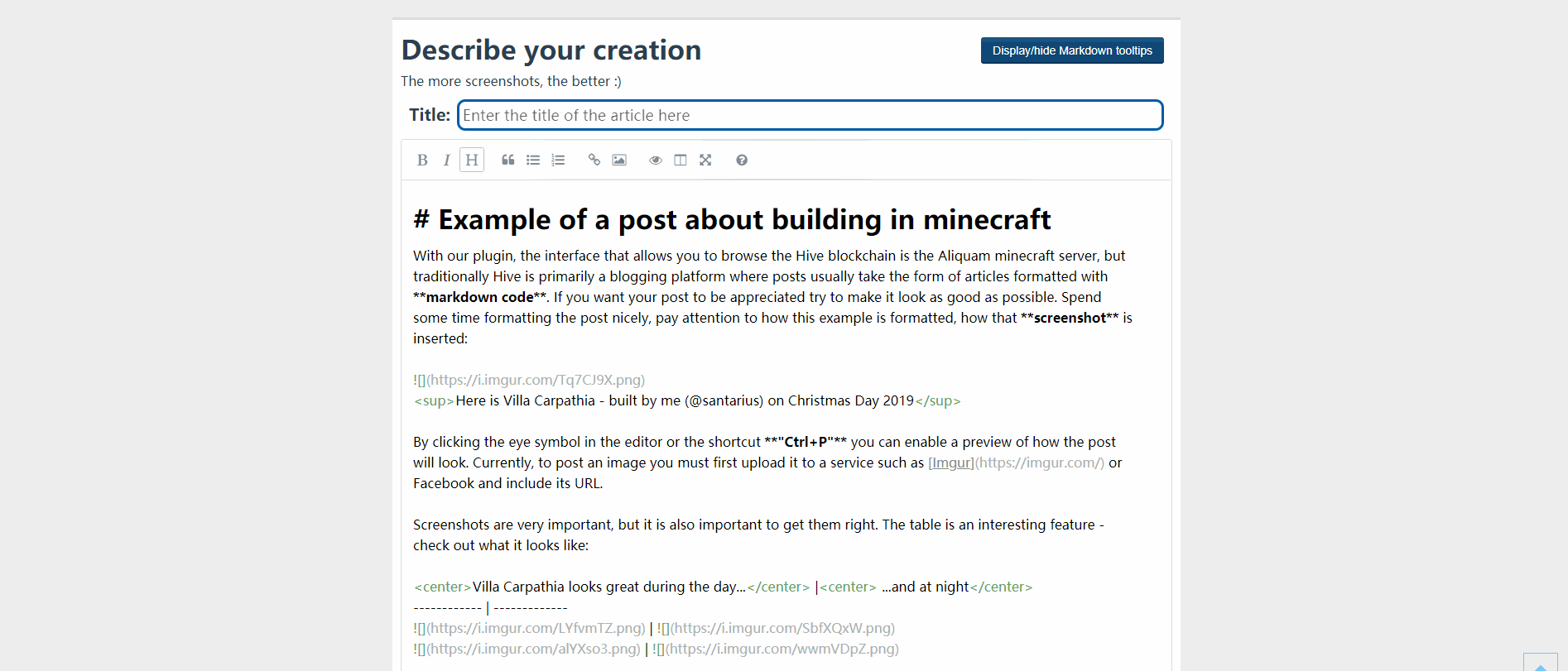 To place your images in a post you should first upload them to some hosting - this could be Imgur.com for example, then place them in the post like this:

Example: ![](https://i.imgur.com/2367VKy.png)
Be careful! In order for the graphic to display correctly, the URL of the graphic should end with an extension that is typical for graphics, e.g. ".png" or ".jpeg", graphics uploaded this way will not display:
Anti-example: ![](https://i.imgur.com/2367VKy)
For inspiration on how to write posts, type /hive list on the server or check out our community page on Hive by clicking here.
---
Step 5: Publish!
The last step is to enter a title for the article - this can be different to the one you entered with the /publish [title] command, including capital letters, special characters and spaces - this is the title of the article on Hive, not the name of the build. You should then enter tags (max. 5) such as art or games.
(By default, your post will be published with the tags aliquam and minecraft).
Pressing the "Publish " button will publish your post with the metadata for the aliquam.org server hidden in it, as well as encrypted author information (minecraft user accounts, to verify the authenticity of the post).
For 7 days the post will collect votes from the Hive community which will increase its value. After this time, the post will stop earning and you will be able to claim your reward using a Hive interface such as Peakd.com.
You can edit your post with the /hive edit command (while standing next to your build) or on one of the mentioned interfaces such as Peakd.com.
---
Step 6: Explore Hive
To view your post, use the /hive list command on the Aliquam.org server, alternatively /hive open [hive-username] [title]. A sample post from the server should look like this: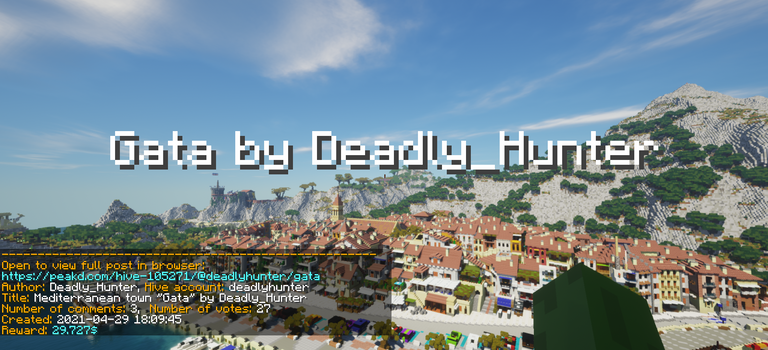 You can also see yours and this sample post created by @deadlyhunter in the standard Hive interfaces:
---
Congratulations!
You have already published, your first post on the Hive blockchain.
If you are interested in contacting me you can find me on Openhive.chat under the alias @santarius and on our server Discord.
Enjoy creating :-)