This is the official newsletter of the Hive Naija Community. In our newsletters, we will be highlighting the top 3 on the Hive Naija community based on the weekly prompts we put out and give out prizes.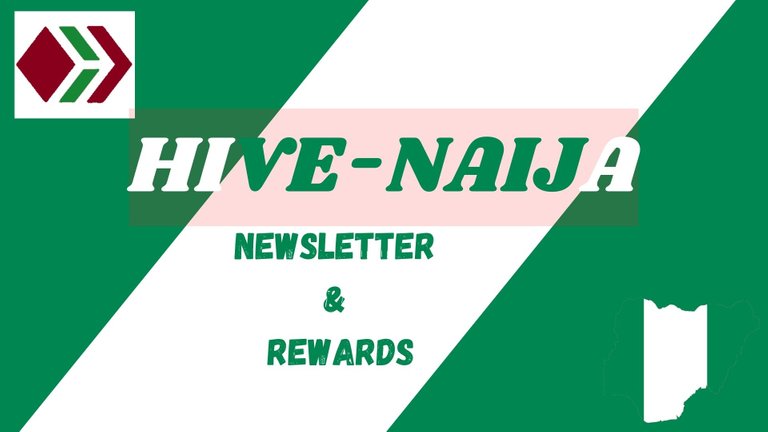 The Hive Naija Community aims to give rise to a lot of valuable content posted by not only Nigerians but all members of the community. This is a means of creating exposure as well as rewarding authors for their effort in putting out great content.
It was quite the experience reading the carefully thought out work put in by members of the community. Great posts that'll make you squeal right in the confines of your bedroom.
Here are the highlights of some amazing content courtesy of those who participated in the given prompt:
THE DESIRE TO BE THE BEST, HAVE THE BEST AND GIVE THE BEST.
This author sums up her motivation nicely with this simple but deep statement. She tells us how she loves to thrive in top positions and how her desire to be responsible for those she loves pushes her every day.
During challenging times, In other to fuel my belief in myself, I go online to listen to some motivational speakers, I read books, listen to some good music, and basically just fill myself with self-belief. When you know what you're aiming to achieve, revisiting it and affirming it will keep you motivated.
This author reiterates the importance of keeping the hope alive and not giving up at the slightest inconvenience. He notes that the first step to overcoming challenges is believing that you can, taking breaks, and revisiting the problems.
"What is not enough today will be abundant tomorrow" I love this quote and it always makes me remember home that I came from a average family I will never compete with anyone on campus. My mother is my motivator and my inspiration, she is all I have, I can never give up because of her, she has suffer so much on me.
Mothers are undoubtedly a gift to all and this author shares with us wise words from her mother that have kept her going.
Though other factors like unemployment, corruption, and tribalism play some roles in the increased level of insecurity in the country, government-related factors are predominant. A working government creates an unfavourable environment for insecurity. In this regard, I see the government being the one body that can maintain and guarantee the security of lives and properties.
Amongst the other factors that make the country unsafe, this article points out how it all falls back to the government and he makes a call for all Nigerians to vote for the most credible candidate in the forthcoming elections.
The segregation of religion, tribe, etc. Also contribute to the hatred we have for another. We should have people in position who overlook the religion and tribal differences but seek to work for the good of humanity at large.
This entry brings to light how religion and ethnicity are tools for insecurity. He suggests that it's time all Nigerians see themselves as one in order to combat the problem of insecurity. He also says if it was up to him, he would immediately dethrone the ruling government.
The number one thing we fail to accomplish while we seek a better country is the fact that we aren't ready to be better citizens of our country. We aren't ready to play our role, we have forgotten that all can't be done from the top but at least a solid foundation should bring about a better nation.
This is a properly structured article that clearly tells us we need to cleanse the foundation first, and as individuals, change begins with us.
---
That's it folks. We are grateful to the participants of these prompts and we look forward to more engagement from members and non-members.
Also as a development, do endeavour to drop links to your post in the comment section of each prompt given by the HiveNaija community. We appreciate it!
Rewards
We're combining rewards for 2 weeks as we know we've missed out on a lot. We promise to be a lot more prompt with forthcoming prompts and rewards.
@estherscott - 3 Hive
@b0s - 2 Hive
@eunice9200 - 1 Hive
@chidubem26 - 3 Hive
@dwixer - 2 Hive
@abdul-qudus - 1 Hive
Congratulations to the winners!
Many thanks to @belemo for sponsoring these rewards every week. We are open to, and would appreciate more sponsorship from others.
While we appreciate all the entries, it should be noted that rewards are only given to those who follow the contest rules and also follow the curation trail by clicking on the banner below.
Support The Hive Naija Curation Project
If you like our work, please support this project by delegating Hive Power to @hive-naija or you can join our curation trail by clicking on the banner below
Join us on Discord
Follow us on Twitter
|25HP| |50HP| |75HP| |100HP| |200HP| |500HP| |1000HP| |5000HP|