This is the official newsletter of the Hive Naija Community. In our newsletters, we will be highlighting the top 3 on the Hive Naija community based on the weekly prompts we put out and give out prizes.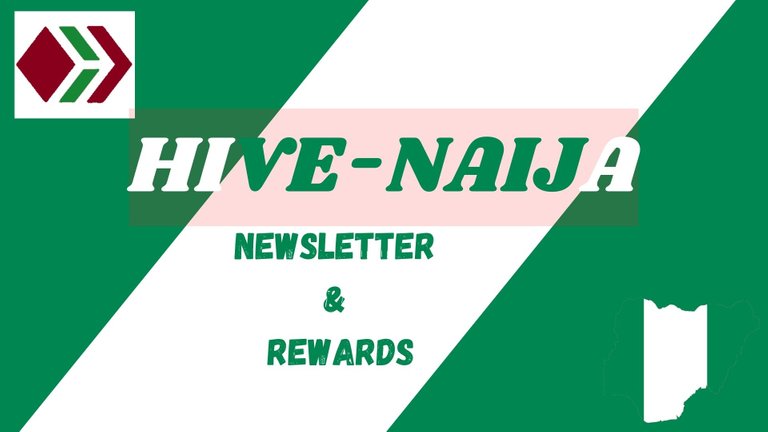 The Hive Naija Community aims to give rise to a lot of valuable content posted by not only Nigerians but all members of the community. This is a means of creating exposure as well as rewarding authors for their effort in putting out great content.
It was quite the experience reading the carefully thought out work put in by members of the community. We encourage you to check out and engage these posts.
Here are the highlights of some amazing content courtesy of those who participated in the given prompt:
Hive has benefited me physically, in terms of time maximization, i now spend time on things that interests me, i spend my time wisely...
Now this is one a lot of hivers probably relate to. He breaks down how hive has helped him physically, financially, psychologically, and emotionally.
Getting to know Hive was one of the blessings I counted during the COVID-19 lockdown. Prior to this time, I was financial dependent and could do nothing for myself except if given.
It's always a delight to see how hive saves the day for most people when it comes to finances. Just when all hope seems lost, hive turns out to be an eleventh-hour miracle for this author and many other hivers. Do check this post out for some inspiration.
I never knew I have some photo editing skills, till I began to partake in let's make a collage contest (lmac). Also, partaking in The Inkwells prompts, has improved my ability to creating something (short stories) from the given prompts. In essence, Hiving has significantly improve my thinking and reasoning ability.
Hive sure brings out unique talents in people and stretches their thought processes. This author not only shares how hive has been able to sustain him during his service year, he also tells us how his writing has significantly improved.
---
That's it folks. We are grateful to the participants of these prompts and we look forward to more engagement from members and non-members.
Also as a development, do endeavour to drop links to your post in the comment section of each prompt given by the HiveNaija community. We appreciate it!
Rewards
@quduus1 - 3 Hive
@dwixer - 2 Hive
@chidubem26 - 1 Hive
Congratulations to the winners!
Many thanks to @belemo for sponsoring these rewards every week. We are open to, and would appreciate more sponsorship from others.
While we appreciate all the entries, it should be noted that rewards are only given to those who follow the contest rules and also follow the curation trail by clicking on the banner below.
Support The Hive Naija Curation Project
If you like our work, please support this project by delegating Hive Power to @hive-naija or you can join our curation trail by clicking on the banner below
Join us on Discord
Follow us on Twitter
|25HP| |50HP| |75HP| |100HP| |200HP| |500HP| |1000HP| |5000HP|