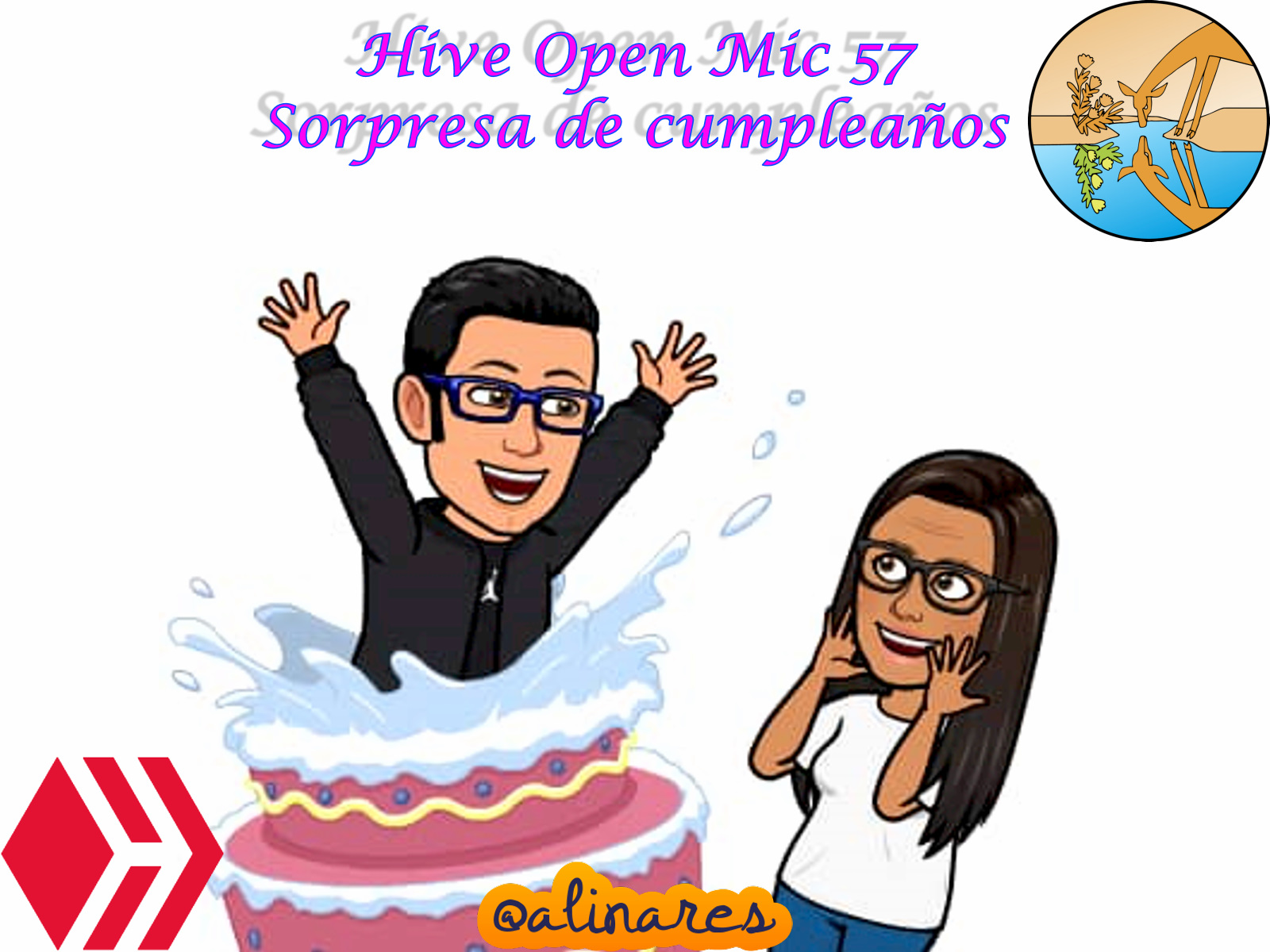 Saludos amigos de Hive Open Mic, para esta semana del Optimismo les traigo una presentación diferente sin salirme del tema de la semana, El día de ayer 14 de Mayo fue el cumpleaños de la usuario
@cochanet
, la cual no sabía nada de lo que la esperaría en casa al llegar de trabajar, decidí regalarle una pequeña torta de cumpleaños y pensé en que las canciones de cumpleaños en realidad son de las canciones mas optimistas que hay, ya que en ellas se desean tantas cosas positivas y bonitas, así que aproveché de a la vez de darle una sorpresa hacer mi participación de esta semana para ustedes y así compartir este momento tan especial con ustedes.
Greetings friends of Hive Open Mic, for this week of Optimism I bring you a different presentation without leaving the topic of the week, yesterday May 14 was the birthday of the user @cochanet, who did not know anything about what the I would wait at home when I got home from work, I decided to give him a small birthday cake and I thought that birthday songs are actually one of the most optimistic songs out there, since so many positive and beautiful things are desired in them, So I took the opportunity of simultaneously giving you a surprise to make my participation this week for you and thus share this special moment with you.

En el canto ofrecido hay tres canciones de cumpleaños, la primera "Hoy es tu día" una recopilación del maestro Vicente Emilio Sojo, la segunda "Ay que noche tan Preciosa" del autor Luis Cruz y de una gran popularidad en Venezuela y por último la internacionalmente conocida "Cumpleaños Felíz" de las autoras Mildred y Patty Smith Hill. En esta última me fui de tono pero solo tenía una oportunidad para grabar así que así quedó jeje. Espero que sea del agrado de todos, para mi el realizarlo fue muy grato y lo hice con mucho amor.
In the song offered there are three birthday songs, the first "Hoy es tu día" a compilation by the maestro Vicente Emilio Sojo, the second "Oh what a beautiful night" by the author Luis Cruz and of great popularity in Venezuela and finally the internationally known "Happy Birthday" by the authors Mildred and Patty Smith Hill. In this last one I left the tone but I only had one opportunity to record so that's how it was hehe. I hope that will please everyone, For me doing it was very pleasant and I did it with a lot of love.

El video fue tomado con mi celular Yezz Max 1 Plus y editado con Wondershare Filmora 7. Para la imagen Utilicé la aplicación Bitmoji y la edición con PhotoDirector 10. Sin más que acotar me despido de Ustedes hasta una próxima ocasión.
The video was taken with my Yezz Max 1 Plus cell phone and edited with Wondershare Filmora 7. For the image I used the Bitmoji application and the editing with PhotoDirector 10. Without further ado I say goodbye to you until the next time.

Hoy es tu día
Hoy es tu día de gracia y luz,
que lo celebres pretendo yo,
que lo celebres con alegría,
que se desborde del corazón.
Que la dicha te sonría
entre músicas y flores,
golosinas y licores
y esperanzas en tu día (bis)
Que las abejas te den su miel,
la aurora plácida su esplendor,
te den su canto los ruiseñores
y los querubes te den su amor.
Que la luna te circunde
con su lumbre nacarada
y te admiren las estrellas
entre nubes irisadas. (bis)
Today is your day
Today is your day of grace and light,
that you celebrate it, I pretend,
that you celebrate it with joy,
that overflows from the heart.
May happiness smile on you
between music and flowers,
candy and liquor
and hopes in your day (bis)
May the bees give you their honey,
the placid dawn its splendor,
the nightingales give you their song
and the cherubs give you their love.
May the moon surround you
with its pearly light
and the stars admire you
between rainbow clouds. (Bis)



Ay que noche tan Preciosa!
Ay, qué noche tan preciosa
Es la noche de tu día
Todos llenos de alegría
En esta fecha natal
Tus mas íntimos amigos
Esta noche te acompañan
Te saludan y desean
Un mundo de felicidad
Yo, por mi parte, deseo
Lleno de luz este día
Todo lleno de alegría
En esta fecha natal
Y que esta luna plateada
Brinde su luz para ti
Y ruego a Dios porque pases
Un cumpleaños feliz



Oh what a beautiful night!
Oh, what a beautiful night
It's the night of your day
All full of joy
On this birth date
Your closest friends
Tonight they accompany you
They greet you and wish
A world of happiness
I, for my part, wish
Full of light this day
All full of joy
On this birth date
And that this silver moon
Bring your light to you
And I pray to God that you pass
A happy birthday

Cumpleaños Felíz
Cumpleaños feliz
Te deseamos a ti
Cumpleaños @cochanet
Cumpleaños feliz



Happy Birthday
Happy Birthday
We wish you
Birthday @cochanet
Happy Birthday