---
Amigos de este compartir musical semanal como lo es nuestro
#openmic
, me encuentro muy contento por que cada semana esto nos proporciona una dosis de música que nos viene genial para cambiar nuestro estado de animo si es que acaso estamos cabizbajos , sin embargo cuando nos encontramos muy felices pues esto nos da mas felicidad asi es la música y así somos los músicos. >Friends of this weekly musical sharing as it is our
#openmic
, I am very happy because every week this gives us a dose of music that comes great to change our mood if we are down, however when we are very happy because this gives us more happiness so is the music and so are the musicians.
desde el 2015 en el año que este tema salio al mercado musical, me encanto lo descubrí justo en ese lanzamiento del álbum tu mano de Luciano Pereyra este cantante fantástico
quien en 1998 grabo su primer disco que tuvo por nombre amaneciendo y después de allí nos ha regalo bella música. En el 2001 fue elegido para cantar el juego donde se despide a la estrella del fútbol Diego Maradona. La música de este talentoso cantante nos llena y nos hace bien así que los invito a escucharlo.
since 2015 in the year that this song came out to the music market, I loved it, I discovered it just in that release of the album tu mano by Luciano Pereyra this fantastic singer
who in 1998 recorded his first album called amaneciendo and since then he has given us beautiful music. In 2001 he was chosen to sing in the game where the soccer star Diego Maradona was fired. The music of this talented singer fills us and makes us well so I invite you to listen to it.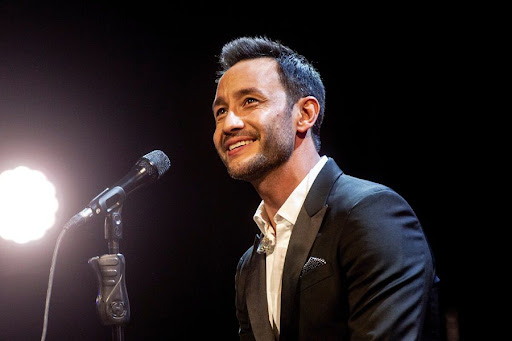 FUENTE
Sin mas los dejo con este hermoso cover para toda la comunidad de #openmic dándole gracias de antemano.
Without further ado I leave you with this beautiful cover for the entire #openmic community thanking you in advance.
LETRA/LYRICS
Una calle, un café, salgo a caminar
Como cada tarde a ningún lugar
Solo acompañado de tus recuerdos
Y me quema este frío de la ciudad
Duele hasta reír, cuesta respirar
Solo oigo tu voz en medio del silencio
Sigues tan presente, aunque no estés aquí
Tú tienes la magia que me hace feliz
El poder parar aliviar mi sufrimiento
Enséñame a vivir sin ti
Oh, no te alejes más de mí
Que ya me di cuenta que el sol en tu ausencia se vuelve de hielo
Enséñame a vivir sin ti
Oh, no te alejes más de mí
Que mi corazón en tu ausencia es un mundo que no tiene cielo
Hoy me duele saber que esto sigue igual
Y no entiendo cómo hacer para olvidar
Que éramos felices, todo era perfecto
Sigues tan presente aunque no estés aquí
Tú tienes la magia que me hace feliz
El poder parar aliviar mi sufrimiento
Enséñame a vivir sin ti
Oh, no te alejes más de mí
Que ya me di cuenta que el sol en tu ausencia se vuelve de hielo
Enséñame a vivir sin ti
Oh, no te alejes más de mí
Que mi corazón en tu ausencia es un mundo que no tiene cielo
Enséñame a vivir sin ti
Oh, no te alejes más de mí
Que ya me di cuenta que el sol en tu ausencia se vuelve de hielo
Enséñame a vivir sin ti
Oh, no te alejes más de mí
Que mi corazón en tu ausencia es un mundo que no tiene cielo
Enséñame a vivir...
Sin ti
A street, a cafe, I go out for a walk
Like every afternoon to nowhere
Only accompanied by your memories
And this cold of the city burns me
It hurts to laugh, it's hard to breathe
I only hear your voice in the silence
You're still so present, even though you're not here
You have the magic that makes me happy
The power to stop relieving my suffering
Teach me how to live without you
Oh, don't go away from me anymore
That I already realized that the sun in your absence turns to ice
Teach me to live without you
Oh, don't go farther away from me
That my heart in your absence is a world without sky
Today it hurts me to know that this is still the same
And I don't understand how to forget
That we were happy, everything was perfect
You're still so present even though you're not here
You have the magic that makes me happy
The power to stop relieving my suffering
Teach me how to live without you
Oh, don't go away from me anymore
That I already realized that the sun in your absence turns to ice
Teach me to live without you
Oh, don't go farther away from me
That my heart in your absence is a world without sky
Teach me to live without you
Oh, don't go farther away from me
That I've already realized that the sun in your absence turns to ice
Teach me to live without you
Oh, don't go farther away from me
That my heart in your absence is a world without sky
Teach me to live...
Without you
Translated with www.DeepL.com/Translator (free version)

---
▶️ 3Speak