You can't come to HiveFest? No worries, HiveFest will come to you.
HiveFest5 promotional video
Where?
After Amsterdam (2016), Lisbon (2017), Kraków (2018), and Bangkok (2019), this year's HiveFest will be held at your place.
Thanks to AltspaceVR, the HiveFest World will be almost as good as the real deal, especially if you can join in with a VR headset.
Fear not, you can enjoy interacting with your friends without a VR set. A Windows / Mac is enough to give you a basic experience and explore the virtual environment. And of course, you'll need headphones and a microphone to talk.
When?
18-19 December 2020, the detailed schedule is available on the official HiveFest site
Free registration until December 7th.
Late time: (7-11 December): 50 HBD
Superlast minute: (14-18 December): 100 HBD
Do yourself a favor and prepare for the event beforehand.
Register as soon as possible
If and only if you are going to participate.
The virtual environment and computer resources need to be scaled accordingly.
Get familiar with your hardware and software
Get the software
Make sure that it works as expected.
Explore the basics of AltspaceVR
Customize your avatar.
Make it look like you or not like you at all. Just don't use the default one.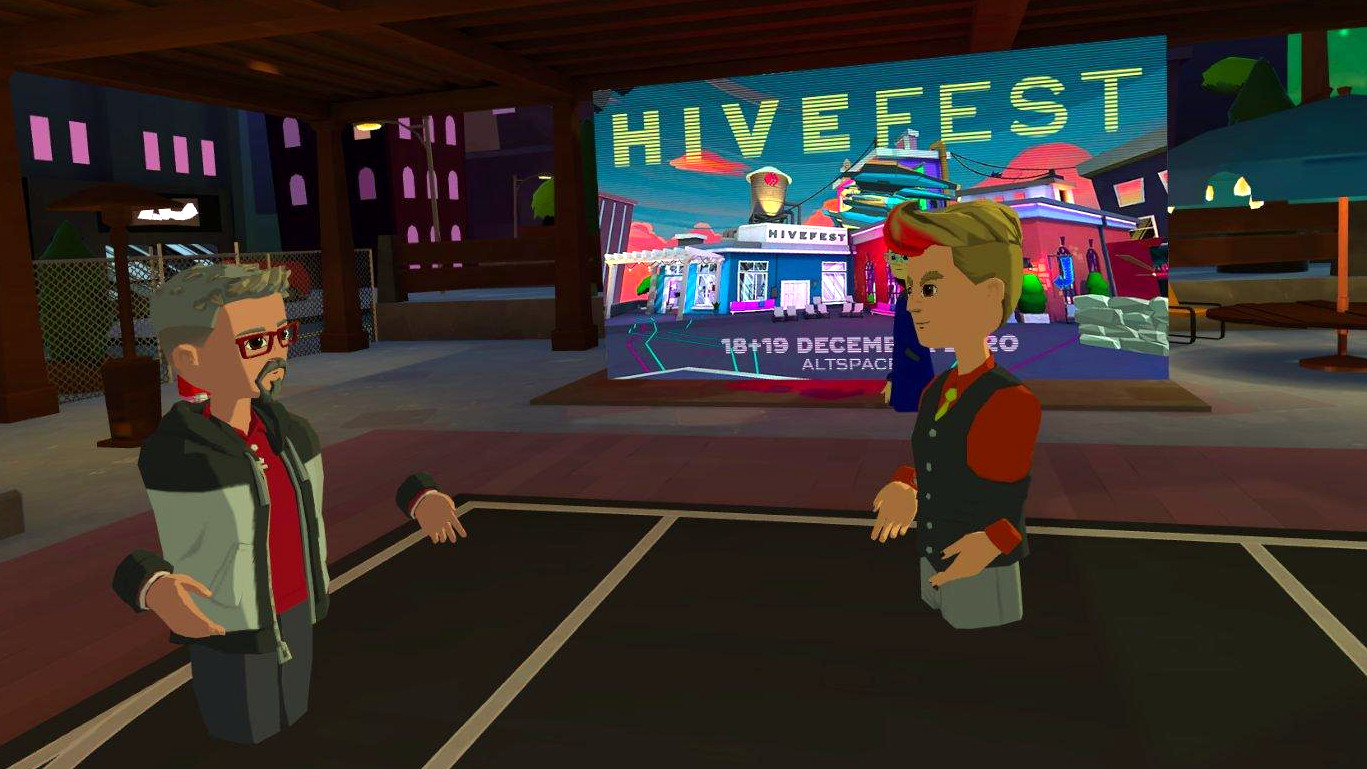 @arcange and @roelandp in AltspaceVR
Go through tutorials, make sure that you understand the controls.
Keep yourself muted, unmute yourself only when you are talking. In this way, you will avoid unnecessary noise.
Headphones are preferred, speakers can create echo.
Side effects: Promotion.
HiveFest is not only an awesome event bringing a lot of joy to those who already know Hive well. It is at the same time an event that echoes all over the world (both the virtual and the real one).
This time is no different.
HiveFest is coming to AltspaceVR
What are you waiting for?
Many folk like to know beforehand what is to be set on the table; but those who have laboured to prepare the feast like to keep their secret; for wonder makes the words of praise louder.

- Gandalf, "Return of the King", J.R.R. Tolkien
@roelandp has been working tirelessly for weeks to make it happen, so 100% beneficiary is set to @hivefest
Please consider supporting his efforts (see: Side Effects)
DHF: HiveFest⁵ @ AltspaceVR funding support proposal