Hello friends, Welcome to my blog in Hive, my space for reflections, a touch of nature and all my love to write, this time I publish in a very nice community, favorite of those who love birds, it is Feathered Friends and from here I open a window of experiences, birds are so beautiful beings, evoke freedom and love, I invite you to continue and enjoy reading and photographs.
---
Hola amigos, Bienvenidos a mi blog en Hive, mi espacio de reflexiones, un toque de naturaleza y todo mi cariño al escribir, en esta oportunidad publico en una comunidad muy linda ,favorita de los que amamaos a los pájaros,se trata de Feathered Friends y desde acá abro una ventanita de vivencias ,los pájaros son seres tan hermosos,evocan libertad y amor, ,te invito a continuar y disfrutar la lectura y fotografías.
---
I love the photo challenges of the community although I have a while without participating in them ,but I'm back , @nelinoeva always proposes interesting challenges and this week is no exception ,the theme is birds in action.I leave you the link and suggestion, the most important thing have fun while capturing beautiful photos.
---
Me encantan los desafíos fotográficos de la comunidad aunque tengo un tiempo sin participar en ellos ,pero estoy de vuelta , @nelinoeva siempre propone retos interesantes y esta semana no es la excepción ,el tema es pájaros en acción.les dejo el link y sugerencia, lo mas importante diviértanse mientras captan hermosas fotos.
---
---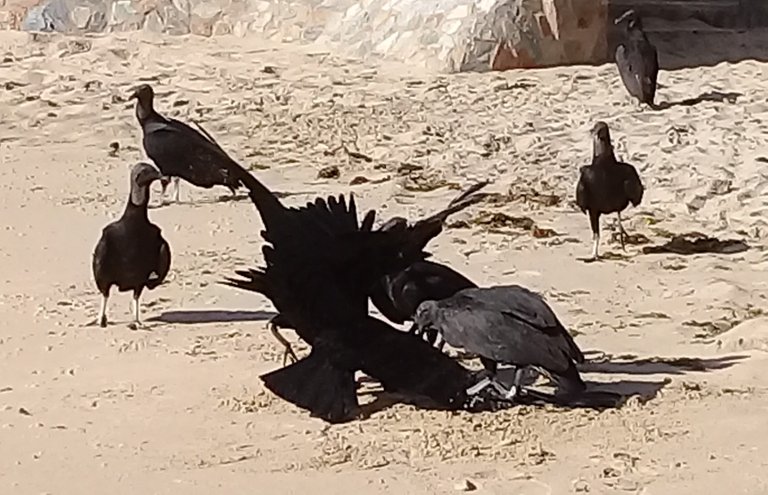 Photo edited to bring the image a little closer.
---
The photo I show you below shows the vultures on the beach of El Tirano on Margarita Island where I live, this is a scavenger bird, it keeps the beach clean, usually they can be seen in groups, one morning I was able to capture this photo.
---
La foto que le muestro a continuación muestra a zamuros en la playa del Tirano en la isla de Margarita donde vivo,esta es un ave carroñera ,mantiene limpia la playa ,por lo general se les puede observar en grupos .Una mañana pude captar esta foto.
---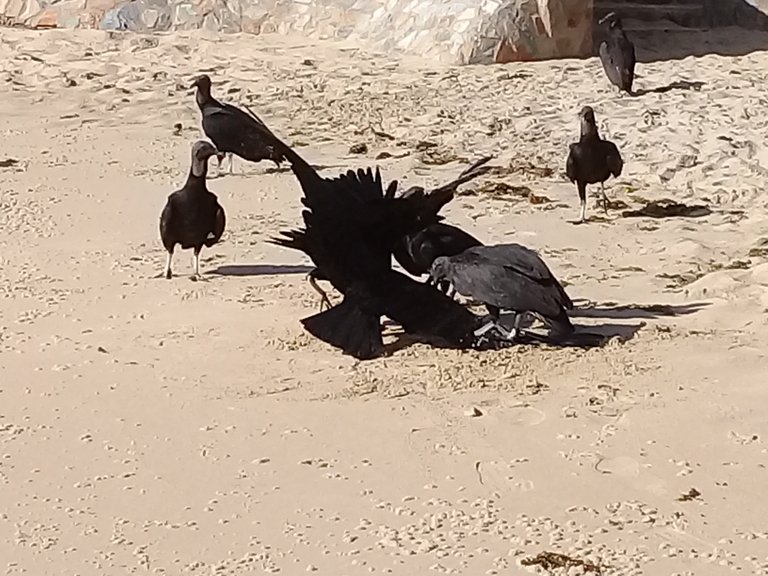 Original photo.
---
I honestly don't know what the vulture is doing, if it's his dance of love haha or just looking for trouble, the truth is no idea, but this bird since it landed on the ground started this racket, stretching its wings and gloating before this other guy in black haha.as in any community there are the curious who come to see what happens and those who simply ignore what happens.any resemblance to our reality is pure coincidence haha.
---
Sinceramente no se que está haciendo el zamuro,si es su danza del amor jaja o simplemente busca problemas ,la verdad ni idea,pero esta ave desde que se posó en tierra inicio esta algarabía ,estirando sus alas y regodeándose ante este otro chico de negro jaja.Como en toda comunidad están los curiosos que se acercan a ver que sucede y los que simplemente ignoran lo que pasa.Algún parecido con nuestra realidad es pura coincidencia jaja.
---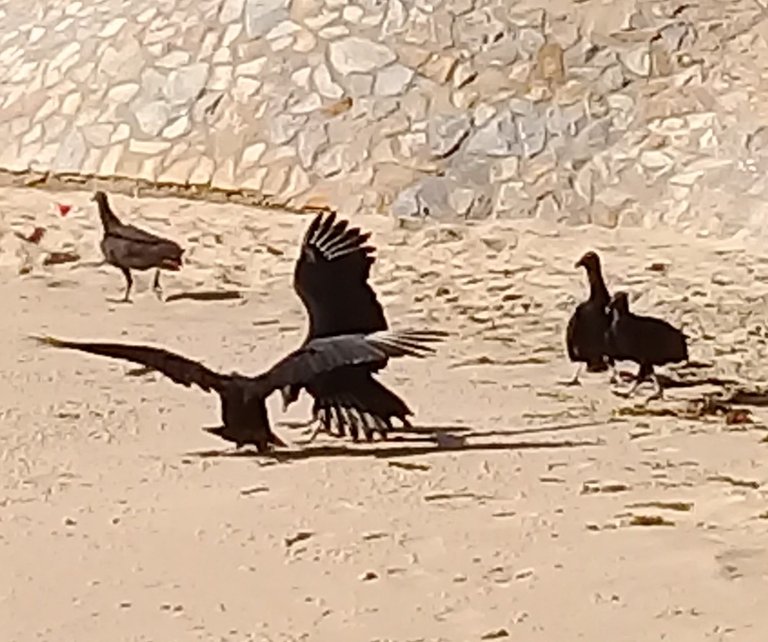 Photo edited to bring the image a little closer.
---
Well well,here you can see the dance of these two,because on second thought,I do not think they are going to fight with such elegance.Generally these birds are associated with bad omens but surely they do not live near the sea haha,where seeing them is very common.They contribute to keeping the marine ecosystem clean and although their activity and color make them not the favorite of many.For us it is a very appreciated bird and is part of our culture.
---
Bueno bueno,aquí pueden ver la danza de estos dos,porque pensándolo bien ,no creo vayan a pelearse con tanta elegancia.Generalmente a estas aves se les asocia con malos augurios pero seguramente no viven cerca del mar jaja,donde verlos es muy común .Ellos contribuyen a mantener limpio el ecosistema marino y aunque su actividad y su color los haga no ser los favoritos de muchos.Para nosotros es una ave muy apreciada y forma parte de nuestra cultura.
---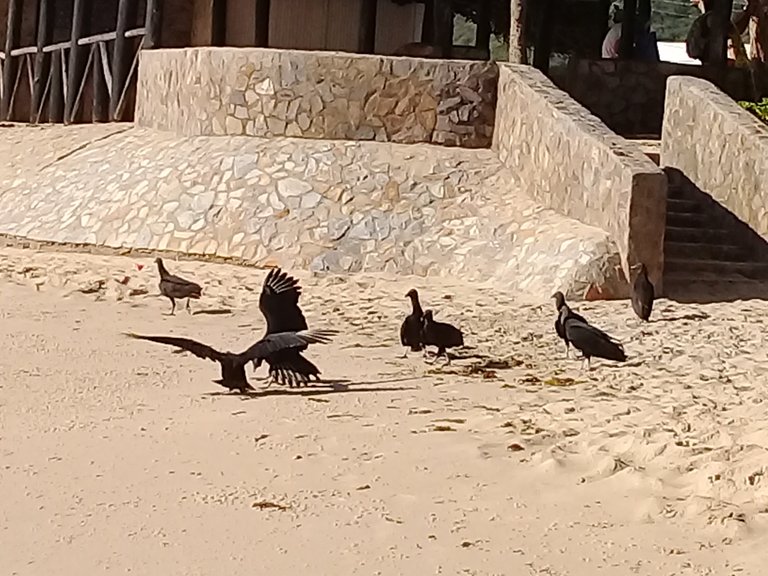 Original photo.
---