---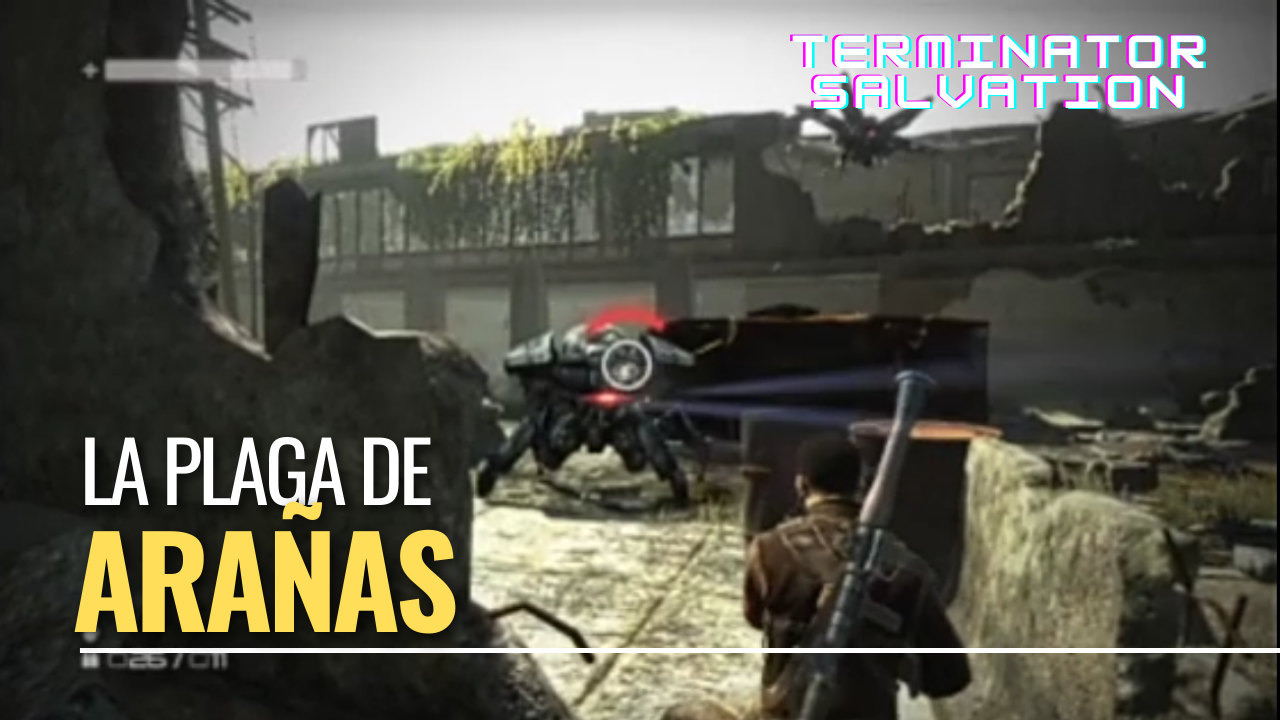 Imagen hecho en Canva con recursos gratuitos de canva, la imagen de fondo la tome del juego / Image made in Canva with free canva resources, the background image I took from the game.

---
Un cordial saludo a todos en la comunidad Geek ¿Como están? Espero que muy bien y que hayan iniciado su día con mucha fuerza para poder cumplir sus metas de esta semana. En el día de hoy quería compartir con ustedes la continuación de Terminator Salvation, como sabrán en mi ultima publicación no logre avanzar absolutamente nada contra el cazador asesino, y como comenté que, aunque no lo mostré en el video anterior, hice aproximadamente 5 intentos antes de frustrarme y estresarme. Pero por casualidad de la vida lo logre destruir, fue algo sumamente inesperado, tanto así que no me dio oportunidad de poder grabarlo, fue frustrante ya que realmente quiera grabarlo porque es una prueba de que vencí a uno de los peores jefes jaja, pero no tenía abierto o funcionando el OBS, así que bueno, será para u una próxima ocasión.
A warm greeting to everyone in the Geek community. How are you? I hope you are very well and that you have started your day with a lot of strength to accomplish your goals for this week. Today I wanted to share with you the continuation of Terminator Salvation, as you know in my last publication I didn't manage to advance absolutely anything against the killer hunter, and as I commented that, although I didn't show it in the previous video, I made approximately 5 attempts before getting frustrated and stressed. But by chance of life, I managed to destroy him, it was something extremely unexpected, so much so that it didn't give me a chance to record it, it was frustrating because I want to record it because it's proof that I beat one of the worst bosses, haha, but I didn't have the OBS open or working, so well, it will be for next time.
---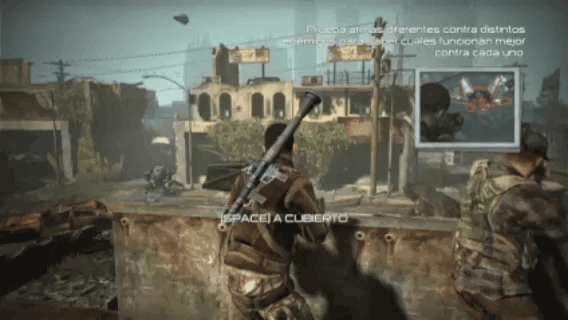 Video Capturado con OBS Studio desde mi laptop y Gif hecho con GIF Creator, GIF Editor / Video Capturado con OBS Studio desde mi laptop y Gif hecho con GIF Creator, GIF Editor

---
---
En este episodio empieza justamente después que Jon Connor logra destruir al cazador asesino, pero es rápidamente interceptado por un T-600 o un Endo como le llaman los NPC en el juego, allí comienza una persecución a disparos mortales al estilo de rápidos y furiosos, y aunque es sumamente fastidioso el Endo ya que ni siquiera con una calibre 50 le puedo hacer daño rápidamente, eventualmente lo logro destruir pero comienzan otros obstáculos, ya que entra en juego la conciencia moral sobre lo que es correcto como seres humanos y combatir a una gran plaga de robots arañas que tienen una armadura impenetrable. Pero gracias a la habilidad que aprendí gracias al cazador asesino logré vencer y continuar con la campaña.
In this episode it starts right after Jon Connor manages to destroy the hunter assassin, but is quickly intercepted by a T-600 or an Endo as the NPCs call it in the game, there begins a chase to deadly gunfire in the style of fast and furious, and although the Endo is extremely annoying because even with a 50 caliber I can't hurt it quickly, eventually I manage to destroy it but other obstacles begin, since the moral conscience comes into play about what is right as human beings and fight a great plague of spider robots that have an impenetrable armor. But thanks to the skill I learned thanks to the killer hunter I managed to overcome and continue with the campaign.
---
---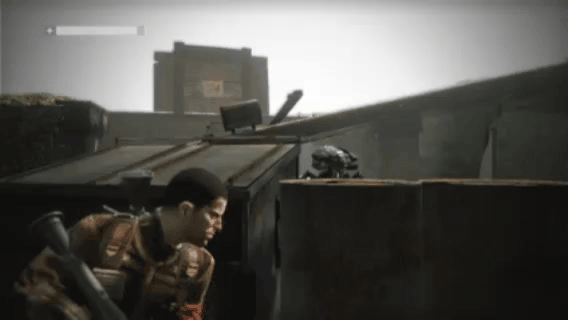 Video Capturado con OBS Studio desde mi laptop y Gif hecho con GIF Creator, GIF Editor / Video Capturado con OBS Studio desde mi laptop y Gif hecho con GIF Creator, GIF Editor

---
---
Lo más difícil de este episodio es la gran cantidad de arañas que salen por todos lados, por eso llame a este episodio la plaga de arañas ya que incluso de las paredes o del suelo salen estas arañas. Como mencione en el video anterior, los retos que te pone el juego se van haciendo cada vez peores, y es totalmente cierto. Ya que cuando comencé aparecían solamente aerostatos voladores, pero ahora ya han salidos t-600 y arañas asesinas. Lo más complicado y todo es que estos robots pesados tienen una armadura impenetrable si les disparas de frente, la única manera de acabarlos es disparándole desde la parte trasera a sus celdas de energías. Aunque también se pueden destruir con explosivos como granadas o un lanzamisiles, que nada detiene un disparo de un rpm.
The most difficult thing about this episode is the large number of spiders that come out everywhere, that's why I call this episode the plague of spiders because even from the walls or from the floor these spiders come out. As I mentioned in the previous video, the challenges that the game gives you are getting worse and worse, and it is true. When I started the game, only flying aerostats appeared, but now t-600s and killer spiders have appeared. The most complicated thing is that these heavy robots have impenetrable armor if you shoot them head-on, the only way to finish them is to shoot from the back to their energy cells. Although they can also be destroyed with explosives like grenades or a missile launcher, nothing stops a shot from an rpm.
---
---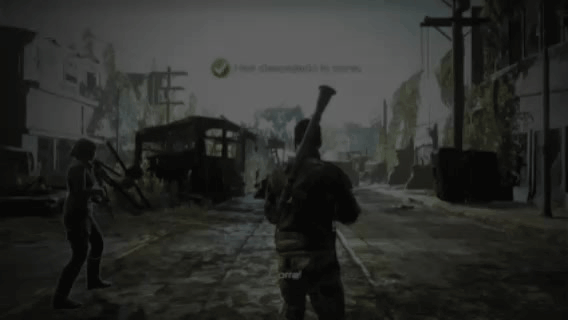 Video Capturado con OBS Studio desde mi laptop y Gif hecho con GIF Creator, GIF Editor / Video Capturado con OBS Studio desde mi laptop y Gif hecho con GIF Creator, GIF Editor

---
---
Cuando estaba repasando el video en el proceso de edición, note que tenía mucho más lags que en videos anteriores, entonces revise los procesos que tenía mi CPU y me di cuenta de que tenía abierto en segundo plano varios procesos de Google Chrome, esto es mi principal némesis, ya que cada vez que intento jugar tengo que cerrar todos los procesos de Chrome, a mí me han recomendado mucho usar otros navegadores como brave o Mozilla, pero como ya estoy tan acostumbrado a Chrome lo seguiré usando, pero si tengo opciones a cambiar de navegador ya que Chrome consume mucho de mi rim y CPU. Aunque también veo cada vez más necesario el SSD, pero aún me falta dinero para comprarlo, aunque ya tengo en mira un mejor equipo con rim 8gb ddr3, que por experiencia sé que son unas de las mejores memorias del mercado, además de tarjetas de videos MSI y un procesador AMD Phnom II X6, el precio es mucho más sorprendente, es de $80, y aunque son usados porque son de un ciber que quebró y está vendiendo sus equipos, están en un excelente estado y totalmente funcionales. Y como la evaluación que le hicimos en el taller están increíbles, no desaprovechare esta oportunidad, ya que son computadores que pueden correr muchos más juegos, como Batman Arkham, GTA Vo los juegos que actualmente estoy haciendo, pero con gráficos mucho mejores.
When I was reviewing the video in the editing process, I noticed that I had many more lags than in previous videos, then I checked the processes that had my CPU and I realized that I had open in the background several Google Chrome processes, this is my main nemesis, because every time I try to play I have to close all Chrome processes, I have been recommended to use other browsers like brave or Mozilla, but as I'm so used to Chrome I will continue using it, but if I have options to change browser because Chrome consumes much of my rim and CPU. Although I also see more and more necessary the SSD, I still lack money to buy it, although I already have in sight a better team with rim 8GB ddr3, which by experience I know are some of the best memories on the market, plus MSI video cards and an AMD Phnom II X6 processor, the price is much more surprising, is $ 80, and although they are used because they are from a cyber that went bankrupt and is selling their equipment, they are in excellent condition and fully functional. And as the evaluation, we did in the workshop is incredible, I will not miss this opportunity, as they are computers that can run many more games, such as Batman Arkham, and GTA Vo games I'm currently doing, but with much better graphics.
---
---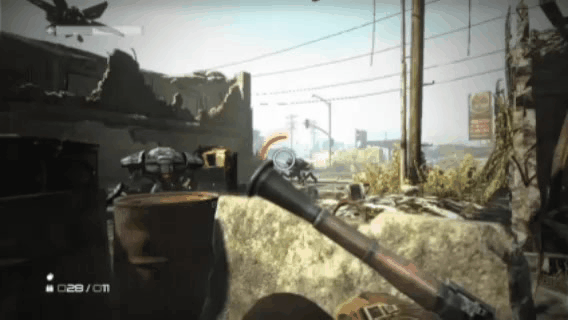 Video Capturado con OBS Studio desde mi laptop y Gif hecho con GIF Creator, GIF Editor / Video Capturado con OBS Studio desde mi laptop y Gif hecho con GIF Creator, GIF Editor

---
---
Para concluir, el este episodio quedo con jon y una soldado enfrentándose a un nuevo enemigo uno sumamente colosal al que le llaman la cosechadora, bueno el nombre no es del todo genial o aterrador, pero como es un doblaje español jaja entiendo el nombre. Este nuevo enemigo es tan letal que destruye un helicóptero con solamente un disparo de plasma. ¿Que pasara con Jon y esta soldado valiente? Pues espéralo en el siguiente episodio de Terminator Salvation.
To conclude, this episode is left with Jon and a soldier facing a new enemy, an extremely colossal one that they call the harvester, well the name isn't all that great or scary, but since it's a Spanish dub haha I understand the name. This new enemy is so lethal that it destroys a helicopter with just one plasma shot. What will happen to Jon and this brave soldier? Well, wait for him in the next episode of Terminator Salvation.
---
---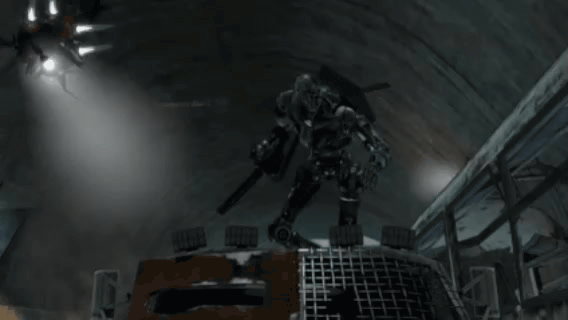 Video Capturado con OBS Studio desde mi laptop y Gif hecho con GIF Creator, GIF Editor / Video Capturado con OBS Studio desde mi laptop y Gif hecho con GIF Creator, GIF Editor

---
---
Jajaja parezco presentador de comiquitas manga de los 80's jaja, pero muchas gracias por ver y leer, espero que te haya gustado, ha sido una gran alegría para mi poder ver el resultado del esfuerzo, ya que hace unas dos semanas no hacia ningún video o gameplay, y ahora hago 2 o 3 gameplay a la semana. Sera interesante ver cómo evoluciona mi contenido en un futuro. Además, estoy muy agradecido a todos los que comentan mis publicaciones, yo tengo que esforzarme más por comentar ya que siento que es un deber jaja, el problema es que actualmente no tengo internet en mi casa y se me hace algo complicado, pero lo puedo lograr. Nos vemos hasta una próxima ocasión :D
Hahaha I look like an 80's manga comic host haha, but thank you very much for watching and reading, I hope you liked it, it has been a great joy for me to see the result of the effort, since two weeks ago I didn't make any video or gameplay, and now I make 2 or 3 gameplay a week. It will be interesting to see how my content evolves in the future. Also, I'm very grateful to everyone who comments on my posts, I have to make more effort to comment as I feel it's a duty haha, the problem is that I currently have no internet at home and it's a bit complicated, but I can do it. See you next time :D
---
---
El juego pertenece a Halcyon Games, Grin, Video grabado desde mi laptop con OBS Studio, GIFs hechos con la aplicación móvil: Creador de GIF, Editor de GIF y Miniatura hecha por mi con los recursos gratuitos de Canva.
The game belong to Halcyon Games, Grin, Video recorded from my laptop with OBS Studio, GIFs made with the mobile app: GIF Maker, GIF Editor and Thumbnail made by me with the free Canva resources.

Gif hecho en Canva Y los separadores tambien fueron hechos por mi en canva / Gif made with Canva And the dividers were also made by me in canva.
---
▶️ 3Speak