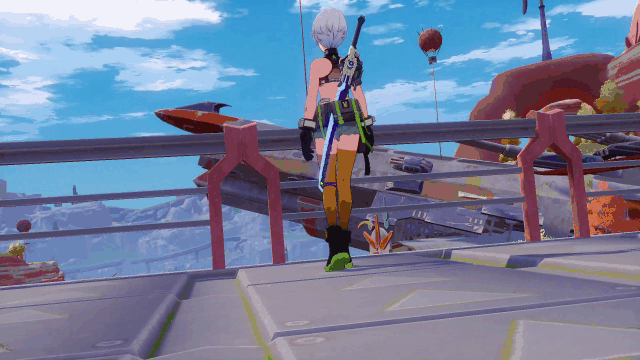 ---
A new anime-based massive game came to town, and Genshin players are feeling the pressure to try it out! Tower of Fantasy is a game that has been on the gaming community radar for quite some time, and the day of its global launch has come. Will it be another Genshin Impact? Does it have its own unique features? How crazy would the gacha system be? Is it pay to win? F2P friendly? join me on my first steps into this game.
As a current Genshin player, it is really difficult for me not to make comparisons, so in this post I will mention quite a few. My first impression was "this is a Techno-Genshin," but it seems there is more into it than just a copy.
¡Un nuevo juego masivo basado en anime llegó a la ciudad, y los jugadores de Genshin sienten la presión de probarlo! Tower of Fantasy es un juego que ha estado en el radar de la comunidad de jugadores durante bastante tiempo y ha llegado el día de su lanzamiento mundial. ¿Será otro Genshin Impact? ¿Tiene sus propias características únicas? ¿Qué tan loco sería el sistema gacha? ¿Se paga por ganar? F2P amigable? únete a mí en mis primeros pasos en este juego.
Como jugador actual de Genshin, es realmente difícil para mí no hacer comparaciones, por lo que en esta publicación mencionaré algunas. Mi primera impresión fue "este es un Techno-Genshin", pero parece que hay más en él que solo una copia.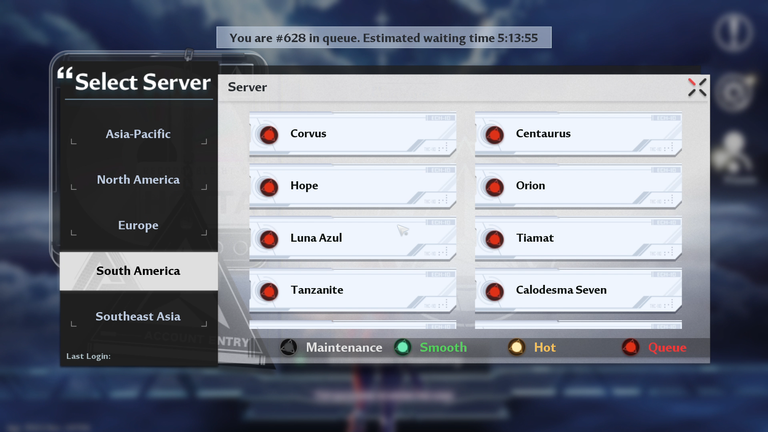 Entering this game was a pain in the ass. There are many servers for each region. I appreciate they are identified properly. I looked for a south America server, but they all were in red! Most had a line waiting to enter the game of hours and even days. After many attempts, the server HOPE had only a waiting line of 19min.
Entrar en este juego fue un dolor en el culo. Hay muchos servidores para cada región. Agradezco que estén debidamente identificados. Busqué un servidor de América del Sur, ¡pero todos estaban en rojo! La mayoría tenía una fila esperando para entrar al juego de horas e incluso días. Después de muchos intentos, el servidor HOPE solo tenía una fila de espera de 19 minutos.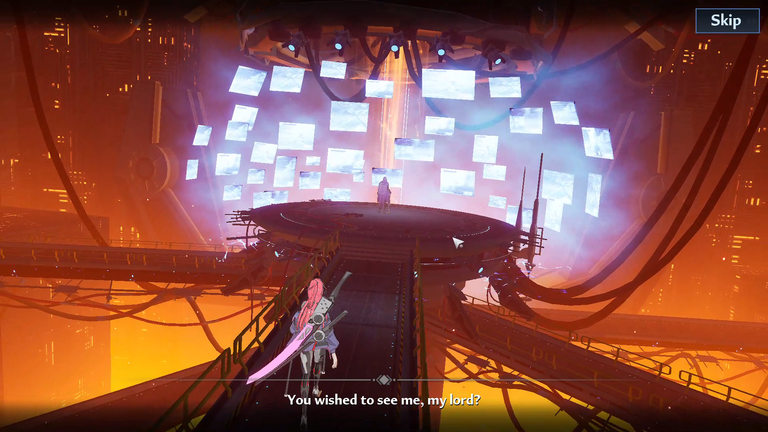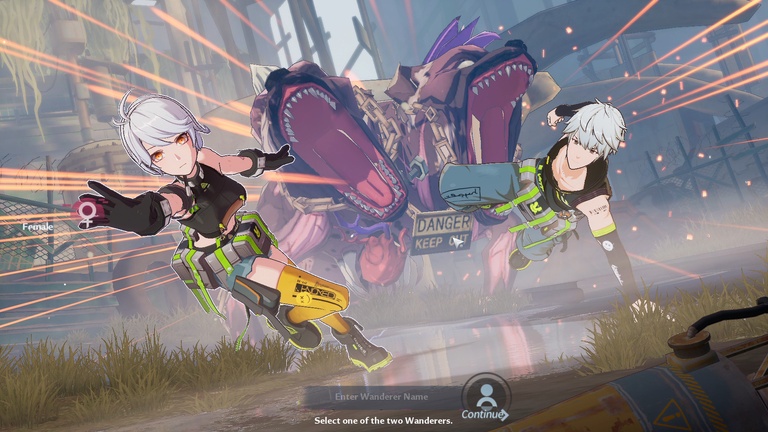 After a short cinematic, we encounter two people running away from a Techno-Cerberus. The screen freezes so we can choose between male and female character (Genshin similarity 1). I went for the Waifu road obviously.
Después de una breve cinemática, nos encontramos con dos personas que huyen de un Techno-Cerberus. La pantalla se congela para que podamos elegir entre personaje masculino y femenino (similitud 1 de Genshin). Fui por el camino waifu obviamente.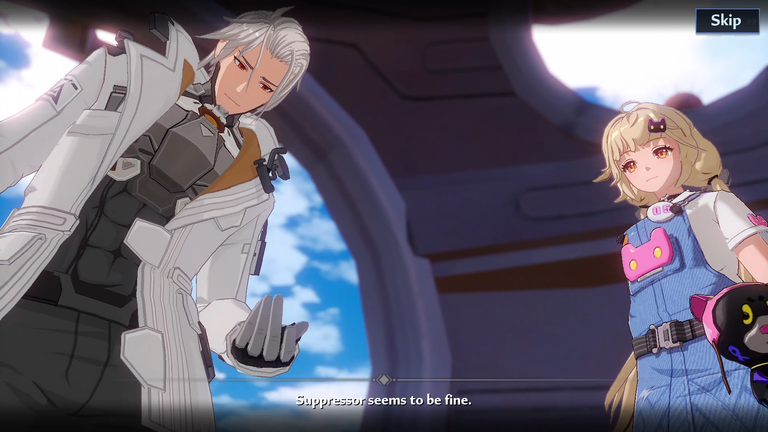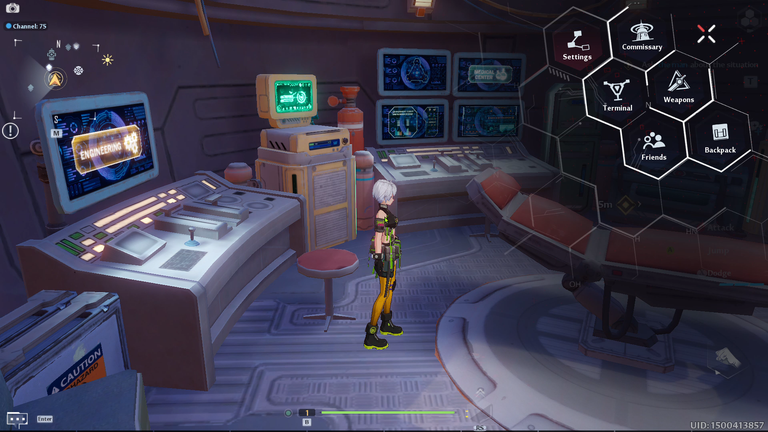 Soon, we wake up in some camp lab. It is the first time we can access menu and settings. I tried o adjust things, and it bothered me the only partial controller compatibility it has. I hate to reach for the mouse to do certain actions like menu navigation. Aside from that all was looking good.
Pronto, nos despertamos en algún laboratorio de campamento. Es la primera vez que podemos acceder a menú y ajustes. Intenté ajustar cosas y me molestó la única compatibilidad parcial con el controlador que tiene. Odio tener que usar el mouse para realizar ciertas acciones, como navegar por el menú. Aparte de eso, todo se veía bien.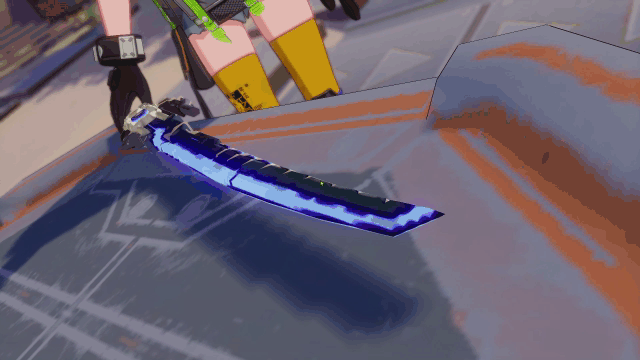 First order of the day is to get your weapon back. It is a regular blue sword. In this game, there are ultimate moves tied to weapons. This one has one very similar to a game I will not mention... much. The intro ends here, and we dive in the tutorial phase of the game.
La primera orden del día es recuperar tu arma. Es una espada azul regular. En este juego, hay movimientos definitivos vinculados a las armas. Este tiene uno muy parecido a un juego del que no voy a hablar... mucho. La introducción termina aquí y nos sumergimos en la fase de tutorial del juego.
Paimon is that you!? Oh, I mean, this is Mi-a, an AI assistant we are introduced who will also guide us during this adventure. Here our characters are called wanderers (cough like traveler cough). From this point forward, we will follow the blondie girl to each tutorial.
¿¡Paimon eres tú!? Oh, quiero decir, esta es Mi-a, una asistente de IA que nos presentan y que también nos guiará durante esta aventura. Aquí nuestros personajes son llamados vagabundos (tos como tos de viajero). De ahora en adelante, seguiremos a la chica rubia en cada tutorial.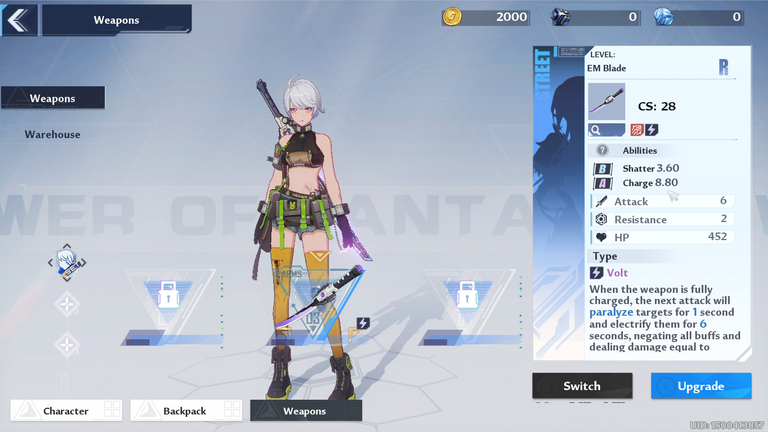 I was finally able to access the menu, and I noticed we will be able to equip more than one weapon. Those have stats and abilities quite similar to my fellow waifu game. The NPCs look great, I was even able to interact with a dog, we have stamina for running and climbing; so far so good.
Finalmente pude acceder al menú y noté que podremos equipar más de un arma. Esos tienen estadísticas y habilidades bastante similares a las de mi compañero de juego waifu. Los NPC se ven geniales, incluso pude interactuar con un perro, tenemos resistencia para correr y trepar; Hasta ahora, todo bien.
---
Character Design
---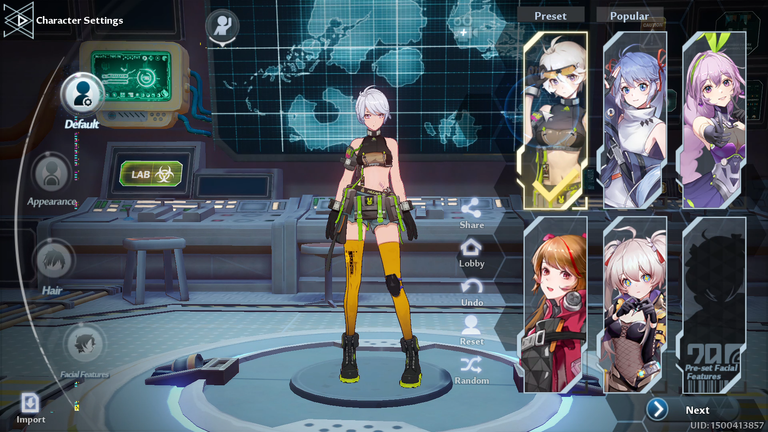 Blondie takes us to a machine in which we can alter our appearance. This makes me think our character is a cyborg or something. We have five pre-configured characters we can pick, or we can go element by element designing our character from scratch.
Blondie nos lleva a una máquina en la que podemos alterar nuestra apariencia. Esto me hace pensar que nuestro personaje es un cyborg o algo así. Tenemos cinco personajes preconfigurados que podemos elegir, o podemos ir elemento por elemento diseñando nuestro personaje desde cero.
What I enjoyed the most was hair customization. Most games only provide a single layer for hair. Here we can choose between three different aspects or parts of our character's hair. It was just so anime in style and looks. Once I picked the right slightly sad wide eyes, and the right hair combination, I went for color.
Lo que más disfruté fue la personalización del cabello. La mayoría de los juegos solo proporcionan una capa para el cabello. Aquí podemos elegir entre tres aspectos o partes diferentes del cabello de nuestro personaje. Era tan anime en estilo y apariencia. Una vez que elegí los ojos bien abiertos ligeramente tristes y la combinación correcta de cabello, opté por el color.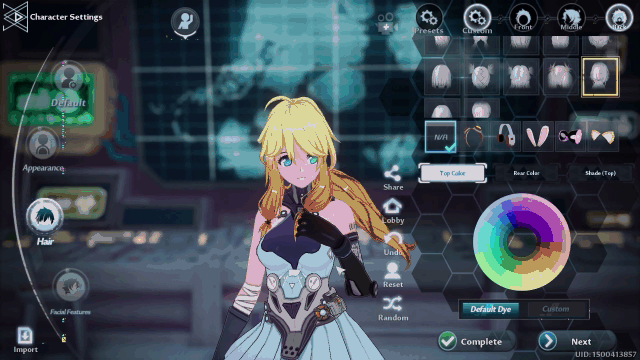 Color for hair is divided as well. I experimented with the whole wheel until a beautiful dark red waifu appeared in front of my eyes.
El color para el cabello también se divide. Experimenté con toda la rueda hasta que una hermosa waifu de color rojo oscuro apareció frente a mis ojos.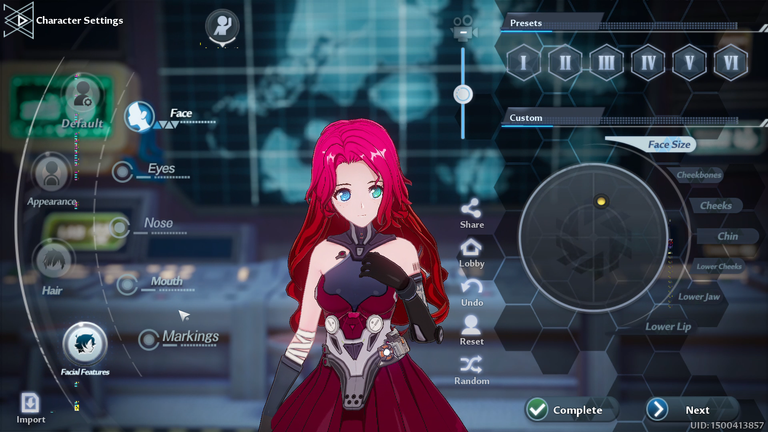 After dress and hair, we can play with all face features. We can configure height and it has 2 options for breast (I am not surprised). I added some freckles as a face feature and she was born!
Después del vestido y el peinado, podemos jugar con todos los rasgos del rostro. Podemos configurar la altura y tiene 2 opciones para el pecho (no me sorprende). ¡Agregué algunas pecas como una característica de la cara y nació!
---
Combos
---
With my only weapon, I was eager to see combat moves. As soon as I regained control over my character I tried out her moves with the sword. I loved the basic combo was longer. In Genshin, most combos don't pass 5 hits. The feature I ADORED the most was attacking in mid air. Gosh! I always wished that in Genshin. Weapons have an ultimate move you can use once every certain seconds. This weapon has one that creates purple phantoms performing several attacks. Keqin is that you? haha.
I will leave this intro here. Sadly, shortly after this moment I experienced terrible bugs with the game altering the visuals and making it impossible to play the game. I am waiting tower of Fantasy gets added to Steam at least so I can download it from there. The game doesn't offer a file verification, so I don't know if it was the file that was corrupted, my computer, or something else. I'll give it a couple days and try again, so I can see my dark red Waifu once more!
Con mi única arma, estaba ansioso por ver movimientos de combate. Tan pronto como recuperé el control de mi personaje, probé sus movimientos con la espada. Me encantó el combo básico era más largo. En Genshin, la mayoría de los combos no superan los 5 golpes. La característica que más ADORÉ fue atacar en el aire. ¡Dios mio! Siempre deseé eso en Genshin. Las armas tienen un movimiento definitivo que puedes usar una vez cada ciertos segundos. Esta arma tiene uno que crea fantasmas morados realizando varios ataques. Keqin eres tu? ja ja.
Dejaré esta introducción aquí. Lamentablemente, poco después de este momento experimenté errores terribles con el juego que alteraban las imágenes y hacían imposible jugar el juego. Estoy esperando que Tower of Fantasy se agregue a Steam al menos para poder descargarlo desde allí. El juego no ofrece una verificación de archivos, por lo que no sé si fue el archivo el que se corrompió, mi computadora u otra cosa. ¡Le daré un par de días y volveré a intentarlo, para poder ver mi Waifu rojo oscuro una vez más!
---

@gaeljosser
All media taken directly from the Game
Gif images made with Filmora Studio