WELCOME TO THE HEARTCHURCH INTERNATIONAL CHRISTIAN MINISTRY BLOG
Dear brothers: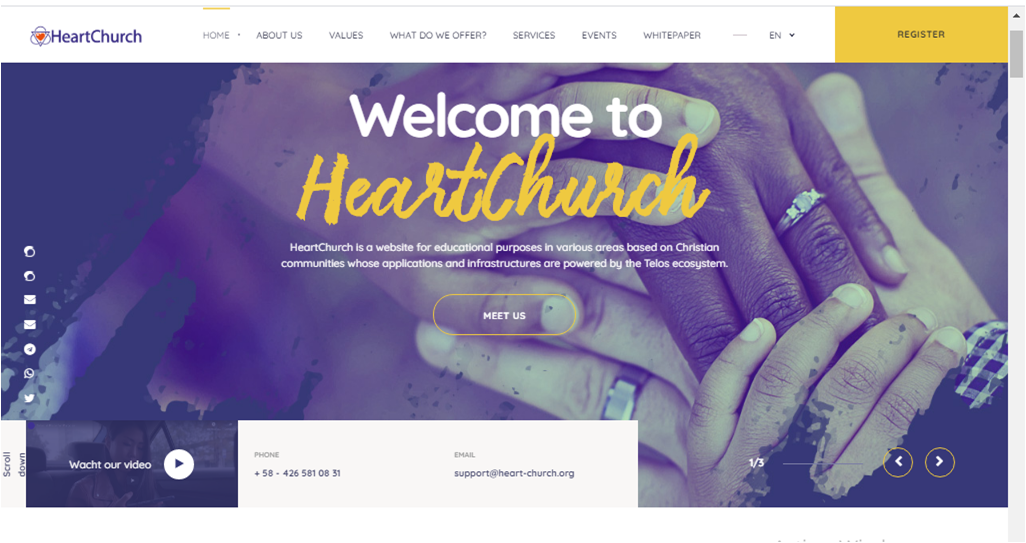 ---
---
This is very exciting for us after several weeks, of work the Landing Page: heart-church.org is live from now on we can count on our own heart house from where we will promote inclusion and the multiplication of love, solidarity, education and word of life in the world.
We decided to create this Landing Page as the start of our educational project and creation of infrastructure for Christians and good citizens of the world, based on a comprehensive community project consisting of various stages of development, which contains a registration system where users will enjoy a account jc, which includes a source of Heart, the token representation of our community, it should be noted that this first phase is fed by the Telos ecosystem, not leaving behind the technological platforms where we interact and that we do not rule out the idea of ​​using each of they are necessary for the expansion of hearts in the world.
What about us?


HeartChurch International Christian Ministry, is the first blockchain church, created to impact the world.
A great community that has established itself in countries like Venezuela, Nigeria, Ghana, promoting educational social projects through Christian values, its motto "Crusade for freedom".
We have been working on the development of strong communities, our main focus is social marketing, creating educational projects in various areas: nutrition, agriculture, promoting blockchain technology, etc., having the conviction that the greatest strength of a technology platform is humanization. , we add the value of what we expect, if what we are capturing takes it to a real level, it will be easier to create a genuine environment, with a high impact of fidelity and growth. All our efforts are based on empowering men and women to work in their own destiny and use blockchain as a technology with a purpose, we are not a foundation, an ONG or a charity, we are a team of professionals with Christian values ​​destined to satisfy physical and spiritual needs through knowledge, solidarity and love. Today our community has expanded to Telos, blockchain, a platform capable of facilitating commerce, banking and logistics. Every day we enter people in these blockchain, with the purpose of creating an infrastructure where our followers can benefit. Currently the ascension of our name token has begun; Beatitude, symbol: Heart, is a standard token integrated into Blockchain: Telos (TLOS), its main feature is that it has its own UBI (Universal Basic Income) implementation.
Description of the project HeartChurch
Blockchain Educational development
"Give wings to freedom, education without limits"
HeartChurch Causes
For the past 18 months, HeartChurch has worked tirelessly to provide opportunities for those in politically mismanaged countries. We have helped individuals from these lands grow both on blockchain platforms and in their local communities.
We have assisted in the construction of fish farms, chicken farms, tomato fields, and banana plantations.
We have facilitated community health and education initiatives. These have included blockchain educational initiatives.Our Heart token has also been released on EOSIO blockchain Telos.Using a grant from the Telos Worker Proposal, we have been able to recruit many people to interact with blockchain technology and jc account creation.
Sirknight
The pioneering project so far has been "Bread From Heaven", which serves more than 3,000 people in Venezuela, children, the elderly and pregnant women. Food, donations have been raised through the communities and on the technological platforms in which we operate.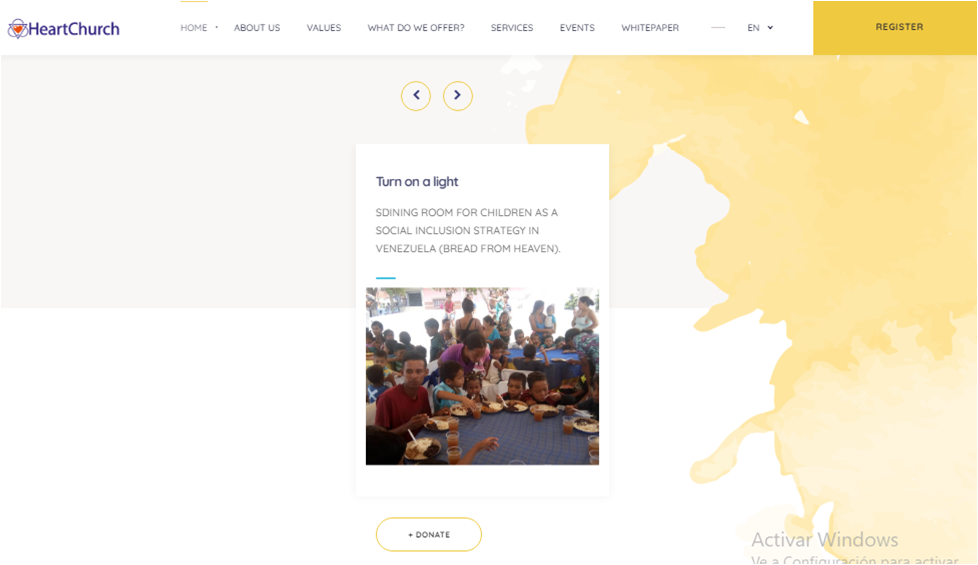 What can you do on our landing page in this first phase?


The main idea of ​​this Project is to publicize the benefits of blockchain technology when used for a purpose to empower communities, for them we have given space to applications, projects and other platforms where we are present, we believe that synergy we create At this meeting point it will make a difference, Heartchurch will use all the resources and tools that benefit society without distinction.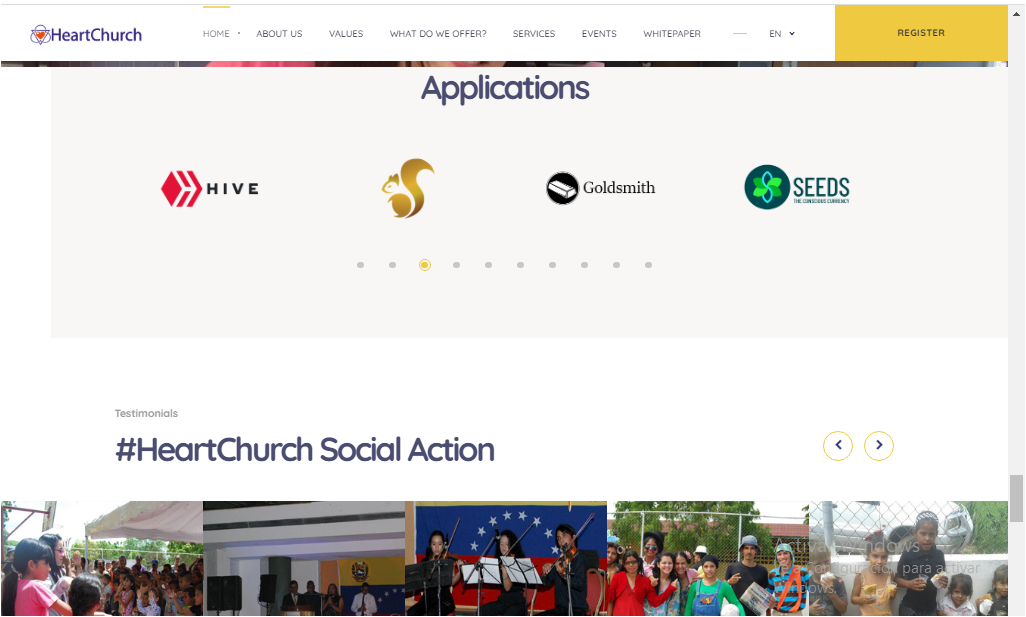 What do we offer?


We are currently doing account records with the suffix "jc" in the telos ecosystem, all accounts have the Heart token, which generates one every day, the goal is that every Christian on the planet can enjoy this blessing and obtain resources , learn for your family, community and country.
What can we do here?


Initially, you can register in the form to obtain your account with the suffix jc, this account has the integration of our "Heart" token that generates a cumulative token daily, we estimate that we can create educational applications, businesses, voting systems for community proposals.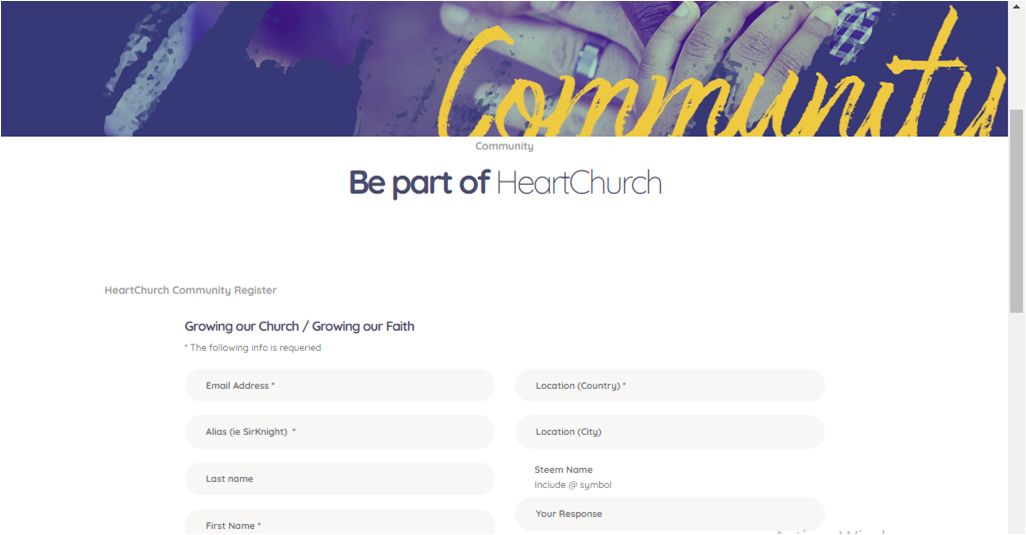 After registering, what's next?


Confirm your email account, then download any of the supported wallets to start using your tokens.
Where can I get support?


We have enabled our telegram and email channel for any questions or suggestions.
https://t.me/steemchurch_telegram
---
---
With much more to come:


We want to change the way of being a community, we want to be one with the world without distinctions, without arguments, we want to be HeartChurch, reach each sector without political, religious or social signs, we want to change the focus of religions, we want to be those people that Jesus left written where love, mercy and justice can more than all human reasoning, we want to be those people from examples that leave a legacy, we want to promote the potential of each individual to connect communities, the next developments or phases of this initiative we are sure that will be surprising.
If you can believe it, then you can see it:
Services
Heart Ambassadors
HeartHouse
HeartSchool
Virtual classrooms
Community proposal system for project development.
Voting Systems
Membership
---
---
I invite all our members to invite their friends and family to be part of our community and to get their jc account.
We are at the beginning of a new time.
Thanks to all the people who have helped our community grow, to God mainly, thanks to the promoter of all this @sirknight, the Telos ecosystem, the @hive community and all the people who make up this community that without them we would not be here.
Congratulations!
Darlenys
EXPRESS THE LOVE OF JESUS THROUGH: