---
Hi everyone,
When you're a lightpainter, you definitely have to find new suitable locations for your art. I mean if you're a lightpainter who goes outside instead of doing your stuff exclusively in studio. I like studio work but, to be honest, there's nothing like being outdoor during the night for me.
This photo was taken on a site called Le Transformateur, an industrial wasteland dedicated to artistic and social projects.
Salut à tous,
Lorsque vous êtes un lightpainter, vous devez absolument trouver de nouveaux emplacements appropriés pour votre art. Je veux dire si vous êtes un lightpainter qui va à l'extérieur au lieu de faire vos trucs exclusivement en studio. J'aime le travail en studio mais, pour être honnête, rien de tel pour moi que d'être dehors la nuit.
Ce cliché à été pris sur un site appelé Le Transformateur, une friche industrielle dédiée à l'expression artistique et à l'entraide.
---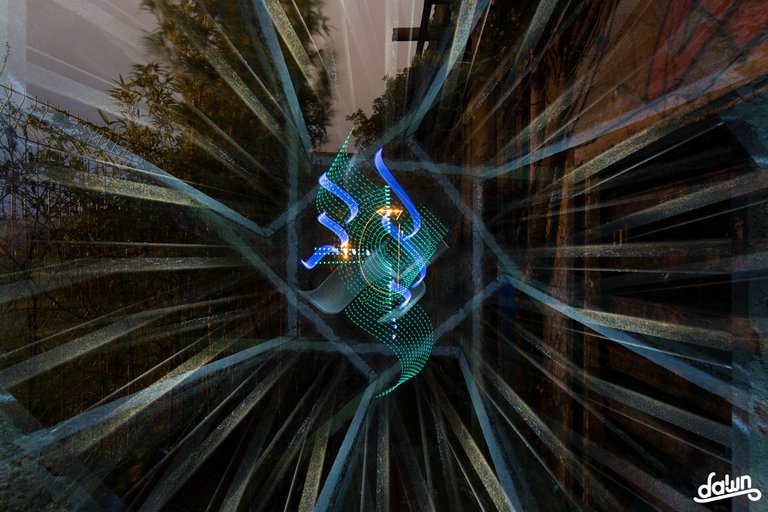 190 16mm f/6.3 100 ISO
---
Lightpainting created in real time, captured to the camera in one single photographic frame.
No layers /no Photoshop / no editing except minor adjustments (lens correction profite, WB, contrast (+12)) and addition of my logo.
Lightpainting créé en temps réel, capturé par l'appareil photo lors d'une seule et unique exposition photographique.
Pas de calques / pas de Photoshop / pas de retouche sauf des ajustements mineurs (patch correctif de l'objectif, balance des blancs, contraste (+12)) et ajout de mon logo.
---
---
Specs :
Canon EOS 6D body
Canon EF 16-35mm f/4L IS II USM lens
Canon RC-E6 IR remote
Benro A4770TN tripod
Jobu-Design Heavy Duty Gimbal Head Mk IV
December 2022
Equipement :
Appareil Canon EOS 6D
Objectif Canon EF 16-35mm f/4L IS II USM
Télécommande infrarouge Canon RC-E6
Trépied Benro A4770TN
Tête pendulaire Jobu-Design Heavy Duty Mark IV
Décembre 2022

WHAT IS LIGHTPAINTING?
Lightpainting is a photographic technique in which exposures are made by moving a hand-held light source while taking a long exposure photograph, either to illuminate a subject or to shine a point of light directly at the camera, or by moving the camera itself during exposure. Nothing is added or removed in post processing.
Single exposure Light Art Photography
/nolayer /notricks /nophotoshop

YOU WOULD LIKE TO SEE MORE LIGHTPAINTING HERE?


Give the Lightpainters United Community a follow and you will be introduced into the world of light painting.


You will find innovative and original light painting from various artists from all over the world. Have a look at the profiles of some very active lightpainters in the group :
Mafu Fuma - Oddballgraphics - Fade to Black - Dawn - Chris Thompson - Mart Barras - Stefan Stepke - Nikolay Trebukhin - Leetodd - Stabeu Light - Maxime Pateau - Stephen Sampson - lightandlense - Neil Rushby - L.A.C.E.

WOULD YOU LIKE TO GET IN CONTACT WITH US?
Join us at Discord


Thank U for your support and keep shining!
LIGHT, LOVE & UNITY!

Lightpainters United gif Banner made by @oddballgraphics