Last night @fadetoblack and I finally managed to coordinate diaries and ventured out in to the dark. It had been so long since we collaborated together we ended up like a pair of "noobs" and forgot to check the weather!
The plan was to meet up at Darwin Forest near Matlock in the Derbyshire Peak District. In one particular spot is a fairly well known line of trees with a slight lean making them quite photogenic to the hordes of Peak District visitors. We decided to visit in the dark because we like to do stuff that hasn't been done before. I don't believe anyone has shot this place in the dark.
We duly arrived, hoisted back packs, shouldered tripods and walked to the location. Almost immediately as we stepped on the lane of trees it started to rain. Not just a few rain drops but the biblical, horizontal stuff like you see in movies.
Undeterred and determined to get a shot, I set up my camera in a hurry and this is what I got!
Biblical
This was the 2nd shot of the evening. The rain was coming down so hard I had to work fast. This is a case where familiarity with the controls on the camera really helps. I set f5.6 in manual mode, shutter to Bulb and ISO to a guess of ISO200. I somehow miraculously managed to focus too!
I used a flashgun and fired 12 times to light up the scene meaning the movement of the trees in the wind created a nice blur.
The apparent grain in the image isn't grain; it's rain. The stuff was horizontal!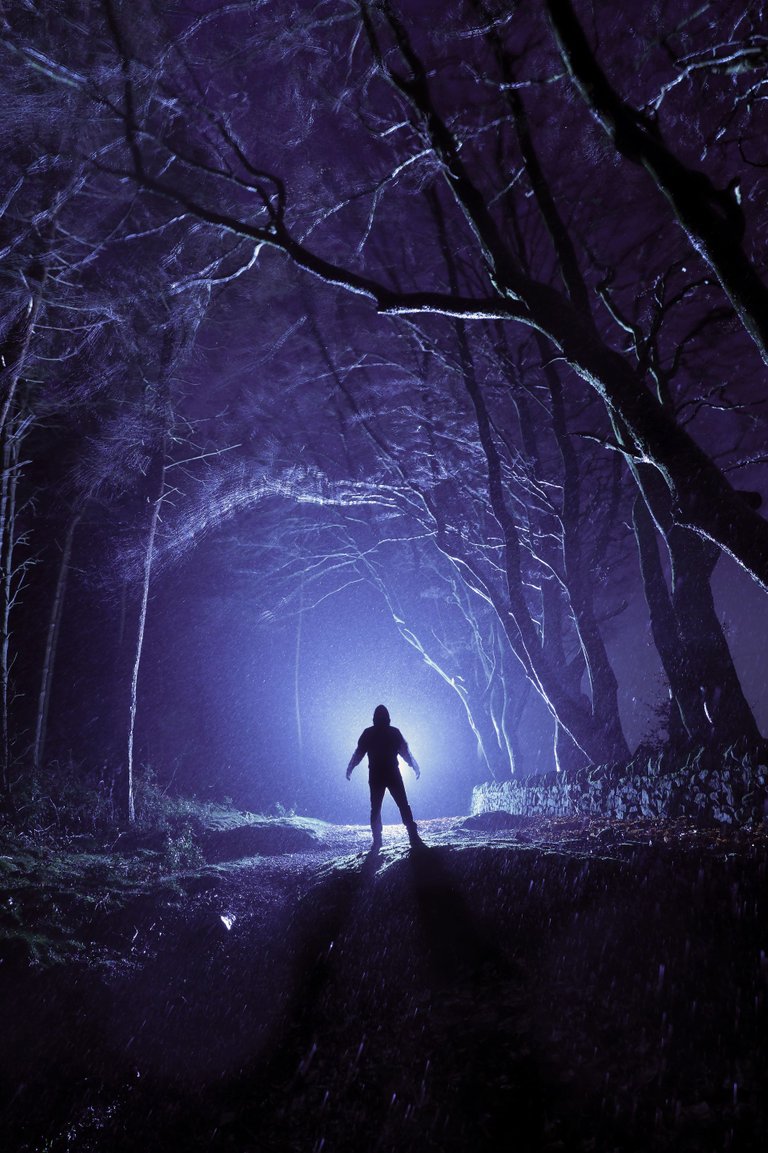 Camera Rotation
It's been a while since I did any camera rotation photography. This is a process whereby the camera is rotated on it's lens axis during a single photographic exposure. For each rotation, it's necessary to replace the lens cap so as to prevent stray light hitting the image sensor. Which is just as well as it was still raining at this point!
I still feel the need to explain that this image was captured in one photographic exposure.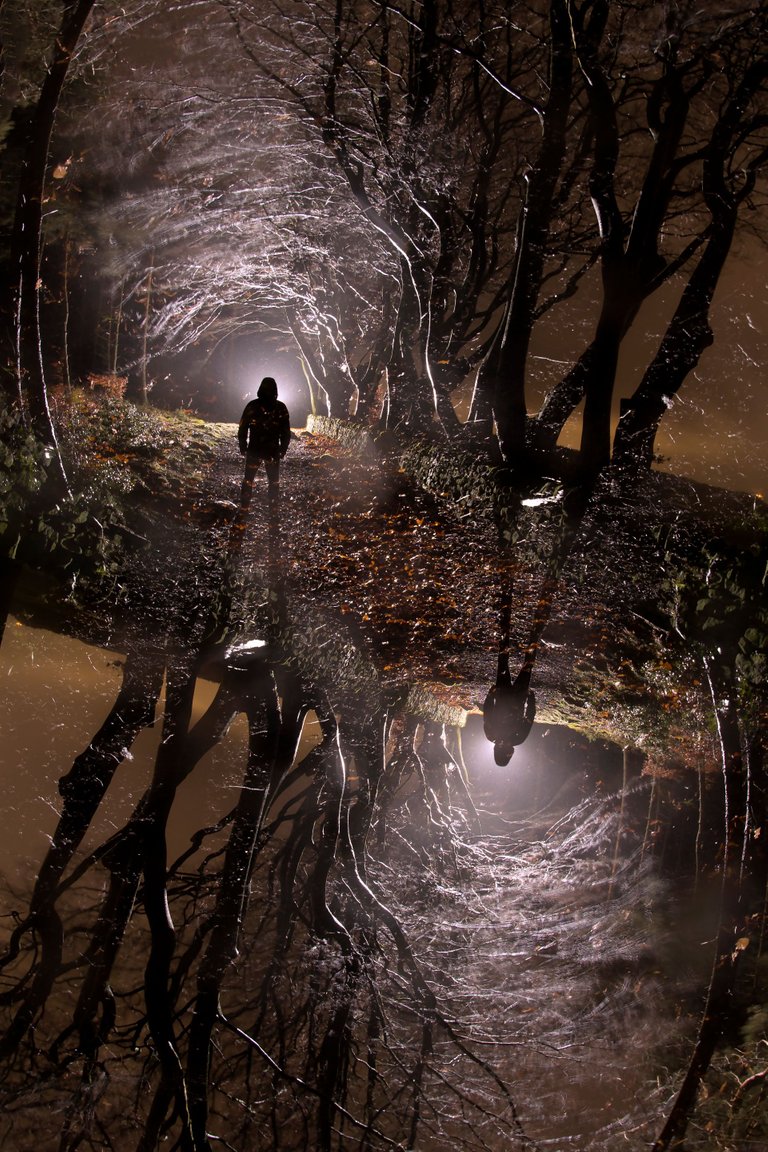 Still Raining
I quite like the cinematic effect the rain created. The apparent grain isn't grain, it's rain.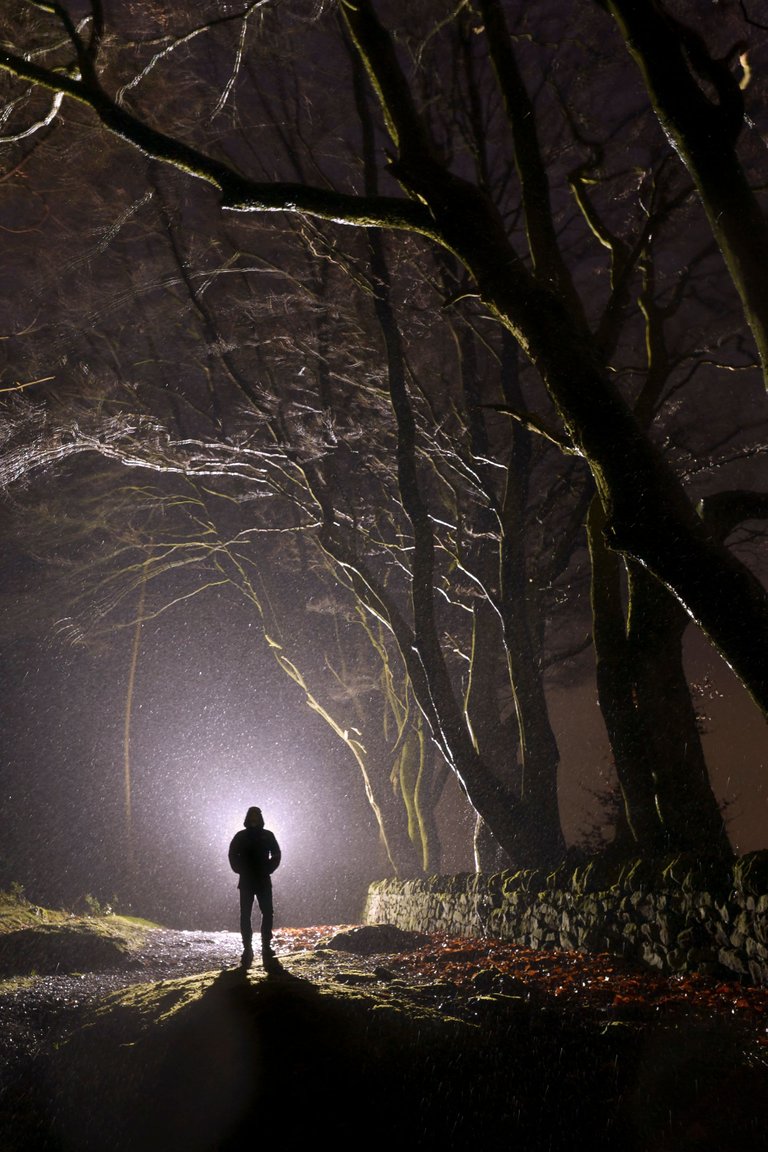 It stopped raining, finally
As the rain stopped, the wind blew away any mist we were taking advantage off. I just about managed here to create some background seperation with a custom white balance added for effect.
Shortly after this was taken, there was literally no mist and the cinematic effect had gone. I felt like I just getting going and sadly we had to leave. By this point we were completely soaked through to the skin!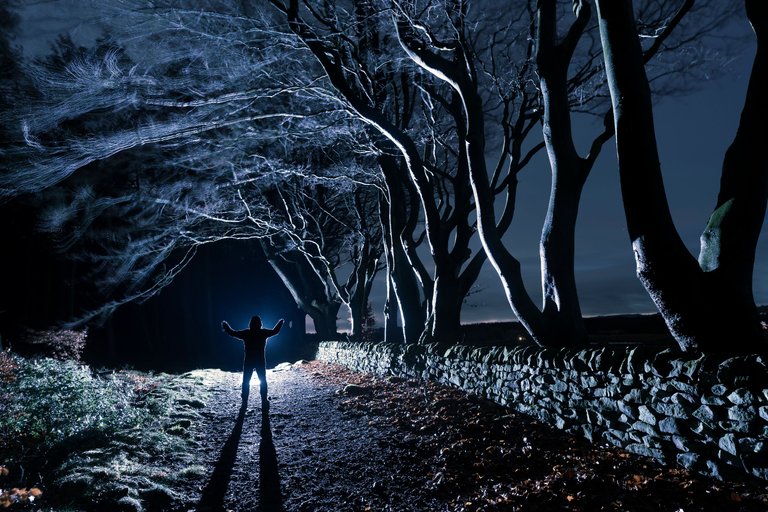 About me:
I usually specialise in shooting lightpainting images but occasionally dabble in urbex and artistic model photography. I'm always on the lookout for someone to collaborate with; please don't hesitate to get in touch if you'd like to create art.
Social Media
https://www.facebook.com/fastchrisuk
https://www.flickr.com/photos/fastchris/

WHAT IS LIGHTPAINTING?
Lightpainting is a photographic technique in which exposures are made by moving a hand-held light source while taking a long exposure photograph, either to illuminate a subject or to shine a point of light directly at the camera, or by moving the camera itself during exposure. Nothing is added or removed in post processing.
Single exposure Light Art Photography - no layers - no tricks - no photoshop


If you would like to see more lightpainting please give the Lightpainters United Community a follow and you will be introduced into the illuminating world of light painting!

If you want to see more examples of lightpainting, feel free to check out these guys:
Mafu Fuma | Oddballgraphics | FadetoBlack | DAWN | Mart Barras | Stefan Stepke | Nikolay Trebukhin | Lee Todd | Stabeu Light | Maxime Pateau | Stephen Sampson | lightandlense | Neil Rushby | L.A.C.E.
WOULD YOU LIKE TO GET IN CONTACT WITH US?
Join us at Discord