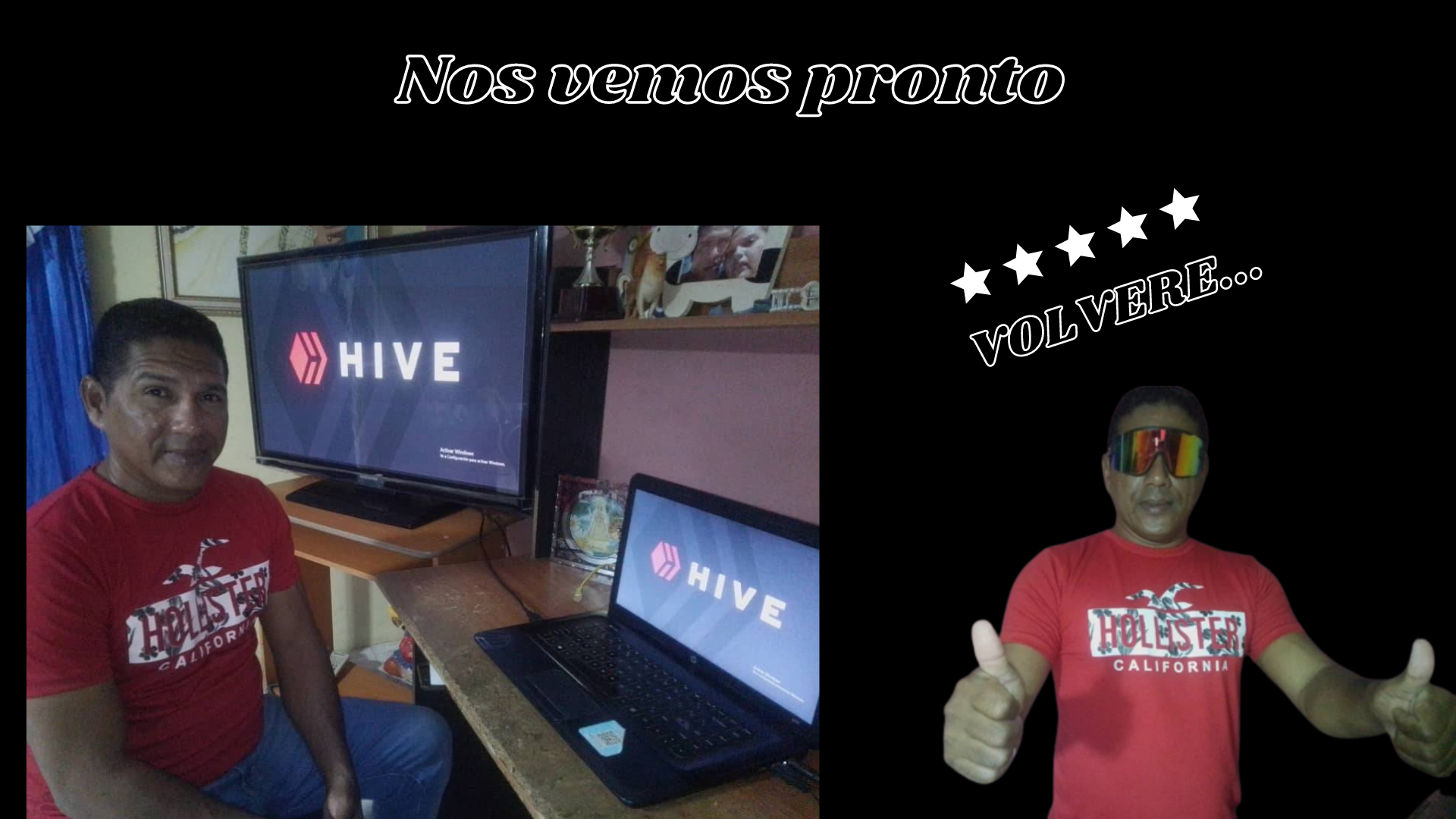 Fotos tomadas con mi telefono movil Blu Studio X12 y edicion desde Canva

---
Hola estimados amigos de esta prestigiosa plataforma, reciban como siempre un saludo y abrazo a la distancia de este servidor @ovelperez82, es un honor infinito postear en esta oportunidad en la comunidad de @aliento, con la finalidad de ir preparando mi pronto regreso a este maravilloso mundo.
Durante mi ausencia he notado que muchas cosas han cambiado y las comunidades han ido creciendo con una gran cantidad de nuevos usuarios o miembros, lo que me llena de alegría y satisfacción, pues eso motiva a uno a no quedarse sin hacer nada. Mi última publicación audiovisual la realice hace tres meses a traves de mi canal en @threespek para la comunidad de @fulldeportes en esa ocasión la titule "Empañado por deudas el futbol venezolano" fue un contenido que recibió buen apoyo al punto tal que ha sido mi publicación de mayor recompensa, en ese momento pensé que debía seguir mejorando y así me lo propuse, solo que con la mala suerte para mí que mi servicio de internet sufrió una avería y debía reportarlo a la empresa encargada, como en efecto lo hice; todo se convirtió en una odisea pues hice una serie de trámites, denuncias y diligencias para solventar la situación y nunca obtuve respuestas ni solución alguna. Con el tiempo un vecino me facilito una clave de wifi y pude realizar algunos contenidos escritos para la misma comunidad, los hice de manera escrita porque al momento que trataba de montar algún video de al menos 12 contenidos durante ese tiempo la señal era lenta y pasaba horas para subirse, luego la señal solo me daba para ver y comentar algunos post.
Desde mi llegada a Hive en junio del 2022 fui aprendiendo muchas cosas y le fui tomando cariño, más que por recompensa es porque aquí uno crece en lo personal, profesional y lo económico. En mi caso cuando una publicación no me era recompensada como yo esperaba, eso me impulsaba a mejorar, de igual forma cuando obtenía buenos resultados quería ir por más; los comentarios de @fermionico al momento de corregirme y orientarme siempre me servían de enseñanza y los aceptaba con humildad porque eran bien enfundados.
Así le tome mucho cariño a la plataforma y me fui acostumbrando a publicar; el quedarme sin el servicio de internet fue catastrófico, pues sentía que al no estar activo en el free corría el riego de perder el terreno, la trayectoria y el respeto que me había ganado en este maravilloso mundo, fueron noches de pensadera y tristeza, ya con el tiempo me fui curando ya que ni esperanza de solventar mi problema con el internet tenia por las diligencias burocráticas que había que hacer, hace unos días por fin recibí una llamada de los técnicos que iban a mi casa a solventar la problemática y están trabajando al punto tal que ya dieron fecha del restablecimiento del servicio, en este sentido me siento contento y pensé; ¿Como, cuando y donde puedo regresar? sencillo, la comunidad de @aliento desde mi perspectiva, por su nombre, es motivo de inspiración y es alli mi motivación de empezar desde aquí anunciando que pronto estaré de regreso, con las mismas ganas del primer día, dispuesto a seguir aprendiendo, aceptando las observaciones y consejos con humildad.
No queda más que prepararme y adaptarme a las nuevas exigencias que pueda tener el sistema, tratare de innovar con respecto al pasado, ser más creativo e interactuar constantemente, en esta nueva etapa buscare tener más seguidores y explorar otras comunidades para no quedarme solo en una temática, buscare temas de impacto para el desarrollo de nuevas actividades; queda mucho que hacer pronto estaré de regreso con todos ustedes. Saludos, éxitos y bendiciones.
Hello dear friends of this prestigious platform, receive as always a greeting and hug from the distance from this server @ovelperez82, it is an infinite honor to post in this opportunity in the community of @aliento, in order to prepare my soon return to this wonderful world.
During my absence I have noticed that many things have changed and communities have been growing with a lot of new users or members, which fills me with joy and satisfaction, because that motivates one to not stay idle. My last audiovisual publication was made three months ago through my channel @threespek for the community of @fulldeportes on that occasion I titled it "Empañado por deudas el futbol venezolano" it was a content that received good support to the point that it has been my publication of greater reward, at that time I thought I should continue improving and so I proposed it, only with the bad luck for me that my internet service suffered a breakdown and I had to report it to the company in charge, as indeed I did; everything became an odyssey because I did a series of procedures, complaints and diligences to solve the situation and I never got any answer or solution. Eventually a neighbor gave me a wifi key and I was able to make some written content for the same community, I did them in writing because when I tried to mount a video of at least 12 contents during that time the signal was slow and spent hours to upload, then the signal only gave me to see and comment on some post.
Since my arrival to Hive in June 2022 I have been learning many things and I have grown fond of it, more than a reward is because here one grows personally, professionally and economically. In my case when a publication was not rewarded as I expected, that pushed me to improve, likewise when I got good results I wanted to go for more; @fermionico's comments when correcting and guiding me always served me as a teaching and I accepted them with humility because they were well sheathed.
So I became very fond of the platform and I got used to publish; I felt that by not being active in the free I was running the risk of losing the land, the trajectory and the respect I had earned in this wonderful world, they were nights of thought and sadness, I finally received a call a few days ago from the technicians who were going to my house to solve the problem and they are working to the point that they have already given a date for the reestablishment of the service, in this sense I feel happy and I thought; How, when and where can I go back? simple, the community of @aliento from my perspective, by name, is a source of inspiration and that is my motivation to start from here announcing that soon I will be back, with the same desire of the first day, ready to continue learning, accepting the observations and advice with humility.
There is nothing left but to prepare myself and adapt to the new demands that the system may have, I will try to innovate with respect to the past, be more creative and interact constantly, in this new stage I will seek to have more followers and explore other communities to not stay only in a thematic, I will look for topics of impact for the development of new activities; there is much to do soon I will be back with all of you. Greetings, success and blessings.