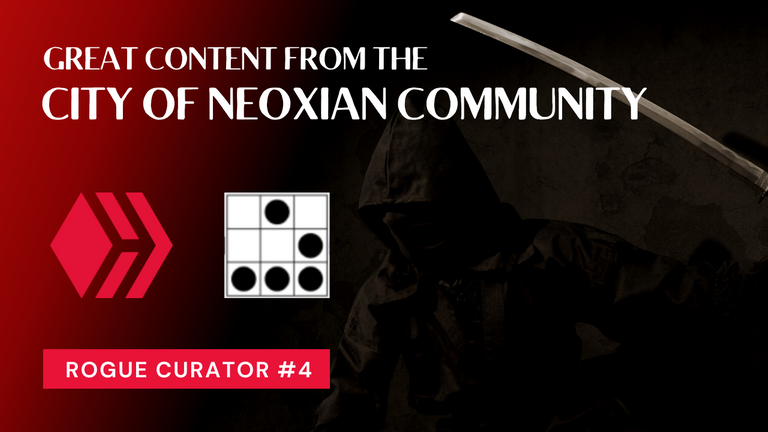 Welcome back to another Rogue Curator!
With the recent release of Curated Collections, I've decided to start utilizing the feature for this series, and any other curation articles I write in the future!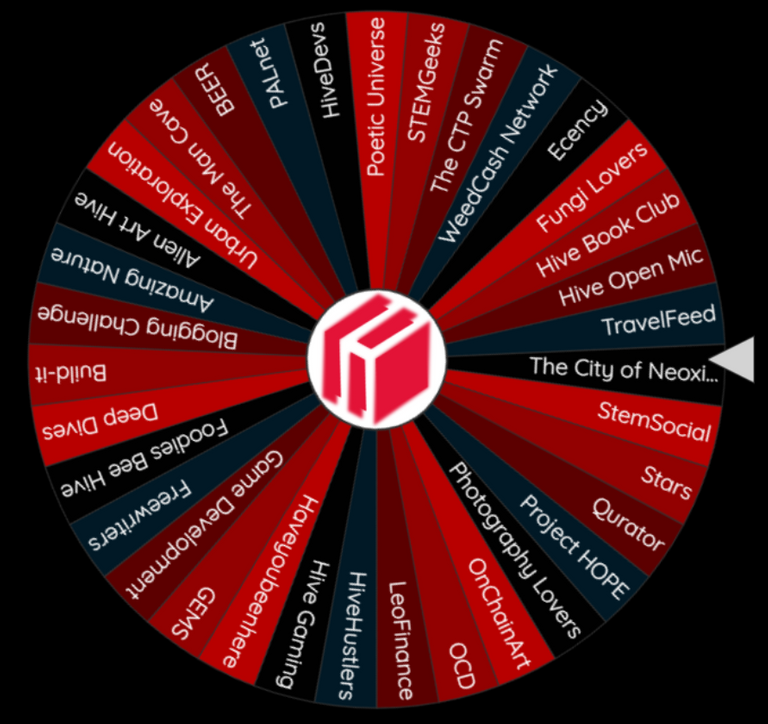 Nothing else will change about the series other than the format. The five authors I curate in these posts will still receive 10% of the rewards each as usual.
I believe the Curated Collections feature could be a game-changer in many different ways for the wide range of content creators, curators, and entrepreneurs we have here on Hive! (I'll be writing a post about exactly that very soon after this post is published 😉)
My wheel of names chose The City of Neoxian for my fourth rogue curation, so it's time to don my gear and find some great content!

Neoxian is a "general purpose" community that acts as a virtual city of sorts. They have a ton of stuff going on within the community, and new members are encouraged to get comfortable and even find a way to contribute to the city in their own way!
They produce a "weekly newspaper" that keeps all community members updated on current events and promotions within the community and features its own official curation of recent content.
https://peakd.com/hive-177682/@neoxiancity/neoxian-city-weekly-paper-2021-05-09
They also have their own Hive frontend over at neoxian.city where you can earn Neoxian Silver! You can always just use the #neoxian tag on your posts to have them included, but you'll receive 20% less of their NEOXAG tokens...
From a community mining pool, Splinterlands guild, a Minecraft server, and way more, The City of Neoxian is a great community for anyone looking for a new home or interested in making lasting connections here on the blockchain!
So without further ado, let's get to the curation!

How are you creative?
@mrrpiusz shared a post talking about a new creative NFT competition hosted by Trustworks and ADOR...
https://peakd.com/hive-177682/@mrrpiusz/trustworks-partners-with-ador-to-launch-the-orgasmic-chakra-nft-expo-and-treasure-hunt
I'll admit the name sort of caught me off guard, but reading through I learned that "orgasmic chakra refers to the most enjoyable journey of self-exploration"
If you're an artist, there's apparently a $50,000 prize pool for the competition, and @mrrpiusz's post provides plenty of information and links to learn more!

What is your definition of success?
Does it apply to you, or is your definition of success based on the achievements of others? In this post, @mrhaldar talks about how we're all different, and how success for one may not be what's best for another.
https://peakd.com/hive-177682/@mrhaldar/not-just-better-than-anyone-be-the-best-you-can-be-qt4rge
Defining our own success by what someone else has done can cause unnecessary stress and as long as you're doing your best, you're successful in your own way. Focus on being the best you and everything else will fall into place.

Do you face confrontation head on?
@winniekal is apparently having trouble with a coworker in her office and may not be able to ignore it for much longer...
https://peakd.com/hive-177682/@winniekal/is-it-not-better-to-lock-horns-together-once-a-while
She asks if you were in her situation, would you confront someone who was spreading rumors about you around the office, or would you let it go?

Do you play Splinterlands?
@xawi does! Not only does she play Splinterlands, she also writes fun entries for the weekly 'Share your Battle' challenge!
https://peakd.com/hive-177682/@xawi/silver-shield-bard-super-cute-card-of-the-life-splinter
I love that she makes a joke about @carrieallen choosing herself for this weeks challenge 🤣 The post itself is laid out very well with tons of flair and effort.

Have you heard of Cointiply?
@cryptorange wrote a pretty detailed post about the platform that offers users the ability to earn free Bitcoin or DOGE by claiming from their faucet, completing surveys, playing games and more!
https://peakd.com/hive-177682/@cryptorange/5a8jsl-earn-bitcoin-or-doge-with-cointiply-or-boost-for-countries-with-low-wages
I chose this post because I have personally used Cointiply for years and agree that it is hands down one of the very best places to earn free crypto! While the money may just be a few extra bucks for someone in America like myself, the amount of crypto one can earn on this platform could definitely be a life-changer for someone in other parts of the world.

I enjoy a good challenge!
In case you didn't notice, most of the content featured here comes from non-native English speakers, but it's the thought that counts. Ignoring the occasional error in spelling or grammar, I believe these posts are the cream of the Neoxian crop this week.
As I stated in the beginning of this post, I will continue to utilize the Curated Content Collections feature moving forward with this series simply for the way it makes it easy to organize and showcase content.
I'm thinking about starting to curate ten posts/authors per curation article, but that may wholly depend on the amount of activity within the community my wheel of names chooses for me.
Visit The City of Neoxian and check out some of the other great content being posted by authors all over the world!

Thanks again for reading! Now go do something awesome!