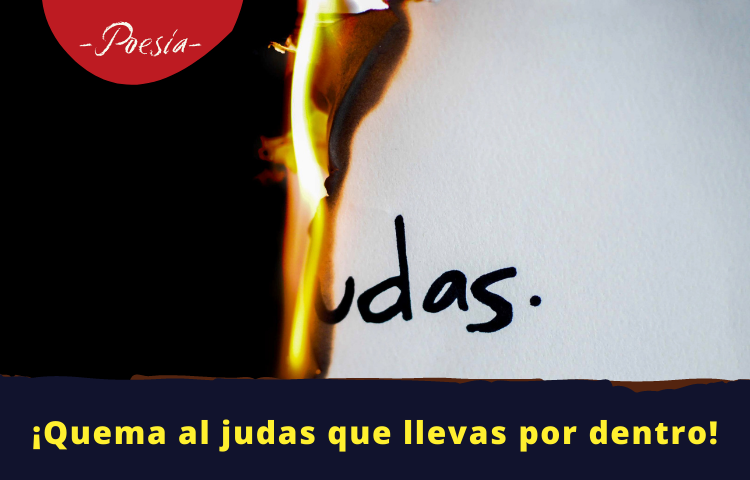 Portada hecha con editor canva
Cover made with editor canva

░░░ ENGLISH VERSION ░░░
░░░ VERSION ESPAÑOL ░░░

Holaa, Peladiente. 🔥🔥


Today you burned a lot of Judas
but you forgot something
something quite important
that you should not have overlooked
and that is that you should have
Burn the Judas inside you!


Why are you getting so excited?
I haven't set you on fire yet....
I only gave you a glimpse
of something you left half done
because you know that if you do it
your soul dies...


Let's take off our masks!
you've got your soul in shit
full of mites, crows and worms
devoid of beauty
without a phoenix or a dragonfly inside.


You don't have to feel attacked
we both know you'd sell your soul to the devil
or anyone's soul
including your mother's
for three pennies.


You don't know friendship from the heart
love in all its splendor
the greatness of beauty
the abundance of doing good things
you only know how to hurt without forgiveness
take a piece of advice
Burn the Judas inside you!


Thanks for reading me... ❤️ See you in the next post of Malomi TV 🤗


Oyeee!!! before I forget, coming soon on Blogger and other platform pending 😃


Hoy quemaste a muchos judas
pero se te olvido algo
algo bastante importante
que no se te debió pasar por alto
y es que debiste
¡Quemar al Judas que llevas por dentro!
¿Por qué te exaltas?
Si aún no te he prendido en llamas...
solo te asomé la idea
de algo que dejaste a medias
porque sabes que si lo haces
muere tu alma...
¡Vamos a quitarnos las máscaras!
tú tienes tu alma echa mierda
llena de ácaros, cuervos y gusanos
carente de belleza
sin un ave fénix ni una libélula interna.
No tienes por qué sentirte atacado
ambos sabemos que venderías tu alma al diablo
o el alma de cualquiera
incluyendo la de tu madre
por tres piches centavos.
Tú no conoces la amistad de corazón
el amor en todo su esplendor
la grandeza de la belleza
la abundancia por hacer cosas buenas
tú solo sabes lastimar sin perdón
toma un consejo
¡Quema al judas que llevas por dentro!


Gracias por leerme… ❤️ Nos vemos en el próximo post de Malomi TV 🤗


Oyeee!! antes que se me olvide, próximamente en Blogger y otras plataforma pendiente 😃
---
---
---
❤ IMPORTANTE ❤ // ❤ IMPORTANT ❤
Hoy quiero dedicar este poesia a las personas que han sufrido una traicion, de personas que solo conocen la deslealtad y la hipocresia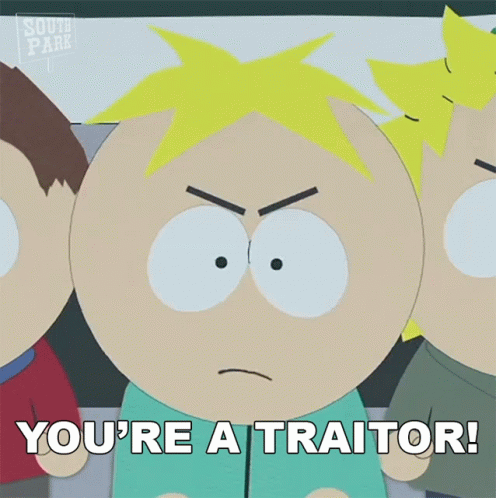 Today I want to dedicate this poem to the people who have suffered a betrayal, from people who only know disloyalty and hypocrisy
---
---
🔥🔥🔥🔥🔥🔥🔥🔥🔥🔥🔥🔥🔥🔥
¿Sabías que el último domingo de Semana Santa en muchas regiones de Venezuela, las personas se reúnen para crear un muñeco de trapos, tela y relleno, simulando a judas o algún personaje con actitud de traidor y a las 6:00 pm quema dicho muñeco?
Did you know that on the last Sunday of Holy Week in many regions of Venezuela, people get together to create a doll of rags, cloth and stuffing, simulating Judas or some character with the attitude of a traitor and at 6:00 pm they burn the doll?
🔥🔥🔥🔥🔥🔥🔥🔥🔥🔥🔥🔥🔥🔥🔥
---
---
Note:
⭐️ Translated with www.DeepL.com/Translator (free version)
⭐️ La redacción y diseños son propiedad exclusivamente de @malomitv, cualquier uso externo, debe ser notificado a mi persona.
⭐️ Los GIF son propiedad de la galería de #peakd
---
---
---
❤️ Conoce mis otras publicaciones/Get to know my other posts:
✔️ENTRA AQUÍ TE VA A ENCANTAR 😍
---
---
---
---
😀 Si quieres conocer más sobre mí, visítame en mis otras publicaciones en HIVE BLOG, en TWITTER, en Instagram como MALOMI TV y próximamente en Blogger
😀 If you want to know more about me, visit me on my other posts on HIVE BLOG, on TWITTER, on Instagram as MALOMI TV and soon on Blogger.