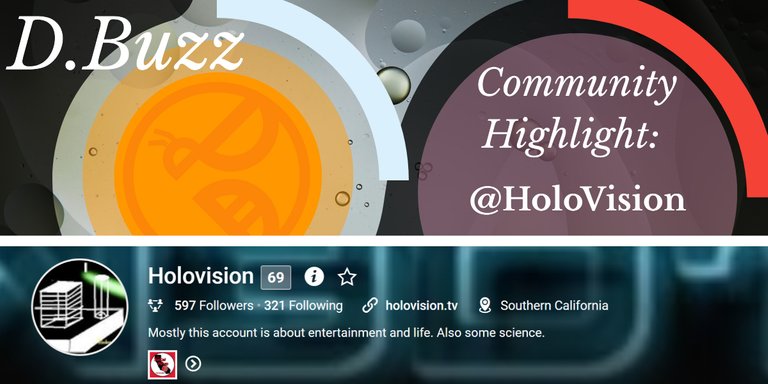 ---
D.Buzz Community Highlight of the week
@holovision
---
Hey Gals and Guys
It's that time of the week when we take our spotlight, and we shine it at somebody who is particularly awesome.
We like to believe that D.Buzz is more than just a Dapp; it's a community. It is a community of people with a passion for Crypto, a passion for censorship-resistant content, engagement, and a passion for spreading their message.
---
We see you, and we love you all.
---
To give back and express our thanks, every Thursday we will highlight someone from our community in a post across social media. They will be listed as a 50% beneficiary in the post as a way to say thanks!
---
Today, We would like to highlight @holovision!

---
Hidden deep within the layer of volcano cave, or at least that is what the crew over here at D.Buzz believes, @holovision Brings us daily sources of amusement and entertainment while speculation about what his evil plans might be, Inspired us to nominate this person for our community highlight.
@holovision, Has been a member of D.Buzz For over a month now. In this time they have posted every day, commented, and left votes for their fellow Buzz-izens.
On top of being an active community member @holovision keeps posting original and interesting content to make us smile. I would be amidst also if I did not mention that we here at D.Buzz are a bit concerned about @holovision web pages, madscientist.eth and evilgenius.eth ... So if you take over the world @holovision, Perhaps give us a small island, or at least help promote HIVE to your new legions of followers ok? :D
It is with the smiles and interesting content that we appreciate you. Keeping being an awesome person @holovision!
Much love,
Your Friends over at D.BUZZ
---
Do you have someone you feel we should highlight?
Post their name below and the reason why, and we may highlight them. :D
---
Community Highlights
Wall of Fame
---
---
Over and out.
---
---
Is a censorship-resistant short form microblogging platform that empowers you to share your thoughts in 280 characters or less.
Censorship resistant and built for the community with love.
---
We strive to have a fun and neutral stance on topics. If you have any concerns with the content, please contact @jacuzzi, who writes and generates the content for our articles, or the @dbuzz team for clarification.
---


---