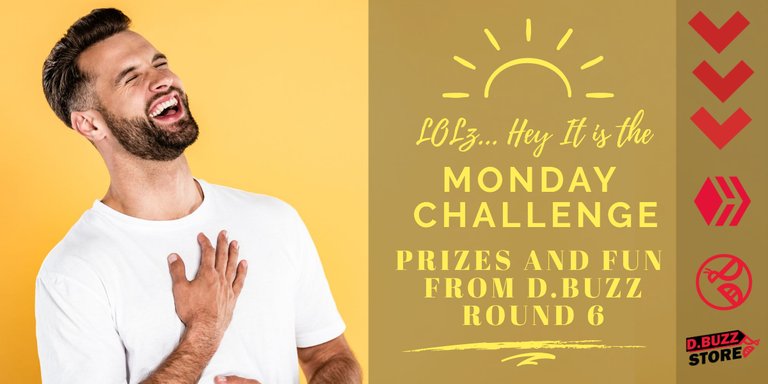 Monday Challenges >> Prizes and Fun from D.Buzz (ROUND 6)
---
Hello guys and gals,
Welcome to the last Monday of July 2020 (Thank God lol)! This year has been a roller coaster of ups and downs, but we were getting through this together.
We may not say it often; however, we here at D.Buzz send you our best wishes to stay healthy and keep fighting during these difficult times.
One of the best cures for hardship is laughter—this interesting article from the Mayo Clinic talks about that very topic ( https://www.mayoclinic.org/healthy-lifestyle/stress-management/in-depth/stress-relief/art-20044456 ).
Laughter is what brings us to our challenge for today. However, before diving into our weekly challenge, let us announce the winner of last week's D.Buzz Monday challenge!!
We had two valid entries.
https://d.buzz/post/godlovermel25/3n2ishw3ydv8t6d
https://d.buzz/post/iamraincrystal/gvxkjibku4q7c6c
This winner for this week is :
WOOP WOOP!! Congratulations!!!
On to the new week!
---
The challenge for today and the rules:
Monday the 27th challenge:
For the 6th challenge, it is super simple and super fun.
We challenge you to tell your best "dad" joke on D.Buzz
Example:
(Q) When does a joke become a Dad joke?
(A) When it becomes apparent! Lol get it... (A parent, like they have a child and that joke is now a parent but, its also apparent... Lolz)
Post the link below in the comments for your chance to win! (*apparent...hahahahah)
Rules:
Login to D.Buzz to post a Buzz with your entry, and include a link to this post.
Use the hashtag #DBuzzMondays
After six days (Next Monday, at some point), we will select a winner from all valid entries.
We will then make an announcement post on the following Monday and Tag you.
You will have 14 days to contact us on Discord or Facebook to claim your prize! (We need to know what shirt/mug you want and where to send it. :) )
No, follow, or upvote required to play.
What is the prize?
Any product from our store:
https://dbuzz.store/
What if I can't get the product shipped to me as I have given up material goods to live a life of isolation in a cave on the mountaintop? Well... I'm curious why you kept your computer, But contact us, we can see about sorting out another fun prize for you!
Questions? Concerns? Comments?
Just Post below.
Thank you, and have a great week!
D.Buzz over and out.
---
---
Do you know what D.Buzz is?
D.Buzz is a censorship-resistant short form microblogging platform that empowers you to share your thoughts in 280 characters or less.
If you haven't tried it, give it a buzz today!
Vote for @dbuzz witness via HiveSigner: HiveSigner.com
Search for @dbuzz witness at

Hive.blog / https://wallet.hive.blog/~witnesses
@jacuzzi is the content creator of the graphics and text in this article. We strive to have a fun and neutral stance on topics. If you have any concerns with the content, please contact @jacuzzi or us for clarification.
---

---