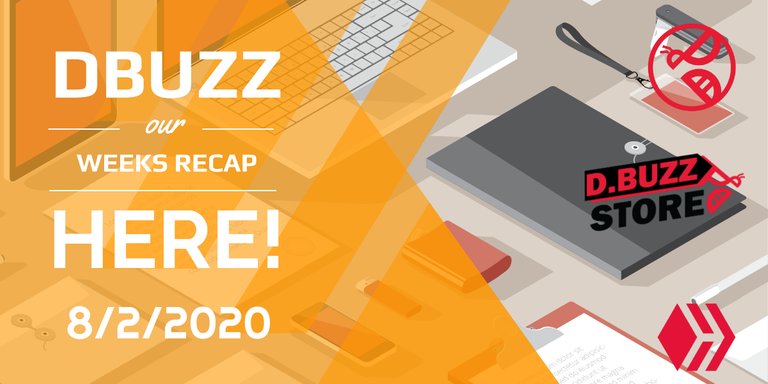 Recap of this Week's Posts by D.Buzz (8/2/2020)
Hey guys and gals,
Sunday Sunday Sunday! It seems like only seven days ago I was writing about Sunday, my how time flies when your under quarantine. :)
Seriously though the full D.Buzz team here hopes you are staying safe and healthy. It's easy to start feeling down, or disheartened. It's okay for a moment to feel this way, however remember good things are coming, this is not going to be forever! Stay strong, stay vigilant!
One of the ways I like to stay focused and motivated is by posting every day on HIVE and on D.Buzz. This is my cathodic exercise every day to keep me in check. :)
In case you missed D.Buzz posts from the previous week, below is our recap of the week.
---
Monday
Our Monday challenge! This will be the last week were running the Monday challenge where you can wear a product from our store. Starting tomorrow, were going to be transitioning the Monday challenge to the requested model of win 15 HIVE from your engagement! So enter today a chance to win a T-shirt!
Read it here:
---
Tuesday
Our weekly update about what our coding wizards are cooking up on their computer screens. This week it was re-factoring!
Read it here:
---
Wednesday
This is normally the day in the week that we roll out our new T-shirt designs. However, our T-shirt print on demand company is experiencing hardships due to the COVID-19 pandemic, As such we cannot upload our new T-shirts designs yet... But we have three new designs waiting to go as soon as we can upload them. Thank you for understanding.
Read it here:
(* MIA - Not right now... :( sorry )
---
Thursday
Our community highlight this week we looked at awesome contributor to the block chain by name of @d-zero . @d-zero is an example of a prolific blogger and HIVE user. You should add them today as a friend.
---
Friday
For our project spotlight of the week we checked out The censorship resistant video hosting platform known as 3Speak. This platform allows you to host video content and monetize it on the HIVE Block chain. WIN!
Read it here:
---
Saturday
Round Episode six of the Golden buzz awards! With over 100 Hive given out to date, were not stopping anytime soon. Jump on in and perhaps win some HOT HIVE!
Read it here:
---
Thanks for being an active reader here on our blog.
As we move forward, we aim to build a strong community.
If you have any suggestions on what we can do better, please let us know.
See you all Monday!
The DBUZZ team.
D.Buzz over and out.
---
---
Do you know what D.Buzz is?
D.Buzz is a censorship-resistant short form microblogging platform that empowers you to share your thoughts in 280 characters or less.
If you haven't tried it, give it a buzz today!
Vote for @dbuzz witness via HiveSigner: HiveSigner.com
Search for @dbuzz witness at

Hive.blog / https://wallet.hive.blog/~witnesses
@jacuzzi is the content creator of the graphics and text in this article. We strive to have a fun and neutral stance on topics. If you have any concerns with the content, please contact @jacuzzi or us for clarification.
---

---