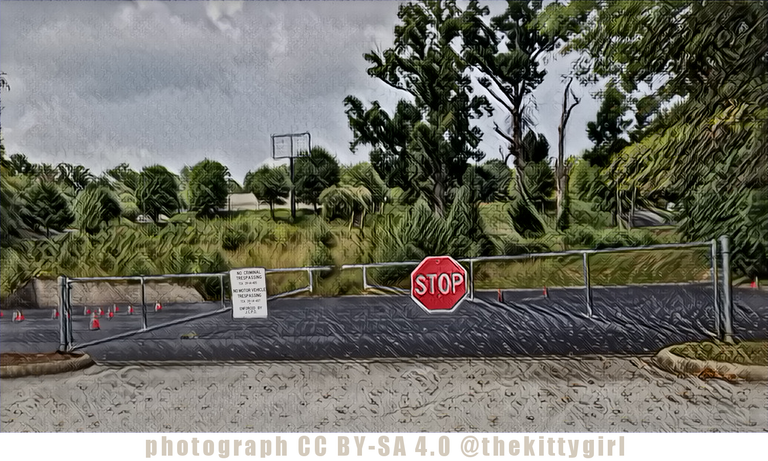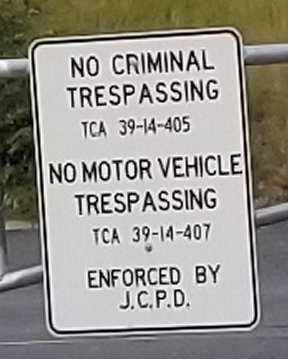 The wording on this sign is so bizarre, in my humble opinion. "No Trespassing" means that someone is not allowed on the land without the owner's consent. So, what exactly is
criminal trespassing
...? Trespassing while one is a criminal...? So, presumably if one is not a criminal, then trespassing is allowed...? 😜
I went to the Tennessee State Code to see if any explanation might be forthcoming, but it was not, of course!
A person commits criminal trespass if the person enters or remains on property, or any portion of property, without the consent of the owner. [source]
So, we have no clue, then, what the difference might be between "trespassing" and "criminal trespassing." 🤔 Of course, the other part of the sign is clear: "No Motor Vehicle Trespassing" means that while you are in the building, your unattended vehicle better not pop-itself out-of-gear and roll through the gate or it could be charged for "Motor Vehicle Trespassing!" 😱
Along the lines of strange laws, I have heard some weird things in the past few years. Once upon a time, if someone used a gun to rob a bank, they were charged with "Armed Robbery" and prosecuted. Nowadays, however, they are charged with "Armed Robbery" PLUS "Possession of a Firearm During a Robbery" (as if someone could commit Armed Robbery without a firearm). 🙄
Have you seen any unusual signage where you live?

 😊





to learn more about either of these projects, please visit: @heyhaveyamet or @theterminal

20-Sep-2020