Update: Contest is now closed and not accepting any new entries. Further updates will be provided shortly.
I am pleased to announce DeFi Campus inaugural writing contest in collaboration and sponsored by the Project HOPE and HODL communities! Without further ado, let me jump into the details.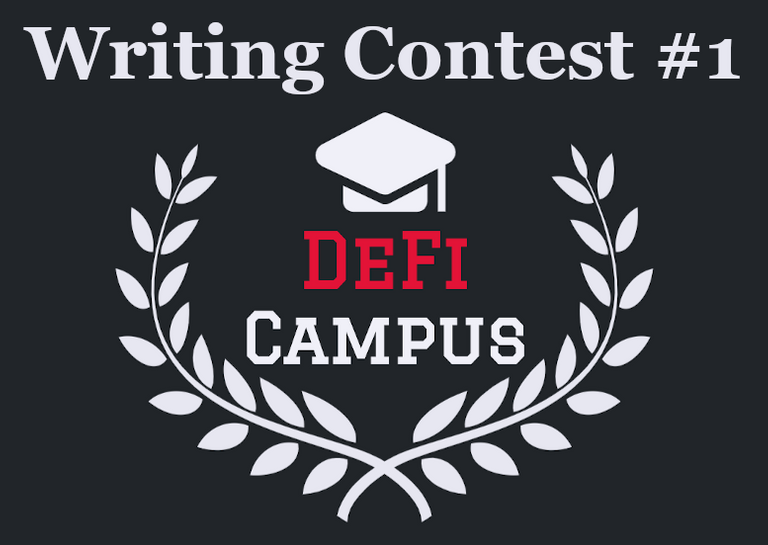 ---
Contest Topic
Write a post of at least 350 words with the following topic,
What is DeFi and how is it different from traditional finance?
A few ideas to get you started,
Read some of the older posts in DeFi Campus.
Head over to DeFi Prime, take a look a few projects and understand what problems they are trying to solve.
Share some of your DeFi experience if any.
---
Entry Submission Date and Rules
Your entry must:
Be submitted between 20th June 2020, 11AM and 24th June 2020, 11AM (Singapore Time, UTC+8);
Contain the #defi-campus-contest and #defi tag;
Be posted to either DeFi Campus OR Project HOPE OR HODL community;
Be at least 350 words (only content body will be counted);
Be reasonably original (no plagiarism).
You can leave a comment here with your entry to help us find your post.
---
Judges and Judging Criteria
@vlemon and myself (@culgin) will be the judges for this contest. We will be judging based on the following criteria:
Originality
Fluency
Ability to grasp/convey the idea of DeFi
Bonus: Active participation by commenting and supporting (rehive & voting for) other entries
---
Prizes and Rewards
Liquid HIVE rewards:
1st place = 15 HIVE
2nd place = 10 HIVE
3rd place = 5 HIVE
In addition, top 3 entries will also receive full upvotes from Project HOPE and HODL with a total worth of approximately $5 - $10 (which should translate to about 10 - 20 HIVE of author rewards)!
Participation rewards:
First 30 entries that are submitted (chronologically) will be rewarded with 1 HIVE each
If there are less than 30 entries in total, Hivers who re-hive this contest post will get a chance to win 1 HIVE through a random lucky draw.
---
Leave a comment to this announcement post if you have any further questions. Thanks and I look forward to your participation 😁
---
This article is created on the Hive blockchain, an immutable and censorship-resistant content platform.
5% of post rewards goes to @peakd to support this amazing project and the remaining goes to @defi.campus to support the community.