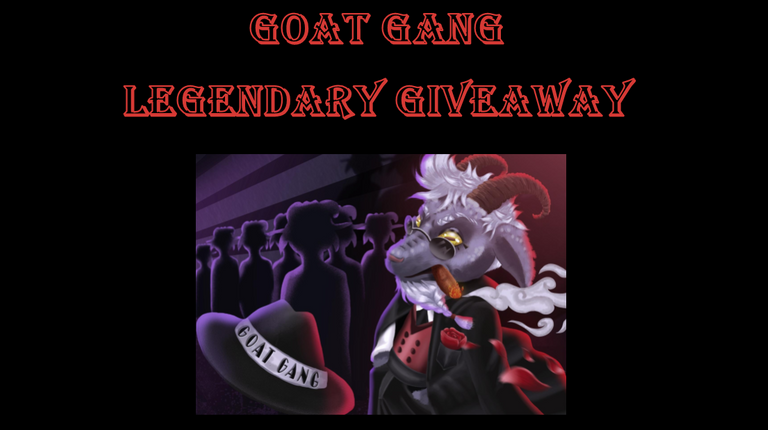 GOAT GANG invites you to come and take part in our weekly legendary giveaway!
Have you ever imagined how human kind has survived for so long? Have you ever given a thought to how the world has advanced so much? The answer to all these questions is down below-
From time immemorial there have been people with talent, skill, special abilities, innovative and strategic minds who have been pushing the world forward. It wouldn't be wrong to categorize them as GOAT - "Greatest Of All Time". Every era has people like them. They work behind the scenes, contributing towards the advancement of their generation.
We have now entered the era of gaming and we call upon all the GOATs of this time. Players who think they are great or have the potential to become great if given the right direction and opportunity come join the GOAT GANG.
Join GOAT GANG by clicking HERE

ROBO-DRAGON KNIGHT is a beast of a card! I have been using it a lot and I hope it will come in handy to whoever wins it. Use it as your tank and win your match.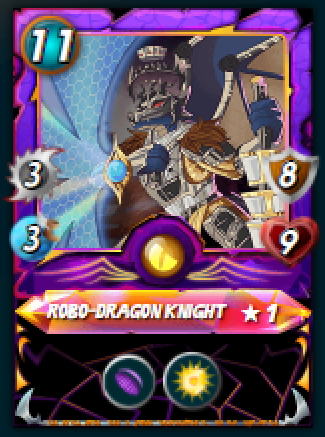 Follow us on our social networks so you can keep up to date with everything that is coming... Giveaways, contests, surprises, etc

Leave a comment with your Splinterlands username.

Join the GOAT GANG HERE


OFFICIAL DISCORD
Join the very helpful community of Splinterlands on discord here - https://discord.gg/ztBFFUz

OFFICIAL TELEGRAM
Interested in daily giveaways and want to connect with more splinterlands players? join the official splinterlands telegram here- https://t.me/splinterlandsHQ

JOIN THE GAME
If you haven't joined the game yet then what are you waiting for? Come play Splinterlands, the best crypto game out there, where you play to earn : https://splinterlands.com?ref=blackheart1

Do check out my previous posts on:
The various game modes of the splinterlands:
https://peakd.com/splinterlands/@blackheart1/game-modes-and-basic-strategies-2-0

What Neutrals to buy:
https://peakd.com/splinterlands/@blackheart1/what-to-buy-a-beginner-s-guide-neutrals


The winner of my last LEGENDARY GIVEAWAY which was a OAKEN BEHEMOTH is.....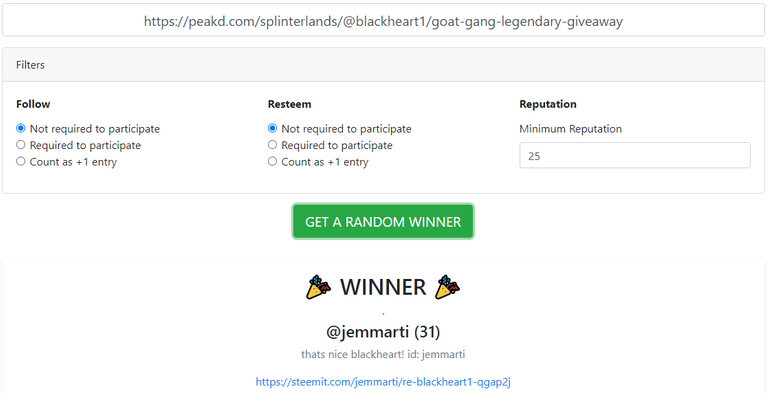 We are the greatest of all times (GOATs). And whatever we do, it's always the best and we call it "GOATNG".
So what are you waiting for? Come join the gathering of players who can easily be classified as GOATs - "Greatest Of All Times".
...


---