I'm kicking off the (almost) new year with a (small but) new Hive curation initiative!
Over the past week, I'd written what turned out to be a really long post about my ideas for this, including the story of how I (@traciyork) "met" @starkerz at @hivefest (and since my mic didn't work, all I could do was emoji at him - luckily @hivetrending was there to interpret...lol... but I digress). However I decided that instead, short and sweet might be the better route to go. But please feel free to shout out if there's anything you'd like me to explain in more detail.
So suffice to say, that while there are tons of awesome curation accounts out there (@curangel, @acidyo / @ocd, and the new @aliento come to mind), I've decided to jump in the mix in my own way. I've had a bunch of ideas for this account since I created it back in June (after creating the Twitter account on the same day Hive was born). Now seems to be the perfect time to put one of those ideas into action, especially since @eddiespino has set up a small curation trail with @starkerz, @theycallmedan, and a handful of others from the @threespeak crew to help give it a bit of a boost.
The Four Basic Points (aka Phase One)
1. Share your Hive content to Twitter
As I said in my first tweet on the HBS account, "To celebrate the new #Hive #Blockchain, here's a new hash tag! Use #HiveBlogShare when sharing posts from @hiveblocks & related Dapps. Follow the tag to find friends (old & new) and share their stuff. Let's show the world what our content creators have to offer!"
This is something I've already been doing since I created the account. On an almost daily basis, I go through the feed on the HBS account and like/RT the content with my tags. There are a few exceptions -
I won't RT anything related to scams/spam (unless, of course, it's warning about them).
If you include certain tags (like St33m or St33mit), I'm probably going to pass on sharing it.
 
The first thing is pretty self explanatory. As for the second, I understand there are some out there who are posting content on both blockchains, and that's obviously their prerogative. It's also mine to not support crossposted content, especially when there's so much amazing Hive exclusive content to chose from. I only mention it because I've seen a number of people recently tagging me in tweets with those tags, so I thought it was worth clarifying here.
3. Well crafted tweets might get a Hive reblog & upvote from @traciyork
My upvote isn't huge, but I'd really like to start supporting more people outside of my usual circle of suspects... I mean, friends... 😂
And what do I mean about, "well crafted tweets"?
Twitter is like the ultimate elevator pitch for your content. If you want to get more eyes on your stuff, from Hive and non-Hive folks alike, you need to draw people in with your tweet. Your post link followed by a list of handles of people with big upvotes usually won't result in those same people clicking over to your blog, and isn't going to attract actual readers/viewers to your content.
For example, check out these two tweets from @plantstoplanks -
She's a #WordPress blogger (like me), so she sets up the first tweet to get attention from the vegan blogging community on Twitter. Then she follows with this second tweet -
Notice how she makes it conversational, and tags relevant things that aren't Hive-centric? Then at the end, there are a couple of Hive account tags which make sense, given the content she's sharing. These are the kinds of tweets that make my twittering heart happy to see!
4. The Hive content in the best two tweets each day will get a Hive reblog & upvote from @hiveblogshare
Each day I'll be on the lookout for those tweets that catch my attention, and if the Hive post does as well, I'll upvote & reblog it on my personal account. When I'm done for the day, I'll go through and decide which two of those could use an extra little boost from the Hive Blog Share trail. I might tweak this a bit as I go, but for now that seems the easiest way to do it.
Phase Two
As I said, I have lots of ideas where to go from here, including a plan in case Twitter decides to nuke my account(s), and how I want to start onboarding my WordPress blogging friends (especially since this handle was inspired by a couple of those accounts). However, I think this is a good starting point, and I'll be sure to shout out if/when there are any changes. Speaking of, please feel free to shout out with any comments or suggestions either here or on Twitter - I'm almost always happy to listen!
 
TL;DR
Share Hive content to Twitter & tag @HiveBlogShare / #HiveBlogShare
Most tweets with those tags will be ❤️ed & RTed
Well crafted tweets might have the Hive content reblogged & upvoted by @traciyork
Best 2 tweets/posts of the day will have Hive content upvoted by @hiveblogshare & trail
Happy Twittering & Hiving!
If anyone needs me, I'll be...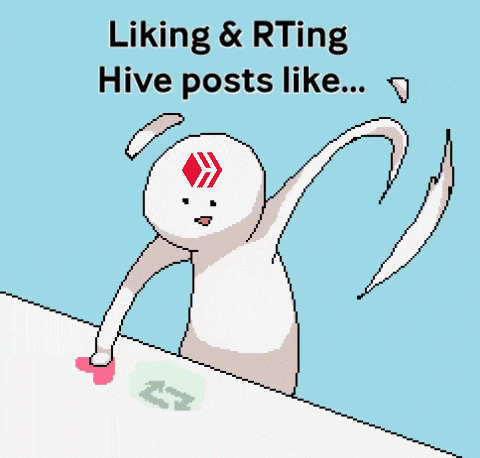 ~ Traci, aka @traciyork & @TraciYorkWriter
Image Credits: blog thumbnail created on Canva, GIF created using both Giphy and ezGIF.