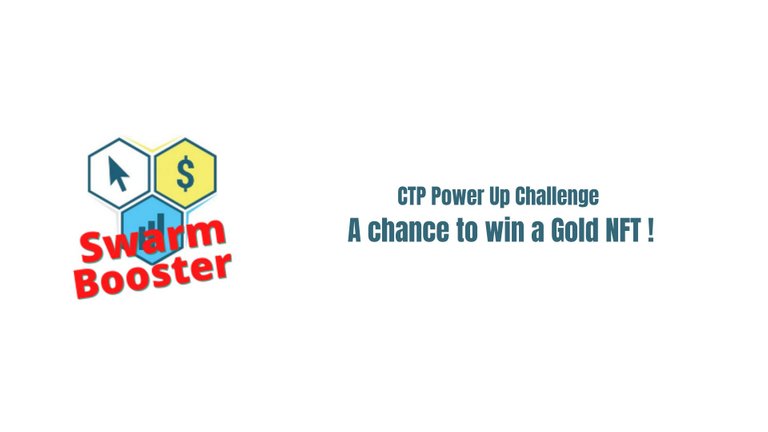 If you have taken part in the 6th edition of the CTP power up challenge, you have now the chance to win an additional CTPSB Gold NFT. The 3rd placed in the challenge @wazock has decided that he would put his prize back into the pool.

So I thought that the best way to that would be to make a little contest among all the participants of the challenge.
Who can take part?
Everybody who was ranked in the CTP power up challenge and had staked at least 100 CTP tokens, namely the following people:
@beststart
@gurseerat
@ph1102.ctp
@harpreetjanda
@alokkumar121.ctp
@saachi
@steem82868
@successchar
@rzc24-nftbbg
@thisismylife
@imfarhad
@darmst5339
@yeckingo1
@mypathtofire
@jfang003
@dkid14
@gadrian
@hirohurl
@reeta0119
@idiosyncratic1
@ifarmgirl
@rtonline
@chaosmagic23
@ijat
@marvinix
@steemmillionaire
How to take part?
Simply write a comment below this post with your Wax username. If you have no Wax account yet, you can create a free one here
On Tuesday 30th of August at 11h00 CET, I will then pull one person randomly as the winner of the Gold NFT. You need to enter your comment before that!
What's the use of these NFT's
The Silver and Gold NFT's can be blended. You need 2 Silver NFT's to get one Gold NFT and 5 Gold NFT's to get one collector NFT. If you own one collector NFT you will get weekly payouts in the form of CTPSB tokens.
Learn more about it here
---
Learn more about the CTP Swarm Booster: