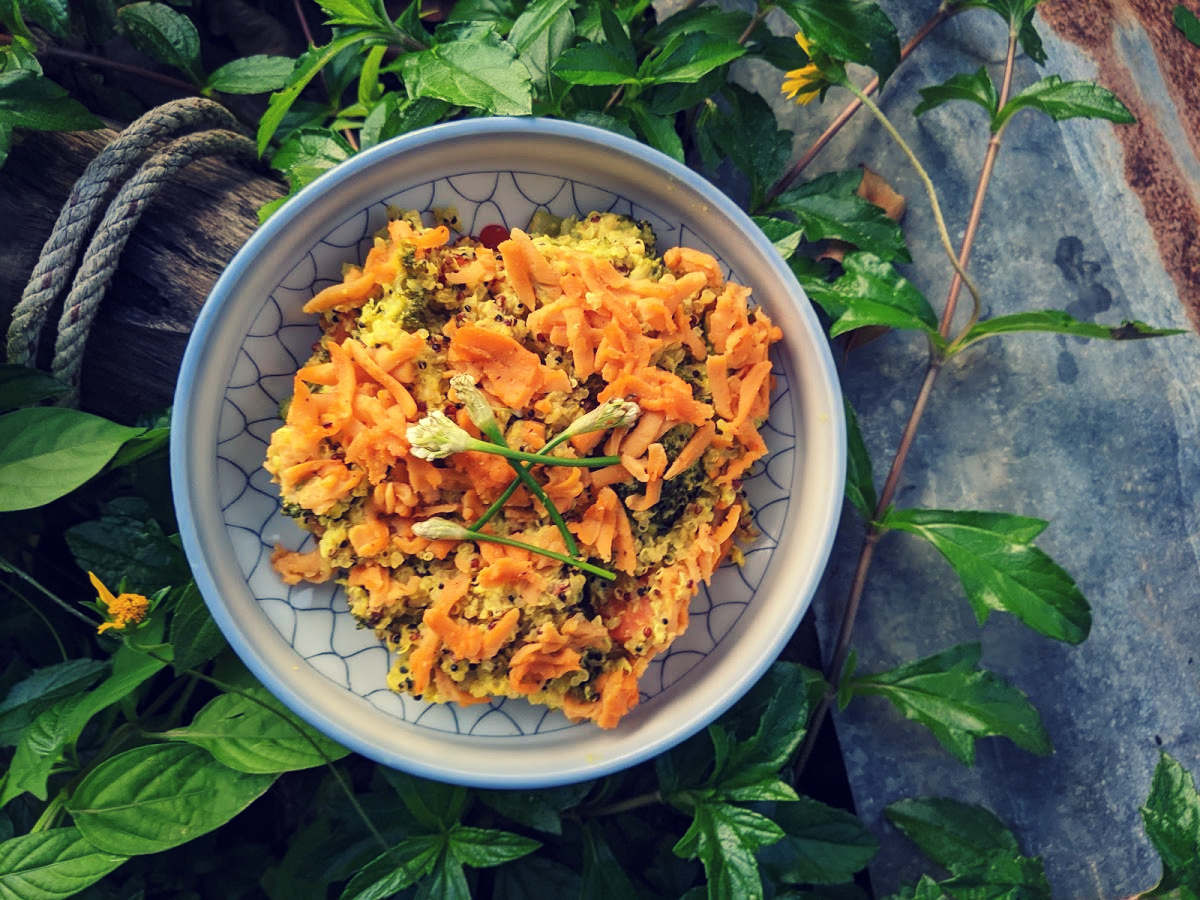 A gloomy morning on my side of the world. In the last few days, we finally got some much-needed rain. Though the rainy season should be going towards the end, this year it never really started.
Not good for all the rice farmers out here. Though we are no rice lovers, Cambodia, just like any other Asian country, really depends on rice. They have rice for breakfast, lunch, and dinner. And many sweet treats or savory snacks are made with rice too.
Not sure what's going to happen if the harvest doesn't turn out great. Though we might not have any issues with corona, poor rice harvest might lead to hunger and money issues for many families. Let's hope it doesn't come to that.
How are you all holding up it one of the strangest years I have experienced so far?
CHEESY TURMERIC QUINOA CASSEROLE
---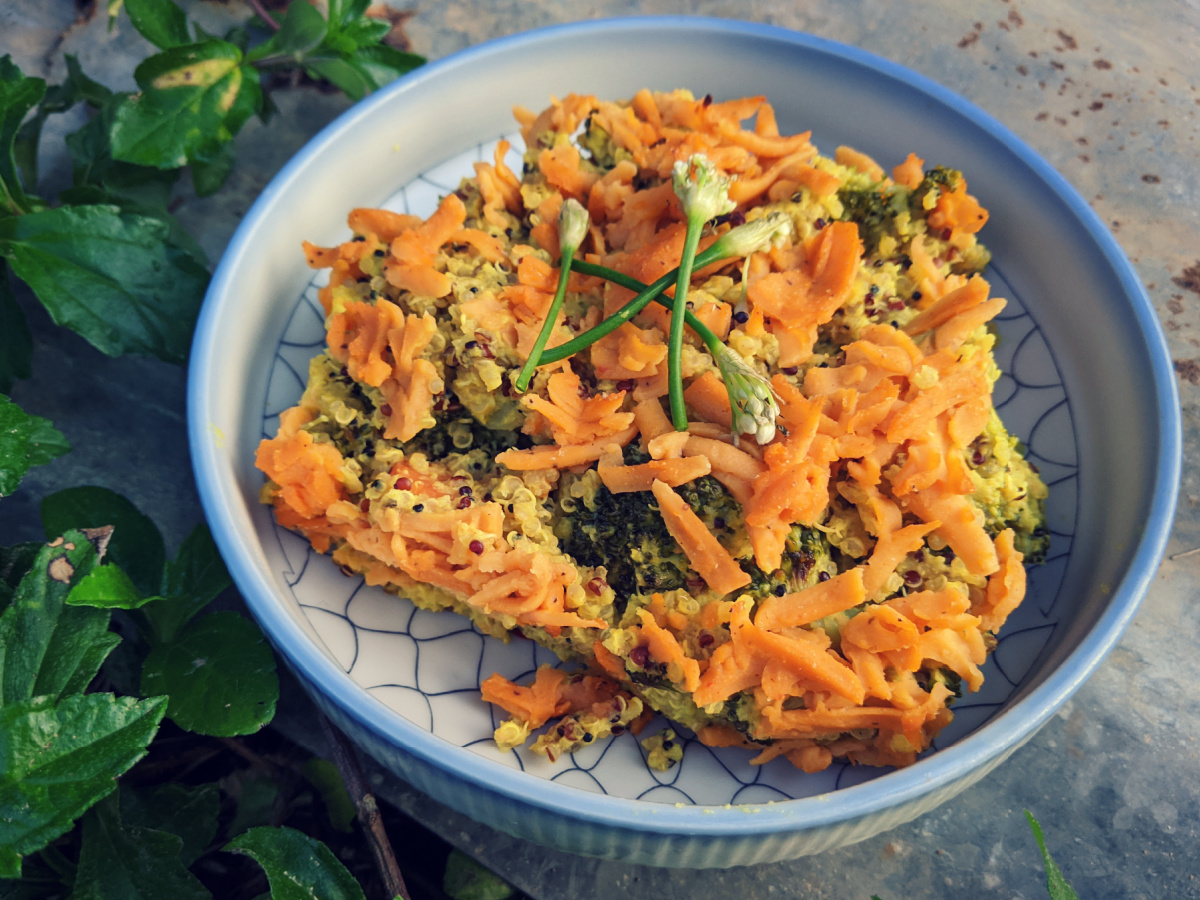 As you might have noticed I am going vegan cheese crazy. I am enjoying myself so much. Though I am not sure what I am enjoying more. The cheese-making or my bean-to-bar chocolate experiments. Both are equally fun and yum!
And now that I have vegan cheeses again, casseroles are back on the menu! Perfect food for a drooly, grey day like this!
If you don't enjoy cooking as much as I do, making your own vegan cheese might be out of the question. Here in Cambodia, supermarkets are either non-existing or not as we know them in the West. Even though the greater population is Buddhist, veganism is not a thing here.
If we want anything, we have to make it ourselves. Which is a good thing. With the vegan community growing worldwide, the food industry has jumped on the vegan hype. So if you prefer to buy your vegan cheeses, always make sure to check the labels.
Vegan alternatives available on the market don't always mean they are better for you. Many yucky ingredients like colorants, artificial flavors, and preservatives are often added to these mass-produced products. Always make sure to check the labels and if there are ingredients you can't pronounce….. Stay away from the product!
But hey enough chitchatting let's get cooking!
Vegan grateable cheddar cheese (Check out my recipe HERE)
---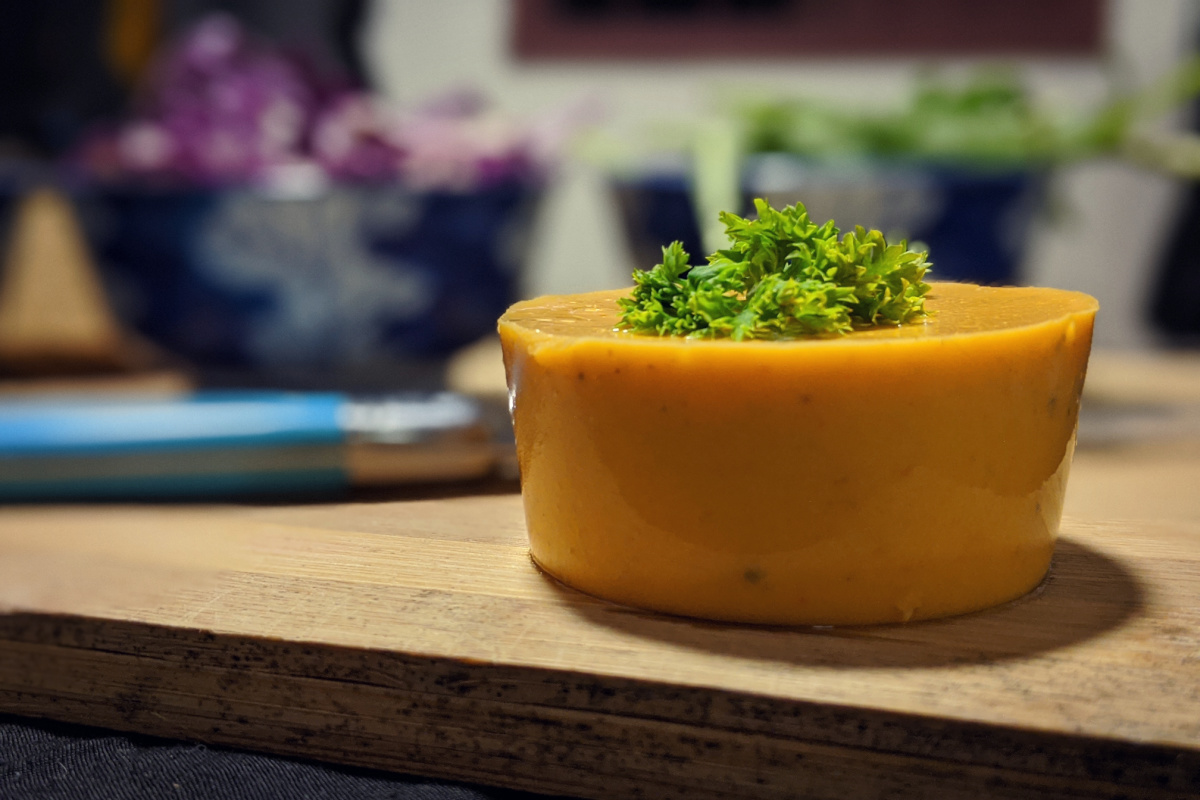 Homemade vegan cream cheese (Check out my recipe HERE
---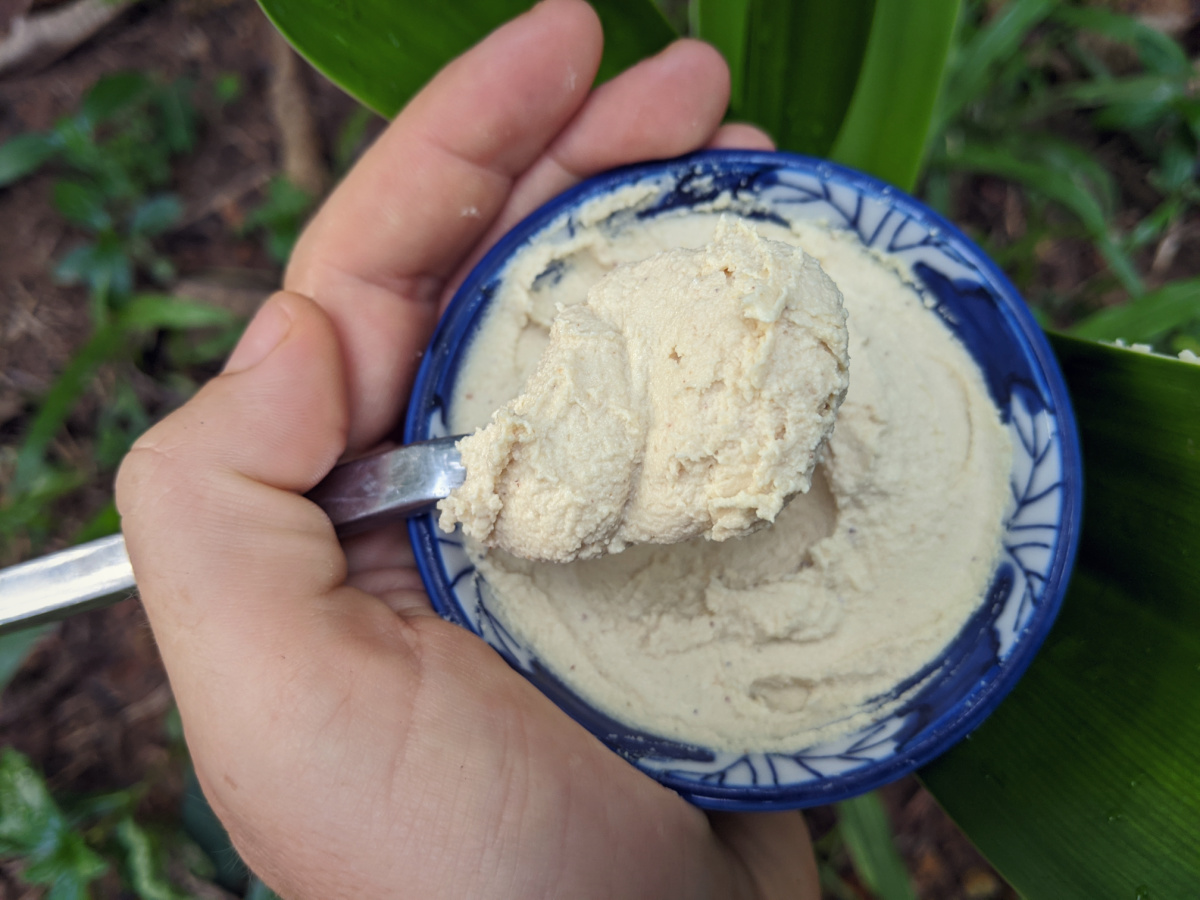 INGREDIENTS (serves 3-4)
---
1 cup quinoa, uncooked
1 tsp garlic powder
2 tsp onion powder
2 cups cauliflower
3-4 cloves of garlic
1.5 cup broccoli, small florets
1.5 cup baby carrots, chopped
Himalayan pink salt and black pepper to taste
½ - ¾ cup homemade vegan cream cheese (Check out my recipe HERE)
1 tsp vegan mustard
1 tsp apple cider vinegar
1 tsp turmeric powder
1 to 1½ cup vegan cheddar cheese, grated (Check out my recipe HERE)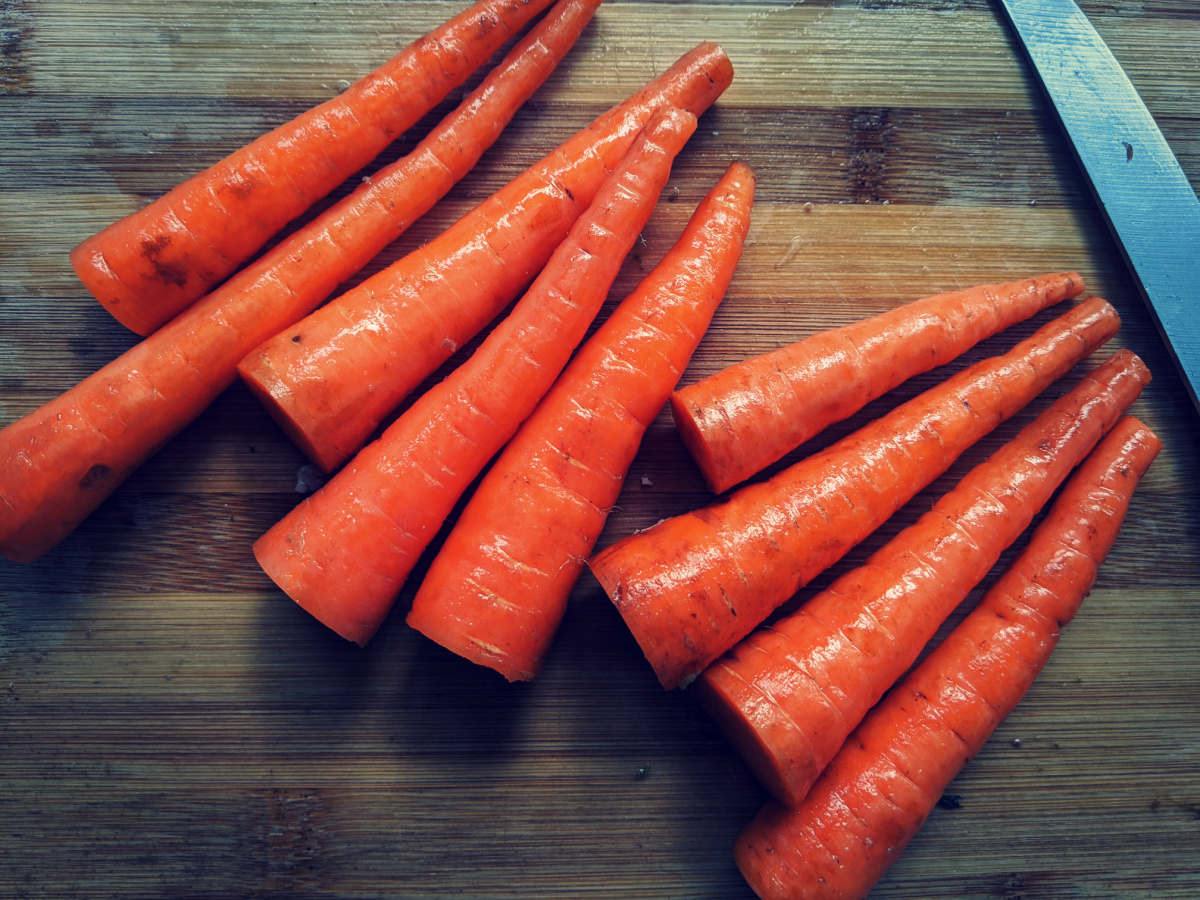 INSTRUCTIONS
---
Cook quinoa with garlic and onion powder until fluffy. Check the package for cooking instructions.
Boil cauliflower and garlic cloves until soft. When cooked, drain and save some of the cooking liquid for blending. When ready blend with vegan cream cheese, mustard, apple cider vinegar, turmeric, salt, pepper, and cooking liquid as needed.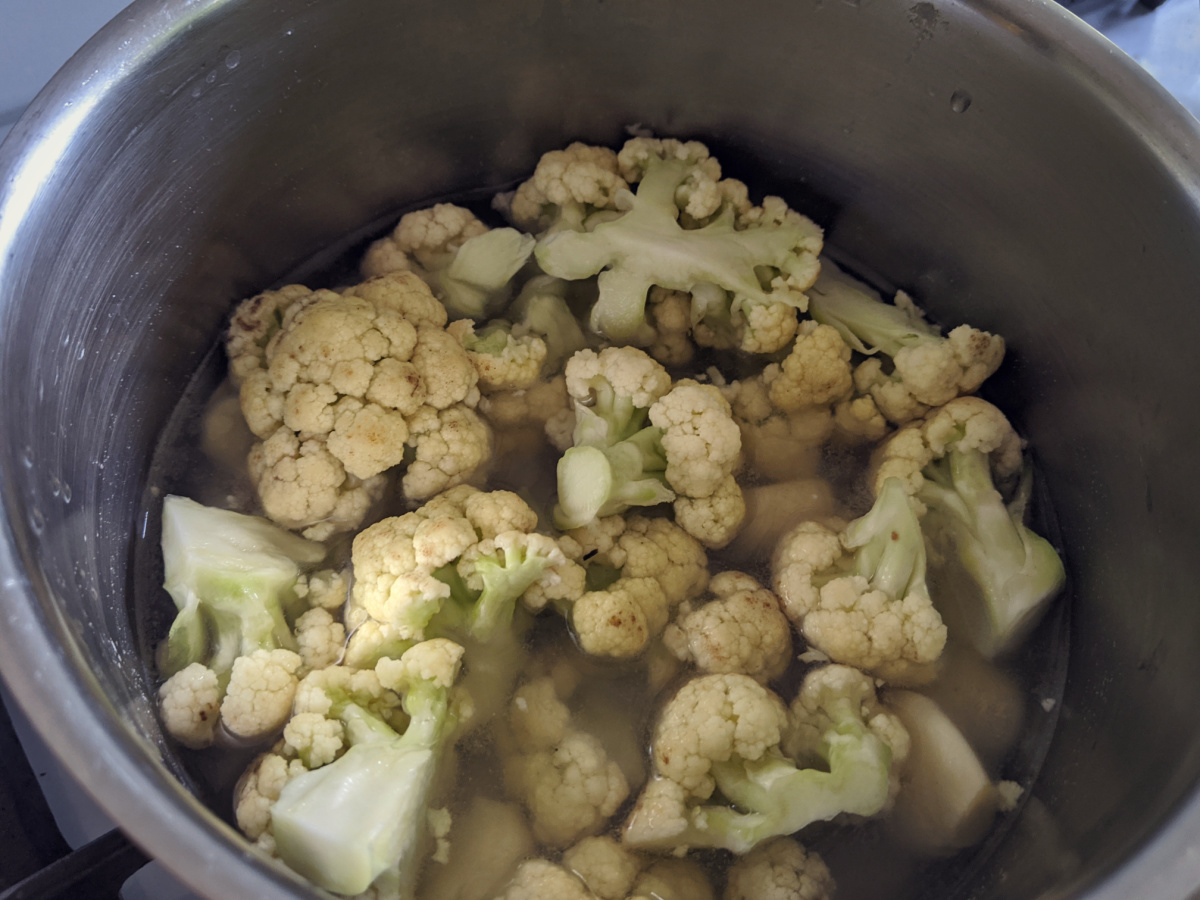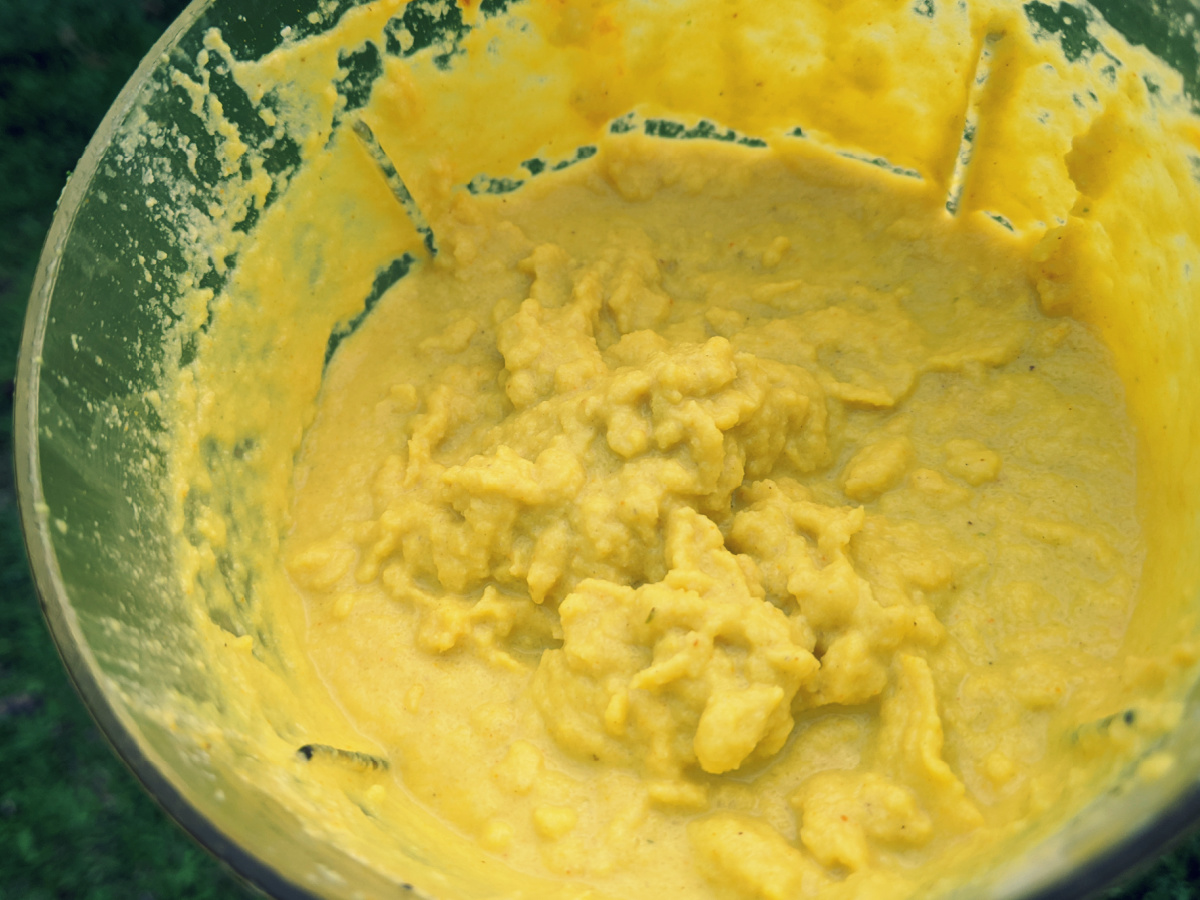 Meanwhile, roast broccoli and baby carrots with a little olive or coconut oil and salt and pepper in a preheated oven (200C or 400F) until soft and browned.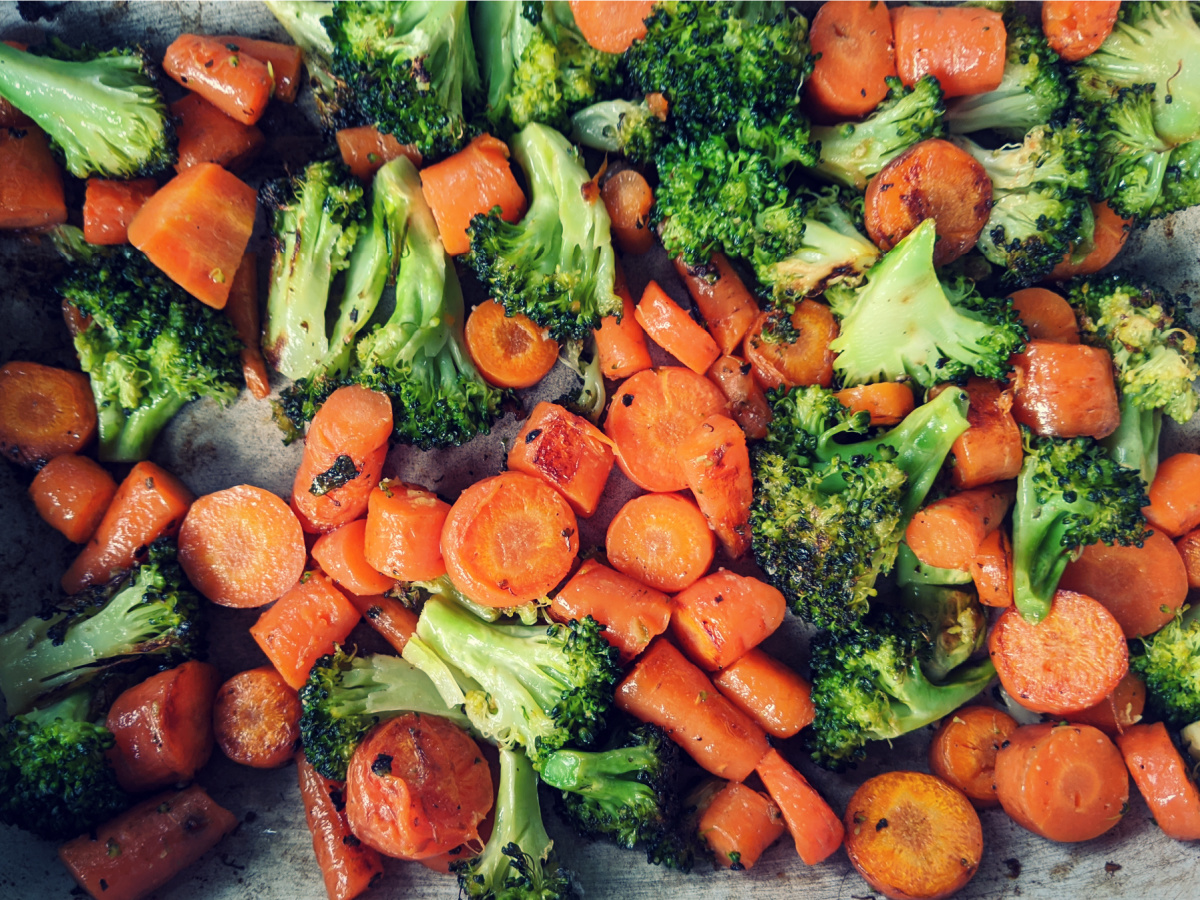 When the veggies are roasted add quinoa and turmeric cheesy sauce and mix well. Taste and season with extra salt and pepper to taste.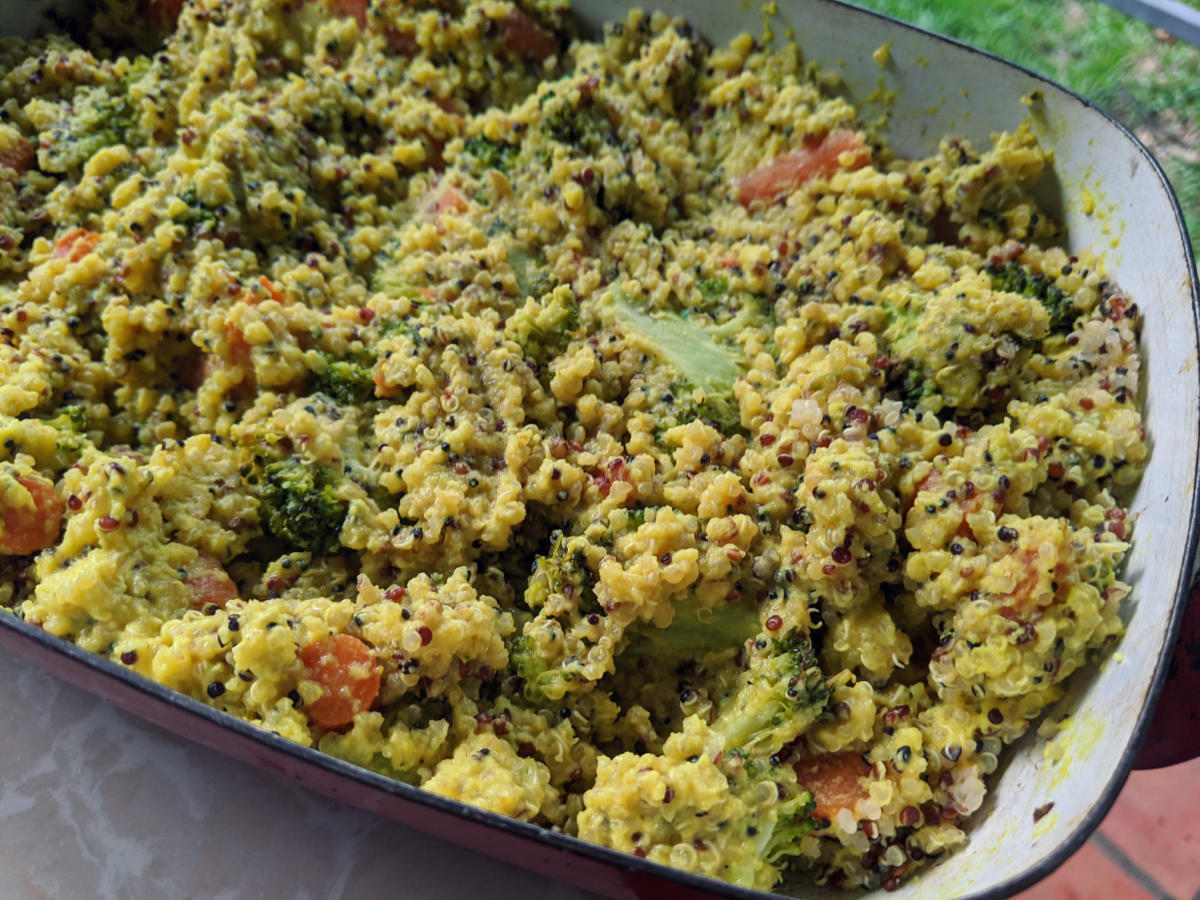 Grate vegan cheddar cheese. Add on top and put back into the oven. Cook until slightly crisp and browned.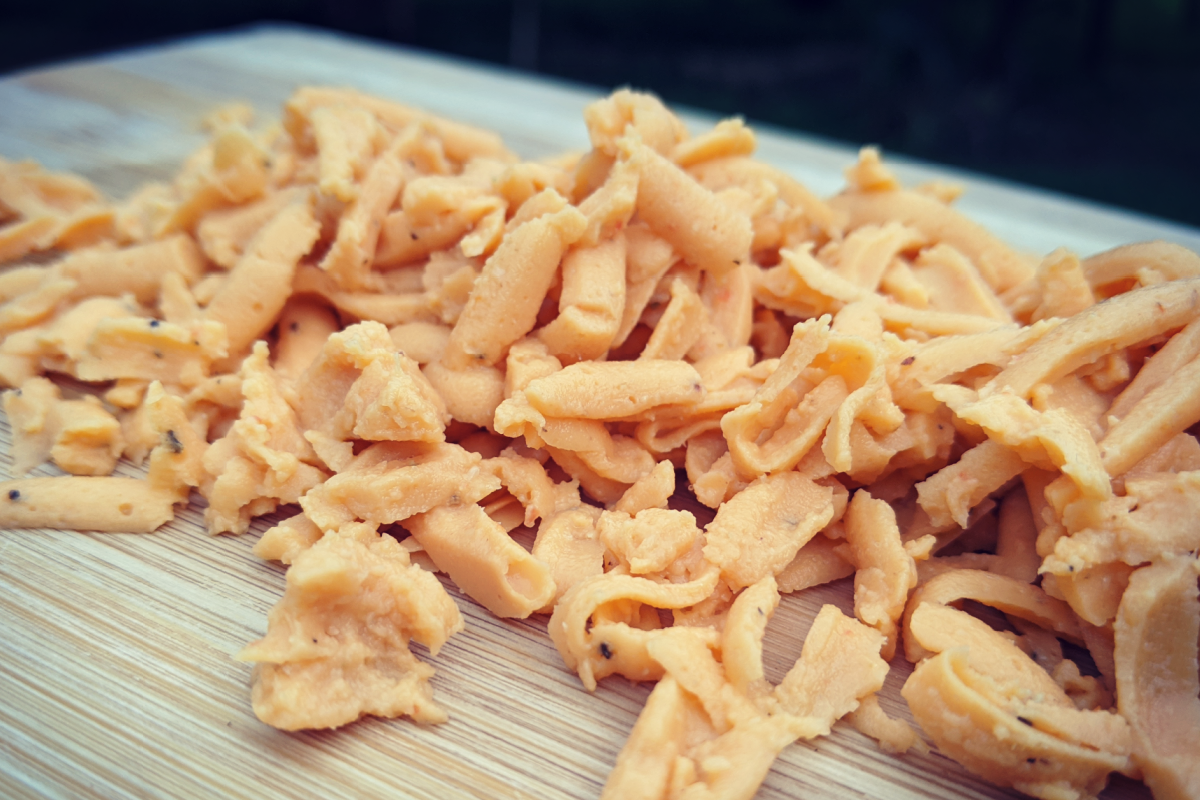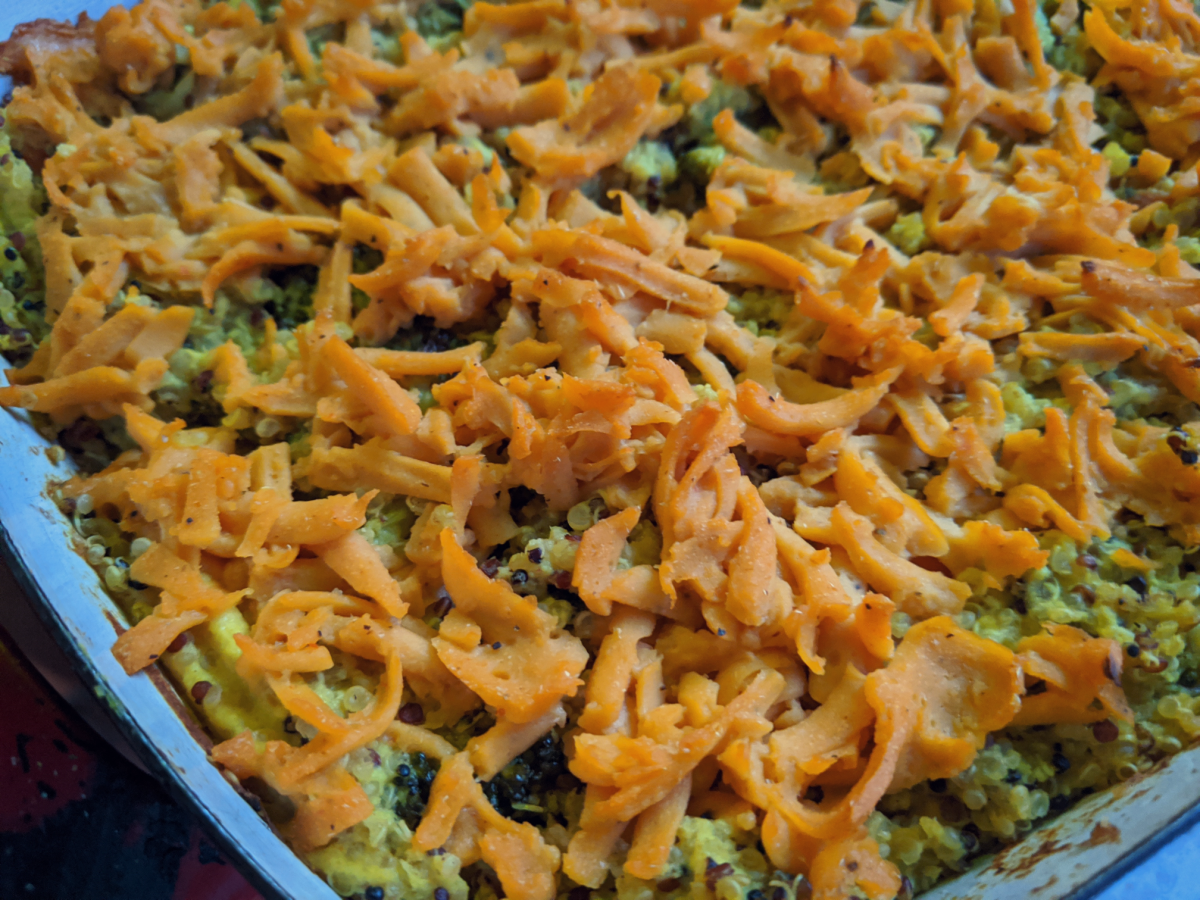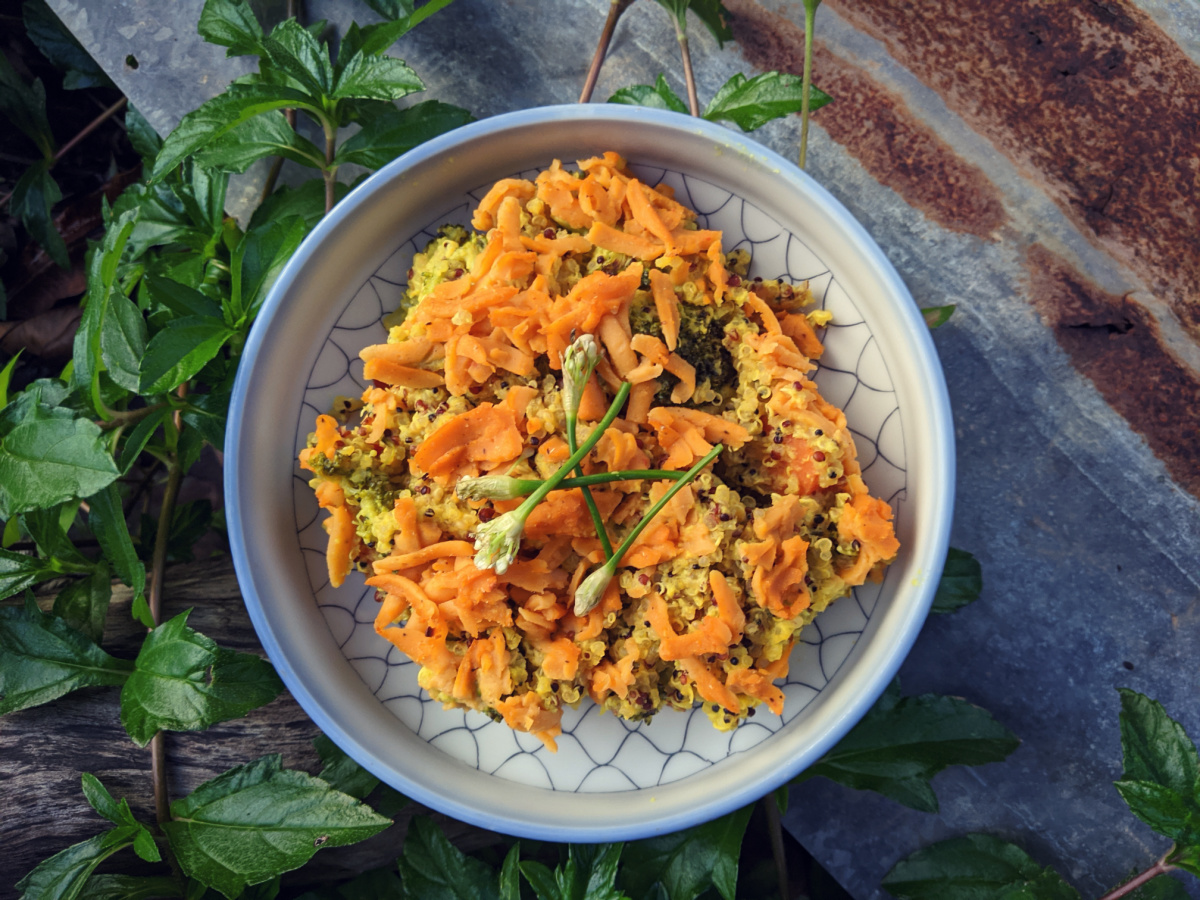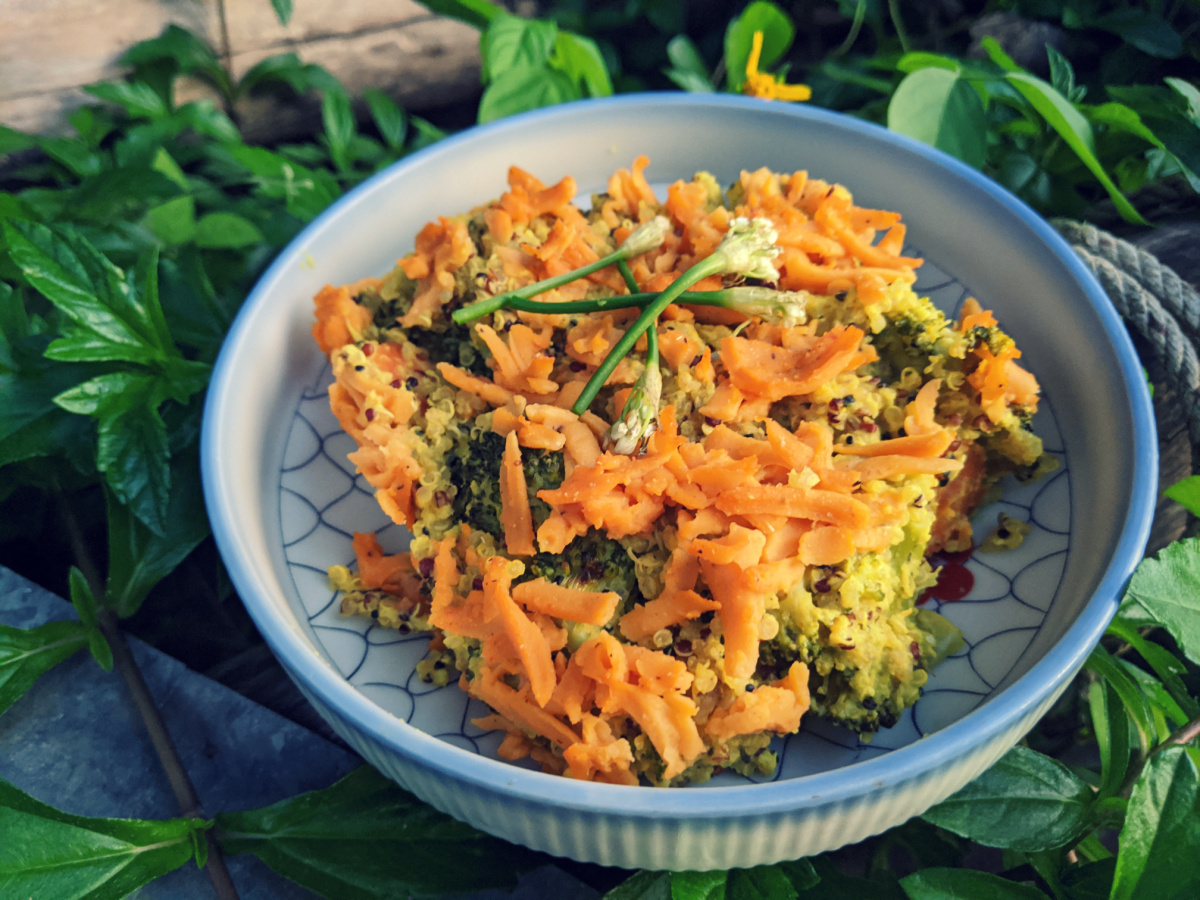 WISHING YOU ALL A HAPPY AND HEALTHY DAY ღ ღ ღ
---

ALL CONTENT IS MINE AND ORIGINAL!
PICTURE(s) TAKEN WITH NIKON D5600 AND/OR GOOGLE PIXEL 3 XL
---
LET'S CONNECT!
---
Website - Facebook - Google+ - Twitter - Pinterest - YouTube
---
🥑🍓🍆 FIND MORE YUMMY PLANT-BASED CREATIONS BELOW 🥑🍓🍆
---