---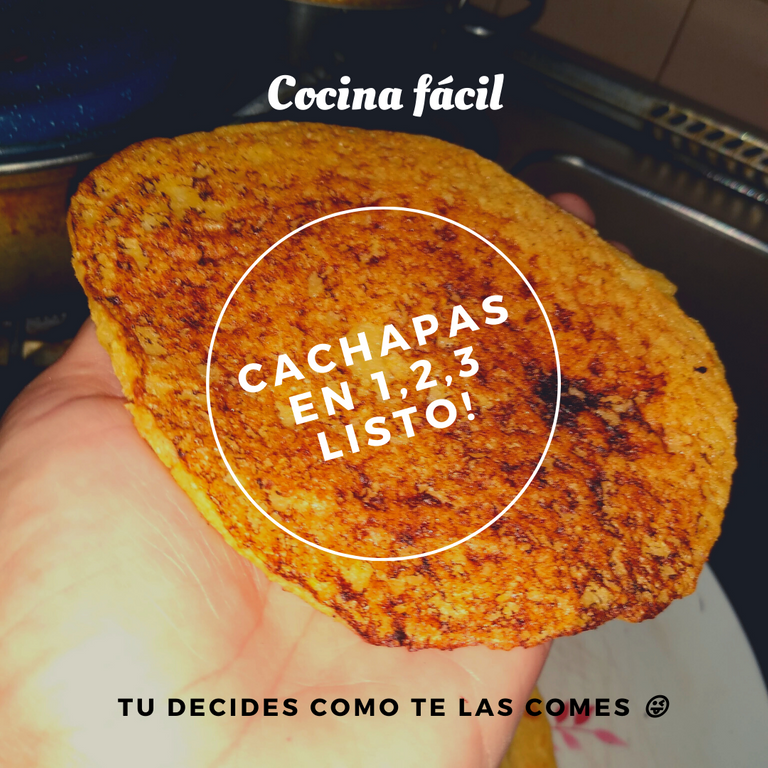 ---

---
---
Spanish
Hola amigos,hoy vamos aplicar algo de cocina creativa, haremos unas cachapas sin maíz jajaja, diran que estoy loco, bueno les contare como ...
---
Todo empezo por un paquete de harina de maíz amarillo que nadie queria usar en casa, el motivo es porque se debe hacer con agua caliente y su textura es de verdad horrible 🤣
---
English
Hello friends, today we are going to apply some creative cooking, we will make some cachapas without corn hahaha, you will say that I'm crazy, well I will tell you how to ...
---
It all started because of a package of yellow corn flour that nobody wanted to use at home, the reason is because it has to be made with hot water and its texture is really horrible 🤣.
---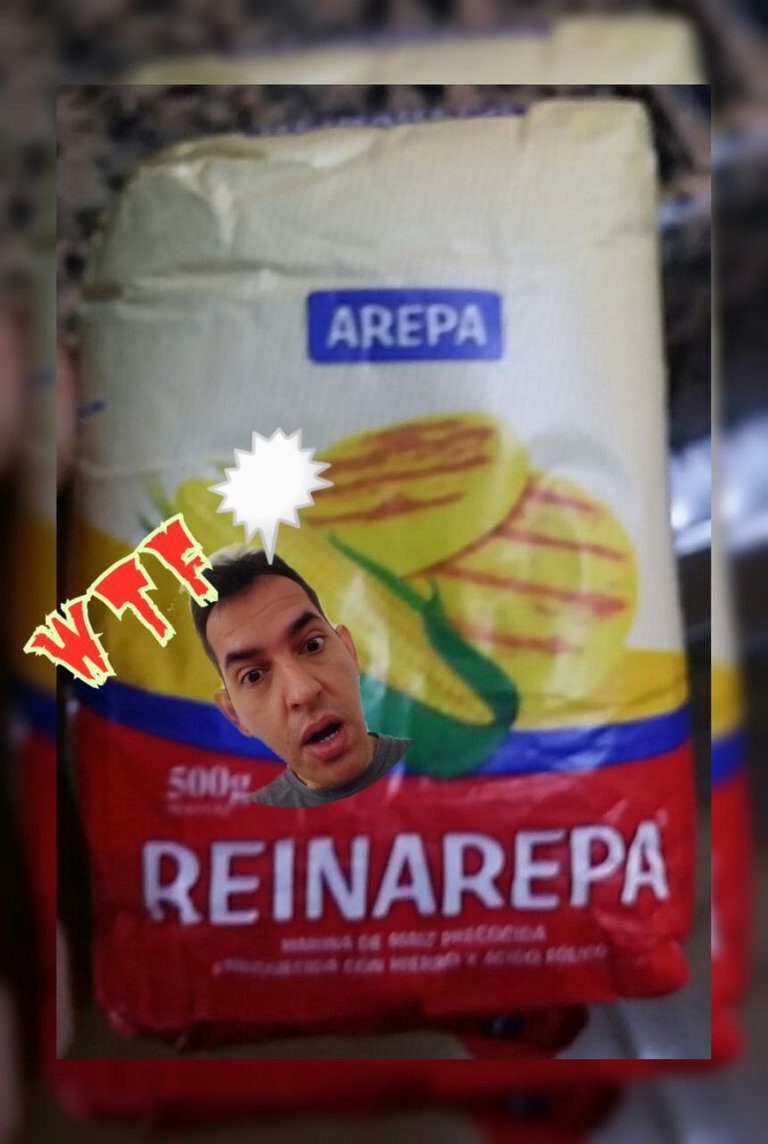 Se me ocurrio hacer la masa mucho mas liquida y agregar algo de harina de trigo...
It occurred to me to make the dough much more liquid and add some wheat flour....
| Harina reinarepa | azúcar | sal fina | harina de trigo |
| --- | --- | --- | --- |
| 1 taza | 3 cucharadas | 1/2 cucharada | 3 cucharadas |
y agua hirviendo...
and boiling water...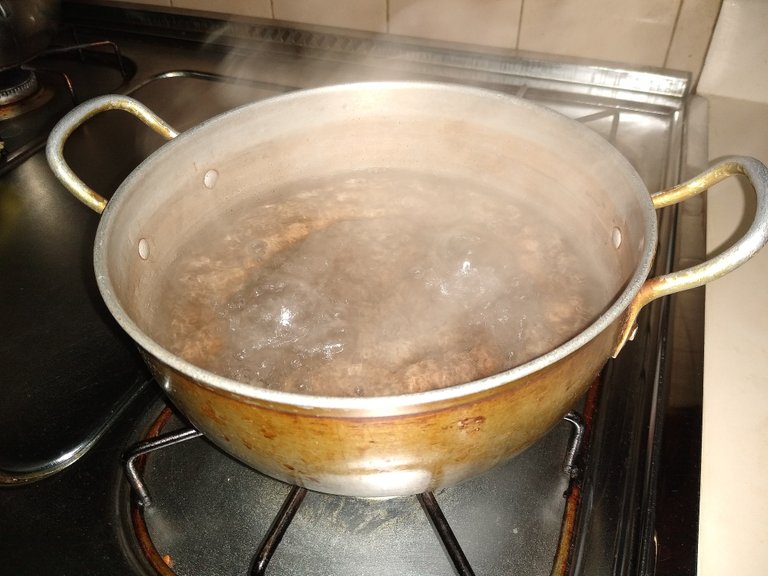 ---
Empece por hervir algo de agua
I started by boiling some water.
---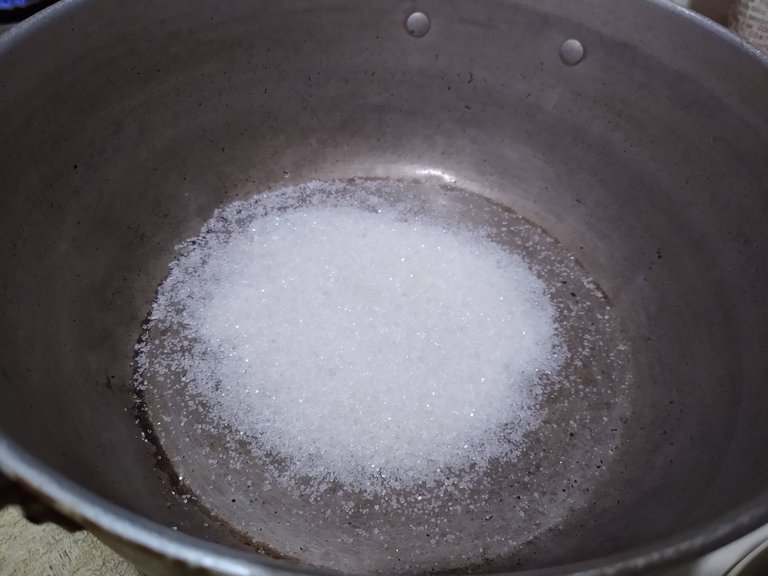 ---
En otra olla coloque tres cucharadas de azúcar y media cucharada de sal fina
In another pot, place three tablespoons of sugar and half a tablespoon of fine salt.
---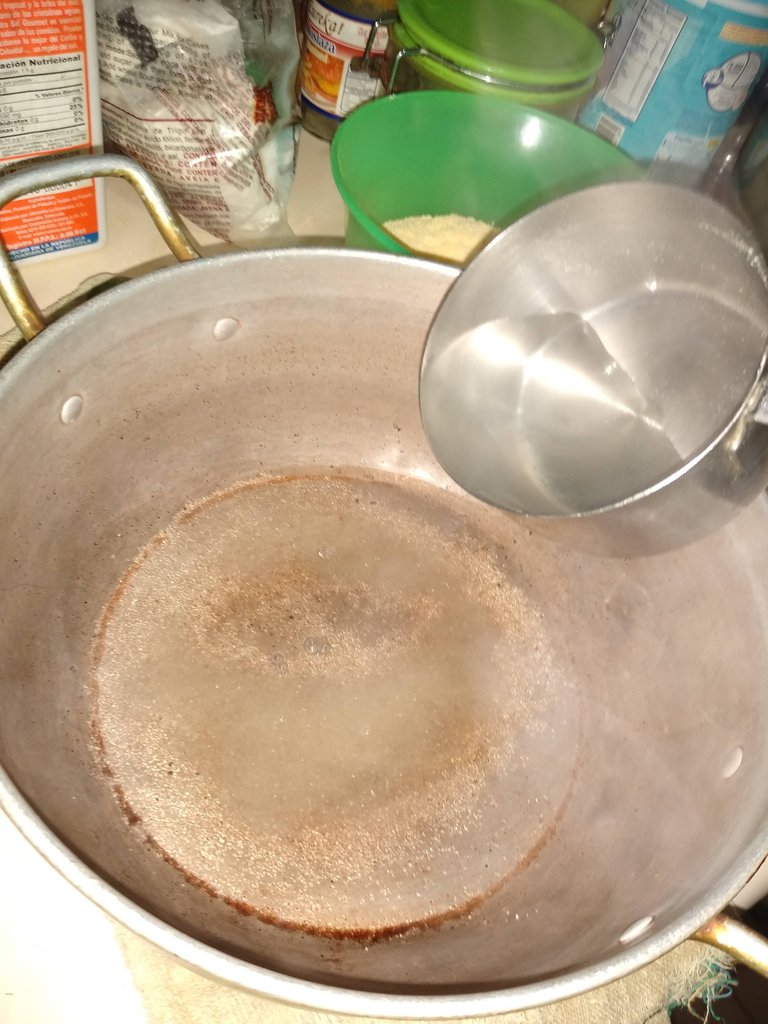 ---
Luego adicioné una taza de agua hirviendo para disolver la sal y el azúcar
I then added a cup of boiling water to dissolve the salt and sugar.
---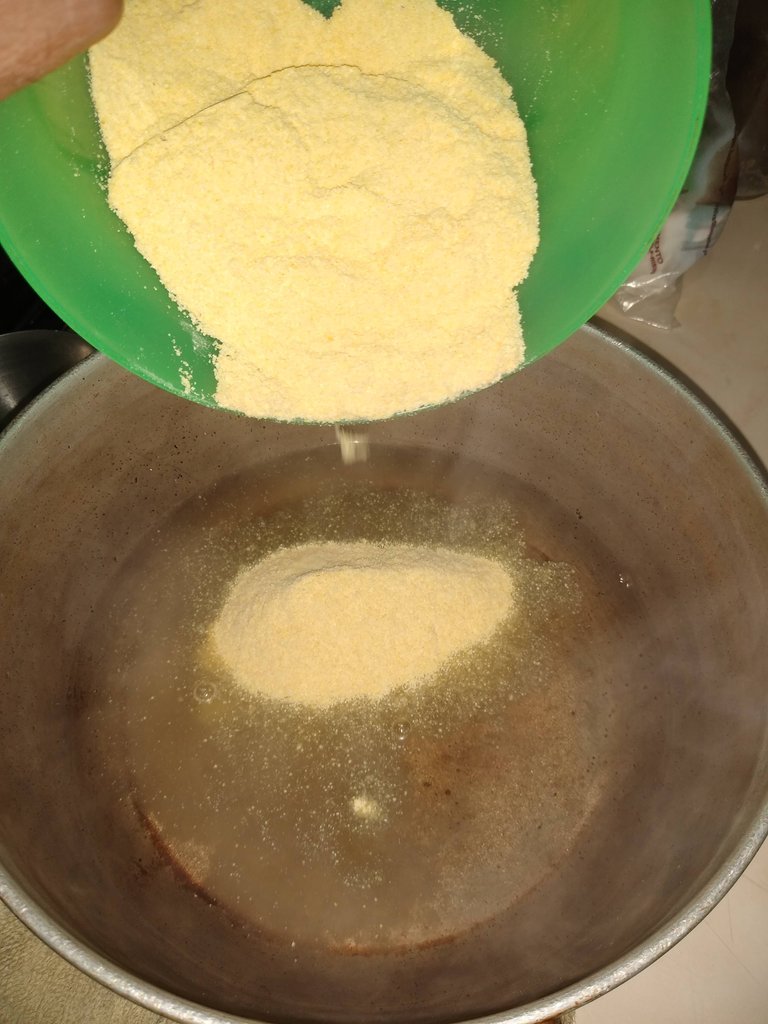 ---
Después agraguen una taza de harina en el agua que tiene la sal y el azúcar
Then add one cup of flour to the water containing the salt and sugar.
---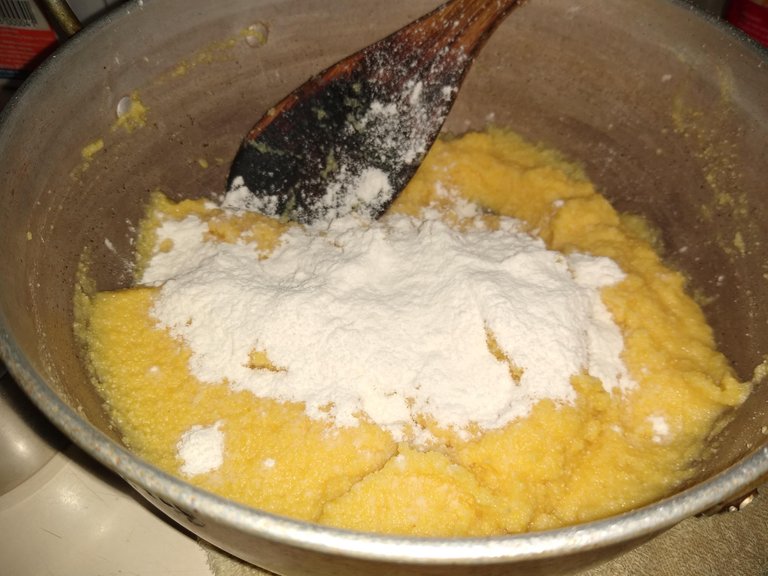 ---
Y justo después que la harina amarilla absorba el agua colocan tres cucharadas de harina de trigo y mezclan con ayuda de una paleta de madera.
---
La consistencia de la mezcla se las dejo a su criterio, no debe quedar muy liquida, así que agreguen agua lentamente hasta tener el punto deseado 🙂
Just after the yellow flour absorbs the water, add three tablespoons of wheat flour and mix with the help of a wooden paddle.
---
The consistency of the mixture is left to your discretion, it should not be too liquid, so add water slowly until you have the desired point 🙂
---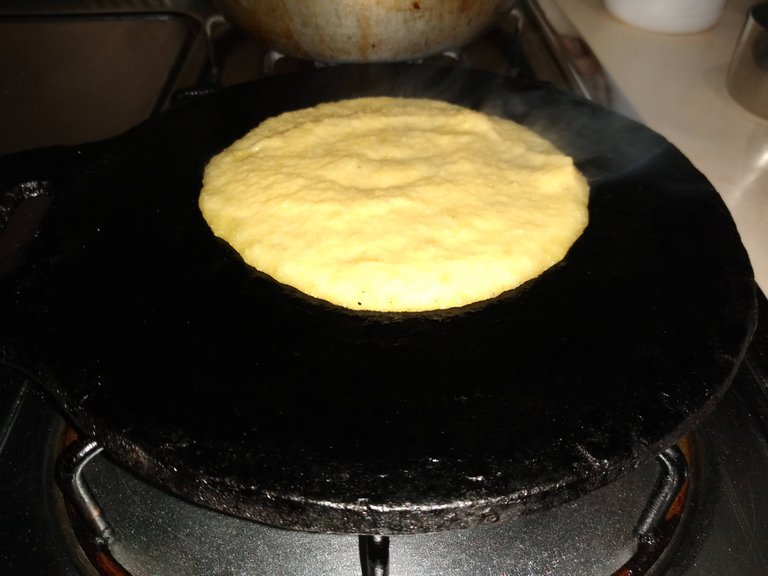 ---
Luego solo queda hacer las cachapas en un budare extramadamente caliente.
---
Colocan una porción de mezcla y le damos unos minutos hasta ver la superficie como se seca para luego girarla
Then all that remains is to make the cachapas in an extremely hot pan.
---
Place a portion of mixture and give it a few minutes to see the surface as it dries and then turn it.
---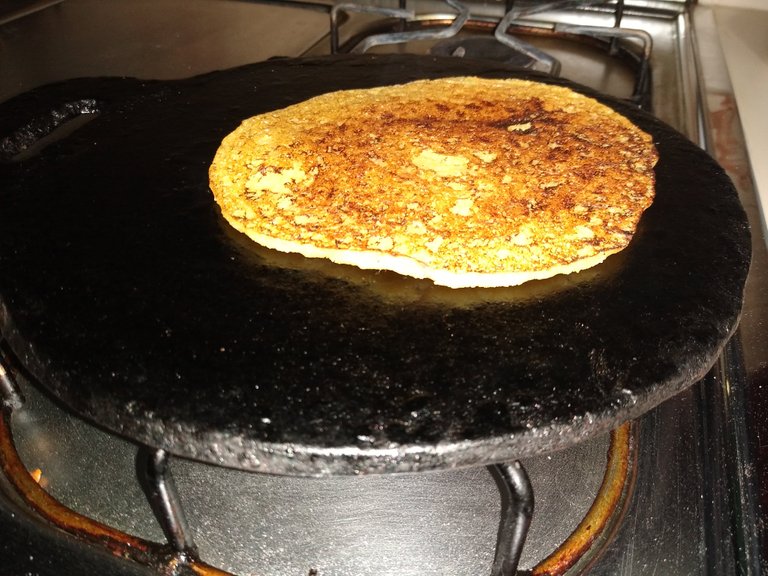 ---
En este punto solo falta unos minutos para sacarla y empezar a comer 😋
At this point it only takes a few minutes to take it out and start eating 😋.
---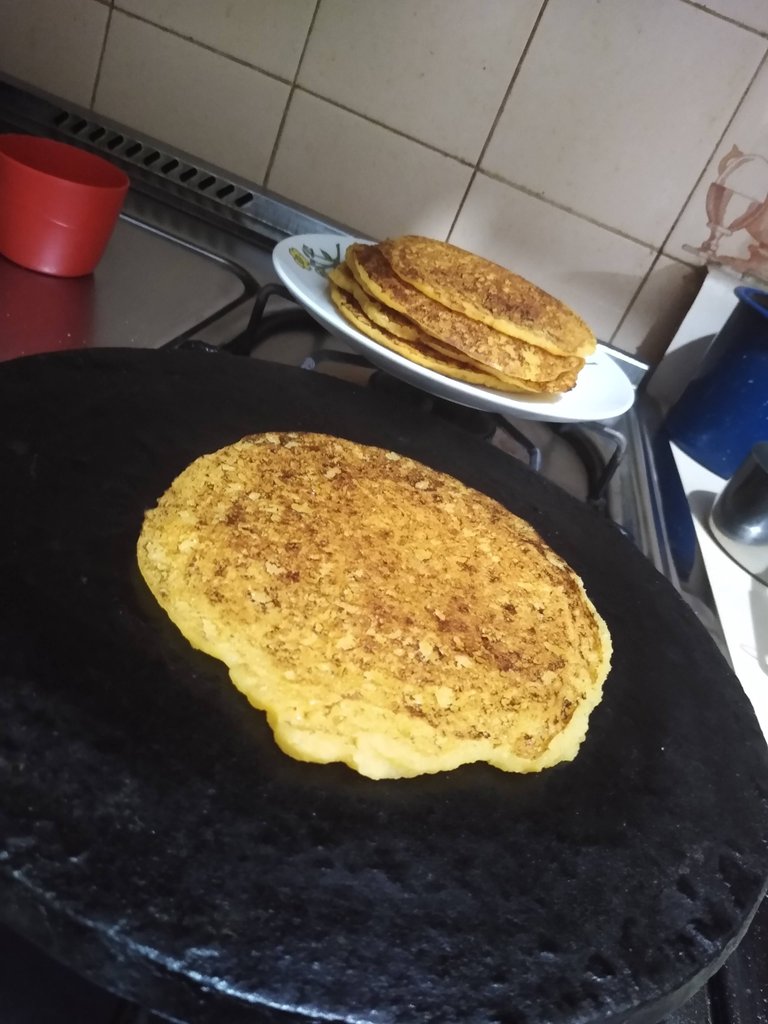 ---
El relleno es cosa que depende de tí, pero cachapa con queso es lo que manda mi gusto 🤣
The stuffing is up to you, but cachapa with cheese is what my taste dictates 🤣
---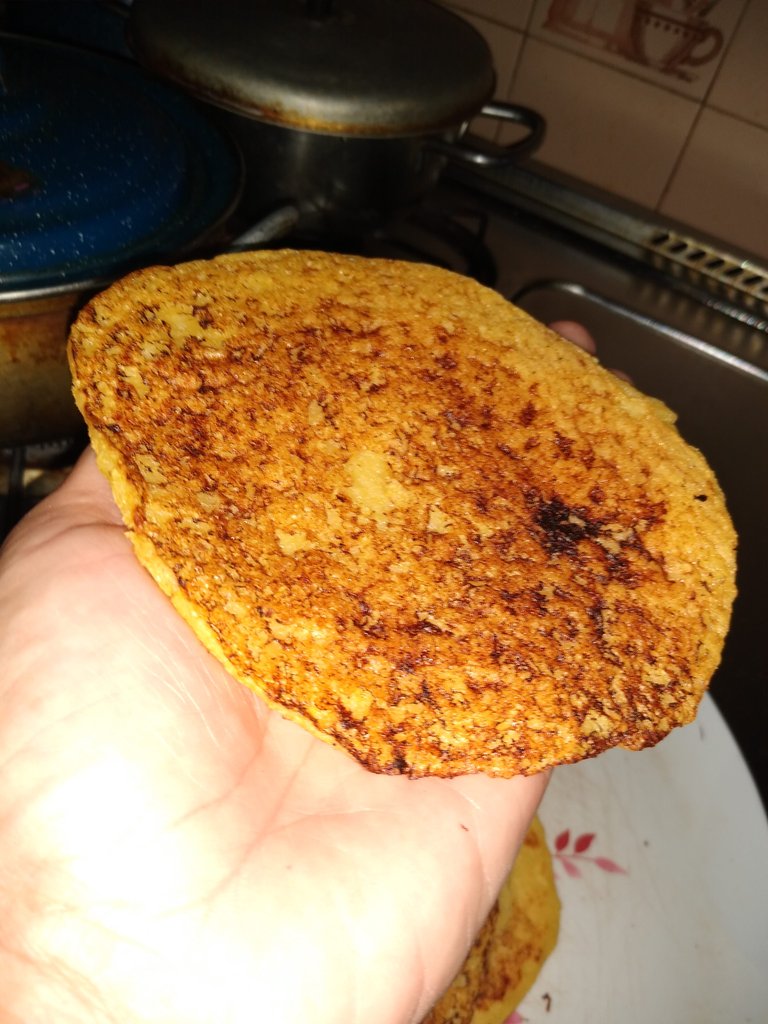 ---
Así quedan 😎
This is how they look 😎
---

---
Animate a cocinar y veras lo genial que resulta tu día 😉
Get cooking and you will see how great your day turns out 😉
---

---
Todas las imagenes y textos son de mi autoria. Los separadores y banners los realice con Canvas a excepción de la segunda imagen que la edité con Inshot.
All the images and texts are my own. The separators and banners were made with Canvas except for the second image that I edited with Inshot.
---

---
Tradución realizada con https://www.deepl.com/es/translator
---
Translation made with https://www.deepl.com/es/translator
---


---
Deja tus comentarios aquí o en cualquiera de mis otras redes.
Leave your comments here or in any of my other networks.
---