Sunday around seven-thirty. Mom and dad will be in front of the TV for the next couple of hours. I have to think and move fast to fix some dinner. I do a quick inventory of what is in the fridge and pantry. Bell peppers, zucchini/courgette, onions, green beans, fresh peas, chicken breast. Just what mom needs. My dad and I can eat some pasta too. So I have it all figured out. I grabbed my ingredients and one frying pan, which I used throughout the cooking.
---
---
Ingredients
500 grams of chicken breast, boneless
Red bell pepper, one medium-sized
Onion, one medium-sized
Zucchini/courgette, one medium-sized
Green beans, a handful
Peas fresh from the pod, about one tablespoon
Oregano leaves, salt, and pepper to taste
Oil or butter for sauteing
Spaghetti, 100 grams per person, cooked (optional)
---
---
Directions
1.- Cut the pepper and onion into strips and the green beans in pieces about 2 centimeters long. Sauté the pepper and onion for about 5 minutes, on medium heat. Sprinkle some salt, pepper, and oregano. Add the beans and cook for another 2 minutes, covered. Set aside in a bowl.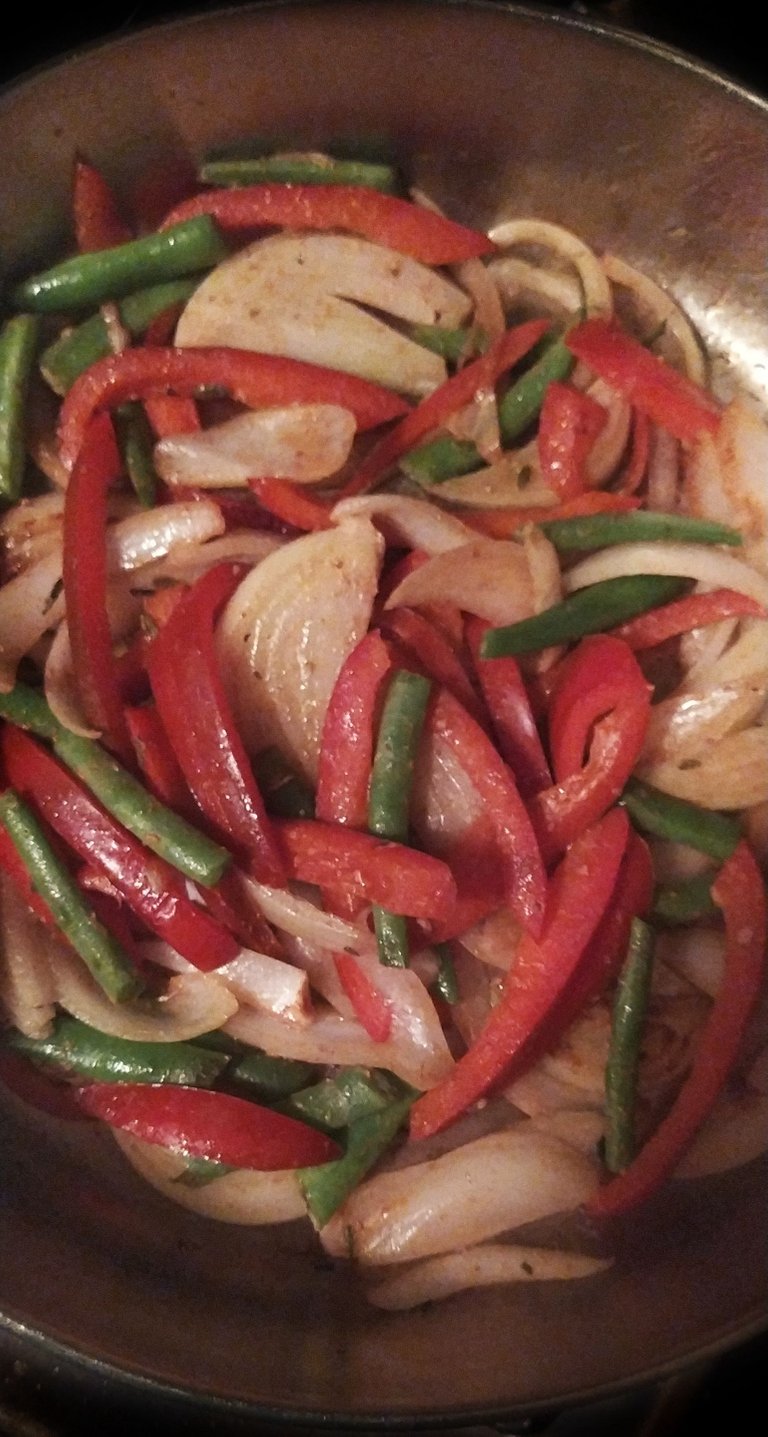 Cooked just enough to keep it crispy
2.- Cut the zucchini in strips (not too thin), sprinkle some salt and pepper, and sauté for 2-3 minutes on medium-high. Add the peas, and cook covered for two more minutes. The zucchini should get some color but remain crispy. Set aside.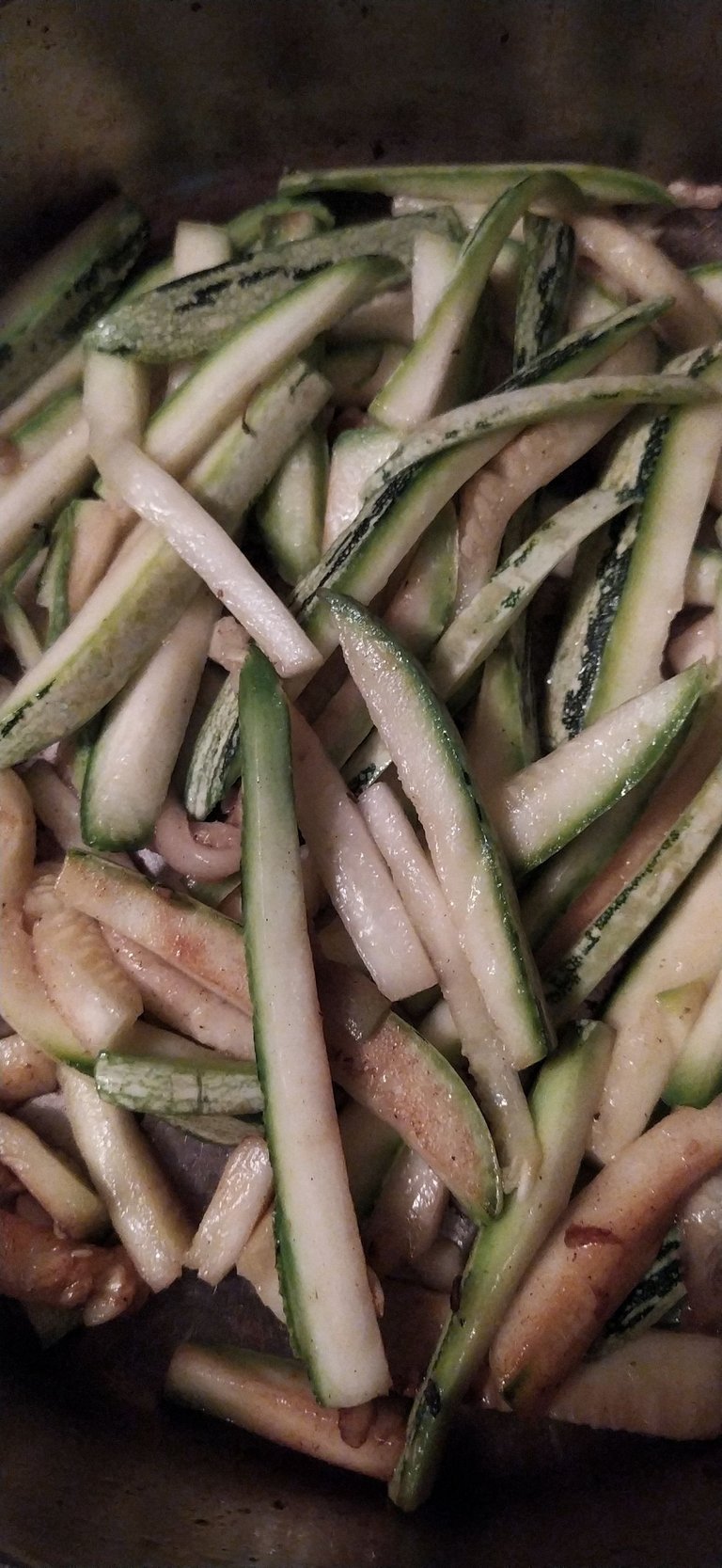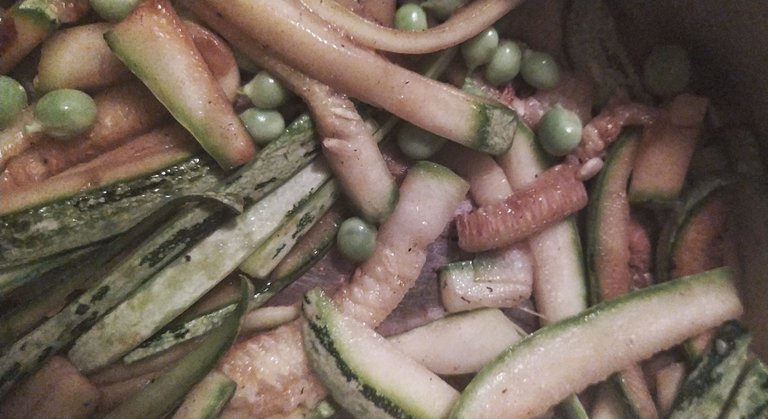 It may not seem true, but generally speaking, zucchini kept the texture
3.- Cut the chicken into thin strips and season with salt and pepper. We want it to cook fast, and we will do it on medium-high. Cook in enough fat until golden. Do not overcook!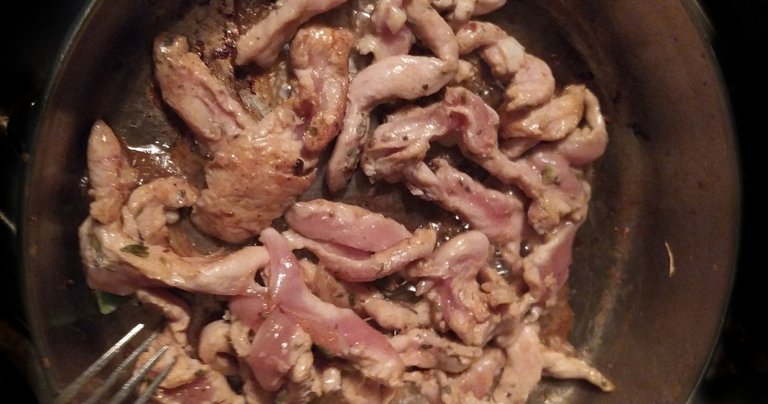 You can almost hear the pan sizzling
4.- The final step is to stir in all the vegetables and cook for a couple of minutes on low. What we look for is that everything comes together. Adjust the seasoning if needed.

The picture is a bit unfocused, but you get the idea
5.- Serve and enjoy!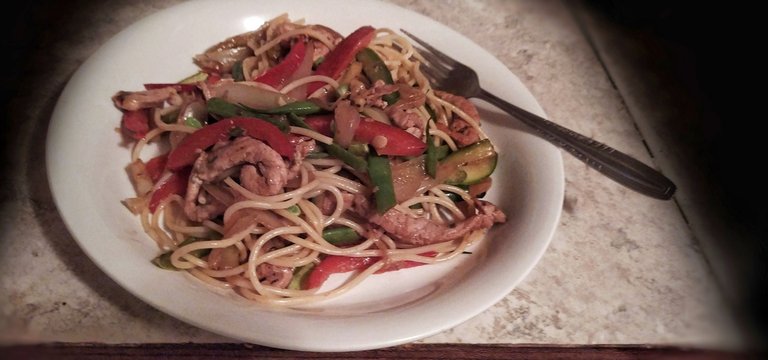 I was so hungry this was the best picture I could take
---
---
NOTES
Add more fat between batches if needed. You do not want the food to stick.
How much oregano you add is up to you. For me, it worked with less than a quarter of a teaspoon.
We ate it with pasta, but it works perfectly on its own Whatever side dish you choose will do.
---
---
I took the photos with my Redmi Note 8 and edited them using Snapseed.