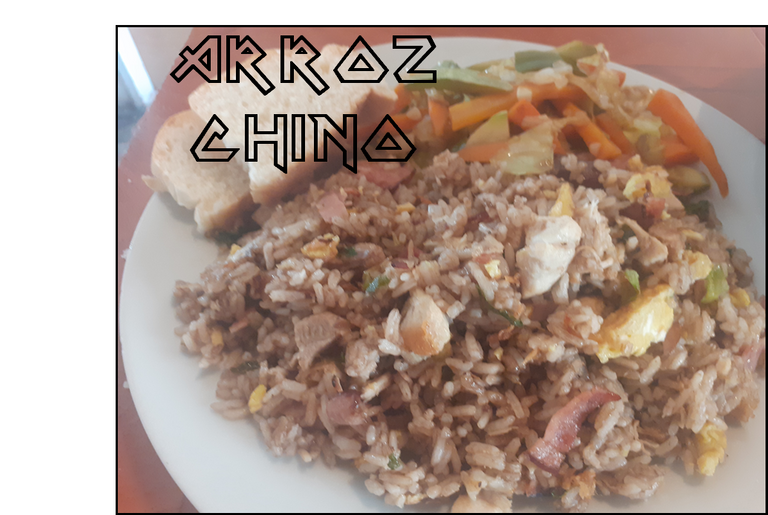 Hola amigos, hoy quiero mostrarles una muy buena receta de arroz chino que aprendí de un libro de cocina del chef Scannone, es muy buena les invito a ver esta excelente y deliciosa preparación.
Hello friend, today I want to show you a very good recipe for Chinese rice that I learned from a cookbook by chef Scannone, it is very good I invite you to see this excellent and delicious preparation.

Ingredientes:
• 2 Tazas de arroz blanco
• 3 tazas de agua
• ¼ Taza de Aceite
• ½ taza salsa de soya
• 200 gr de carne de cerdo
• 200 gr jamón
• 1 pechuga de pollo
• 5 huevos
• 100 gr Cebollín
• 1 Pimenton
• 1 cebolla
• 1 Cabeza de ajo
• Sal al gusto
.
Ingredients:
2 cups of white rice
3 cups water
¼ Taza de Aceite
½ cup soy sauce
200 gr pork meat
200 gr ham
1 chicken breast
5 eggs
100 gr chives
1 paprika
1 onion
1 head of garlic
Salt to taste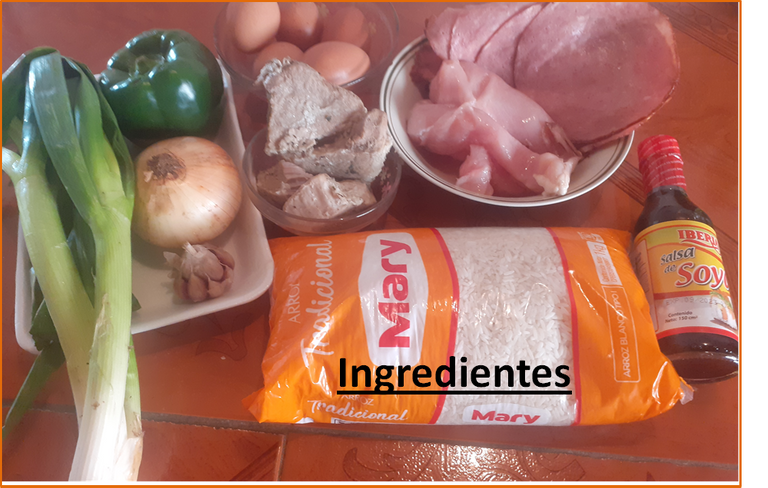 Lo primero es colocar la pechuga de pollo a sancochar con algo de sal, media cebolla y medio pimentón.

La carne de cochino debe ser sancohchada con ajo y orégano, al tenerla bien cocida se pica en cuadritos.

Lo mismo hacemos con el jamón, lo picamos en pequeños cuadritos.
The first thing to do is to boil the chicken breast with some salt, half onion and half paprika.

The pork meat must be parboiled with garlic and oregano, and once it is well cooked, it is chopped into small squares.

We do the same with the ham, we chop it in small squares.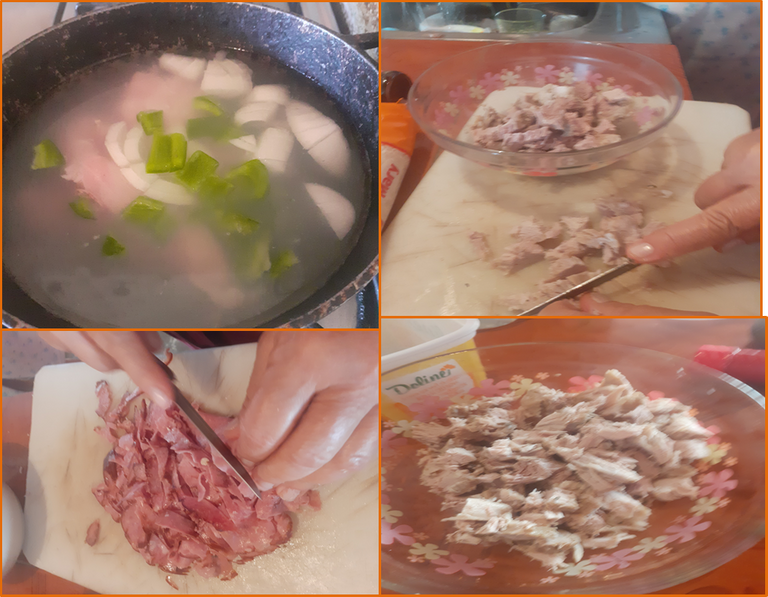 A parte batimos los huevos para preprarar una tortilla que luego picaremos también en cuadritos.
We beat the eggs to prepare an omelet that we will also chop into small squares.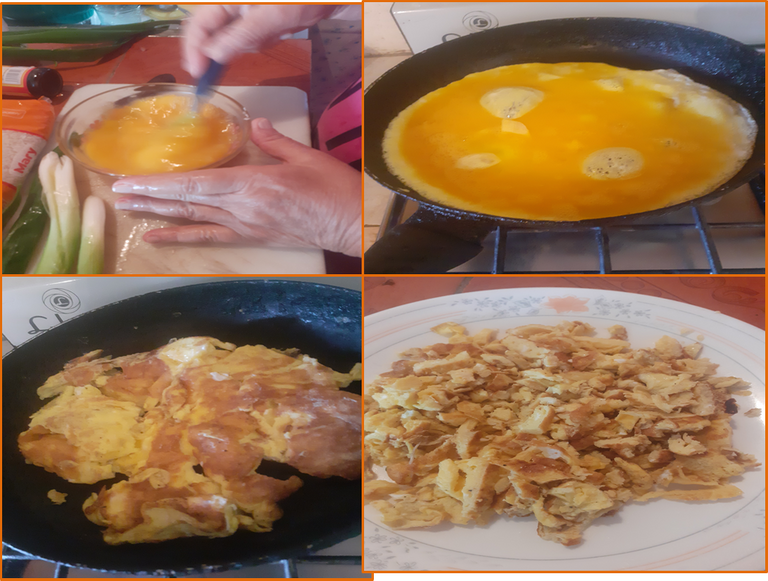 El cebollín lo picamos pequeñito y reservamos con el resto de los ingredientes reservados.
Finely chop the chives and set aside with the rest of the reserved ingredients.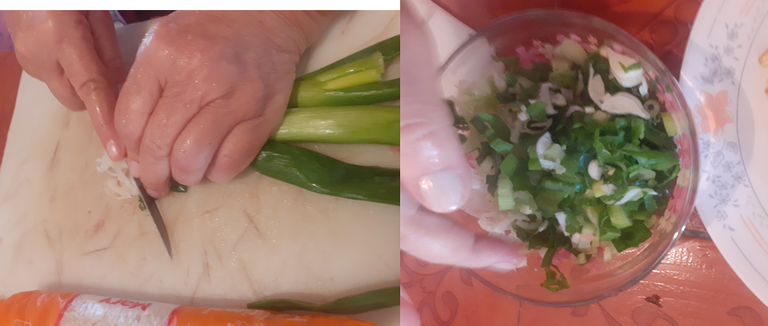 Ahora con el arroz lo colocamos a hervir con la otra mitad del pinmentón, cebolla y ajo.

El agua donde sancochamos la pechuga es el agua que vamos a usar para sanchochar el arroz.

La salsa de soya se la agregamos también al colocar a cocinar el arroz.
Now with the rice we put it to boil with the other half of the pinmentón, onion and garlic.

The water where we boiled the breast is the water that we are going to use to boil the rice.

The soy sauce is also added when we put it to cook the rice.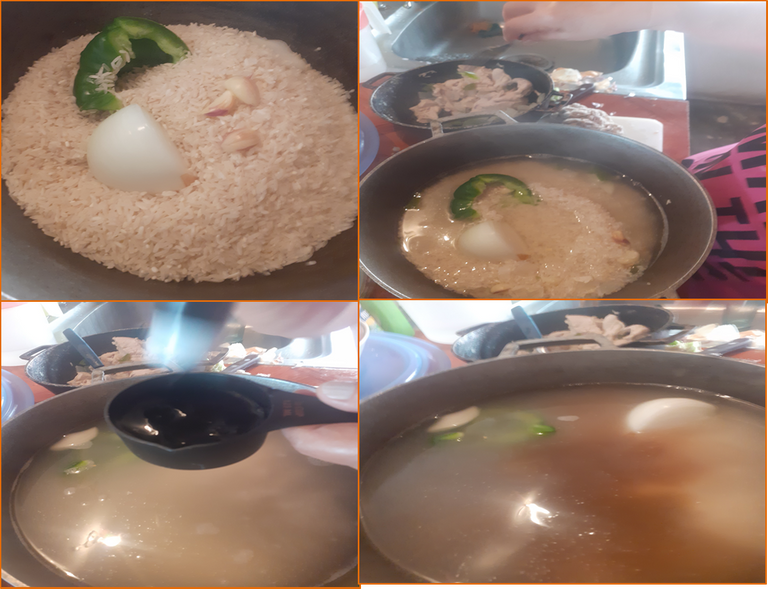 Ahora sofreimos todo lo que picamos en cuadritos.

Mientras se cancocha a parte nuestro arroz
Now we fry everything we chopped into small squares.

While we cook our rice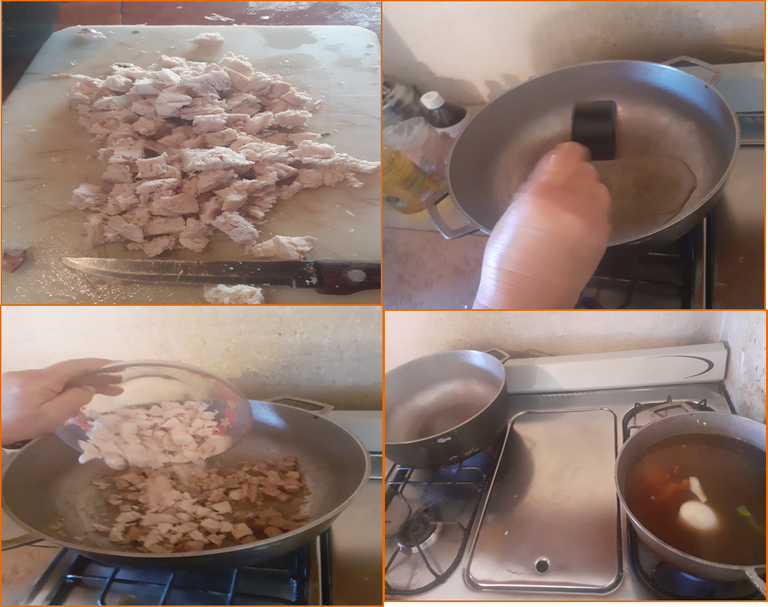 Sofreimos el cochino inicialmente, el pollo, jamón y cebollín, reomevemos hasta sofreír bien.

Le agregamos el jamón y nuestra tortilla de huevo picada en cuadritos.
We sauté the pork initially, the chicken, ham and scallions, and stir-fry until well fried.

Add the ham and our diced egg tortilla.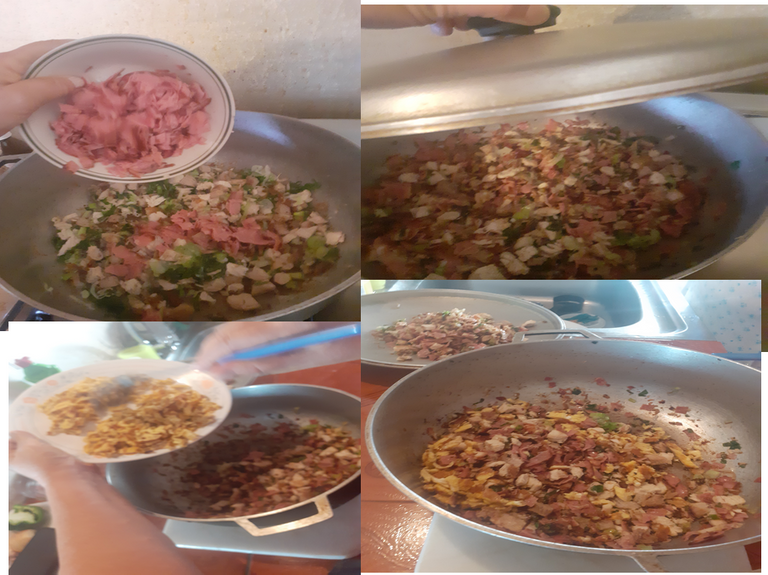 Al secar el arroz se apaga yse le extraen los aliños grandes que le metimos al sancochar.

Luego se mezcla ese arroz bien con el resto de los ingredientes que ya sofreímos.
When the rice dries, it is turned off and the big seasonings that we put in when it was parboiled are extracted.

Then mix the rice well with the rest of the ingredients that we sautéed.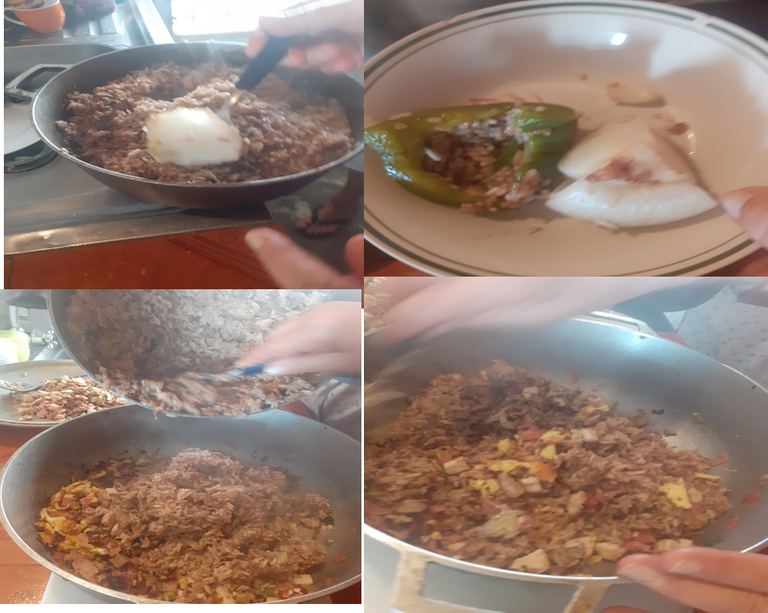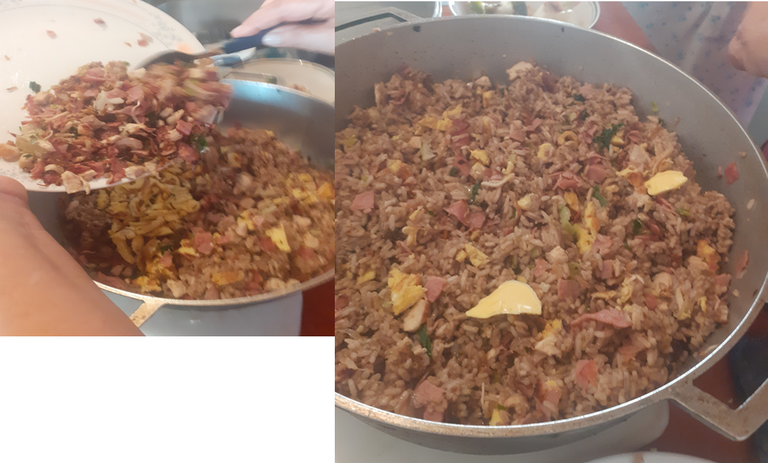 Ahora le agregamos algo de margarina por encima al arroz ya bien mezclado con todos los ingredientes y tapamos con papel de aluminio para luego llevar al horno por 20 minutos aproximadamente.
Now add some margarine on top of the rice already well mixed with all the ingredients and cover with aluminum foil and then bake in the oven for approximately 20 minutes.
Luego de ese tiempo nuestro arroz estará listo, acompañamos de vegetales al vapor estilo chop suey y tendremos listo un exquisito almuerzo de comida china, gracias por visitar mi poste hasta uhn próximo encuentro, que lo disfruten al prepararlo así como pude disfrutarlo yo, hasta la próxima receta.
After that time our rice will be ready, we accompany it with steamed vegetables chop suey style and we will have ready an exquisite lunch of Chinese food, thank you for visiting my post until next meeting, enjoy preparing it as well as I could enjoy it, until the next recipe.