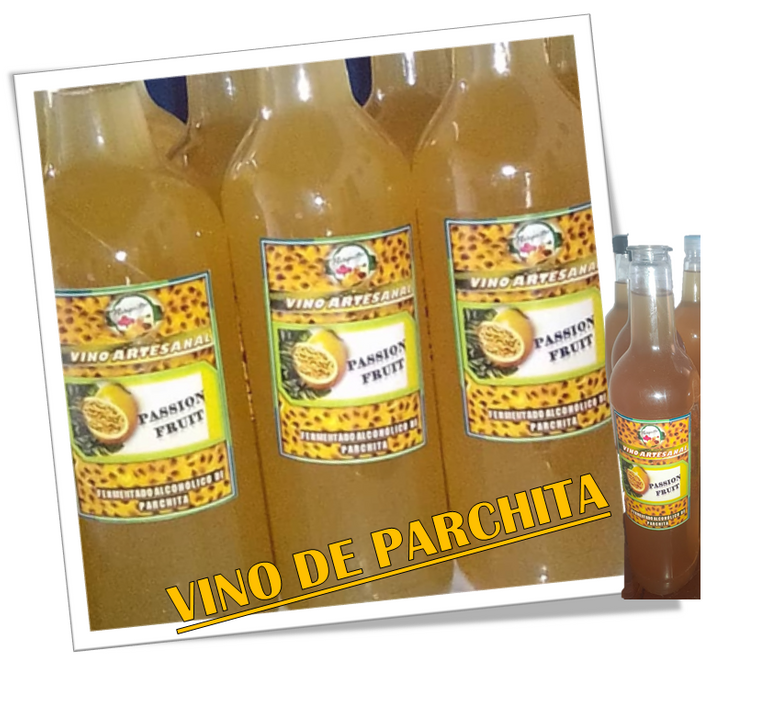 Hola amigos, hoy quiero compartir una receta que atesoro desde hace algunos años, me la obsequió un amigo enólogo y de verdad me gustó mucho, es muy bueno, tuve siembra de parchita o maracuyá como la conocen en muchas partes y comence a indagar que hacer con la cosecha, aprendí muchos dulces que se hacen con esta fruta pero también aprendí a preparar esta especial bebida alcohólica, con grado alcohólico medio (30 º aprox). Les cuento como prepararlo en casa,receta muy fácil.
Hello friends, today I want to share a recipe that I have treasured for some years, it was given to me as a gift by a friend winemaker and I really liked it very much, it is very good, I had a planting of passion fruit or passion fruit as it is known in many parts and began to investigate what to do with the harvest, I learned many sweets that are made with this fruit but I also learned to prepare this special alcoholic drink, with medium alcohol content (30 º approx). I tell you how to prepare it at home, very easy recipe.

Ingredientes:
• 4 kg de Parchitas
• 4 Kg de azúcar
• 20 gr de levadura
• 10 lt de agua
.
Ingredients:
4 kg of Parchitas
4 kg of sugar
20 gr of yeast
10 lt of water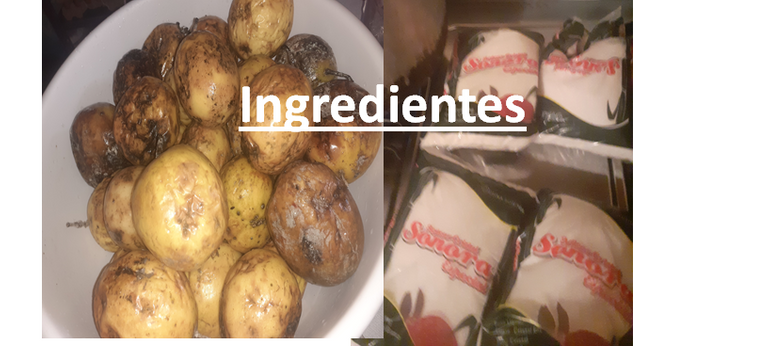 Preparación:
Para esta preparación se deben dejar madurar bien las parchitas, pasadas de maduras.

Se extrae la pulpa y se desechan las conchas.
Preparation:
For this preparation, the parchitas must be left to ripen well past ripe.

The pulp is extracted and the shells are discarded.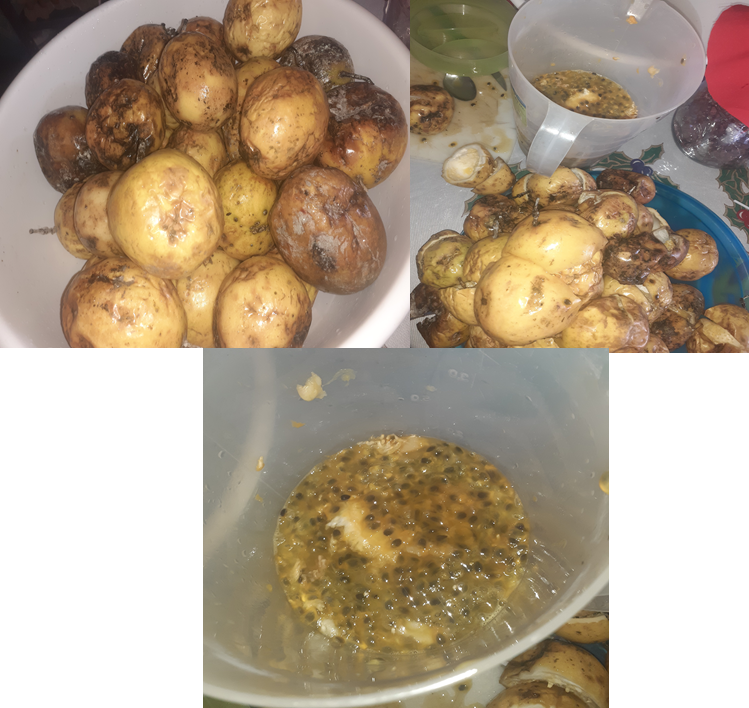 En una olla grande se pone a hervir 5 lt de agua.

Al calentar el agua se le agregan los 4 kg de azúcar.

Cuando se haya disuelto toda el azúcar , que se vea bien líquida se apaga.
In a large pot boil 5 lt of water.

When the water is heated, add the 4 kg of sugar.

When all the sugar has dissolved and the water is very liquid, turn it off.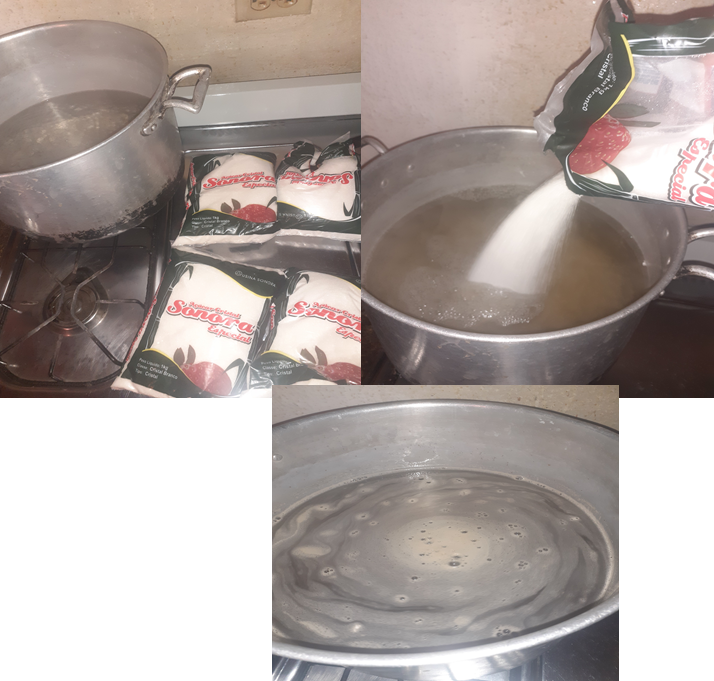 Inmediatamente despúes de apagarse el agua donde hemos disuelto el azúcar, agregamos la pulpa de la parchita.

Movemos bien y dejamos enfríar para luego verterla al botellon donde reposará esta mezcla por 21 dias.
Immediately after the water in which the sugar has been dissolved, add the parchita pulp.

Stir well and let it cool and then pour it into the bottle where the mixture will rest for 21 days.
Cuando este fría la mezcla se pasa al botellon y se le agragan los 20 gr de levadura y se mueve muy bien, que se integra bien la levadura con el resto de la mezcla.
When the mixture is cold, add the 20 grams of yeast to the botello and stir well, so that the yeast integrates well with the rest of the mixture.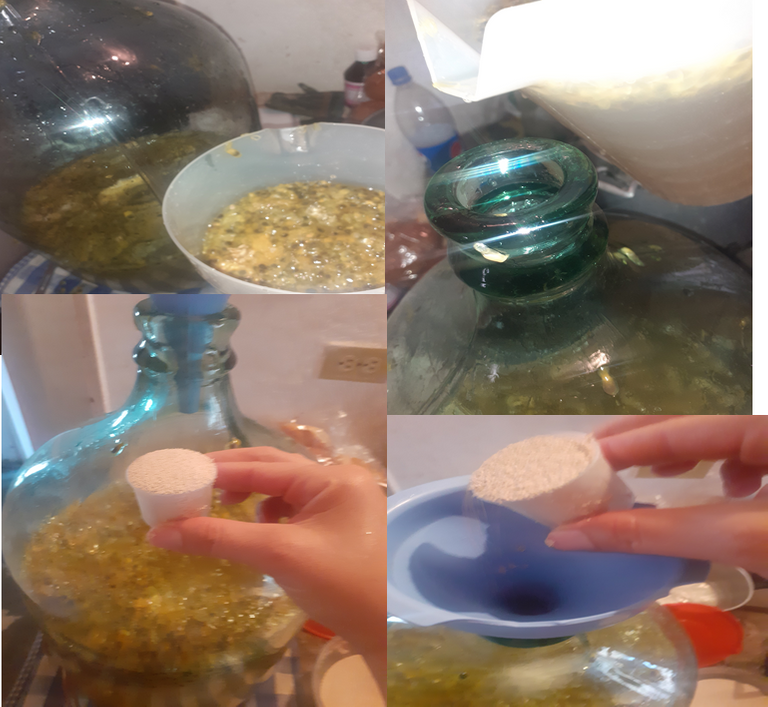 Al botellon se le agregan los otros 5 lt de agua pero no se llena, debe quedar un espacio en el botellon.

Se tapa con una tela con poros de manera que respire la levadura que va a hacer el trabajo de fermentación de la mezcla.

El botellon se lleva a un sitio oscuro por 21 dias o más.
The other 5 lt of water is added to the bottle but it is not filled, there must be a space in the bottle.

It is covered with a cloth with pores so that the yeast that will do the work of fermentation of the mixture breathes.

The bottle is taken to a dark place for 21 days or more.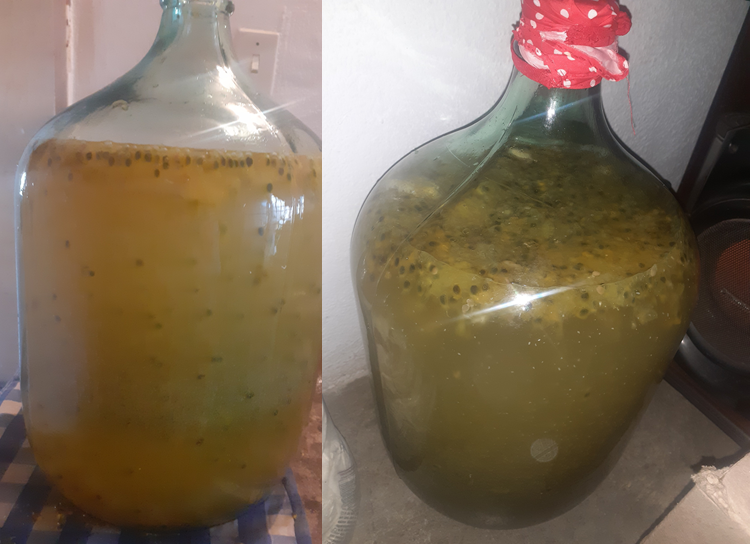 Al pasar los 21 dias se mezcla, se envasa y estará listo para degustar.
Nota: Esta es una bebida alcohólica y se debe tener cuidado al consumirse, y debe estar fuera del alcnace de los niños.
Gracias por visitar mi post, hasta la próxima.
After 21 days, it is mixed, bottled and ready to taste.
Note: This is an alcoholic beverage and care should be taken when consuming it, and it should be out of the reach of children.
Thanks for visiting my post, see you next time.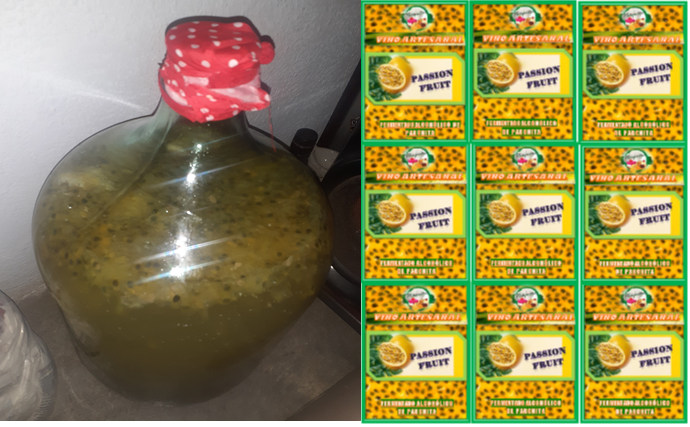 Las etiquetes son realizadas por mi persona, debido a que envaso y comercializo a nivel local este vino.
The labels are made by myself, as I package and market this wine locally.