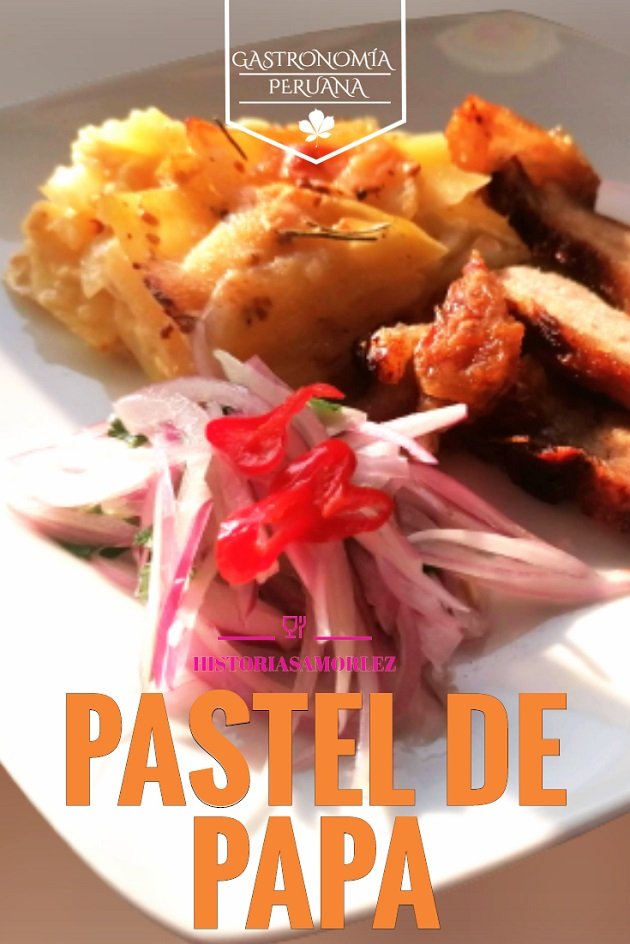 ¡Hola querida Comunidad!
Hello dear Community!
Continuando con las recetas con papas, hoy les presento una que es de mis preferidas ya que lleva queso.
Esta receta es de Arequipa, una provincia del Perú y normalmente se presenta junto a unos Rocotos rellenos, pero hoy te mostraré que se puede disfrutar con algún tipo de carne asada.
Continuing with the recipes with potatoes, today I present you with one that is one of my favorites since it has cheese in it.
This recipe is from Arequipa, a province of Peru and is usually presented together with some stuffed Rocotos, but today I will show you that it can be enjoyed with some kind of roast meat.
¿Qué necesitamos?
What do we need?
Papa (1/2 kgs)
Leche (300ml.)
Anís
Orégano
Ajos
Sal
Pimienta
Queso mozzarella
Potato (1/2 kgs)
Milk (300ml.)
Aniseed
Oregano
Garlic
Salt
Pepper
Mozzarella cheese

¡A Preparar!
To Prepare!

1. Vertemos la leche en un recipiente y le agregamos una cucharada de sal.
2. Luego le agregamos dos ajos picados finamente.
3. Por último agregamos pimienta, oréganos y el anís.
1. Pour the milk into a container and add a spoonful of salt.
2. Then we add two finely chopped garlic.
3. Finally we add pepper, oregano and aniseed.

4. Cortamos las papas en láminas muy finas y colocamos una capa sobre un recipiente para el horno. Le agregaremos un poco de nuestra salsa.
5. Luego colocaremos el queso sobre las papas.
4. We cut the potatoes into very thin slices and place one layer on top of an oven proof dish. We will add some of our sauce
5. Then we will place the cheese on the potatoes.

7. Se siguen armando las demás capas y se agregará la salsa en cada una. En la parte superior se agregará una capa final de queso.
8. Se llevará al horno por 35 min a una temperatura de 220°.
7. The other layers continue to be assembled and the sauce will be added in each one. A final layer of cheese will be added at the top.
8. It will be taken to the oven for 35 minutes at a temperature of 220°.
....Servimos y disfrutamos....
.... We serve and enjoy....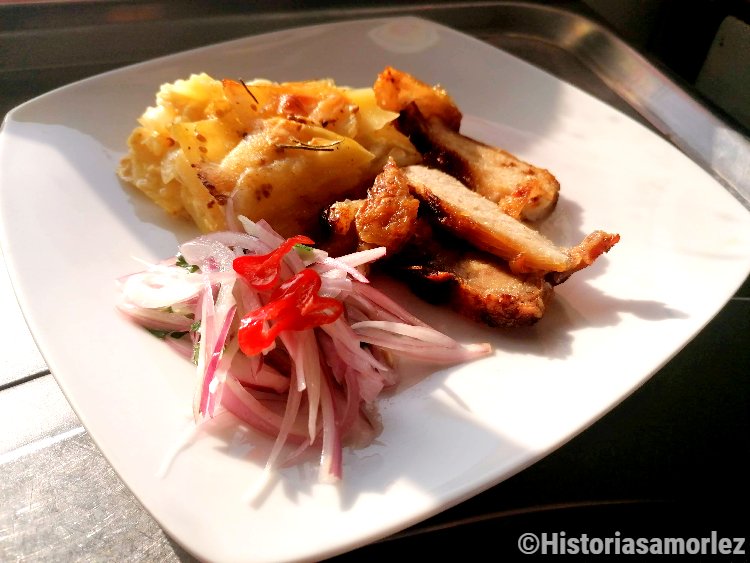 Se acompaña con cerdo al horno y ensalada de cebolla con ají.
It is accompanied by pork to the furnace and salad of onion with bell pepper.
..Te dejo con unos clips del final..
..I leave you with some clips from the end..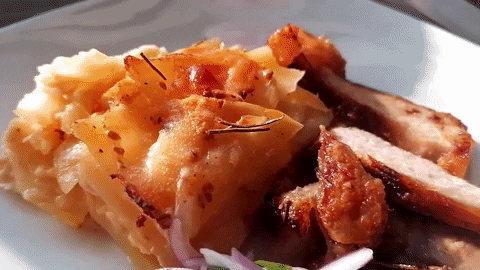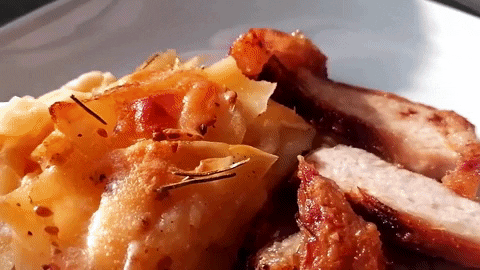 ..Y así llegamos al final de esta preparación..
..And so we come to the end of this preparation..
¡Hasta una próxima oportunidad!
See you next time!

Las fotos y videos son de mi autoría,

realizadas con una cámara Huawei P30 Lite New Edition